También puedes leer este artículo en:Español
Oh boy now this Isekai list is going to be rough..
So many awesome choices and only one can top the list. Darn.
I've always been a fan of Re:CREATORS! The story and character development were so deep!
I'm a history junkie and found Drifters to be an awesome show!
---
Top16 - Top11
---
16. Isekai Shokudou
1.2 %
It's interesting isekai theme without battle.
15. Tate no Yuusha no Nariagari
14. Re:Creators
2.2 %
it's interesting the real world from various isekai worlds.
13. Youjo Senki
2.5 %
but is it necessary to have the isekai setting lol?
12. Drifters
11. Knights and Magic
---
Top10 - Top6
---
10. Outbreak Company
3.1 %
Comments
9. Isekai wa Smartphone to tomo ni
5.5 %
Comments
The main protagonist is suddenly zapped with lightning by God on accident and killed. He is then revived in a fantasy world with his smartphone by God and leads a wonderful harem.
The anime is very cliche, but a cliche done right is amazing, the MC is really good, the other characters are amazing.
OP MC, parallel world, good-looking characters and much more - there are too many points to explain
8. Death March kara Hajimaru Isekai Kyousoukyoku
5.9 %
Comments
I think that this is one of the best isekai anime because it is so rare to see the main character being transported to another world while he is sleeping and he calls it a dream.
7. Zero no Tsukaima
6.2 %
Comments
Because for me, this series literally could make you feel magical, and even though I know the Isekai genre has been around for some time, I think ZnT was one of the anime that really set the bar for the genre allowing the advent of Isekai anime to just get better abd better. The story focuses on the romance between Saito and Louise, but not just that, it also shows the conflicts in the society of that other world. It allows the viewer to be immersed in a world that had it's own history and governments, and it also showed the difference between Earth abd Louise's world through Saito's desire of wanting to go home.
6. Hataraku Maou-sama (The Devil is a Part-Timer)
7.3 %
Comments
A hilarious story with the Devil in modern Japan? What's not to like? Plus, his surrounding cast of fellow demons and the 'Hero' make this story all the better. Add in the possibility for secret identity reveals, and you're golden!
---
Top5 - Top1
---
5. GATE: Jietai Kanochi Nite, Kaku Tatakaeri
8.1 %
Comments
GATE presented another world through the eyes of a soldier, Itami Youji, and not with the usual protagonist get's transported either, the series easily displayed the possibilities of clashing cultures, society and technology between the two worlds resulting in conflicts between the values of each individual world's residents. Not just that, but the character's were also very detailed for me, in their personalities and it showed how different types of people would be affected by such an event, but not just the people, but the country and the world at large.
I havn't seen any anime that the MC have real weapons, they are transported to another world, but only have magic and swords, a isekai anime with guns is a pretty good idea.
Kaku Tatakaeri
4. Overlord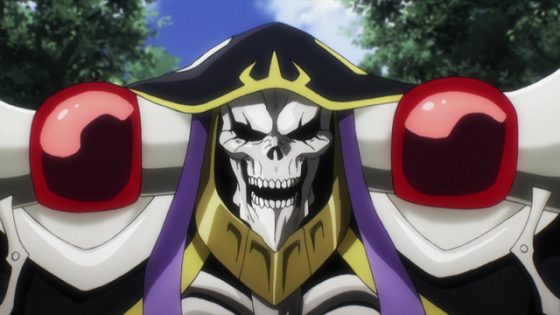 9.1 %
Comments
Great, engaging and enjoying story with best and lovable characters. Great opening and ending songs, great animation and great sounds. Also, Ainz-sama is just AMAZING!
Well its kind of a game anime but its leaning more onto the other world element. I just like how much of a awesome character the mc is and how he overpowers almost everything in the 1st season.
Another anime that's basically MC plays a game for a long time, stop for some time, go back and is suddenly transported to another world, full of magic and stuff, but none of those animes actually give the villain perspective.
3. Kono Subarashii Sekai ni Shukufuku wo!
11.8 %
Comments
its a funny isekai
This was mostly because of the comedy that was seen in the anime. The jokes were top tier and I was laughing so hard when I was watching it.
2. Re:Zero kara Hajimeru Isekai Seikatsu
12.1 %
Comments
Has a great combination of RPG-like world, Adventure, Mystery, Comedy, Suspense and it can go from a sweet and romantic moment to disembowelment all within a few minutes.
good fantasy
1. No Game No Life
18.2 %
Comments
It's unique. It's hilarious. It's engaging. It's eye candy. What else do you want?
Probably the most famous one out all of my nominations. This one, I liked mostly because of how the mcs are super smart as well as the production showed how much character they have as well as the adventures they go on.
---
Wow I thought Re:CREATORS would be at least top 5!
No Game No Life is definitely a top contender.
I'm surprised Re:Zero kara Hajimeru Isekai Seikatsu didn't take number one. That show had a massive following!
Yeah me too, I thought Re:Zero kara Hajimeru Isekai Seikatsu would surely take the trophy. Still sad about Drifters..
---
---