Although the long awaited HD re-release to Shenmue, the cult Dreamcast classic by Yu Suzuki, was released in the West back in August (for the PS4, Xbox One, and PC), it finally got its Japanese release (though exclusive to the PS4 in Japan) this Thanksgiving! After re-enjoying what many call the original open world game, we thought it would be best to offer 3 reasons on why you should play (or not play) Shenmue HD.
3 Reasons to Play Shenmue HD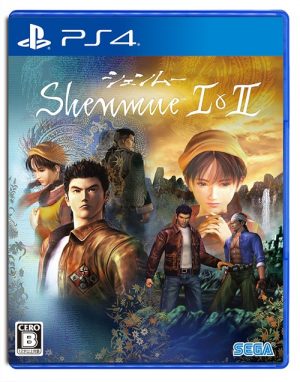 3. It accurately depicts Yokosuka and China
Yes, the praise to this quality of Shenmue has been done to death but when fans get to visit these places for real or see pictures or videos of them, it's truly captivating how Shenmue accurately portrays Yokosuka, Hong Kong, and Guilin. Shenmue allows you to experience a different culture, or best yet, inspire you to visit! You see what an average Japanese neighborhood is like as well as China's serene nature. Although the Kowloon Walled City was demolished over 20 years ago, fans can still get a taste of it at the Warehouse Arcade in Kawasaki, which is between Tokyo and Yokosuka!
2. For martial arts cinema (and Virtua Fighter) lovers
If you love martial arts cinema, then Shenmue is the game for you. Since Shenmue was conceived as a Virtua Fighter RPG, its fighting engine largely takes from Virtua Fighter, which emphasizes the realities of martial arts and combat, as opposed to the elemental side of it like you see in Street Fighter. In addition, some of Ryo's opponents are based on Virtua Fighter characters (such as Rod being based on Jeffery, Chunyan based on Sarah, and Chai based on Leon). When you do the typical battles, fighting physics are realistically applied with defending, attacking, and countering. For fights that need to be more cinematically presentable, that's what the QTE scenes are for. If you want to control the outcome of a Hong Kong market alley fight, Shenmue gives you that chance through QTEs!
1. A Tribute to Sega
As previously stated, Shenmue started out as a Virtua Fighter RPG and pays numerous tributes to it throughout the game. Not only do you get characters based on Virtua Fighter, you see posters of Virtua Fighter in Ryo's house, or in some places throughout town. Not only does this game make reference to Virtua Fighter, but many other of Sega's franchises. You can buy capsule toys of Sonic the Hedgehog, Alex Kidd, and Daytona USA. Or try your luck at a drawing game and see if you can win Saturn copies of Hang-On and Space Harrier! If not, you can visit a local arcade and still play them (with OutRun and After Burner introduced in the Shenmue II portion)
3 Reasons to Not Play Shenmue HD
3. It is slow
Compared to some games that many gamers enjoy today, Shenmue HD is slow for the right reasons, but it doesn't mean they are agreeable. The game operates on its own time system (try to think of one hour in real time as a whole day in Shenmue) which makes the game unique, but also drags it down. In the chapter 1 portion, if you need to meet a guy two days later at 3pm, then you have all that time to kill without the option of time skipping. However, when you go onto the China portion of the game, you do have that option. While there are things you can do in those two days' game time, we can understand the option to time skip would be nice.
2. Glitchy
With its Western release, it was notoriously glitchy. Some sounds were not working, certain button inputs with QTEs were all over the place, certain environments weren't showing up, and some gamers complained that they had trouble saving the game when they beat chapter 1. Since then, Sega has released patches for all versions to correct these glitches these past few weeks, and many speculate the Japanese release was saved for November just so they can release it (almost) glitch free.
1. Not for the Easily Offended
Poor English Audio Quality
We understand some fans are wishing to purchase the Japanese release for its exclusive soundtrack, but if you want dual audio, that's only available on the Western release. For the Japanese release, the audio is exclusively in Japanese. However, if you wish to listen to its (in)famous English dub in the Western versions, the quality is pretty much inaudible. Some fans checked the audio files of the game and noticed that the Japanese audio files were double the size of the English ones.
---
Final Thoughts
Even before the announcement of Shenmue 3's kickstarter back in June 2015, many fans were campaigning for an HD re-release for present days consoles. Considering that open world games have progressed this past decade and with many hardcore fans believing that Shenmue's open world qualities still holds up, it only makes sense to do so. Yes, there are some concepts with its controls that are outdated, but is still enjoyable to veterans and newbies alike. If you want something more organic with an open world experience, Shenmue is definitely that game. If you want an open world with all style and no substance, then Shenmue is not your game. Yes, the English dub has gotten flack (and praise, even by Suzuki), but for the first time in almost 20 years, fans have the option to play it in Japanese to further authenticate that experience of being in Japan. If you can't afford a $650 USD+ flight to Japan or China, maybe something around $30 can be a suitable substitute for that vacation.
---