5 Reasons Akeno Can Be Our Angel or Our Devil
Episodes: 48
Genre: Action, Comedy, Demons, Ecchi, Harem, Romance, School
Airing Date: January 2012 – July 2018
Studio: TNK
Highschool DxD Preview (No Spoilers)
After almost meeting his untimely end just after finally getting a girlfriend, Hyoudou Issei is given a second chance at life by the great Rias Gremory, his senpai, and a devil. Instead of turning away from his perverse lifestyle, Issei becomes a demon servant of Rias along with supernatural schoolmates Akeno, Koneko, Asia, and others and helps to fight off threats of peace on Earth and in Hell. After realizing his perversion can boost his powers, nothing can stop him!
Himejima Akeno Highlights (Spoilers Beyond This Point)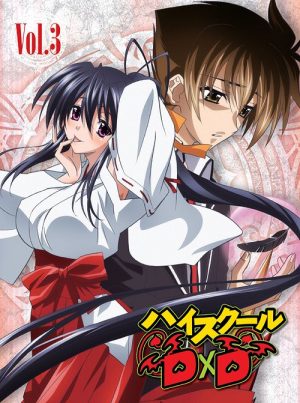 1. She Has a Banging Body
While all girls in High School DxD are good looking, Akeno still manages to stand out with other-worldly beauty. With her long, beautiful hair, big eyes, and voluptuous figure, we find it hard to tear our eyes away! Her boobs are even a bit bigger than Rias' impressive chest and Akeno sure doesn't like to keep them covered where Issei is concerned! She not only has a seductive body but knows how to move and talk in a way to make your knees weak.
2. Confident and Competent
They say confidence is sexy and Akeno is no exception. Confident in both her body and battling, she won't hesitate to make her opponent surrender. Akeno often shows off her crazy desirable body and sometimes teases other girls as she likes to see them get so flustered. Beyond just knowing she's hot, she's very proud of her fighting abilities as she should be. She can hold her own against Rias and is a valuable member of the team who doesn't shy away from battle. Despite her natural inclination to be provocative, she's always great at acting like a reserved, ideal woman with grace and competence in everything she attempts. We're pretty sure she could do anything she sets her mind to!
3. Dark Past, Bright Future
You wouldn't know Akeno has dealt with a horrible childhood by the way she acts. With her parents being a Fallen Angel and a Shinto priestess, Akeno didn't have a place she belonged. Persecuted by the Himejimas because of her Fallen Angel Blood, Akeno tried to make it on her own as a 10-year-old girl exorcising spirits to make a living. The Himejimas eventually came after Akeno to kill her but she was saved by Rias. Despite Rias being her 'master', Akeno has a very healthy relationship with her and the other servants. She knows her place and loves fiercely while still being true to herself. She also never lost her compassionate heart.
4. She Swings Both Ways
Akeno is the true team-player. Not only is she absolutely ok with and even happy to share Issei with the girls she loves, she likes to play with them a little too! It doesn't seem to matter what gender you are, Akeno will treat you like a cat playing with a mouse. Akeno's fondness for Rias seems to only be matched by her penchant for flustering Rias as when they were taking a bath together and Akeno decides to fondle Rias' boobs. She certainly knows how to get a reaction out of whoever she's with!
5. This Scene in High School DxD Hero Episode 9
One scene, in particular, seems to catch all the highlights of Akeno: her amazing body, the natural way she tackles difficulty, her positivity, her ease at being around naked girls and guys, and that loving nature of hers so often masked with teasing. While instigating an onslaught of boobies with the combined efforts of Koneko and Asia, Akeno has everyone strip and start healing Issei. Issei is suffering physically and emotionally and Akeno wants everyone to help make him feel better.
She brings up that Issei has been looking scared when she or others get aggressively sexual with him despite him being a huge pervert very matter-of-factly but still in a calming manner. She responds to those worries and works to alleviate them with the help of their friends instead of trying to one-up the others and comfort him herself. Akeno expertly makes herself more reserved and gentle while still maintaining the flirty demeanor she's known for so as not to make Issei self-conscious. Some girls might balk at being refused sexually but Akeno manages to make Issei feel desirable, assuage his worries, and remind him he's loved in the gentlest manner possible.
---
Final Thoughts
Himejima Akeno may be alright with being a side-chick but she is honestly top-tier. Her grace, kindness, loyalty, battle-expertise and her ability to rise above hardship make her an incredible person. Add in her killer looks and she'd be the perfect girlfriend for dang near anyone. She's also not the type of person to forsake her friends over a dude which means if you win her favor, she's with you through anything even battles of life and death! For more Akeno content and other notable girls, check out all the seasons of High School DxD!
---