We're already in the middle of an amazing anime season, but it's only going to get better next year with the 2023 anime lineup!
With a whole bunch of incredibly popular manga going from the pages to the screen, there's almost (almost!) too much to watch. Thankfully, we're here to let you know what will be hitting your TV screens next year.
Join us today on Honey's Anime as we discuss 5 Manga Getting an Anime in 2023!
5. Otonari ni Ginga (A Galaxy Next Door)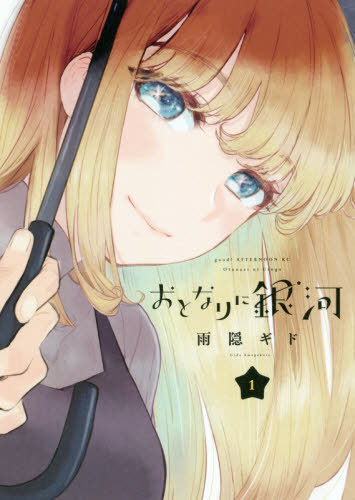 Mangaka: Amagakure Gido
Genres: Comedy, Romance, Slice of Life, Seinen
Volumes: 3+
Published: April 2022—present
Kicking off our list today is one of our favorite romantic slice-of-life debuts of the year—Otonari ni Ginga (A Galaxy Next Door).
A sweet and sappy love story about a mangaka and his assistant, A Galaxy Next Door throws an unexpected sci-fi twist into the works. The brilliantly talented Shiori Goshiki is more than just an assistant to struggling mangaka Ichiro Kuga—she's the princess of a reclusive island nation, and after a clumsy accident, she makes her sensei her fated husband! Now Kuga and Goshiki have to figure out dating while also working together and playing family to Kuga's young siblings.
Asahi Productions—Girls' Frontline, Himegoto (Secret Princess)—will be adapting this wholesome romantic comedy in 2023.
---
4. Mato Seihei no Slave (Chained Soldier)

Mangaka: Takahiro (Story), Takemura Youhei (Art)
Genres: Adult, Action, Comedy, Drama, Ecchi, Fantasy, Harem, Shounen
Volumes: 2+
Published: August 2022—present
Mato Seihei no Slave (Chained Soldier) has already earned a name for itself in the shounen scene, despite its first English release only debuting in August.
With a bold, provocative concept—that is, a young teenage boy becoming a super-powered slave to an all-female group of demon slayers—Chained Soldier has an interesting premise that seems designed to flame discussion.
Set in a world where women sit atop the social hierarchy thanks to their powerful abilities, Chained Soldier offers a surprisingly nuanced story. It's a criticism of patriarchal society that reflects nicely against the harem-esque nature of the story; and of course, there are plenty of demon-busting battles that will be fantastic to see animated!
Seven Arcs—Tonikaku Kawaii (Fly Me to the Moon), Blue Period—will be adapting Chained Soldier in 2023.
---
3. Kubo-san wa Boku (Mobu) wo Yurusanai (Kubo Won't Let Me Be Invisible)

Mangaka: Yukimori Nene
Genres: Comedy, Romance, Seinen, School Life
Volumes: 3+
Published: May 2022—present
If you're in the mood for more heartwarming, slow-burn romance, then you're in luck with Kubo-san wa Boku (Mobu) wo Yurusanai (Kubo Won't Let Me Be Invisible).
Our protagonist, Junta Shiraishi, is ordinary and plain to the point of being almost 'invisible' in class. He's the very definition of non-existent—but there's at least one person who's always noticed him. His female classmate, Kubo, has taken a strange interest in him and declared herself his 'heroine'! Kubo's outgoing and flirtatious, and her journey to make Shiraishi visible again is full of cute romantic moments that make our hearts flutter.
Pine Jam—Gleipnir, Gamers!—will be bringing Kubo and Shiraishi to our screens in January 2023.
---
2. Mashle: Magic and Muscles

Mangaka: Koumoto Hajime
Genres: Action, Comedy, Fantasy, School Life, Shounen
Volumes: 8+
Published: July 2021—present
There's something fantastically endearing about characters struggling to prove themselves against all odds. Mashle: Magic and Muscles is one such story, starring the titular Mash—a young man who has prodigious strength, but no magical ability, despite living in the magical realm. Forced to enrol in magic school, Mash has to prove his worth using pure brawn, and beat the competition without an ounce of magic in his veins!
Filled with criminal organizations, magical courts, some Harry Potter-esque wand usage, and a whole lot of punching things, Mashle: Magic and Muscles is thoroughly entertaining and surprisingly unique.
The star-studded A-1 Pictures—Sword Art Online, Lycoris Recoil, 86, and others—will be producing the adaptation of Mashle in 2023.
---
1. Oshi no Ko

Mangaka: Akasaka Aka
Genres: Comedy, Drama, Psychological, Romance, Seinen
Volumes: 1+
Published: January 2023
From the author of the fantastic rom-com Kaguya-sama wa Kokurasetai - Tensai-tachi no Renai Zunousen (Kaguya-sama: Love is War!) comes a dark look at the idol industry with Oshi no Ko.
The series follows Aquamarine and Ruby Hoshino, two children born to the popular teenage idol, Ai Hoshino. The entertainment industry is one of highs and lows, and Oshi no Ko follows this rollercoaster of emotions as Aquamarine grows up to become an actor, while Ruby forms her own idol group to emulate her mother.
Oh, and did we mention that both Aquamarine and Ruby are reincarnated fans of Ai Hoshino? That's right—mangaka Akasaka has pulled off a sci-fi twist in a manga brimming with equal parts dark humor and affronting concepts. If you're concerned about the content of Oshi no Ko, you should be aware that it deals with teen pregnancy, attempted suicide, stalking, and generalized post-traumatic stress disorder (PTSD).
Studio Doga Kobo—Kawaii dake ja Nai Shikimori-san (Shikimori's Not Just a Cutie), Senpai ga Uzai Kouhai no Hanashi (My Senpai is Annoying)—will be producing Oshi no Ko's anime in 2023.
---
Final Thoughts
These are just five of the manga that'll be hitting screens in 2023! There are plenty more that we didn't have time to cover, and that's not including the next seasons of popular series like Jujutsu Kaisen or Vinland Saga.
What anime are you looking forward to in 2023? Let us know down in the comments below, and as always, thank you for reading!
---