What You Need to Know:
Soothing slice-of-life anime Natsume's Book of Friends, aka Natsume Yuujinchou, is now heading into its fifth season. But what's so special about this anime?
To celebrate today's air date, Animate Times has put together five things that make Natsume's Book of Friends worth watching, whether you've seen the first four seasons or not.
So what are you waiting for? Find out the five points below - and don't forget to check out our anime database page linked below for more information!
---
5 Reasons to Watch Natsume's Book of Friends 5th Season
---
1. Heartfelt story that delves into human nature
Takashi Natsume is a warm-hearted boy who whilst struggling to live between humans and yokai, wants to treasure both. He treats everyone sincerely, whether yokai or human. Through the eyes of his character, this story acutely portrays human nature.
2. A world of nature and ancient fairytales
The anime takes place in a small town in the countryside rich in nature. There are mountains, forests, temples and shrines. With the kind of beautiful scenery only found in the Japanese countryside, the anime takes viewers into a world not unlike a fairytale.
3. Perfect balance of comedic and serious characters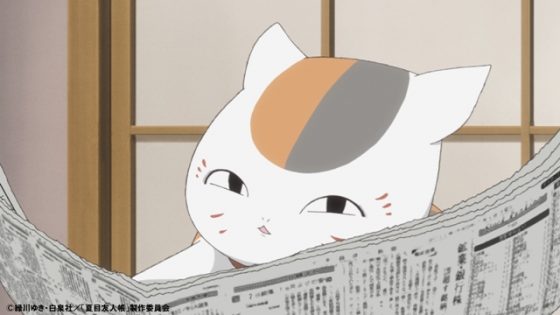 There are many amazing characters in Natsume's Book of Friends. First we have the kind and sensitive Takashi Natsume and his self-proclaimed bodyguard Nyanko-sensei. Then there's the many unique yokai, the mysterious exorcists, and Natsume's classmates. At times comical, at others serious, Natsume's Book of Friends brings with it all kind of different characters - there's definitely a character for everyone.
4. Natsume's growth as he starts to get over his past
Due to his ability to see things other humans cannot, Natsume finds it difficult to fit into society. Nevertheless, he starts to meet all kinds of yokai and humans alike, forms deep bonds with them, and little by little, begins to move forwards. This anime is a story of relationships and the heartrending hardships of a teenage boy.
5. The moment of calm the characters bring you
The story is of course meaningful, but the acting is also excellent. There's Natsume's monologues, the stories of the characters' memories, and the music that matches them. All of these aspects come together to create a moment of calm - that might leave tears in your eyes!
---
Source: Animate Times (Translation credit: Honey's Anime)
---
I completely agree with these points! Ahh, I'm so glad it's back!
I know! It might be a little slow paced for some people, but I really like it!
---
[ad_dfp position="bottom1" unit_pc1="true" unit_pc2="true" unit_sp1="true" class="mt40"]