Here at Honey's Anime, some of us aren't the best snowboarders. We rely on having vivid dreams of us sliding down a snow filled mountain all while pulling cool tricks on our way down. Then we finally wake we up we jump to our TVs and boot up games that give us the feeling we just experienced in our dreams. One of our favorite old school titles is a snowboarding game called 1080 Snowboarding and we still play it from time to time at Honey's Anime headquarters. Though since the release of this great Nintendo 64 classic many games have come that have done snowboarding and other sports in a more epic manner.
With that being said, today we have taken it upon ourselves to list some games that you might enjoy if you loved 1080 Snowboarding just as much as us. Whether you're hitting the slopes or hitting a skatepark, you can freely do some insane tricks without the potential injury of trying them in real life. Welcome one and all to our 6 Games Like 1080 Snowboarding list. Grab your controllers and get your fingers ready. You're about to unleash insane sporting tricks that couldn't otherwise be accomplished without many hospital visits and tons of cuts and bruises.
Similar Game to 1080 Snowboarding
1. Excitebike 64

System: Nintendo 64, Virtual Console
Publisher: Nintendo
Developer: Left Field Productions
Release Dates: Apr 30, 2000
Back on the original Nintendo, a small dirt bike game released in 1984. Known as Excitebike players would traverse dirt courses all while racing either friends or the computer. Excitebike was so loved that in April of 2000 players could enjoy it Excitebike once again though on the Nintendo 64 and with updated visuals. Known as Excitebike 64, players could still race against friends and or the AI all while performing various jumps and accelerating at high speeds. With a track editor mode, players could even create their own race courses to test themselves or their friends to see who was the king of the dirt.
With that being said, that's why we knew we had to start of our list of 6 Games Like 1080 Snowboarding properly with another great Nintendo 64 game. Excitebike 64 may not have the impress graphics it did back in 2000s in comparison to now but the fun that we all have still with it is unmatched by a lot of newer titles. The track editor was robust enough to give players a nice number of things to do if they grew tired of the 17+ tracks available in Excitebike 64. That's why if you want a truly classic sports title that mirrors 1080 Snowboarding we fully recommend playing Excitebike 64. Don't fret though if you don't own a Nintendo 64 anymore as you can still buy Excitebike 64 on the virtual console for the Wii and Wii U which will give you the full game in all of its original glory.
Excitebike 64- Nintendo eShop trailer (Wii U) (Official Trailer)
---
2. Cool Boarders 3

System: PS1
Publisher: 989 Studios
Developer: Idol Minds
Release Dates: Sept 30, 1998
Get your snowboard ready, it's time for another Cool Boarders game! In Cool Boarders 3, players will choose from 20+ snowboarders and hit the slopes. Players can choose from various courses such as Downhill, Slalom and Slope Style to engage in different events that will test their snowboarding skills. Unlock different snowboards based on real life designs and become the best snowboarder around! Though be ready as the mountain is always ready to eat newcomers alive in Cool Boarders 3.
Obviously, many people know of the console wars early conceptions when the PS1 released after the 1996 Nintendo 64 console. One of the best examples of a game that competed for what would be considered the better snowboarding title would be Cool Boarders 3 by developer Idol Minds. With sharp graphics, a great soundtrack and strong controls, Cool Boarders 3 was indeed a rival for our affection. Though we do love both 1080 Snowboarding and Cool Boarders 3 equally and we always say both are amazing nostalgic games that can be enjoyed even today. Though we do ask which one—meaning Cool Boarders 3 or 1080 Snowboarding—did you love more? Comment down below as we are always love to hear about some great nostalgic memories when playing amazing games like Cool Boarders 3 or 1080 Snowboarding.
---
3. Skate 3

System: PS3, Xbox 360
Publisher: Electronic Arts
Developer: EA Black Box
Release Dates: May 11, 2010
Acting as a sequel to Skate 1 and 2, Skate 3 throws you back into the world of skateboarding. Now considered a legend, your skater has risen to levels of fame all over the city of San Vanellona. Though things change when you head for college in Port Carverton University where you see others having skating skills greater than you and even have teams of skateboarders. Upon failing at a special event, you realize that you must create your own sports team and once more rise up to become yet again a skateboard legend. However, with other teams who wish to do the same be prepared to find the best for your team and skate like you've never skated before.
The Skate series has always been one of our franchise for skateboarding based games. This statement applies to Skate 3 which released in 2010 for the PS3 and Xbox 360. With the power of the modern systems, Skate 3 blew our minds with impressive visuals, epic music and tons of content to sink our skateboarding love into. While you might not be on the snow filled slopes of a mountain like in 1080 Snowboarding, Skate 3 will put you on the hard concrete of various streets and skateparks and give you the same level of immersion that you would feel in 1080 Snowboarding. Skate 3 is a pretty low priced game by now so if you want to find a solid title for your older consoles, we fully recommend picking it up when you can!
Skate 3 Debut Trailer [HD] (Official Trailer)
---
Any Game Like 1080 Snowboarding ?
4. SSX

System: PS3, Xbox 360
Publisher: EA Sports
Developer: EA Canada
Release Dates: Feb 28, 2012
SSX fans get ready for a reboot to the famous snowboarding series. In SSX various snowboarders have been gathered together to rip the slopes for fame and for charity. However, a former SSX member by the name of Griff Simmons has decided to conquer the slopes and become the best before anyone else. Now the other snowboarders must aim to beat Griff before he steals the fame on a global scale. Get ready to unleash all the tricks in your arsenal in SSX.
While we loved 1080 Snowboarding, our heart was always torn with the 2000 snowboarding game known as SSX. That's why in 2012 when SSX was rebooted and made for the PS3 and Xbox 360 by developer EA Canada—one of the original publishing teams behind the original SSX—we were extremely stoked. With new tracks, updated visuals and a classic gameplay mode—which allows you to use analogue sticks for tricks or face buttons—SSX is the perfect game to experience what it would be like on the slopes at least in a more arcade focused experience. That's why if you're in a dire need of a game that matched the arcade gameplay of 1080 Snowboarding but with more updated mechanics and visuals then we strongly recommend SSX. Also, we're sorry in advance if the title song gets stuck in your head like it does in ours…
EA SPORTS SSX Launch Trailer (Official Trailer)
---
5. Tony Hawk's Pro Skater HD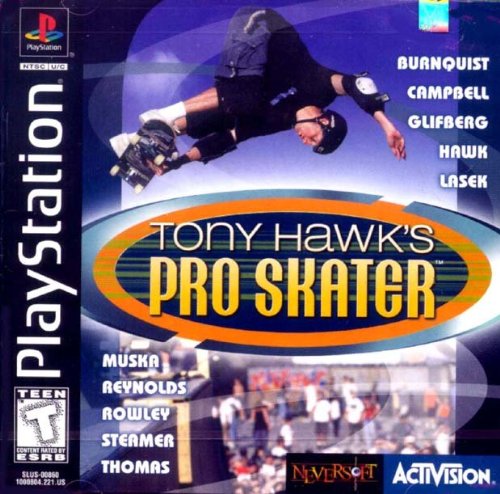 System: Xbox 360, PS3, PC
Publisher: Activision
Developer: Robomodo
Release Dates: Jul 18, 2012
Tony Hawk's famous skateboarding game returns with updated visuals and gameplay tweaks in Tony Hawk's Pro Skater HD. Once more allow your nostalgic days of performing sick stunts and skateboarding feats as you go through some of the famous skate parks seen in the original Tony Hawk's Pro Skater game. Achieve high points within the time limit and unlock new skaters to use from famous skaters like Nyjah Huston, Eric Koston and of course Tony Hawk. Prepare for a nostalgic trip but in a modern setting in Tony Hawk's Pro Skater HD.
We have played a lot of skateboarding games but one of our absolute favorites was the PS1 classic Tony Hawk's Pro Skater. Thus, when Activision announced that developer Robomodo was helming a HD remaster/remake titled Tony Hawk's Pro Skater HD fans and us were more than a little excited. Getting to hear some great music while performing various tricks in legendary skate parks from the original version was a real treat in Tony Hawk's Pro Skater HD. That fact alone made us include Tony Hawk's Pro Skater HD in our 6 Games Like 1080 Snowboarding list as we know many will love experiencing the greatness that was originally seen on the PS1 in the more current gaming age. Now
Tony Hawk's Pro Skater HD Launch Trailer (Official Trailer)
---
6. Steep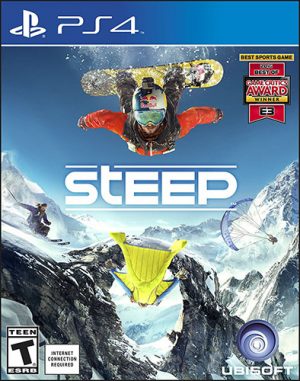 System: PC, Nintendo Switch, PS4, Xbox One
Publisher: Ubisoft
Developer: Ubisoft Annecy
Release Dates: Dec 2, 2016
Have you ever felt the desire to touch the mountains of the Alps? Maybe you've always wanted to use a wingsuit and dive down the sides of Denali. Well, in Steep, you'll get to experience the beauty of these places in a whole new level of immersion. Featuring extremely realistic visuals and physics, Steep allows players to snowboard and even use wingsuits on some of the world's most famous mountain locations. Using a GoPro-like set up, players can enter first person and see the blinding white snow without ever leaving their homes! Steep will make you feel the adrenaline of being a snowboarder and will show you a whole new way to enjoy a snowboarding based game.
With our 6 Games Like 1080 Snowboarding list, we wanted to conclude on a game that shows how far the snowboarding sports game scene has come. Thus, we chose to end our list with developer Ubisoft Anney's 2016 gaming title known as Steep. If you have ever wanted what we here at Honey's Anime consider the best snowboarding game around, then you just need to play Steep. If you have already tried out Steep let us know in the comments down below. Trust us folks, we could talk all day about Steep all day and we know if you loved 1080 Snowboarding you're going to truly love Steep.
Steep Trailer: Announcement- E3 2016 [US] (Official Trailer)
---
Final Thoughts
Here at Honey's Anime headquarters, quite a few of us—despite being gamers—are pretty active in the sports scene. However, most of us still feel that paying for expensive equipment and having a chance at getting hurt isn't as enjoyable as just popping in a disc or cartridge and playing virtual based sports games like 1080 Snowboarding or the others on this list. There are a lot of sports based games out there and we probably didn't have everyone's favorite on our list of the 6 Games Like 1080 Snowboarding. That's why we implore you to comment down below and let us know which ones you loved from the list or the ones that should have been on here. While you're at, explore our site here at Honey's Anime for more gaming articles and lists to read and enjoy.