The moment you are legally able to drive a car is important to a lot of teens. For many, it's for practical reasons: a feeling of independence, a chance to go to various places you enjoy with your friends, driving to and from school as opposed to relying on your parents, and so on. For some, however, it's for the thrill of driving, and video games have tried to replicate that thrill as close as they possibly can. Each racing game may be somewhat different in terms of rules, models of cars, etc., but each of them share that drive to not only replicate that thrill you get from driving but amp it up to the next level. None of these franchises do this better than the Burnout franchise.
Burnout is what kids and pre-teens picture driving to be without them having to face the real life consequences of performing such actions. Racing as fast as you can through a neighborhood or the city suburbs while getting into spectacular wrecks with other pedestrian cars and/or racers…it doesn't get much better than that. As a result, many other racing games are often compared to the Burnout franchise, with some racing games getting favorable comparisons and others failing to make the cut. However, here are 6 videogames that are similar to Burnout.
Similar Videogames to Burnout
1. Need For Speed: Most Wanted

System/Platform: Nintendo DS, Microsoft Windows, PlayStation 2, PlayStation Portable, Xbox, GameCube, and Game Boy Advance
Publisher: Electronic Arts
Developer: EA Black Box, EA Redwood Shores, and Sensory Sweep Studios (DS version)
Release Date: November 15, 2005 (NA)
The 9th installment in the Need for Speed series and the best-selling Need for Speed title, Need for Speed is an excellent racing game. Your goal is to reach a certain destination either before the time limit expires or before other racers do. However, the unique implementation of the police chasing you and trying to arrest you into the race is certainly a bad-ass element, and the driving sequences themselves are certainly inspired by those in the Burnout series. As a result, you certainly feel a rush as you're driving at breakneck speeds with the nitrous oxide speed boosts while avoiding numerous police traps and vehicles. Certainly a worthy game to be compared to Burnout.
Need for Speed Most Wanted Trailer
---
2. Midnight Club: Los Angeles

System/Platform: PlayStation 3, Xbox 360, and PlayStation Portable
Publisher: Rockstar Games
Developer: Rockstar San Diego, Rockstar London (L.A. Remix version)
Release Date: October 20, 2008 (NA)
Midnight Club: Los Angeles is certainly a major step up from previous games in the Midnight Club franchise. With the open world being the size of all 3 cities from the previous game set to a 24 hour cycle, there is certainly a lot more freedom and a realistic setting brought to the experience. However, while the setting might seem realistic, the abilities that you can perform while racing certainly aren't, albeit they are pretty cool. Using certain abilities allow the player to become indestructible and demolish their way through traffic, use an EMP to fry the electronics of the surrounding vehicles, and even slow time to some degree. Not to mention the police pursuit opportunities that arise from infraction you commit such as running a red light or crashing into a police car. All in all, if you enjoy racing and don't mind extra abilities taking away from the "realism" aspect, then Midnight Club: Los Angeles would be the game to get.
Midnight Club: Los Angeles Trailer
---
3. Blur

System/Platform: Microsoft Windows, PlayStation 3, and Xbox 360
Publisher: Activision
Developer: Bizarre Creations
Release Date: May 25, 2010 (NA)
Another racing game basing itself in realism, Blur allows the player to choose from licensed cars such as the Dodge Viper or Ford Transit and compete on tracks based on real-world environments (such as the suburbs of London). However, what sets the game apart from other games made during the same period are the multiplayer capabilities: Blur can support up to 20 players online that can either jump right into a race or compete in a customized race based on car classes, the layout of various power-ups, how many laps, and which track to race on. If you enjoyed racing against other people in Burnout and competing against 20 other racers appeals to you, Blur would be the game to get.
---
Any Videogames Like Burnout ?
4. FlatOut 4: Total Insanity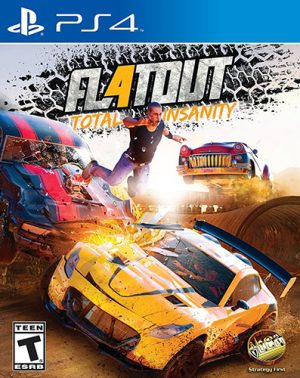 System/Platform: PlayStation 4, Xbox One, and Windows
Publisher: Bigben Interactive, Strategy First (Steam)
Developer: Kylotonn
Release Date: March 17, 2017 (PS4 and Xbox One)
One of the newest racing games to be released, FlatOut 4 places a lot of emphasis on the destruction aspect of arcade racing. Almost anything on the track is susceptible to getting blown up, and with the in-game physics being somewhat inconsistent to the point where AI cars may be all over the course, FlatOut 4 seems more of a demolition derby type game as opposed to the street racing seen in other franchises. It also doesn't help that the graphics make the game appear older than it really is and therefore going backwards as opposed to most racing game franchises making the environments as close to real as possible. However, if what you loved about the Burnout franchise was the massive wrecks and spectacular crashes you could get into, then FlatOut 4, while a step down in terms of racing, certainly delivers on the explosion aspect.
FlatOut 4: Total Insanity Trailer
---
5. Forza Horizon

System/Platform: Xbox 360
Publisher: Microsoft Studios
Developer: Playground Games
Release Date: October 23, 2012 (NA)
Like Need for Speed and Midnight City, Forza Horizon is part of its own iconic franchise: Forza Motorsport. Forza Horizon definitely places a much bigger emphasis on the racing aspect of the game as opposed to the "pursuit" elements. While there are a variety of different challenges you can do that can result in some cool stunts being pulled off and destruction being left behind, there is also an emphasis placed on buying and selling cars, looking for and restoring "barn find" cars, and customizing your cars. Even though there is a "street cred" option where performing stunts such as drifting and jumping over obstacles can earn you the opportunity to unlock special races against planes and helicopters, it certainly isn't the same as being pursued by the police. However, Forza Horizon is a great game for someone who enjoyed the thrill of racing in Burnout but also enjoys customizing and collecting cars as well.
---
6. Grid 2

System/Platform: Microsoft Windows, PlayStation 3, Xbox 360, and OS X
Publisher: Codemasters, Feral Interactive (OS X)
Developer: Codemasters
Release Date: 28 May 2013 (Microsoft Windows, PlayStation 3, and Xbox 360 in NA)
The 8th game in the TOCA series, Grid 2 seems to be an attempt at a balanced approach to a lot of aspects regarding arcade racing. With numerous real-world locations to race in, a new handling system, a vehicle lineup spanning 4 decades, and decent customization options, Grid 2 seems to be solid across the board in terms of the typical racing experience. However, there are some differences, such as no options for a 1st person cockpit view. There is also the fact that the race tracks themselves seem to blend into one another somewhat. That being said, the finishing realism details to the game both visually and with the audio are impressive. Overall, if you wanted to play a more realistic version of Burnout but with more emphasis on the "competitive racing" dynamic, then Grid 2 is a solid choice.
---
Final Thoughts
Burnout is an iconic racing game franchise that will forever define the racing game genre. That being said, there are certainly a number of other racing games that can rival it. These 6 games may vary in terms of age and style, but in the end they all share a feeling similar to that of Burnout. But what do you guys think? Is there a game that doesn't deserve to be on this list? Should another game such as Test Drive Unlimited have been included instead? Let us know in the comments!