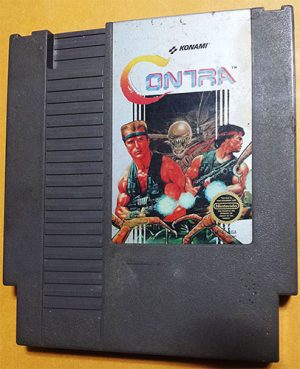 INTRODUCTION / OPENING PARAGRAPH
Who doesn't like shooting dozens of enemies? Contra gave players the ability to play as a warrior capable of such a feat with several different weapons. However, despite how cool it was to have this ability, Contra also didn't make you feel overpowered thanks to it being a very hard title. Despite the crushing difficulty, Contra has lived for a long time as a franchise and has become a game forever immortalized in gamer's minds. Thus we here at Honey's Anime decided to craft a 6 Games Like Contra list to find titles heavily inspired by this amazing title or at the very least were very similar.
Our list of games like Contra will surely please fans of the series as well as possibly newcomers. We made sure to mix in plenty of classic titles alongside newer age ones to give gamers a wide berth in terms of choice. Whether you're blasting aliens as a soldier or blasting humans as an alien—the irony there is funny—if you love Contra's style we know you'll love these games. We also made sure to capture that difficulty level in this list of games like Contra so be prepared to lose many in game lives to reach sweet victory. Hey, it wouldn't be a game like Contra if it wasn't tough, right? Now then, let us not delay a single moment longer and get right into the battle awaiting with some amazing gaming titles.
Similar Games to Contra
1. Gunstar Heroes

System/Platform: Sega Genesis, Wii, PS2, Game Gear
Publisher: Sega
Developer: Sega, Treasure, M2
Release Date: Sept 9, 1993
When an evil threat known as Golden Silver popped up in the world with nefarious plans, there rose a family of heroes known as the Gunstars, This family with their missions accomplished went into a much needed rest and the universe was at peace. However, while the family slept, a new evil would rise thanks to the love they had of Golden Silver. General Grey plans on using his "Empire" to bring back Golden Silver and lead a charge together to accomplish his original goals. When word of this reaches the ears of Professor Brown, the professor reactivates Red and Blue who hail from the Gunstar family to hopefully save the day.
Our list begins with the classic Treasure and Sega title known as Gunstar Heroes. In this game, players choose either Red or Blue and go to war with hundreds of enemies and several bosses in the stylings of Contra. Gunstar Heroes also reminds us of Megaman as players can choose what path they wish to take in terms of defeating said bosses. With visuals that still impress despite being released so long ago and very strong gameplay mechanics, Gunstar Heroes is a title that harkens to what made Contra so epic. If you have never played this title, it is available on newer consoles as a download so there's no excuse to not give it a try.
Nintendo 3DS- 3D Gunstar Heroes Launch Trailer (Official Trailer)
---
2. Metal Slug 3

System/Platform: Arcade, Neo Geo, PS2, Xbox, Wii, Virtual consol, iOS, Android, PSP, PS4, PS3, PS Vita, Nintendo Switch
Publisher: SNK, D4 Enterprise (Virtual Console)
Developer: SNK
Release Date: Mar 23, 2000
Several years have passed since General Morden was taken down. However, various governments noticed that his outposts and armies are still running amok and must be taken down to prevent any more damage. Sending in the finest troops such as Marco, Tarma, Eri and Fiolina their mission is destroy all the basses still operating. Though, why are these enemies so well organized and is it possible Morden is back leading the charge? Find out in Metal Slug 3!
The Metal Slug series has had a long life span releasing on almost every console ever. Metal Slug 3 though stands as one of our personal favorites and fans consider it equally one of the best titles out of the several released. As a game like Contra, players control one of several characters—all who play the same—as they run and gun through 2D stages killing enemies such as soldiers and even zombies. Also like Contra, Metal Slug 3 is really dang hard which makes it a lot of fun to learn the best ways to conquer a stage and hopefully do the same with the next. With tons of gun, loads of enemy types and even glorious cooperative play, Metal Slug 3 was a must have on our list of 6 Games Like Contra.
METAL SLUG 3 GAMEPLAY TRAILER | PS4, PS3 (Official Trailer)
---
3. Bionic Commando

System/Platform: Arcade, Nintendo Entertainment System, Game Boy, Game Boy Color, PSN, Xbox Live Arcade, PC
Publisher: Capcom, Nintendo of America
Developer: Capcom, Nintendo NST
Release Date: Mar, 1987
Players are on a mission during a war occurring in the 1980s. Armed with an arm that can shoot out a grappling device, the player must utilize this ability to climb up and swing from platforms. With several stages, players will have to defeat enemies and bosses in equal measure to win the war. This war won't be an easy one to win, but given you have the means you can win it. Welcome to the war in Bionic Commando.
Oh if you grew up on the NES, you know what Bionic Commando was. However, for a lot of new age gamers, maybe you haven't even heard of this legendary title. Well, we here at Honey's Anime can fix that for you. Players take control of a soldier with a grappling hook—depending on the version, his name is either Ladd or Rad—as they swing around levels to reach various points of interest in a level, such as the command center for one. Bionic Commando took a lot of inspiration from Contra to give player high difficulty but with a freedom unseen on a lot of classic titles. Bionic Commando has many versions out there but if you want the one closest to Contra then the original NES version is the way to go folks.
---
Any Games Like Contra ?
4. Alien Hominid

System/Platform: Adobe Flash, PS2, GameCube, Xbox, Mobile, GBA, Xbox Live Arcade, iOS
Publisher: O3 Entertainment (NA), Zoo Digital Publishing (EU) The Behemoth (iOS)
Developer: The Behemoth, Tuna Technologies (GBA, Mobile)
Release Date: Nov 18, 2004
A little yellow alien finds himself—or herself—in a predicament. The alien's ship crashes into Earth and leaves the little alien stranded. Making matters worse is that the government has begun to make moves to capture it by any means necessary. What will the yellow alien do to survive? What else, take a space gun and begin shooting some baddies to avoid capture.
Alien Hominid is a prime example of a small title gaining so much popularity it explodes. Literally first released as a Flash title, Alien Hominid became so popular that it found multiple outlets to release on. Players controlled a yellow alien and blasted their way through several stages with various guns and vehicles—essentially mirroring Contra in terms of combat—all while taking down end stage bosses. Again something found on nearly every title on this list is a crushingly hard difficulty that will have players restarting hundreds of times to learn how to get better as they play. Alien Hominid is an awesome game like Contra with colorful hand drawn art and graphics that make it feel like a dodge you might have drawn in school come to life in the form of a video game.
Alien Hominid Game Boy Trailer- Trailer (Official Trailer)
---
5. Broforce

System/Platform: PC, PS4
Publisher: Devolver Digital
Developer: Free Lives
Release Date: Oct 15, 2015
Ever wanted to play as your favorite action hero? Better yet, have you ever wanted a game full of your favorite action heroes? Enter Broforce as it gives you—the player—the ability to shoot tons of baddies as characters who while not necessarily named exactly as their action hero counterparts are basically those characters. Each action hero has their own weapons and play style giving diversity as you unlock them for use. With over a few dozen heroes to play as and loads of missions to shoot and explode everything in sight, Broforce aims to make your dreams of having your favorite action hero from your favorite movies in your hands.
Broforce may be a literal parody of action hero movies but that doesn't mean its gameplay is anything but awesome. In this 2D side scroller, players will blow things up as numerous heroes who all rock something fierce. While Broforce isn't nearly as complicated or difficult as Contra—finally a title that won't make you pull your hair out—it contains all the components to be on this list of games like Contra. We really loved playing Broforce and even now keep booting it up thanks to its amazing graphics—reminding us of classic titles—and its tight controls. If you love Contra and love action movies, Broforce screams to you to give it a try.
Broforce- Launch Trailer (Official Trailer)
---
6. Super Time Force

System/Platform: Xbox 360, Xbox One, PC, PS4, PS Vita
Publisher: Capybara Games
Developer: Capybara Games
Release Date: May 14, 2015
Time is in need of some serious altercations. Luckily under the command of Commander Repeatski the timeline doesn't have to worry too much thanks to the Super Time Force. Their mission is simple: keep time from going away from its preordained path. However, if something does happen regardless of the age—Middle Ages or Future—the Super Time Force will be ready to handle it. Now are you ready to join the Super Time Force?
We end our 6 Games Like Contra list on a game that fans have compared to Contra in many ways, Super Time Force. Like Contra, players must run on a 2D plane to fight against baddies and avoid plenty of bullets that aim to kill them. However, due to its time theme, Super Time Force allows players to learn what they did wrong and even slow down time with in game items known as cloxs. Super Time Force isn't easy by any definition of the word but that doesn't mean that this isn't one of the most fun and original titles we've played in a good while. With cartoony like graphics, fun gameplay and an overall feeling of the greatness seen in Contra, Super Time Force will make fans of the 2D side-scroller genre very happy indeed.
Super Time Force Launch Trailer (Official Trailer)
---
Final Thoughts
As you can clearly see, Contra has stayed alive in developer's minds even now. That to us shows the ultimate form of respect so people will never forget Contra was once king of its genre. We here at Honey's Anime hope the series will re-emerge one day but for now we keep the memory alive by hitting that start button every so often on the classic title. Now we do wonder, what games from this list were your favorites? Comment in comment section down below and make sure to click back to our site as we have plenty of lives that will make sure we don't go anywhere anytime soon and can keep giving your wonderful souls more great articles like this one.
---