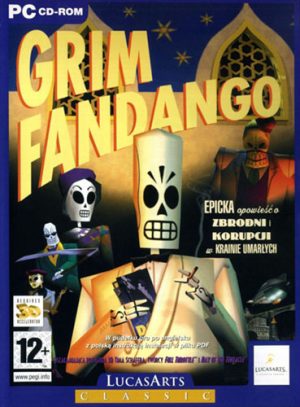 INTRODUCTION / OPENING PARAGRAPH
Point and click adventures are always interesting games but there are a lot of them in the huge library of video games. However, for this genre to do well, we here at Honey's Anime feel that the story, characters and freedom of dialogue are very important elements of a point and click adventure. That's why games like Grim Fandango are considered legendary. This quirky but visually unique game gave players an odd world to explore and an even odder set of characters to chat with but it truly felt like exploring a world unlike our own. That's why for our 6 Games Like Grim Fandango list, we wanted to find games that gave players similar experiences within a genre that, even today, is still very loved.
Unfortunately, making this list was no small task to be honest. As we stated earlier, the point and click adventure genre—which has evolved to let gamers have full movement—features an almost dizzying amount of titles. Luckily, that didn't stop us here at Honey's Anime. We know we found some of the best games like Grim Fandango for this fresh list that pay plenty of homage to Grim Fandango. Whether you're solving dark crimes using odd powers or exploring a new gained power to control time, these games like Grim Fandango will please those who love the genre as much as us. That's why now for you to start reading some cool titles, just click right on down and we can proceed.
Similar Games to Grim Fandango
1. Nancy Drew: Curse of Blackmoor Manor

System/Platform: PC
Publisher: DreamCatcher
Developer: Her Interactive
Release Date: Oct 5, 2004
Nancy Drew is back with yet another mystery and this time, she may be dealing with a larger threat than ever before. Traveling to England, Nancy is supposed to meet her neighbor's daughter who seems to be going through an odd ordeal. Apparently her home of the Blackmoor Manor is afflicted with a strange curse that befalls those who enter its domain. Can Nancy solve this new mystery with her extraordinary detective skills, or is this curse something even the young and bright detective can't handle? Find out in Nancy Drew: Curse of Blackmoor Manor.
Let's start off our list with a series that has taken an epic book series and made it into a franchise of excellent games. If you're new to this series though, Nancy Drew: Curse of Blackmoor Manor isn't overly complicated to explain. Players take control of the young detective Nancy as they solve mysteries by clicking on environmental objects and backgrounds to piece together clues. Players will need to rely on paying close attention to small details if they want to solve the mystery successfully. Nancy Drew: Curse of Blackmoor Manor may not be the first game of the series to be released but we see it as being one of the best point and click adventures from the series as well as a great game to compare to Grim Fandango.
Nancy Drew: Curse of Blackmoor Manor Official Trailer | Nancy Drew Games | HeR Interactive (Official Trailer)
---
2. The Wolf Among Us

System/Platform: PS3, PS4, Xbox 360, Xbox One, Android, iOS, PC
Publisher: Telltale Games
Developer: Telltale Games
Release Date: Oct 11, 2013
From the Fables series comes Telltale Games The Wolf Among Us. Acting as a prequel, players see the world from the eyes of Bigby Wolf, known by his infamous name, The Big Bad Wolf. Acting as the Sheriff of Fabletown, Bigby finds himself saving a young prostitute from being assaulted from a drunk woodman. However, the next day Bigby is horrified to see the woman's head on the front of his door leading him to figure out who committed this crime. Bigby is about to show whoever did this why he was once labeled as The Big Bad Wolf in The Wolf Among Us.
Fables is one of the coolest graphic novels we've read here at Honey's Anime and that's what makes playing The Wolf Among Us such a treat. Fans or even newcomers will love the cast of fictional characters straight from past childhood stories but with obvious twists and altercations to make them unique for this mature story. Considering Grim Fandango's exploration of its odd take on Hell, players will love to explore Fabletown and seek to learn what secrets it has. Players will also need to be careful who they interact with and what they say thanks to Telltale Games usual consequences in choices. Trust us folks you're missing out if you don't play The Wolf Among Us.
The Wolf Among Us- Season Premiere Launch Trailer (Official Trailer)
---
3. Tales from the Borderlands

System/Platform: Android, iOS, PC, PS3, PS4, Xbox 360, Xbox One
Publisher: Telltale Games
Developer: Telltale Games
Release Date: Nov 25, 2014
Tales from the Borderlands tells a story that occurs shortly after Borderlands 2's conclusion. Our main characters, Rhys and Fiona, have just been captured by a mysterious stranger. The two souls are then forced to explain what led them to their current predicament. Rhys and Fiona are about to tell a tale of an unlikely meeting and a very large adventure that neither Rhys nor Fiona saw coming. Welcome to a new side of the Borderlands lore thanks to Tales from the Borderlands.
Telltale Games has crafted—as you can tell from this list—numerous titles like Grim Fandango but one of their best works is Tales from the Borderlands. The colorful world of Pandora and its odd residents were wonderfully captured thanks to Telltale's strong understanding of both the lore from Borderlands as well as the theme it goes for. While you may not be running around killing millions of enemies and gathering billions of new guns, Tales from the Borderlands gives players the ability to create a truly unique story thanks to Telltale Games usual narrative choice system. Our only complaint about Tales from the Borderlands is we wish it would have went on longer as we loved this amazing story and truly loved seeing Borderlands in a new light. If you love Telltales Games and love Borderlands, you need to check out Tales from the Borderlands.
Tales from the Borderlands- World Premier Trailer (Official Trailer)
---
Any Games Like Grim Fandango ?
4. D4: Dark Dreams Don't Die

System/Platform: PC, Xbox One
Publisher: Microsoft Studios, Playism
Developer: Access Games
Release Date: Sept 19, 2014
David Young has just dealt with a tragic event: his wife being murdered. Despite David once having been a Boston police narcotic officer, he finds that he doesn't have many clues to go off of. All he knows is to look for D, his wife's final words before her untimely death. Now, David—who stepped down from work and became a private eye—must use his powers of traveling to the past via mementos to solve who killed his wife by any means. David's ordeal is about to enter a strange world filled with things he can't fully explain but he's willing to dive in if it means taking down the one who killed his young wife.
D4: Dark Dreams Don't Die is a weird game but that weirdness is what we love about this point and click adventure. In the same vein of games like Grim Fandango and Telltale Games, players take control of David as they explore rooms for clues and talk to witnesses to piece together what occurred in his wife's murder. D4: Dark Dreams Don't Die really reminds us of the odd nature of Grim Fandango by having just as quirky characters to explore. A prime example of this would be David's cat which is a catgirl...for some reason or another. If you love strange adventures and strange characters—basically everything strange—you'll want to check out D4: Dark Dreams Don't Die.
D4: Dark Dreams Don't Die- Launch Trailer (Official Trailer)
---
5. The Walking Dead

System/Platform: Andorid, iOS, PC, PS3, PS4, PS Vita, Xbox 360, Xbox One
Publisher: Telltale Games
Developer: Telltale Games
Release Date: Apr 24, 2012
Straight from the world of The Walking Dead graphic novels and the critically acclaimed show comes Telltale Games The Walking Dead. Poor Lee Everett has been charged with murder and is being sent off to prison. During Lee's transportation, an odd event occurs where the police car goes off road as the officer tries to dodge a walking man on the road. However, when Lee wakes up after the crash, he learns that the walking man was actually a zombie and all around him an outbreak of the undead have begun to rise. Lee must escape to survive all while meeting others who he will come to rely on if he wishes to stay human and not join the ever growing number of so called Walkers.
With multiple endings, a huge cast of different characters and plenty of narrative choices, The Walking Dead stands as one of the best examples of what games like Grim Fandango have become today. Players take control of Lee and must survive against not only humans, who have become riled up, but the zombie-like beings known as Walkers. We love how Telltale Games—who has indeed been on this a lot—always makes gameplay even more deep by adding quick time events and consequences if you fail them. The Walking Dead is a lot of fun and we shed a few tears while playing thanks to some deep narrative that truly blew us away. If you only have ever played Grim Fandango then you need to try out The Walking Dead.
The Walking Dead Story Trailer [HD] (Official Trailer)
---
6. Life Is Strange

System/Platform: PC, PS3, PS4, Xbox 360, Xbox One
Publisher: Square Enix, Feral Interactive
Developer: Dontnod Entertainment
Release Date: Jan 30, 2015
Maxine Caulfield is a girl who is just trying to find herself in a big world. However, she is about to see a side of her she never knew existed after learning she has a power that defies reality. Max—as most call her—gains the ability to reverse time after witnessing the murder of someone close to her. Now with this newfound power, Max is about to learn every choice she makes affects her world and it may even lead to the salvation or possible destruction of her town. Can this once normal girl deal with such a tremendous new power and a popularity that may come with it?
Our 6 Games Like Grim Fandango list ends with one of the best adventure games we've ever played. Dontnod Entertainment crafted a title that captured the feeling of finding yourself as you go through life all while adding supernatural elements to make a truly dynamic experience. Players control Max as she must help others all while trying to prevent a disastrous event from unfolding. Thankfully Max can rely on using her rewind power to retry certain events and dialogue choices. Each event players go through have profound consequences and it makes Life is Strange a truly amazing narrative experience unlike any other.
Life is Strange- Trailer (Official Trailer)
---
Final Thoughts
Grim Fandango released in 1998 and yet the amount of fans for this game—Honey's Anime included obviously—is astronomical. That's why we needed to make sure that our 6 Games Like Grim Fandango list was equally as epic and we feel we accomplished that. However, hearing from you wonderful people out there would give us much needed reassurance. Comment down below so we can hear what games you loved from this list or if we missed some titles as we clicked around during our creation of it. Stay tuned to Honey's Anime for more articles and recommendations like this to emerge for your reading entertainment.
---