Sports game have seen a lot of success in the gaming world. However, very few series have ever seen the success seen from the John Madden Football series. Releasing back in 1988 on MS-DOS, there hasn't been a single year that a John Madden title game didn't release. It would seem that there can never be an American football game series that could ever dethrone the legendary franchise set forth by John Madden. Though that doesn't mean that there aren't other great NFL related titles that people can enjoy.
Today we here at Honey's Anime went on a grueling mission. Working together as the strong researchers and gamers we are, we banded together in search something. That something just so happens to be other games that could be enjoyed just as much as the Madden football titles. While it seemed an impossibility at first we then realized there are several great games that players can enjoy if they need a break from Madden titles. Welcome, one and all, to our 6 Games Like Madden list!
Similar Anime to Madden
1. NCAA Football 14

System/Platform: PS3, Xbox 360
Publisher: EA Sports
Developer: EA Tiburon
Release Date: Jul 9, 2013
NCAA Football 14 is developer EA Tiburon's latest entry in the college football game scene. Once more, players can take control of their favorite college based teams and head into the fray. Will you lead your team to victory? Can you take this year's National Championship Trophy and claim it for your college? Find out in NCAA Football 14.
Most people forget that while the NFL focused games are popular so are the NCAA ones. While NCAA Football 14 isn't the newest title of the franchise, we here at Honey's Anime consider it our personal favorite and we notice others online consider it one of the best as well. Like Madden titles, you take control of different college teams—all 126 of them—and lead them to victory against the AI in Season mode or go online to play against others. NCAA Football 14 is a lot of fun and we highly recommend it if you love the Madden games. Hey, do what we do here at Honey's Anime and control your college team of choice and see if you can lead them to get the trophy!
NCAA Football 14 Launch Trailer (Official Trailer)
---
2. NFL Blitz (2012)

System/Platform: PSN, XBLA
Publisher: EA Sports
Developer: EA Tiburon
Release Date: Jan 4, 2012
NFL Blitz 2012 returns with all the aggressive arcade action of its predecessors. Once more players can take their favorite teams and play a more aggressive version of the NFL we all know and love. Don't be afraid to slam into a quarterback or wide receiver as NFL Blitz 2012 won't charge you for brutally tough gameplay. Play against a friend on a single console or take your game online. If you think you know tough American Football…think again.
We all love American Football. Well, at least we presume you do if you're reading this 6 Games Like Madden list. Though we always wondered what a rougher version of NFL would look actually look like? That's why we loved NFL Blitz when it released originally back on the N64 and PS1, but now after a long hiatus, NFL Blitz returns to true form in NFL Blitz 2012. If you love Madden but want a more arcade like game then you can't go wrong with NFL Blitz 2012.
---
3. NFL Head Coach

System/Platform: PS2, Xbox, PC
Publisher: EA Sports
Developer: EA Tiburon
Release Date: Jun 20, 2006
Are you tired of controlling the players of a team in normal NFL games? Want to be the one making the plays and be responsible for leading a team to victory? Well, wait no longer as NFL Head Coach will fulfill your dream. Make the playbooks, hire assistant coaches, and lead your team to victory. Make the right decisions or else be fired in NFL Head Coach.
Most NFL games—in this case like Madden—offer up just the usual type of gameplay. Control a team on the field and make the passes and call out plays. While that is obviously what most want in a NFL title, little realize the joy of being the one who leads a team to true victory behind the scenes. That's the beauty of NFL Head Coach which is less about you hitting other players and making long throws and more about making right choices on who should be on a team and how they should be led. If you want to prove you could make the right plays better than another coach on the field, then why not try out NFL Head Coach?
---
Any Anime Like Madden?
4. NFL Street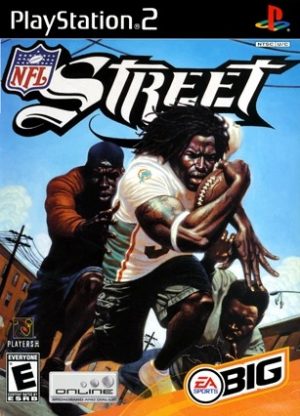 System/Platform: PS2, GameCube, Xbox
Publisher: EA Sports BIG
Developer: EA Tiburon
Release Date: Jan 13, 2004
While NFL players may go against each in professional games, they do play the sport for fun sometimes. That's the idea behind NFL Street. Players go onto the streets in teams of 7, rocking everyday clothes, and play football without refs. Take your favorite players or create your own and get on the field! In NFL Street, you can even choose from some of the legends of the NFL and play as them!
Have you ever wondered what a NFL player would look like playing outside of famous stadiums? That's the beauty about NFL Street. While it's still the great game of football, it's less focused on being as strict as say the Madden series. Play either against the AI or against a friend and see who the best players are of the NFL when they don't have their teams to rely on. NFL Street is a fun title even despite its age and we highly recommend picking up a copy if you can find it.
---
5. Blood Bowl (2009)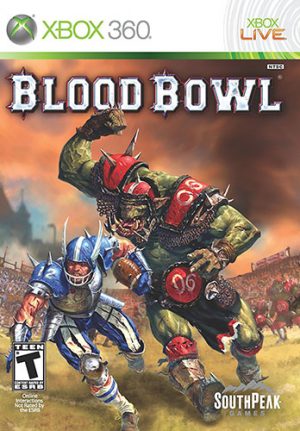 System/Platform: PC, Xbox 360, PSP, Nintendo DS, iOS
Publisher: Focus Home Interactive
Developer: Cyanide
Release Date: Jun 26, 2009
You've played real life NFL titles but now it's time to step into a fantasy world in Blood Bowl. Instead of a regular game of football, players will go up against other creatures such as orcs and even Minotaur. You can choose to play the game like a normal type of football game or make it more RPG-like where players will level up, use skills and even roll dice to affect the flow of a game. Nothing is against the rules in Blood Bowl meaning you better be ready to get hit and hit hard. Now make your team and prepare for a life or death game of football!
Maybe you're not into traditional football games like the Madden franchise. Maybe your type of games are more fantasy based RPGs but you still always wanted to see if you could play a football game. Well then, worry not as Blood Bowl is the perfect game for you. Meant to be a fusion of an RPG and a football game, Blood Bowl allows you to be more strategic about plays and even use different skills to take down your opponents. Blood Bowl might be far from the NFL games you know but with its awesome RPG mechanics, fun gameplay and cool fantasy themes it's a game that caters to those who don't like your everyday sports game.
---
6. ESPN NFL 2K5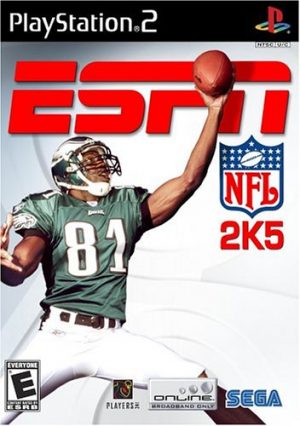 System/Platform: PS2, Xbox
Publisher: SEGA
Developer: Visual Concepts
Release Date: Jul 20, 2004
The last installment in the ESPN NFL 2k5 series was easily one of the most similar titles to the Madden franchise. Players take their favorite NFL teams and lead them to victory through a whole season or singular games. Players could even make their own team with their own logo and try to test their mettle against the pros. Players can even play in first person mode to experience the game from the eyes of the players on the field! Can you win the Vince Lombardi Trophy? Well, take your team and play your hardest in ESPN NFL 2K5.
Ending our 6 Games Like Madden list is ironically ESPN NFL 2K5. We say ironically because ESPN NFL 2K5 was SEGA's last entry in the series. However, we feel they went out with a bang as ESPN NFL 2K5 was a lot of fun back then and even today. Our favorite aspects had to be the create a team concept as well as the first person mode which would gameplay mechanics seen in other NFL titles after ESPN NFL 2K5 released. Trust us folks, if you want a classic title that still is worthy of being considered one of the best football games ever, then you need to play ESPN NFL 2K5.
---
Final Thoughts
Quite often when a franchise is so popular—in this case the Madden franchise—other titles get pushed to the wayside. That's why we here at Honey's Anime want to show that while the Madden games are awesome there are other NFL titles that are just as fun and offer different gameplay experiences. With that folks, we come to another end to another awesome list if we do say so ourselves. Let us know in the comments below your thoughts about our Madden list—did we find games like Madden that are just as fun or did we miss some other obscure ones—and be sure to keep coming back to Honey's Anime for more gaming and anime articles for your reading pleasure.
---