Our Italian plumber turned hero has been in tons of video games in the Nintendo life span. Besides being in the obvious platformers he's been in fighting games and even some RPGs. Mario Tennis has to be one of Mario's more famous gaming titles seeing as how it's both a Mario inspired game as well as a solid sports title. We here at Honey's Anime love Mario Tennis so much that after a few dozen matches decided to sit down and think of games that were just as fun as Mario Tennis. Here is our 6 Games like Mario Tennis recommendations list.
Now as we began writing our 6 Games like Mario Tennis list we wanted to put a nice focus on several different genres that not only included Mario but the elements of that arcade tennis feeling you get while playing. Our titles will range from other tennis games like Mario Tennis that will give you that same joy you get from playing Mario Tennis. Some of these games like Mario Tennis might even have some other gaming icons playing the fun sport as well. Regardless we know you're going to dig our list and that's what we're aiming for. Now then let's begin this exciting 6 Games like Mario Tennis list, shall we? Trust us don't feel bad if you feel like booting up some older games after reading our 6 Games like Mario Tennis list.
Similar Games to Mario Tennis
1. Virtua Tennis 3

System/Platform: Arcade, PS3, Xbox 360, PSP, PC
Publisher: Sega
Developer: Sega AM3, Sumo Digital
Release Date: Mar 8, 2007
The Virtua Tennis series returns in Virtua Tennis 3. Players will get to experience the great arcade feel of the Virtua Tennis series but with new bells and whistles making Virtua Tennis 3 one of the best sequels to the series. Enter World Tour mode to go from the bottom and work your way to Rank 1. Players can also enjoy tournament mode to see if they can win 5 matches in a row against various opponents on different courts. Tired of single player? Hop online to challenge others and see who the true master of Virtua Tennis 3 is.
Mario Tennis may have cute Mario characters but at its heart it's a tennis game, and a dang good one. That's why we thought instantly of Virtua Tennis 3 for this 6 Games like Mario Tennis list. While it may ebb more on the side of realistic with real life professionals being playable, Virtua Tennis 3 is tons of fun and really shows the best a tennis game can offer. Fans will agree with us as well seeing as Virtua Tennis 3 still has people playing online showing how much they love this great Sega game. If you love Mario Tennis you're no doubt going to love Virtua Tennis 3, that's why we knew it was the best place to start our 6 Games Like Mario Tennis list.
---
2. Wii Sports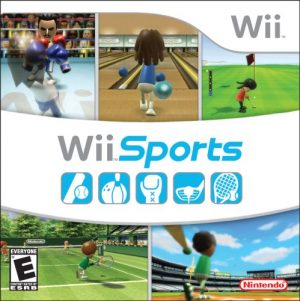 System/Platform: Wii
Publisher: Nintendo
Developer: Nintendo EAD
Release Date: Nov 19, 2006
Wii Sports is a game fun for all ages. Players will get to utilize the Wii motion controls to play one of several sports such as Tennis and Bowling to name a few. Play with friends and family for hours of fun. What's even better is that your Mii characters can join in on the fun as they are the characters you'll be controlling. Wii sports is easily a game you will want to own if you have a Nintendo Wii.
Wii Sports is one of those titles that you wonder how can this be so popular? Typically games that come with systems can be only fun for a few hours at best. However, this isn't the case with Wii Sports. Like Mario Tennis, Wii sports is one of the titles we here at Honey's Anime still find ourselves playing every so often with friends and family for easily hours and hours. With simple controls and several fun sports titles—obviously tennis is included—Wii Sports is a must play for anyone who loves Mario Tennis. Now then, if you'll excuse us we're going to find our copy of Wii Sports so we can play it later.
---
3. Hot Shots Tennis

System/Platform: PS2, PS4
Publisher: Sony Computer Entertainment
Developer: Clap Hanz
Release Date: Sept 16, 2006
Developer Clap Hanz is known for their amazing golf series known as Hot Shots Golf. Well now the team has developed a new sports game in the form of Hot Shots Tennis. Players can enjoy a very silly tennis title akin to the Hot Shots Golf series. Play solo in up to several modes or play against friends in 1-4 player multiplayer. Hot Shots Tennis keeps the great animation and art style known from the Hot Shots Golf franchise and that will appeal to fans greatly. If you're looking for an arcade style tennis game, then you don't need to look any further than Hot Shots Tennis.
We here at Honey's Anime love the Hot Shots Golf series. The cute art style and great gameplay mechanics have always appealed to us. That's why when we were thinking about tennis games similar to Mario Tennis we realized Hot Shots Tennis was a good candidate. While you may worry that a team focused solely on golf games would butcher a tennis title, we can honestly say don't fret as Hot Shots Tennis plays well and is nothing but an amazing time. For those who need an arcade tennis game that prides itself on being fun, silly and contains great gameplay then we fully recommend Hot Shots Tennis for games like Mario Tennis.
---
Any Games Like Mario Tennis ?
4. Top Spin 4

System/Platform: PS3, Wii, Xbox 360
Publisher: 2K Sports
Developer: 2K Czech
Release Date: Mar 15, 2011
Top Spin is back with another great entry in the series in the form of Top Spin 4. Tennis fans can enjoy playing as their real life professionals such as Andre Agassi and Andy Murray. Up to 25 professionals can be chosen and in total Top Spin 4 has up to 39 courts to play on. Top Spin 4 on the PS3 can be played with the PlayStation Move for even more immersion as you swing the controller and feel as if you're a pro on the courts. Top Spin 4 is an amazing entry in the series thanks to tighter controls and even more reasons to play.
The Top Spin series has always wowed us with amazing tennis gameplay. Developer 2K Sports does it yet again though with Top Spin 4 which is easily one of our favorites of this long running franchise. The graphics really show off some impressive levels of details with the players looking almost exactly like their real life counterparts. If you love Mario Tennis but want a more serious title, then we say you can't go wrong trying out Top Spin 4. See if you can pick up the PS3 version though for the PlayStation Move gameplay as that's the way to go in our eyes.
---
5. Grand Slam Tennis

System/Platform: Wii
Publisher: Electronic Arts
Developer: EA Canada
Release Date: Jun 8, 2009
The Nintendo Wii has a slew of sports related titles. However, very few are as good as Grand Slam Tennis. Players can enjoy a solid tennis title thanks to the motion controls from the Wii and using the Wii MotionPlus adds even more control. You can choose from up to 23 professional players as well as some retired legends such as Boris Becker, Pat Cash and Martina Navratilova. Grand Slam Tennis also gives you a player customization to allow you the feel of seeing your own character win against the pros. With several modes of play Grand Slam Tennis is a must own for those who love a good sports game.
The Nintendo Wii has a lot going for it. Not only is it accessible to a wide range of players of all ages but it has dozens of great games to play on it. Grand Slam Tennis though is one of those must own sports titles. The fact that you can play as legendary tennis pros and make your own character are features we love the most in Grand Slam Tennis. Mario Tennis fans don't miss the opportunity to own one of the better tennis games in the form of Grand Slam Tennis.
---
6. Sega Superstars Tennis

System/Platform: PS2, PS3, Wii, Xbox 360, Nintendo DS, Mac OS X
Publisher: Sega, Feral Interactive
Developer: Sumo Digital, Feral Interactive
Release Date: Mar 18, 2008
Ever wonder who is the better tennis player in the Sega world? Well now, you can answer that thanks to Sega Superstars Tennis. Players can choose various characters from the Sega franchise such as Dr. Robotnik or Ulala from Space Channel 5. Play solo against the computer or with friends to see who the best tennis player is. It's time for a grand mix up of legendary Sega characters in Sega Superstars Tennis!
We wrap up our 6 Games Like Mario Tennis with a game that is all too similar. Sega Superstars Tennis is Sega's answer to Mario Tennis in many ways. The idea of using various characters from the Sega video game series and mashing them in a sports game was still a neat idea if not seen as a means of making a competitive title. However, Sega Superstars Tennis does do some unique altercations with the tennis game which in turn makes a solid tennis title. It's a hard choice between Mario Tennis and Sega Superstars Tennis. Though to be honest we consider both titles to have their charms thus we love them both equally.
---
Final Thoughts
Mario Tennis is one of those examples of what can be done when you fuse not only a popular icon into a game but also give great gameplay to go along with it. Trust us folks there have been hundreds of gaming titles from different companies that have tried the same and it's not always a winner to say the least. However, as you can tell with the games like Mario Tennis above—even the few that don't include Mario—these titles made the gameplay a priority to make sure gamers would be investing a lot of time into them. Now then our 6 Games like Mario Tennis list comes to a close but we hope you enjoyed the ride. Feel free to comment your love for Honey's Anime—or some of your favorite games like Mario Tennis from this list—in the comments below. Stay tuned to Honey's Anime as we'll be serving you even more articles soon enough.
---