The NBA is filled with stars such as LeBron James, Kevin Durant, Stephen Curry, Anthony Davis, and Russell Westbrook. However, there are many who strongly believe they don't compare to the superstars of the 1990's, most notably Michael Jordan and the 1995-1996 Chicago Bulls. While gamers can enjoy modern NBA licensed games that simulate the real sport, in the old days, fans could enjoy the sport through Midway's arcade hit, NBA Jam. Compared to present basketball video games, NBA Jam takes it to a humorous and gimmicky extreme that even appeals to gamers who may not be fans of basketball.
As opposed to the standard 5 vs. 5, due to the technological limitations to allow its digitized graphics, you could only play 2 vs. 2, but it didn't stop it from being a huge hit. A majority of the fun is when approaching the basket at turbo speed, your character can jump sky high and set the ball on fire while jamming a dunk. In addition, there were no fouls, which would make notorious Detroit Pistons center Bill Laimbeer proud. The game embraces its comedic nature by having then-President Bill Clinton and Vice President Al Gore as secret characters (and its main creator who programmed himself to the best the best player in the game)!
NBA Jam is also remembered for some of the commentaries such as boomshakalaka when scoring a dunk. Since the series' release and prime were in the mid-90s, it features many legends of that time such as Karl Malone, Patrick Ewing, Hakeem Olajuwon, and Scottie Pippen.
The game's development was during a time when Michael Jordan was pursuing baseball (and because Jordan exclusively owns the rights to his likeness), so the only thing that made this game from being 100% perfect was his absence, which makes it its only flaw. But there are stories that Midway did make a version for Jordan's personal use where he is selectable, and they did something similar with Gary Payton of the then Seattle Supersonics. As for the console releases for the SNES and Genesis, Charles Barkley and Shaq are also absent (for other licensing reasons). While video gaming has progressed since its release, what are some games from its time and now that represent the spirit of the game both in reality and fiction? Read our list to find out!
Similar Game to NBA Jam
1. NBA Live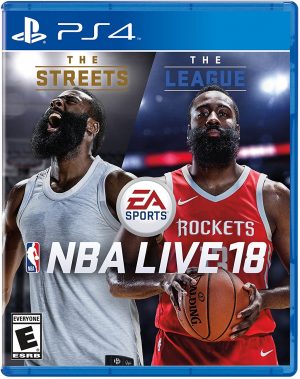 System: Multiplatform
Publisher: EA
Developer: EA
Release Dates: 1994 – present
Though the game debuted on 16-bit systems, the latest installments of NBA Live has amazing graphics that make you think you're watching the real game. Compared to NBA Jam, EA's NBA Live is meant to offer a more realistic basketball experience. For many years, this game was considered the best basketball simulator while NBA Jam was more of a gimmick that anybody could get into. While Live's crown has been taken by the 2K series, Live still offers different features to distinguish itself. With the 2018 edition, it is one of the first games to feature WNBA teams, a first for any basketball game.
Unfortunately, recent releases of NBA Live don't have options to select older players, and that naturally includes Michael Jordan. But if you want to enjoy playing with the latest teams, the newer releases of NBA Live are your fix.
NBA Live 18 Trailer
---
5. NBA 2K

System: Multiplatform
Publisher: 2K Sports
Developer: Visual Concepts
Release Dates: Nov 10, 1999 - present
While NBA Live can be considered more technical, 2K's system and layout have a pace that is much simpler but still captures a sense of realism. The game is very easy to pick up and is still a very accurate representation of the game and its superstars. In its debut in 1999, it reflected the big man oriented era and emphasizing of dominating the post, while the latest releases are more focused on 3-point shooting like the present NBA. The game is also known for its soundtrack of using the latest hits with each respective installment or sometimes uses classics.
One notable example is Kurtis Blow's Basketball, which is the theme song of NBA 2K12. While Michael Jordan is absent in NBA Jam, his presence is prominent in this hit series. As you play as Michael Jordan in his prime, his running and dunking form makes you feel as if you're watching the real MJ. While every installment of NBA 2K has the latest rosters, they also included teams from the Euroleague and teams from the past. Not only do you get to play the 1995-1996 Bulls in some releases, you can also play as the 1985-1986 Celtics, the Bad Boys Era Detroit Pistons from the late 80's, and a limited number of installments include the 1992 Dream Team.
Heck, you can even customize teams and NBA 2K18 has legacy teams. For some of you that are Lakers fans, maybe you can customize your teams to have a prime Jerry West, Magic Johnson, Kobe Bryant, James Worthy, Shaq, Kareem, and Wilt Chamberlain. Or if you prefer their rivals The Celtics, what if you had KC Jones, Danny Ainge, Larry Bird, Kevin McHale, and Bill Russell as your starting 5? In this game, the sky's the limit for fans. So if you want to match up the 1995-1996 Bulls against the 2016-2017 Warriors, this game is it and you can put it on computer mode to see who can win.
NBA 2K trailer
---
4. Space Jam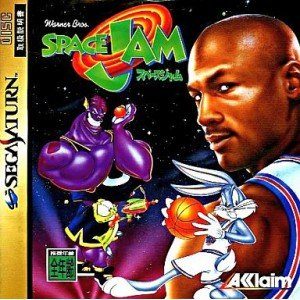 System: PlayStation, Saturn, MS-DOS
Publisher: Acclaim
Developer: Sculptured Software
Release Dates: Oct 31, 1996
Many of you 1990's kids that are reading this list most likely have seen the movie co-starring Michael Jordan and the Looney Tunes. Just like in the movie, they must take on the Monsters at a game of basketball. The presentations, character scale models, and gameplay between both games are more or less the same as NBA Jam. In fact, this might be the closest thing to NBA Jam where you play as Michael Jordan. Some notable differences are as opposed to 2 on 2, the game is 3 on 3 (while you do have the option of 2 vs. 2). Space Jam is easy to get into if you already have familiarity with NBA Jam, but this time, be ready for Looney Tunes antics and a different pace since it has no fouls that are more extreme.
In addition to the standard basketball game, there are mini-games where you play as Daffy Duck to find MJ's uniform and finding the secret water as Bugs Bunny. There are other carnival mini-games that are used to improve your player's performance in shooting, passing, and rebounding. If you want a simple pick up game, this might work for some people, but if you want a career or season mode, we mostly recommend our earlier picks, NBA Live and NBA 2K. Last, if you are hoping for the soundtrack of the movie to be in this game, we hate to say that you can't find it here.
---
Any Game Like NBA Jam?
3. Barkley Shut Up and Jam!

System: Genesis, Super Nintendo
Publisher: Accolade
Developer: Accolade
Release Dates: 1993
Another legend from the 1984 draft that we would like to acknowledge is The Round Mound of Rebound, Sir Charles Barkley. In addition to his ferocity, he is also known for being controversial outside of the court (claiming he is not a role model) and for taking on Godzilla in the streets of Tokyo in a Nike commercial. But if there is one reason why Barkley is not featured in some versions of NBA Jam, it was because his likeness was licensed to make Barkley Shut Up and Jam. As opposed to playing him in the courts of the America West Arena with the Phoenix Suns (his team upon release of this game), he uses the season to play on the streets.
The game is pretty much NBA Jam with Barkley as the exclusive NBA superstar, and taking place in an urban setting. It largely controls like NBA Jam and shares numerous features and novelties such as turbocharging and super dunks. For those of you who are Barkley fans and want the game for his sake, this game is for you. If you want something with other NBA players featured, the game even has its own unofficial JRPG sequel, Barkley Shut Up and Jam: Gaiden, and has present players like LeBron James and past legends like Patrick Ewing.
---
2. Rap Jam: Volume One

System: Super Nintendo
Publisher: Motown Games
Developer: 64WD Creation
Release Dates: Jan 1995
While Michael Jordan, Karl Malone, Gary Payton, Charles Barkley, and David Robinson were making the NBA more exciting than ever, around that same time, fans of hip-hop were treated to Coolio, Flavor Flav, LL Cool J, Public Enemy, and Naughty By Nature. But what if you could take the biggest hip-hop starters of the 1990's and put them in a basketball video game? Well, it happened in Rap Jam: Volume One for the Super NES. So if you want the ultimate novelty basketball game in terms of gimmicks beyond NBA Jam, Rap Jam: Volume One is it. Like Barkley's Shut Up and Jam, it takes place in the streets of America's biggest cities starring the hip-hop artists that we just mentioned.
Like NBA Live, Rap Jam uses a shot meter to determine if the shot is good or not. You also have the options of going one on one, two on two, or three against three. Unfortunately, gamers who want a deep franchise mode like in NBA 2K may not like this, but if you want something straight to the point and to kill time, Rap Jam is your choice, but don't expect to hear Flavor Flav scream YEEEEEAAAAAAAHHHHHHH BOOOOOOOOOOYYYYYYYYYYYYYYYYYYYYYYYY in this game if you score a dunk with him.
---
1. NBA Hang Time

System: Multiplatform
Publisher: Midway
Developer: Midway
Release Dates: 1996
With the NBA Jam license exclusive to Acclaim, Midway made their unofficial sequel with Hang Time. While it was still largely similar to NBA Jam in every way you can think of, its biggest distinction was the ability to create your own player. You could make the player's height, weight, offense and defensive skills. The more your player wins, the more experience points you can earn to make your player better. Like NBA Jam, Hang Time embraces its silliness with its create-a-player feature by allowing you to make clowns and chickens.
While this may not be unique by today's standards thanks to NBA Live and 2K, Hang Time was also famous for having alley-oops, and other forms of double team dunks. So if you want the next stage in NBA Jam, Hang Time is your game with the arcade featuring the 1995-1996 roster, while the console releases have the rosters of the following season.
---
Final Thoguths
Along with NBA Jam, the games not only represent the sport but its fanbase. There are some games where you don't play in arenas, but in the park or an inner city court, and installments of 2K and Live have hip-hop oriented soundtracks. Some of these games do their best to represent the qualities of each player such as the stealing abilities of John Stockton, the domination of Shaquille O'Neal in the post (and his lousy free throws), the three-point shooting accuracy of Steph Curry, the unorthodox passing of Magic Johnson, the rebounding of Dennis Rodman (and his whacky hair colors), and the all-around abilities of LeBron James.
Some games are stuck to the times they are stuck in within the confines of their initial releases, but they still excellently hold up long past their debuts in their own distinct ways. As stated, some games allow you to customize your teams, or create your own players to help keep these games timeless with that sense of replay value. So depending on what you're looking for, we are positive our listings have it.