Imagine yourself strolling along the Western plains of the United States aboard your American Standardbred, the fastest horse you can find in this part of the world. As your horse gallops through the wild wild west, you hear the rustling of tumbleweeds, screams coming from the looming vultures above, and if you're that kind of player, you might also have "The Good, The Bad, and the Ugly" playing in the background. Welcome to the world of Red Dead Redemption. You take the role of John Marston, a former outlaw who is given an opportunity from the Bureau of Investigation to make amends with his past. Now his only task is to bring justice to the remaining members of his old gang and get his family back.
Red Dead Redemption came out on May 18, 2010, and fans were left amazed by the kind of free-roam Western game Red Dead Redemption was. Months after the game was released, Red Dead Redemption: Undead Nightmare came out, which placed players in a Western zombie-infested setting. However, fans were left with the desire and hope for a sequel. In these past few months, Rockstar has announced that Red Dead Redemption 2 is being worked on, but no release date has been announced. While you wait for this new cowboy bandit adventure, here are 6 games like Red Dead Redemption.
Similar Games to Red Dead Redemption
1. Grand Theft Auto V

System/Platform: PlayStation 4, PlayStation 3, XBOX 360, XBOX ONE, PC
Publisher: Rockstar Games, Take-Two Interactive
Developer: Rockstar North
Release Date: Sep 17, 2013
Grand Theft Auto V places you in the city of Los Santos and tells the story through three very distinct characters; a retired con man, Michael De Santa; a young man from downtown Los Santos, Franklin Clinton; and a criminal who lives in the desert, Trevor Philips. As you play these three characters, you get the opportunity to explore the city of Los Santos, drive luxurious custom-made cars, and complete various missions that are spread out through the game. However, as the story progresses, you find yourself in very particular situations. At times you may find yourself flying a fighter jet or even driving a submarine. And if that isn't enough content and excitement for you, you can also play online with your friends doing whatever your hearts desire.
Grand Theft Auto V can be seen as the modernized version of Red Dead Redemption. Instead of riding your horse down the plains, you find yourself driving a new customized Annis Re-7B. Instead of using an old revolver to complete your missions, you can use a top-of-the-line sniper rifle or assault rifle. The possibilities are endless with these three characters, and Rockstar manages to package a nice, well thought-out story surrounded by these three protagonists. It may be unfair to compare GTA V and Red Dead Redemption because of their distinct differences, but in the end, GTA V and Red Dead Redemption take you into similar story sequences. If you enjoyed the Western liberty brought to you by Red Dead Redemption, then it is only fair to try out the city liberty GTA V brings to the table.
Grand Theft Auto V: The Official Trailer
---
2. Mafia III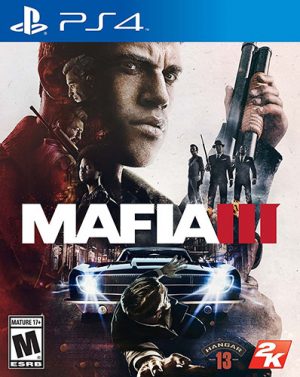 System/Platform: PlayStation 4, XBOX ONE, PC
Publisher: 2K Games
Developer: Hangar 13
Release Date: Oct 7, 2017
Mafia III takes place in New Bordeaux, New Orleans 1968. You play as Lincoln Clay, an orphan adopted by the leader of New Bordeaux's black mob, a returning Vietnam war hero, and a victim of betrayal at the hands of the city's crime boss, Sal Marcano. In a time where post-Vietnam America is barely recovering, you take the role of Lincoln as he attempts to overthrow Marcano. In order to overthrow Marcano and rise to power, you must capture new districts and assign district leaders to those areas. As your family grows, your powers grows as well, and you are granted new weapons and abilities that may help you on your journey.
In a world where family is everything, Mafia III gives you a glimpse of how the mafia world truly is. One similarity fans can find between Mafia III and Red Dead Redemption is the character development throughout the game. Both Lincoln and John have stopped living in their past, but unfortunately, that doesn't mean they are truly out of it. In an attempt to fully get out of their past lives, they both go to extremes and do whatever it takes to truly escape that harsh reality. Fans of the Mafia series say that Mafia III ended up being a bit repetitive but still managed to have great character development, a clever narrative, and some memorable story missions. Mafia III has earned a spot on this list because, like Red Dead Redemption, it brings a whole different environment and feel to sandbox shooter video games.
Mafia III - Worldwide Reveal Trailer | PS4
---
3. Assassin's Creed Unity

System/Platform: PS4, XBOX ONE, PC
Publisher: Ubisoft
Developer: Ubisoft Montreal
Release Date: Nov 11, 2014
One of the best things about Assassin's Creed games is the kind of time periods they place you in. Assassin's Creed Unity is a perfect example of the past being portrayed through the eyes of an assassin. It's the 18th century and Paris is suffering from the civil unrest brought by the French Revolution. Players get to explore the story of Arno Dorian, a man who joins the assassins in order to investigate the murder of his adoptive father on behalf of his adoptive sister Elise de la Serre, a member of the Templars. As you progress through the story as Arno, the city of Paris crumbles before your eyes, the streets become filled with the desperation of revolutionary citizens, and inevitably, fights begin to break out for the future of the French homeland.
One of the biggest takeaways from Assassin's Creed Unity is the type of environment you find yourself in as you wander the streets of Paris. Just as you travel the open Western world of Red Dead Redemption, Unity also allows you to explore the city of Paris, which is on the verge of complete and utter chaos. One of Red Dead Redemption's best features is the liberty of doing a mission your own way. For one of Unity's missions, you are tasked with completing an assassination amongst a crowd of thousands. This scenario really depicts what Unity is all about because it allows players to make their own decisions on how precise they want their kill to be. Of course, there is nothing more breathtaking than climbing Notre Dame and seeing the view from the top.
Assassin's Creed Unity E3 2014 World Premiere Cinematic Trailer [EUROPE]
---
Any Games Like Red Dead Redemption ?
4. Saints Row IV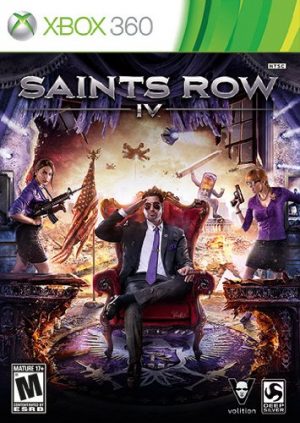 System/Platform: PlayStation 4, PlayStation 3, XBOX ONE, XBOX 360, PC, Linux
Publisher: Deep Silver, E-Frontier, Spike Chunsoft
Developer: Volition Inc., Deep Silver
Release Date: Aug 20, 2013
Saints Row IV takes place in the same open world of Saints Row: The Third, Steelport. However, Steelport is a bit different than what it use to be. Now an evil alien overlord, Zinyak, has taken over the city and Steelport has a more gloomy feel to it. Despite the radical change of the city, Saints Row IV remains true to itself down to core, except that you can now run along buildings and jump various stories high. And the explanation of these new powers? When you saved the world from a terrorist threat, you eventually become the president of the United States. And from there, the Earth is attacked by aliens and Zinyak places you in a Matrix-style computer simulation of the city, where these powers and abilities are possible. Got all of that?
Red Dead Redemption and Saints Row: IV are very different games but one of their biggest similarities is that both allow you to explore your surroundings freely. Red Dead Redemption doesn't allow you to jump several stories high in the air, but to be fair, there aren't really any buildings high enough for that ability to be useful. However, Saints Row IV and Red Dead Redemption provide many useful abilities that make gameplay more enjoyable. In Red Dead Redemption the ability Deadeye slows down time to allow the player to make more accurate shots, while abilities like super speed and force field in Saints Row: IV make you think 'why in the world would they put this in the game?', but at the same time you are happy they did. Saints Row: IV grants you similar liberty as Red Dead Redemption but with the addition of wacky abilities and a great story, Saints Row: IV isn't a game you can simply ignore.
---
5. The Witcher 3: Wild Hunt

System/Platform: PlayStation 4, XBOX ONE, PC, Mac
Publisher: Warner Bros. Interactive Entertainment, CD Projekt RED S.A., Bandai Namco Games, Spike Chunsoft, CD Projekt Red Studio
Developer: CD Projekt Red Studio, CD Projekt RED S.A.
Release Date: May 18, 2015
In The Witcher 3: Wild Hunt, for those who have played the previous Witcher games, you return as the main protagonist Geralt of Rivia in search of your lover Yennifer, and daughter figure Ciri. As you travel to the ends of this vast world, you find many things you never expected that may or may not help you on your journey. For those who haven't played the previous games don't worry, The Witcher 3: Wild Hunt is a good stand-alone game. However, if you have played the previous games, you'll run into characters that Geralt ran into in the previous games, and that only enriches the story. Here, with every choice you make there are possible consequences, but that only enriches the story of The Witcher 3.
In this game, your decisions can have an effect on barons and kings, since Geralt begins to have deeper connections and relationships with the major characters. In Red Dead Redemption your decisions may not have immediate consequences, but there is the possibility of them coming later in the story. One of the best aspects of The Witcher 3 is how open the world is. Each path may seem like it won't lead to anything new but instead each path leads you to somewhere new and interesting. In Red Dead Redemption players were left stunned by the detail found in small towns, canyons, and campsites. In The Witcher 3, you are left slack-jawed by the complexity and beauty of the mountains, landscape, and all of the surroundings.
The Witcher 3: Wild Hunt - Killing Monsters Cinematic Trailer
---
6. Max Payne 3

System/Platform: PlayStation 3, XBOX 360, PC, Mac
Publisher: Rockstar Games
Developer: Rockstar Studios
Release Date: May 15, 2012
Max Payne is a man trying to flee from his former life in New York. He gets a job as a personal security guard for a wealthy family in Sao Paulo. However, even though he thought he left his old life in New York, it didn't mean his old life left him. Max Payne hits what we call rock bottom and hitting rock bottom leaves you with only two choices: you stay there or get out and face your own problems head on. Max Payne finds himself fighting his way through nightclubs throbbing with dance music and light shows, favelas filled with children playing soccer, and run-down hotels that have been left with tons of junk from their early days of luxury and success.
One of the most appealing things about Red Dead Redemption is the kind of character John Marston is. The characteristics that John has can also be seen in Max. In this game, you must handle things such as loyalty and loss, which ultimately affects how you view the rest of the characters and allows you to see how, in the end, Max is human just like all of us. There are always those characters in video games who we just hate with all our guts, Max Payne 3 and Red Dead Redemption are no different. However, when we step back and see these characters in retrospect, that is when we truly see how human all these cast members are. In the end, Max and John aren't the same as when you first started playing the game. Both have grown immensely, which doesn't take away from the game, but instead makes it more enjoyable.
---
Final Thoughts
To be fair, Red Dead Redemption is its own kind of game. It's very hard to compare it to other games because of how distinct and specific it is. However, we can all agree that all great games have many things in common. Whether it's a great story, great characters, great mechanics, or great graphics, it's always nice to find several games similar to some of your favorites. While we wait for Red Dead Redemption 2 and the chance to roam the plains of the West as a cowboy, we hope this list keeps you busy enough until it arrives. If you think there is a game that should be mentioned in this list, please leave a comment down below.