Snowboarding is a truly exhilarating sport. Filled with high octane moments and adrenaline inducing thrills, snowboarding is indeed tons of fun. However, while we here at Honey's Anime love the sport, there are some of us who prefer snowboarding using a controller then risking injury out on the slopes. Thankfully, there are games like SSX which offer the same joy of snowboarding without the chance of injury which is a good thing for most gamers. While we love SSX, we do also like other snowboarding titles and thus why today we'll be talking about other games like SSX.
That's right everyone, today we're looking at 6 Games Like SSX. While some of these titles date back to our teenage years and even younger, they are still great even by today's gaming standards. Filled with exciting gameplay, you'll feel like you're performing the sport in real life as you hold your controller from your seat or couch. If you want some great sports games, then you're going to want to read this list of 6 Games Like SSX to find some of the best titles around. Now without any further delay, let's begin our list of games like SSX!
Similar Game to SSX
1. Steep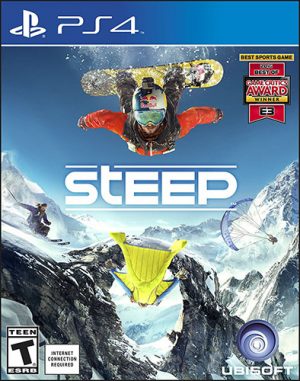 System: PC, Nintendo Switch, PS4, Xbox One
Publisher: Ubisoft
Developer: Ubisoft Annecy
Release Dates: Dec 2, 2016
People for years have always seen the mountains of the world as opportune means of challenging themselves. To fly down them with either skis or snowboards and pull off tricks that defy the laws of nature. For most, accomplishing this task is not possible but luckily Steep by developer Ubisoft Annecy gives you the means of feeling the wintery snow of some of the world's most famous mountains without leaving your warm room. With camera angles that mimic GoPro angles and captures, Steep makes you feel as if you're not just behind a controller but actually on the mountains first hand. If you're ready to dive into the white snow and shred up some dangerous environments then pick up Steep!
Let's start off our list of 6 Games Like SSX with Steep. The developers at Ubisoft Annecy clearly wanted to create a snowboarding game that made players feel every movement and action and Steep does a great job of this indeed. We love how you can also do more than just snowboarding as Steep offers players the ability to use wingsuits and dive down mountains. We won't lie the excitement these events offer in Steep truly make your heart rush and that is a rarity for most games out there. That's why if you like SSX but want something a bit newer, your best bet is to play Steep.
Steep Trailer: Announcement- E3 2016 [US] (Official Trailer)
---
2. Amped 3

System: Xbox 360
Publisher: 2K Sports
Developer: Indie Built
Release Dates: Nov 16, 2005
It all started with one weird snowboarding stunt. You dressed up in a pink bunny outfit and went snowboarding down the mountain in Tahoe. Meeting a girl named Dandelion, you tell your story of what has led to you doing such a stunt. You're trying to make it big so your pals and you can go on a vacation at a ski resort in Chile. Your goal is to make money and to do that you're going to use your snowboarding skills to make a name for yourself! Welcome to the world of Amped 3 where your snowboarding tale begins.
The Xbox 360 had some great snowboarding based games but one of our favorites here at Honey's Anime is Amped 3. For a long while, the Amped series dominated the snowboarding gaming scene with impressive visuals and fun gameplay. However, Amped 3 truly showed that developer Indie Built wanted to go big with this installment offering fun controls, tons of customization options to make the perfect snowboarder and a slew of gameplay enhancements. Thus, it's easy to recommend Amped 3 if you're a fan of SSX. The Amped franchise might have ended not too long after Amped 3 but we won't forget the fun times we had with the series.
---
3. 1080 Snowboarding

System: Nintendo 64
Publisher: Nintendo
Developer: Nintendo EAD
Release Dates: Feb 28, 1998
Pick up those Nintendo 64 controllers folks. It's time to relive one of the best classic snowboarding titles known as 1080 Snowboarding. In 1080 Snowboarding players take control of various snowboarders from different regions of the world and try to win against their competition. There are several modes of play in 1080 Snowboarding such as trick runs where you go for insane tricks to rack up points or race modes to make it down the mountain first. Regardless of your choice, be prepared to enjoy some classic great gameplay that only the Nintendo could offer in 1080 Snowboarding!
Now, we know we're not alone here at Honey's Anime in regards to loving the Nintendo 64. Despite it's odd controller shape the Nintendo 64 offered a barrage of amazing gaming titles such as 1080 Snowboarding. Released in Feb 1998, 1080 Snowboarding is indeed pretty old but that doesn't stop you from enjoying how well it plays even today in 2017. While this won't be the only Nintendo 64 game mentioned on our list of 6 Games Like SSX, we still want to make sure everyone can appreciate 1080 Snowboarding's excellence in showing how fun and exciting a snowboarding title can be. If you have an old Nintendo 64 and are looking for titles to bring it back to life then you need to nab yourself a copy of 1080 Snowboarding as soon as you can folks.
---
Any Game Like SSX ?
4. Cool Boarders 2001

System: PS1, PS2
Publisher: Sony Computer Entertainment
Developer: Idol Minds
Release Dates: Oct 23 2000
While Cool Boarders 2001 released for the PS1 in 2000 and the PS2 in 2001, it hasn't shown its age at all. Players can still experience the best gameplay offered by the Cool Boarders series thanks to this installment. Players can choose from various professional snowboarders like Barrett Christy, Tara Dakides and Kevin Jones, as they rip up various locals with branching pathways to make no one run feel the same. Featuring popular music artists such as Fear Factory and Stone Temple Pilots, Cool Boarders 2001 will make every race feel heart pumping! If you think you could handle what the pros handle then why not test your skills in Cool Boarders 2001!
Cool Boarders has been a series synonymous with sporting events such as skateboarding and snowboarding. That's why we chose Cool Boarders 2001 for our list of 6 Games Like SSX. While we recommend the PS2 copy as it's a bit less dated in comparison to the PS1 version, regardless of your choice you're going to get a solid snowboarding title. With impressive visuals—for the year of 2000 and 2001 mind you—and fun gameplay, Cool Boarders 2001 is a snowboarding classic that needs to be played if your console of choice is either the PS1 or PS2. Plus, just look at those great musical bands and you'll know that Cool Boarders 2001 didn't hold back in making sure players would experience the best gameplay offered back during the day.
---
5. Skate 3

System: PS3, Xbox 360
Publisher: Electronic Arts
Developer: EA Black Box
Release Dates: May 11, 2010
Legends are things that shine brightly but eventually fade from existence and become passing stories. As a legendary skateboarder yourself, you thought that after conquering the city of San Vanellona you wouldn't ever need to show your skills again. However, once you decided to go to Port Carverton for college you realized just how wrong you were. Witnessing a skateboarding teams of high skill levels and then losing to one of them, you then understand that you need to once more prove yourself to be the ultimate skater. Get a team going and become the legend of Port Carverton in Skate 3!
While Skate 3 might not be a skateboarding title like SSX, don't think for a minute it doesn't deserve to be on our list of 6 Games Like SSX. The feeling of pulling off sick skateboarding tricks and rising up the ranks in Skate 3 makes the sport come to life regardless of your console of choice. With updated visuals and a slew of gameplay tweaks, Skate 3 players better than the two titles before it and offers fans and even newcomers a great look into the world of skateboarding. Feel the rush of nailing spins in mid air or grinding long rails all thanks to the great camera shots and gameplay offered by developer EA Black Box. Skate 3 is a must play if you love fast moving sporting games like SSX.
Skate 3 Debut Trailer [HD] (Official Trailer)
---
6. Snowboard Kids

System: Nintendo 64, PS1
Publisher: Atlus
Developer: Racdym
Release Dates: Dec 12, 1997
Snowboard Kids gives you cute visuals but also shows you how exciting a snowboarding game can be. Play as a slew of various fictional snowboarders as you shred your way down various environments that range from mountains to Japanese villages and even amusement parks. The gameplay of Snowboard Kids might be silly sounding but that doesn't mean you won't enjoy some thrilling and fun snowboarding gameplay. Race against other players and use a variety of tools to help you beat them and make it to the end! Snowboard Kids mixes the thrills of a kart racer and a snowboarding title and bundles it together for a truly unique game.
Snowboard Kids released in 1997 and was quickly shown some love thanks to its Mario Kart like gameplay. Some might wonder how does it fit into our final spot on our list of 6 Games Like SSX but we have an answer for you using only two words, it's fun. When we here at Honey's Anime HQ play SSX or any of the SSX titles before it, we want to have fun and that's why Snowboard Kids is all too similar to SSX. It might have more kart racing themes then just performing tricks while going down the mountain but the level of excitement and sheer amount of adrenaline pumping gameplay makes Snowboard Kids just as fun as SSX. While the PS1 version is considered a slightly updated port, we still have a lot of love for the Nintendo 64 version of Snowboard Kids so we recommend that if you have to choose between the two. Needless to say though once you do get your hands on Snowboard Kids we know that if you love SSX you're going to love it just as much.
---
Final Thoughts
While video games might not replace the real-life chills and thrills of things like snowboarding, they at least offer a nice means of simulation-like gameplay. While some of the games above might take sports into a reel of utter unrealistic proportions, it's still exciting to perform tricks and engaging with various environments that might not be accessible to you in the real world. Thus, it's easy to see why SSX and the games above appeal to gamers like us. Tell us everyone, what are some of your favorite sports games? Comment down below and remember to keep stuck to us here at Honey's Anime for all your gaming article needs!