INTRODUCTION / OPENING PARAGRAPH
Some of us in this world are natural born athletes. Whether you're on a skateboard doing impressive tricks or snowboarding on treacherous terrains, if you're adept at either, you'll enjoy nothing but the sweet freedom of these sports. However, some of us are just natural born gamers and while there's nothing wrong with that. It means doing 360 degree turns and grinding rails may be a bit tough to handle. Luckily many of us—including us at Honey's Anime—we get to handle simulated sports via PC or gaming consoles. Thus we loved the Tony Hawk games so much we decided on doing a 6 games Like Tony Hawk's Pro Skater list.
Within our 6 games like Tony Hawk's Pro Skater list, we looked for titles that obviously weren't all about skateboarding. We made sure to include several other sporting games that give players the thrill of being able to do sick jumps and ride as the pros do in whatever venue the game focuses on. If you find yourself unable to do back flips or spins that defy logic, we even have a few games like Tony Hawk's Pro Skater that give you that skill as well. Honey's Anime knew that it was imperative to find games like Tony Hawk's Pro Skater that mixed in realistic sporting skills and plenty of adrenaline filling gameplay. Now grab that controller—or in this case your mouse and or keyboard—and let's get riding on this awesome and totally gnarly games like Tony Hawk's Pro Skater list.
Similar Games to Tony Hawk's Pro Skater
1. Skate 3

System/Platform: PS3, Xbox 360
Publisher: Electronic Arts
Developer: EA Black Box
Release Date: May 11, 2010
Taking place after Skate 2, Skate 3 aims has the young skateboarder—your character—from the previous games as a legend. The skater's skills have warranted much praise and admiration in the city of San Vanellona. However, now going to Port Carverton University, the skater meets a new skater lifestyle and is shocked to see the changes. After a failed special event jump, the skater decides to become better and eventually become a skateboarder who has a team. Your goal is to sell over 1 million boards as well as build a team that can become just as legendary as you are.
Skate 3 is the last entry in the very popular Skate franchise. Like Tony Hawk's Pro Skater games, players need to prove their mettle by performing cool tricks and earning reputation. Several popular skaters such as Jason Lee and Chris Cole make appearances in Skate 3 to give players a nice feeling of living alongside some legendary skaters. The updated graphics and the returning behind the skateboard camera—a staple to the Skate series—still impress us here at Honey's Anime and will be sure to lure in fans of skateboarding simulators. We highly recommend checking out Skate 3 as this is one skateboarding game like Tony Hawk's Pro Skater that gives players a true feeling of rising in the world of pro skaters.
Skate 3 Debut Trailer [HD] (Official Trailer)
---
2. Dave Mirra Freestyle BMX 2

System/Platform: PS2, GameCube, GBA, Xbox
Publisher: Accclaim Entertainment, Crave Entertainment
Developer: Underground Development, Full Fat
Release Date: Aug 27, 2001
Dave Mirra Freestyle BMX 2 brings back the completive gameplay from the first title into a more modern environment. Players will choose over 13 well known BMX riders—as well as some secret characters—to participate in several different modes such as Freeride, Session, Proquest, and Multiplayer. If you wish to enter a pseudo story mode, players will want to enter the Proquest to perform various stunts and goals earning them respect points and means of advancing. Park Editor should be selected if you want a way to create your own BMX skate parks with the ability to place stunt objects in various themed environments. Are you ready to become one of the biggest BMX stars ever in this game like Tony Hawk's Pro Skater? Then get ready to ride in Dave Mirra Freestyle BMX 2.
Stepping away from the skateboarding world—we'll be back soon though—we enter another very amazing sport BMX racing. Dave Mirra Freestyle BMX 2 gives players the chance to play as legendary BMX racers and race to get the best scores within set time limits. Players will feel themselves flying on their bikes thanks to developer Underground Development and Full Fat who expertly recreated what it feels like to be a master of BMX bikes. The soundtrack is another element we love of Dave Mirra Freestyle BMX 2 thanks to some great tracks from Ozzy Osbourne and Rage Against the Machine to name a few. If you like games like Tony Hawk's Pro Skater but want a game more in tune with the BMX side of sports, then look no further; Dave Mirra Freestyle BMX 2 is waiting for you to grab and play.
---
3. SSX Tricky

System/Platform: PS2, GameCube, Xbox, GBA
Publisher: EA Sports Big, Electronic Arts Victor (JPN)
Developer: EA Canada, Visual Impact (GBA)
Release Date: Nov 5, 2001
Are you ready to ride some treacherous mountain slopes? Do you think you can handle pulling off insane tricks and sick moves on your snowboard? Well what are you waiting for? It's time to enter SSX Tricky and prove your skill. The slopes won't be waiting forever; it's now or never!
SSX Tricky is one of sports titles less realistic simulators but thanks to that the amount of cool tricks you can perform is amazing in this snowboarding simulator. Players will choose one of eight players—several are unlockable later—and hit slopes. You're aiming for big tricks and moves that will have you flying through the air doing turns that defy gravity all while building up a trick meter to unleash even more visually amazing maneuvers. However, don't let the wackiness of SSX Tricky keep you from getting invested, like Tony Hawk's Pro Skater, SSX Tricky is all about tight controls and fun gameplay. While it ebbs on the side of unrealistic SSX tricky is more align with an arcade like experience of gameplay and with quirky characters and visually impressive maps you'll lose yourself in the experience quite quickly.
---
Any Games Like Tony Hawk's Pro Skater ?
4. Jet Set Radio

System/Platform: Dreamcast, GBA, PSN, XBLA, iOS, Android
Publisher: Sega
Developer: Smilebit
Release Date: Jun 29, 2000
In Tokyo-to, a new gang called the GGs are rising up led by a roller-skater by the name of Beat. The GGs are just one of the many gangs who aim to cover the streets in cool graffiti and tags to gain dominance over areas. At one point, two new members join GGs who claim they need to take down the evil sinister conglomerate called Rokkaku who took over their area of Tokyo-to. What's worse is that the Rokkaku CEO—Goji Rokkaku—aims to use a special summoning device which will summon a demon army to help him take over the world. Now GGs must save their city and the world using the power of roller skates and tagging.
The Dreamcast may have been a short lived console but it provided us with some of the coolest and stylish gaming titles to ever release. Jet Set Radio is definitely among one of the most visually stunning titles we've ever laid our eyes on. With an anime inspired look and some amazing roller skating gameplay, Jet Set Radio is very much a title that mirrors the essence of Tony Hawk's Pro Skater by providing the player with the means of pulling off some cool tricks and sometimes death defying moves. What we also love is the music—which is a must for games like Tony Hawk's Pro Skater series—which blends multiple varieties to really keep players feeling the mood. Don't fret if you don't own a Dreamcast and now want to pick up this amazing title. It's available as a download title on several platforms.
Jet Set Radio Trailer (Official Trailer)
---
5. Steep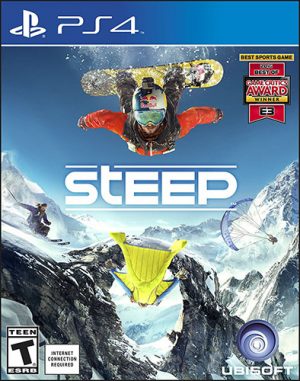 System/Platform: PC, Nintendo Switch, PS4, Xbox One
Publisher: Ubisoft
Developer: Ubisoft Annecy
Release Date: Dec 2, 2016
Ever wanted to know what it felt like to go on dangerous mountains like the Alps or Denali? Enter the world of Steep and feel the treacherous terrains of these legendary mountains. Whether you are skiing or snowboarding players can freely drop onto the slopes and ride down performing tricks to show their skill. Unlike most sport titles like Tony Hawk's Pro Skater, Steep allows the player to enter a first person view point via an in game GoPro to create an even deeper level of immersion than any other gaming title. With 4 activities, plenty of games modes and beautiful immersive graphics, Steep will give you the thrill of a lifetime.
Tony Hawk's Pro Skater series revolutionized games by giving players the feeling of being an ultimate pro. Steep however takes it up several notches by giving the player the feeling of being in an extremely dangerous environment but on the comfort of their couches. Players can enjoy skiing, paragliding, snowboarding and wingsuit flying all while with a sense of realistic controls and real looking in game environments. The GoPro first person element is also a very impressive idea thanks to developer Ubisoft Annecy which really makes the sports you enter all that much more in your face and action packed. With several modes of play and plenty of reasons to replay them over and over, Steep really impressed us and it should impress you as well.
Steep Trailer: Announcement- E3 2016 [US] (Official Trailer)
---
6. Shaun White Skateboarding

System/Platform: PC, PS3, Nintendo Wii, Xbox 360
Publisher: Ubisoft
Developer: Ubisoft Montreal
Release Date: Sept 30, 2010
Your city is lacking color and life. Luckily you have the means of saving it through your skateboarding skills. Pull off sick tricks and various moves to give the people a reason for wanting to show their own originality. You are the only one who can save your city from falling into a mute colored world of bland existence. Ride skater and show your city what it means to be free!
We end our 6 Games Like Tony Hawk's Pro Skater with Shaun White Skateboarding and honestly this is one heck of a title. Yes we won't lie; the premise of Shaun White Skateboarding is ridiculous but the gameplay isn't. Shaun White Skateboarding plays with a simple system that allows anyone to feel the rush of performing grinds and Ollies with no issue and we love that. Like Tony Hawk's Pro Skater, players will create a character and try to show their skill by performing various tasks which range from laughable—but in a good way—to tough and challenging. Shaun White Skateboarding reminds us of an entry level title but that means even more gamers can enjoy living the life of a skateboarder in a fictional setting. If you're a hardcore fan of the Tony Hawk's Pro Skater titles then we can fully recommend Shaun White Skateboarding to you.
Shaun White Skateboarding Trailer (Official Trailer)
---
Final Thoughts
Tony Hawk is indeed a living legend in the world of skateboarding. Even those who may have never picked up a skateboard in their life has heard of him because of his gaming franchise of amazing skateboarding simulators. However, we wanted to make sure that people knew the world of sporting games isn't locked into just skateboards but also snowboards and BMX bikes. Whether you are a master of real life skateboarding skills—many of us here at Honey's Anime are not—we know you can appreciate that thanks to Tony Hawk games and developers alike you can at least play and see what it feels like to be a living legend yourself. With that folks our list of games like Tony Hawk's Pro Skater has hit its inevitable end. Though we here at Honey's Anime aren't out of tricks yet as we keep pumping out more gaming articles that we know you'll love.
---