If you've heard of Sword Art Online—which we doubt many of you haven't—then you know of its creator Reki Kawahara. In many eyes, Kawahara's Sword Art Online series has been one of the quintessential isekai type stories and while it wasn't the first story to have characters playing games in an almost do or die situation—we always give that honor to works like .hack//sign—it is indeed one of the more mainstream series. Yet, Sword Art Online isn't Kawahara's only work as he's done other light novel series that have grown in popularity. For example, Accel World was also a series penned by Kawahara and so is Zettai naru Isolator, the latter of which just so happens to be the series we wish to talk about today. As we wait patiently for the next volume of Zettai naru Isolator to drop in the west—known as The Isolator in English—we have found ourselves looking for alternative light novels to read to pass the time. Zettai naru Isolator might not be about people being sent into game worlds but it has been constantly intriguing us with a story that we can't get enough of.
Now if you're on the same mission as we were looking for stories like Zettai naru Isolator, you've come to the right place. Our team here at Honey's Anime have been working diligently to find similar works to Zettai naru Isolator as we enjoy this sci-fi, action and super power series quite a lot. Watching our young protagonist Utsugi Minoru gain abilities and fight against evil forces is fun and exciting. That's why we went all out to look for 6 Light Novels Like Zettai naru Isolator and after some work, we have succeeded. Join us as we look through stories of similar action and sci-fi charm as we list light novels you're going to love if you love Zettai naru Isolator.
Similar Manga to Zettai naru Isolator / Similar Manga to The Isolator
1. Accel World

Authors: Kawahara, Reki
Genres: Action, Game, Romance, School, Sci-Fi
Volumes: 22
Published: Feb, 2009- Present
Middle schooler Haruyuki Arita has found his life to be a constant challenge thanks to the never-ending bullies who make fun of him constantly for his looks. The only joy Arita has truly comes from playing games and even in school, Arita tries to find time to play games to hide from the constant torment he faces. At school, Arita plays Squash online and has a high score no one can outmatch…at least he thought no one could. One day—to his horror—Arita is stunned to see his score beaten and he soon learns it was by the beautiful and popular Shiroyukihime. Then out of nowhere, Shiroyukihime approaches Arita telling him about a game that would change his life forever. Known as Accel World. this augmented reality game will cause Arita to gain abilities to slow down time in the real world if he continues to succeed in fights within the game. Can Arita change his life as he enters Accel World and becomes the Silver Crow?!
Accel World might seem similar to Reki Kawahara's Sword Art Online series but we here at Honey's Anime think it actually can appeal to those who like Zettai naru Isolator. Rather than be caught in a game, Arita is only playing it but can also use powers due to the effects of becoming a so-called Burst Linker. Just like Utsugi, Arita endures a world he feels is cruel and inescapable. However, both characters from their respected series, somehow find it possible to gain strength after some interesting turn of events. Accel World is 22 volumes strong in Japan right now, with a dozen or so released here in the states already. If you want some cool action and sci-fi similar to Zettai naru Isolator, then check out Kawahara's other popular work Accel World.
---
2. Toaru Majutsu no Index (A Certain Magical Index)

Authors: Kamachi, Kazuma- Haimura, Kiyotaka
Genres: Action, Comedy, Fantasy, Magic, Sci-Fi, Super Powers, Supernatural
Volumes: 22
Published: Apr, 2004- Oct, 2010
Toaru Majutsu no Index follows a young man named Kamijyo Touma who leads a rather peculiar life. In Touma's world, magic and science are the boon of the world giving people advanced technology and superhuman-like abilities. Touma also has a power that allows him to negate magical attacks or even psychic powers but it also negates Touma's luck. Proof of his bad luck appears when Touma runs into a young nun-like girl who is on the run from the Church of England. Containing a powerful set of texts within her mind, Touma ends up keeping the girl safe by hiding her away. Unfortunately, the forces from the church aren't too slow on the uptake and begin making their moves. Can this low ranked student save this young girl who might have powers that could change the world?!
For our list of the 6 Light Novels Like Zettai naru Isolator, we next look at Toaru Majutsu no Index. Filled with action, comedy and a touch of fantasy, Toaru Majutsu no Index is a fun and exciting light novel that truly keeps us constantly entertained. We know we weren't the only ones here at Honey's Anime to like Toaru Majutsu no Index as it even gained an anime back in 2009, several years after it began being published. We really enjoy the masterful narrative thanks to author Kamachi Kazuma and the images within each volume from artist Haimura Kiyotaka and we think fans of Zettai naru Isolator will too! While Toaru no Majutsu isn't fully completed yet in America, the series is done in Japan meaning we will eventually have the whole series out here as well.
---
3. Monogatari Series: First Season (Bakemonogatari)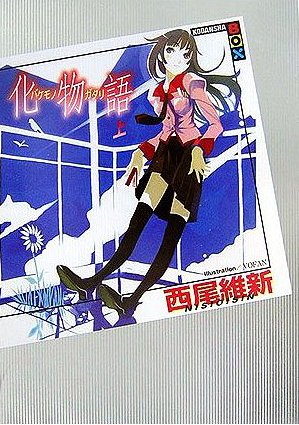 Authors: Nisio, Isin- VOFAN
Genres: Action, Comedy, Mystery, Romance, Vampire, Supernatural
Volumes: 6
Published: Nov, 2006- Jul, 2010
One event can change your life dramatically. Sometimes meeting someone can lead to romance or sometimes taking a detour could lead to finding a new restaurant to dine at. For high school student Koyomi Araragi, one event in his life changed him into a vampire, at least for a little while. Having been cured, Araragi still contains some vampire powers but has since forth tried to lead a normal life at school, as boring as that may sound. However, Araragi once more finds his life changing when he catches a girl falling from a set of stairs at his school. While this girl should have weight to her given the height she fell at, Araragi is shocked to discover she is light as a feather…
Author Nisioisin—known for many series like the Kubikiri Cycle—is easily one of the well-known light novel authors for his series called Bakemonogatari. As we stated above in the title, Bakemonogatari is the first "season" of light novels for the long running Monogatari series. In this first 6 volume series known simple as Bakemonogatari, we are introduced to the world Araragi lives in and how his normal life ends pretty randomly thanks to an encounter with a powerful vampire. Araragi might be more open to change than Utsugi is from Zettai naru Isolator but their adventures are both outlandish and all too interesting. While the anime for Bakemonogatari is talked about in spades, we definitely recommend checking out the light novel series as we think it's pretty darn good. Plus, we dare you not to laugh as some of the hijinks that happen in Bakemonogatari.
---
Any Manga Like The Isolator / Any Manga Like Zettai naru Isolator ?
4. Mahouka Koukou no Rettousei (The Irregular at Magic High School)

Authors: Satou, Tsutomu- Ishida, Kana
Genres: Action, Magic, Romance, School, Sci-Fi, Supernatural
Volumes: 24
Published: Jul, 2011- Present
What if magic wasn't fake or made for showmanship? What if somehow humanity has somehow obtained magical powers and has incorporated it into technology to help humanity grow stronger and more advanced? Well, that isn't a what-if in Tatsuya's world. Tatsuya, along with many others, can harness magical elements and powers which are infused into not only tools but even weapons. However, just like any power, when it falls into the wrong hands terrible things tend to ensue. Tatsuya, however, has to more so worry about an overly clingy sister and proving that despite lack of magical abilities, he can still be a powerful student thanks to technology and his strength with it. Find out what awaits our strange hero in Mahouka Koukou no Rettousei!
While Zettai naru Isolator might not be about magic and technology, it does have a lot of action and drama similar to Mahouka Koukou no Rettousei from author Satou Tsutomu and artist Ishida Kana. At 24 volumes—at least in Japan—and an anime adaptation, Mahouka Koukou no Rettousei gives a lot of well written story that we continuously enjoy after each release. Tatsuya's journey as he endures school, tournaments and evil forces, might seem cliché but ironically it feels far from it. In many ways Mahouka Koukou no Rettousei keeps things fresh constantly by never sticking to one genre for too long and we feel the same can be said of Zettai naru Isolator as it tries to be more than just a sci-fi super power series. Need a long series to keep you busy? Well then go and pick up Mahouka Koukou no Rettousei either online or from your local bookstore!
---
5. All You Need Is Kill

Authors: Sakurazaka, Hiroshi- Abe, Yoshitoshi
Genres: Action, Sci-Fi, Military
Volumes: 1
Published: Dec, 2004
Keiji Kiriya has joined the United Defense Force as a new soldier trying to save Earth from a new alien threat. Known as Mimics, these otherworldly invaders have begun to attack Earth and are quickly decimating the planet. Keiji goes out on his first battle against the Mimics but dies almost immediately when he is overrun by the aliens. However, instead of staying dead, Keiji has found himself once more alive at the beginning of his sortie and this continues upon every death! Can Keiji harness this cursed gift to somehow find a way to end the Mimics and prevent humanity's extinction? With no fear of death, Keiji will continue this loop until he finds a way to accomplish this task and rid the Earth of its alien threat.
We've so far been looking at a lot of series that have had little to do with aliens but still are very similar to Zettai naru Isolator in some shape or form. However, All You Need Is Kill by author Sakurazaka Hiroshi and artist Abe Yoshitoshi is filled with aliens and is a bit more intense and dark like Zettai naru Isolator sometimes can be. Watching Keiji fight what seems like a constant losing battle kept us wondering if he would eventually find a solution despite his failures. What's also great about All You Need Is Kill is that it's a short 1 volume light novel meaning you can finish it quite fast and not worry about waiting for constant releases. Thus, if you're looking for a more dramatic sci-fi story, we recommend reading All You Need Is Kill. When you're done with the light novel you can also check out the manga for All You Need Is Kill as its pretty cool too!
---
6. Suzumiya Haruhi no Yuutsu (The Melancholy of Haruhi Suzumiya)

Authors: Tanigawa, Nagaru- Itou, Noizi
Genres: Comedy, Drama, School, Sci-Fi, Supernatural
Volumes: 11
Published: Jun, 2003- Jun, 2011
Kyon is just an atypical high school student who goes to class, leaves to go home and hangs out at home till he passes out and repeats the process the next day. One day though, Kyon takes a notice of Haruhi Suzumiya a girl who is infamous for being quite…peculiar to say the least. When Kyon decides to talk to Haruhi he learns of her mission to find aliens, espers and time travelers. Soon after Kyon gets dragged to join Haurhi's club to aid in her search along with several other students, who unknown to Haruhi are actually exactly what she's looking for! Kyon then learns that Haruhi is actually God herself and in order to keep her from destroying the world out of sheer boredom, Kyon must keep her constantly engaged and happy. Can this boring and ho hum student—something he probably wouldn't agree with or might—keep an energetic girl happy to avoid the world's destruction?!
Let us end our list of 6 Light Novels Like Zettai naru Isolator with a personal favorite series, Suzumiya Haruhi no Yuutsu. Not only do you get aliens in Suzumiya Haruhi no Yuutsu—like Zettai naru Isolator—but you also get other strange people who are expertly written by author Tanigawa Nagaru and illustrator Itou Noizi. While there is little action in Haruhi's story—though it does have a few intense moments that are close to action—it does have an interesting sci-fi story with comedy intertwined to make it a bit less serious than Zettai naru Isolator. Ultimately though, the Haruhi Suzumiya series will keep you hooked from volume one all the way to the last story. If you like Zettai naru Isolator then we recommend beginning Haruhi's tale with the first novel The Melancholy of Haruhi Suzumiya.
---
Final Thoughts
Zettai naru Isolator has been truly gaining some popularity in the world as of late. Not only has the series been continuing since 2014, but Zettai naru Isolator even has a manga adaptation that is currently active! Needless to say, we think the sky's the limit for Zettai naru Isolator and until the series releases a new volume here in the west, the light novels above—which are all amazing works themselves—will keep you from shaking in anticipation. Have you already read any of the light novels above from our list of the 6 Light Novels Like Zettai naru Isolator? If you have, think about sharing your opinions of them in the comment section below. Remember to not leave our hive for too long as we have more recommendations lists waiting to be read courtesy of us here at Honey's Anime.
---