También puedes leer este artículo en:Español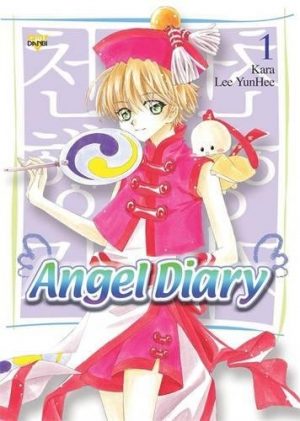 Warning: Some content in this article is related to the yaoi genre. If you are not a fan of yaoi, proceed with caution or chose another article to read.
People have always imagined supernatural beings who live in the sky. Angel Diary is a manhwa which told us the story of one of such being who runs away to Earth because she does not want to marry the Demon King. Her life as a human boy in the middle of the interests of both Heaven and Earth could not get more complicated… but you know, sometimes loves gets in the way 😉 So, what manga remind us of Angel Diary? Let's go to the shoujo country to find out!
Similar Manga to Angel Diary
1. Mikan no Tsuki (Crescent Moon)

Authors: Haruko Iida
Genres: Comedy, Fantasy, Romance, Shoujo
Volumes: 6
Published: 1999 to 2001
Haruko Iida has some experience with the fantasy gender, particularly with witches. Her most famous work so far was the Japanese adaptation of the popular Italo-American comic W.I.T.C.H. In Mikan no Tsuki, Iida introduces us to Mahiru, who has a recurring dream that has something to do with the moon. It turns out that the Lunar Race is trying to recover the Drops of the Moon so they require Mahiru's help.
Did anyone mention a powerful race of supernatural beings? Yeap, and they come from in the sky, just like in Angel Diary. As battle unfolds, we see how the relationships between the characters evolve in both manga. Of course, there is a lot of sweetness and romance to complement the stories! Mikan no Tsuki is an often overlooked manga, so if you liked Angel Diary, we invite you to give it an opportunity.
---
2. Harlem Beat Wa Yoake Made (Mad Love Chase)

Authors: Kazusa Takashima
Genres: Adventure, Comedy, Fantasy, School, Shoujo, Supernatural
Volumes: 5
Published: 2001 to 2008
Kazusa Takashima is a mangaka that was very active in the 2000's, specially in the yaoi manga genre. This work tells us the many wooes of the Prince of Hell and his cat, who ran away from home. The prince becomes a skinny and short human in our world, while the cat becomes a girl, leading a normal life in a high school as a student and medical staff respectively. However, the King of Hell will not let them do as they please, so he sends his servants to find his son.
It looks like arranged marriage does not suit both our protagonists, because they literally run like hell away from it. They go to the human world to live like normal people, but that simply won't happen because the supernatural forces of their friends and foes manifest on the face of the Earth. What is interesting in the two stories is the background of the characters and the surprises they have in store for us. And did we mention the romance part? If you wondered how Angel Diary might be with more yaoi on it, try Harlem Beat Wa Yoake Made.
---
3. Sakura Hime Kaden

Authors: Arina Tanemura
Genres: Action, Demons, Drama, Fantasy, Historical, Magic, Romance, Shoujo
Volumes: 12
Published: Dec 1, 2008 to Dec 1, 2012
Arina Tanemura is a veteran mangaka who has offered us masterpieces like Full Moon wo Sagashite and Kamikaze Kaitou Jeanne, which have been adapted into anime. Once upon a time, deep in the greenery of the mountains, there lived a princess with her maids. Sakura hime is engaged to the prince of the country, but she is not particularly enthusiastic about that. When a messenger from the palace comes to take her to the capital, a few surprises about Sakura will await him…
So, what happens when you mix the traditional Japanese tale of Princess Kaguya (a princess who came from the moon) with the active imagination of Arina Tanemura? A powerful shoujo adventure where the heroine wants to decide her own destiny, just like in Angel Diary. Both protagonists are engaged and come from up the sky above. They also count on guardians who protect them during their stay in Earth. The most notable difference besides the Japanese background is how detailed and cute Sakura Hime Kaden can be.
---
Any Manga Like Angel Diary ?
4. Shinobi Life

Authors: Shouko Konami
Genres: Action, Comedy, Drama, Fantasy, Martial Arts, Romance, Shoujo, Supernatural
Volumes: 13
Published: Feb 6, 2006 to Apr 6, 2012
Shouko Konami has been an active mangaka since the eighties and she still carries on! In Shinobi Life, Konami introduces us to Beni Fujiwara, a high school girl with a normal life. A long time ago, a ninja named Kagetora devoted his life to the protection of Princess Beni, but he sinks to the bottom of a lake. In the modern days, maybe Beni will experiment having her own protector ninja too, as Kagetora appears just when she is being harassed by some guys.
Angel Diary and Shinobi Life have rebellious protagonists who are much more comfortable in high school situations. They both have protectors who have special abilities. There is also some mystery that links with the past of the characters, keeping our attention in the pages. And of course, there is romance! If you ever wondered what Angel Diary would look like with more Japanese customs (and more action!), you may want to give Shinobi Life a try.
---
5. Hanatsukihime (A Princess with a Flower)

Authors: Wataru Hibiki
Genres: Fantasy, Historical, Romance, Shoujo, Supernatural
Volumes: 2
Published: Dec 10, 2007 to Apr 10, 2008
Wataru Hibiki has some experience with sweet and bitter-sweet themed shoujo. In Hanatsukihime, we are introduced to the world of Lys. This girl was born practically dead, so her mother made a contract with a devil who grants Lys 16 years before he comes back to eat her. Therefore, the teenager Lys works as a dancer and travels through the desert with Siva, a companion she found there, in search for a way to avoid her faith.
Lys and the Princess of Heaven look young for their age, although they are innocent, energetic and free spirited. Both count on protectors who are powerful and handsome. And well, there is some romance that echoes the past in the two stories. The main difference is that Hanatsukihime develops in the desert, with all those Middle Eastern cultural references. So, if you are a fan of both Angel Diary and The Arabian Nights, this is the manga you should read.
---
6. Bishoujo Senshi Sailor Moon (Pretty Guardian Sailor Moon)

Authors: Naoko Takeuchi
Genres: Drama, Fantasy, Magic, Romance, Shoujo
Volumes: 18
Published: Dec 28, 1991 to Feb 3, 1997
Naoko Takeuchi was an active mangaka back in the nineties, but nowadays she mostly promotes her opera prima (Sailor Moon). In case you have not heard about it, we will summarize it for you. Usagi Tsukino is a Middle School student who receives magical powers from a cat she saved in the street. As Sailor Moon, Usagi defends the Earth from its enemies together with the other guardians and Tuxedo Kamen.
Usagi might not have fallen to Earth from the sky, but the guardians all share a past in the moon, which grants them supernatural abilities. Sailor Moon is a powerful princess with guardians who are her friends more than anything, just like in Angel Diary. There also is a similar romantic atmosphere in both mangas and several secrets to discover. If you haven't read this iconic manga which changed the shoujo gender forever, what are you waiting for?
---
Final Thoughts
Opposite themes like heaven and hell, possible and impossible love, and duty and independence interrelate in Angel Diary and in similar manga. If we add a touch of romance and dreamy states for the protagonists, we can imagine why this type of manga has appealed to several generations of otaku. If you notice, most of such manga are not very recent but they still hold their charm, don't you think? Romance combined with decisive personalities will always lead the way! What other manga like Angel Diary have you read? Don't forget that we are open to all you comments and suggestions. See you soon in the heavenly otaku realm!