También puedes leer este artículo en:Español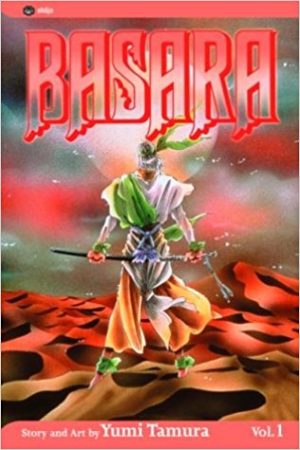 Hello, fans of anime and manga. We are going to remember an interesting manga with an atmosphere that might remind some of The Legend of Arslan. In August of 1990, a manga called The legend of Basara began serialization in Betsucomi. The story tells us the many tribulations of twin brother and sister Sarasa and Tatara. Although the later was destined to unite the people against an oppressive government, Tatara dies before fulfilling this mission. Therefore, Sarasa takes his place to lead the revolution while she fights against a forbidden love. But wait, aren't there more recent similar manga? You bet. Here are 6 manga like Basara.
Similar Manga to Basara
1. Umi no Kishidan

Authors: Mitomo Togawa
Genres: Adventure, Historical, Romance, Shoujo
Volumes: 17
Published: Mar, 2005 to Jun, 2010
Mitomo Togawa has a long experience with manga involving yaoi and gender bending located in the present days and on historical settings. So, welcome to the 16th Century in Europe! The religious group of the Knights of Malta are involved in the multiple adventures provoked by the Crusades. Among them, the charismatic lady Aciel challenges the time's conventions as the only female knight of Malta. However, she is on a personal quest for revenge to find her father's killer.
This manga offers us a historical environment for the action. We have war among several factions and a female lead doing a job considered for males. This sounds a bit like Basara, right? Although the style feels a bit rigid and strange (retro manga, you know), the story is interesting enough to capture your attention. If you want to go back in time with a heroine who holds her ground, Umi no Kishidan is a good option.
---
2. Ragtonia

Authors: Chika Shiomi
Genres: Adventure, Drama, Fantasy, Romance, Shoujo
Volumes: 4
Published: Mar, 2006 to Sep, 2013
Chika Shiomi is a mangaka who defies expectations, as she centers her stories on the strength of her characters regardless of their gender. Some of her manga are more suited for the shoujo department, while others are pure action or supernatural suspense. Thus, Shiomi is the ideal creator for a manga similar to Basara. If you are into zombies but also into adventure, you definitely have to try her Ragtonia. The story starts with the Necromancer, who creates special beings called Ragtonia to feed from their life force by killing them. Falna, the heroine, decides to get all of the Ragtonia together to fight back and recover the freedom of their country.
Again, we have a manga with a war and a woman getting the central spotlight, like in Basara. Although this is an imagined world, we get the epic vibes too. The manga style is perfect for those who like shoujo, as it is curvy and delicate in the right scenes. However, it gives space to action, blood and a bit of horror when it is required.
---
3. Zettai Heiwa Daisakusen

Authors: Akane Ogura
Genres: Comedy, Drama, Fantasy, Romance, Shoujo
Volumes: 4
Published: Aug, 2007 to Oct, 2010
Akane Ogura has a thing for the romance department at any setting, including the historical one, of course. Anyway, we can agree that wars are ugly business. In the otaku world, it is normal to try to stop a war with more war… or perhaps with secret, intelligent missions. However, there are other less destructive ways of dealing with the mess. On the case of Zettai Heiwa Daisakusen, the heirs of rival kingdoms decide to get engaged to stop the current war. The problem is that they dislike each other, so we can expect a lot of humor here :p
Once more, we have a war as background for the story, like in Basara. Although we have two protagonists, Princess Euda is far from a maiden in distress. Like Sarasa, she takes matters on her own hands and has an active role during the war, while also coming with the strategy on how to stop it by sacrificing her personal interests. What is interesting about Zettai Heiwa Daisakusen is that the environments and culture of the rival kingdoms are very different. For a comedic, love story, this manga has enough substance to add to the entertainment.
---
Any Manga Like Basara?
4. Joou no hana

Authors: Kaneyoshi Izumi
Genres: Adventure, Historical, Romance, Shoujo
Volumes: 15
Published: Oct, 2007 to Jan, 2017
Kaneyoshi Izumi has worked mainly in manga setted on present days and focused on romance, both in long and one-shot formats. His historical inspired short stories under the title Ni no hime monogatari were the successful prelude to publish Joou no hana. We could believe that blood run thicks within family members, but just put something flashy on stake (like kingdomship) and everyone gets driven in a vortex of intrigues. In Joou no hana, two queens give birth to a daughter and a son, who become rivals for the throne. Unfortunately, Princess Aki is framed and vanished from the country. Bowing to revenge her mother's death and to recover what should belong to her, Aki and her servant friend, Hakusei travel around, training and preparing for their strike moment.
This manga has remained as an underrated piece of art in the otaku world for far too long. We get romance between two individuals that should not be involved in the middle of social unrest and war, just like in Basara. Aki is a girl with all the abilities desired in a guy, like Sasara. The main difference is the graphic style, more suitable to shoujo manga. Also, Aki has a better balance on her "masculine" and "feminine" sides. Joou no hana is epic and historic enough to get the attention of adventure seekers, so don't miss it out!
---
5. Sengoku Blood: Bara no Keiyaku

Authors: Ouji Hiroi and Fujiko Kosumi
Genres: Action, Drama, Historical, Romance, Shoujo, Supernatural, Gender Bender
Volumes: 4
Published: March, 2011 to Dec, 2012
Ouji Hiroi is an experienced writer for manga that has focused mainly on historical works, although his participation in Sakura Taisen should be noted. As for Fujiko Kosumi, she has a varied illustration portfolio which includes none other than Code Geass. This combination sounds good enough to produce a Basara like epic manga, right?
Let's go back to the era of the Civil Wars in Japan, shall we? Karin and Oda Nobunaga were two siblings raised with different expectations for them. Thus, the first one was largely ignored and the second one raised into ambitious dreams. However, when Oda is murdered, Karin vows to get revenge for her brother and to fulfill his vision of a unified nation, even if that takes a pact with the devil.
Perhaps our other recommendations are too soft and romantic for your taste. So, how about a manga with a dark and gory side that does not forget the historical good stuff? We have a lot of similarities with Basara, as in both stories the sisters take their brothers' place, leading the wars. The main difference is that we have a supernatural element in Sengoku Blood.
---
6. Akatsuki no Yona (Yona of the Dawn)

Authors: Mizuho Kusanagi
Genres: Action, Comedy, Fantasy, Romance, Shoujo
Volumes: 22
Published: Aug, 2009 to present
Mizuho Kusanagi has had some experience in the manga world with works that portrait school life adventures and epic, historical manga. Of course that we could not ignore her opera prima, the original source for an anime and an OVA by Studio Pierrot. Yona used to be the typical spoiled princess with an easy life. The only "worry" she had was to be smitten with her cousin, Soo Won… until one fine day, Soo Woon kills her father to rule the country on his place! Yona's friend and bodyguard, Son Hak, escapes with her. Now it will be up to them to find a way to legitimize Yona's claims for justice, under the form of four legendary dragons.
Perhaps this is the most similar manga to Basara that we will find on this list. We have the war, the forbidden love, the strong female lead and a legend about her great destiny. Perhaps the most salient difference is that Yona was not originally strong, but had to go through many tribulations to understand how to become a great ruler. What else can we say? The style and the pace of the story are superb. This is an action shoujo dream come true!
---
Final thoughts
Although we have had several historical manga about war on recent years, the figure of the female lead is not as typical as the male one. Basara and other manga after it are trying to make a stand to not forget that, well… war affects both males and females. In the same fashion, female characters are as capable to lead other people as male ones. That does not necessarily mean that the story is boring. On the other hand, male oriented manga do not necessarily have to be only about action. We truly hope to hear about your opinions on our recommendations. See you soon and see you at the battle field!
---