Survival games exist where players shoot at others to come out on top. Anime/manga have students who are forced to survive a deadly game where there will only be one survivor. All of these stories and themes lend their origins to a popular novel, later adopted into a manga, well known as Battle Royale. Violent, ruthless, dark and thrilling, Battle Royale is one of the stories that just sucks you in and never lets you go. Even after Battle Royale's manga concluded, we still find ourselves thinking about it and it's rare any series does that to the reader. That's why we have to wonder, is there any manga series that can capture the greatness of Battle Royale?
After combining our minds here at Honey's Anime HQ, we began talking about manga similar to Battle Royale. We knew that for a manga to be considered similar, it had to give us the same chills and thrills that Battle Royale did. If while we were reading a manga and it didn't make our eyes go wide in shock or make us feel for the characters then it just couldn't be comparable to the greatness that is Battle Royale. However, eventually we here at Honey's Anime were able to find similar works and we think you guys and girls are going to like this list of 6 Manga Like Battle Royale. Time for this epic list of manga like Battle Royale to commence down below!
Similar Manga to Battle Royale
1. Doubt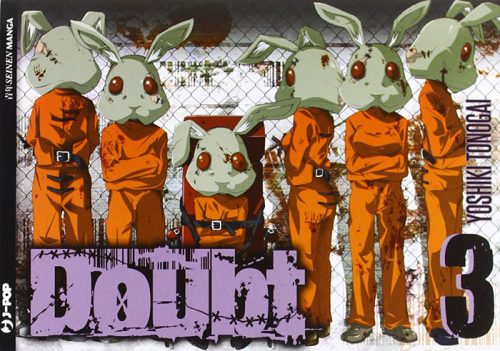 Authors: Tonogai, Yoshiki
Genres: Mystery, Shounen, Psychological
Volumes: 4
Published: July, 2007- Feb, 2009
Tokyo has recently been invaded by a new cell phone survival game. Real people get assigned either the role of rabbits or wolves. Rabbits must escape the wolves all while the wolves must kill the rabbits to be successful at the game. The game has gotten so popular people meet up in real life and become friends. However, a group of friends is about to engage in a real-life version of this survival game but unlike the harmless cell phone game the rabbits in this game die if they are caught…
Who can you trust among your friends? Has that question ever crossed your mind in your life? Doubt by mangaka Tonogai Yoshiki makes that question seem so much more real as you see a group of friends wonder who the killer is and who is indeed innocent. From start to finish, Doubt will constantly keep you guessing and we loved each moment of this beautiful mind game. Battle Royale has death, survival and a who to trust meta game and those same themes can be found in Doubt. Definitely check out Doubt to see if you can figure out who is the wolf of the group!
---
2. Gantz

Authors: Oku, Hiroya
Genres: Action, Drama, Horror, Sci-Fi, Supernatural, Psychological, Seinen
Volumes: 37
Published: Jul, 2000- Jun, 2013
During an incident, Kei Kurono and his friend lost their lives and should have gone on to the afterlife. Unfortunately, neither Kei or his friend Katou found death to be that easy. Sent into a strange Japanese style room, the duo are told they must participate in a deadly extermination game if they hope to gain back the life they previously lost. Can Kei and Katou survive this bizarre game of alien killing or will they be permanently dead? Mature, violent and unreal, this is the world of Gantz…
Here at Honey's Anime, we are quite use to gore filled and extremely violent manga like Gantz. That fact though doesn't quite ready a person for the adult themes found in Gantz's 37 volume series. Every page of Gantz captures the reader with stunning art and a gripping suspense narrative that immerses you into the depths of Gantz and we can only remember Battle Royale doing something similar while we read it. Gantz does have an anime, live action movie and OVA movie but all three of those don't quite capture the strong themes in the manga. We can't recommend Gantz strongly enough if you loved seinen works like Battle Royale.
---
3. Jisatsutou (Suicide Island)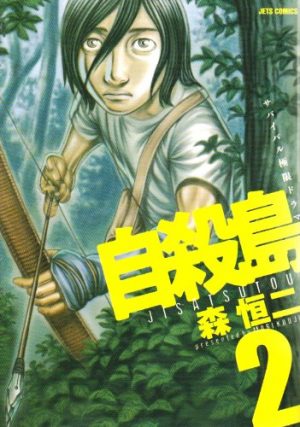 Authors: Mori, Kouji
Genres: Mystery, Drama, Psychological, Seinen
Volumes: 17
Published: Nov, 2008- Aug, 2016
How would you deal with suicidal patients? The government has tried desperately to answer this question by using various methods but after years of failure and a plummeting budget, they have had enough. With one last method, the government has decided to ask a patient with suicidal urges if they wish to die or not. If the subject answers with a yes, they will abide with their wishes but not in the way they wish for death. Instead, the subject is sent to an island where they will learn to finally appreciate life via a very harsh new life awaiting them here…
Jisatsutou—or translated as Suicide Island—is one of those manga with a very true to life theme but done in a rather interesting way. What if the world lost their hearts and just began to give up on people who needed help with suicide? Jisatsutou puts a horrifying spin on it where humanity decides to remove those who deem life not worthwhile. With gritty imagery, Jisatsutou echoes Battle Royal's realistic art style and keeps your eyes glued to the pages. At 17 volumes long, Jisatsutou will give you plenty to read and equally keep you wondering what could happen next to the cast of characters within.
---
Any Manga Like Battle Royale ?
4. Kamisama no Iutoori (Kami-sama no Iutoori, As the God of Death Dictates, Like God Says)

Authors: Kaneshiro, Muneyuki- Fujimura, Akeji
Genres: Action, Drama, Horror, School, Shounen, Supernatural, Psychological
Volumes: 5
Published: Feb, 2011- Oct, 2012
Another boring day seemed to be in store for high schooler Takahata Shun. Unfortunately, maybe Shun would have preferred the boring and average day than what was in store for him. While in class, Shun and his class witnessed their teacher's head suddenly exploding with no warning. After this horrifying incident, the class is then forced into playing seemingly innocent children's game. Unbeknownst to Shun and his class though, losing in these simple games leads to some very deadly consequences…
Children games seems like such a silly idea for a killing game manga. However, Kamisama no Iutoori—handled by mangakas Kaneshiro Muneyuki and Fujimura Akeji—makes these innocent games pretty darn terrifying. Kamisama no Iutoori reminds us truly of Battle Royale but with more of an emphasis on supernatural survival rather than guns and frying pans. Don't you want to know if Shun and his classmates survive this rather peculiar scenario? If you're dying to find out the answer to that, then all you need to do is read Kamisama no Iutoori.
---
5. Liar Game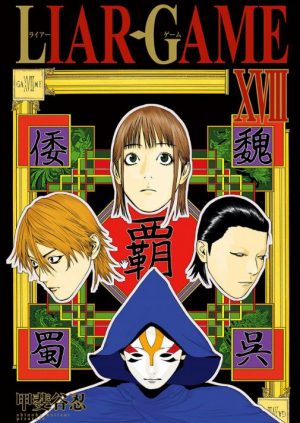 Authors: Kaitani, Shinobu
Genres: Drama, Game, Psychological, Seinen
Volumes: 19
Published: Feb, 2005- Jan, 2015
Money is the route of all evil--this is a commonly believed concept. Young Kanzaki Nao is about to find this out for herself when she ends up in the Liar Game. Here players must try to drain the bank accounts of other players all while keeping their own. When Nao's overly trusting personality makes her almost immediately lose to another player's deception, she begrudgingly teams up with a stranger named Shinichi Akiyama. Can she trust this man to lead her to victory or will Nao once more face defeat in this money-based survival game? Time to find out in Liar Game where trust is as thin as money itself.
So maybe you avoid Battle Royale for its constant killing and seemingly never-ending bloodshed. Well then, our recommendation for you is Liar Game from mangaka Kaitani Shinobu. Nao's struggle to outwit her enemies is constantly engaging and every volume leaves you wanting more and more to read. Luckily, since Liar game ended three years ago, the whole series is ready for binging whenever you choose to do so. Trust us folks, Liar Game will be a manga you will pick up and before you know it you'll be lost in this beautifully drawn and narrated manga.
---
6. Blue Heaven

Authors: Takahashi, Tsutomu
Genres: Action, Psychological, Seinen
Volumes: 3
Published: 2002- 2003
In the middle of the ocean, a beautiful luxury vessel named Blue Heaven happens upon a wrecked boat. Against the wishes of the crew, the Captain of Blue Heaven decides to search the wrecked boat. Quickly, two men are found aboard the ship and are bought on to the Blue Heaven. This move ends up being quite a mistake however when the crew see blood on the boat and one of the men disappears aboard the Blue Heaven. With people suddenly being killed, it's a race against time to discover why this man has starting rampaging and for a means to end the violence before too long. What was once a trip of joy and relaxation has just turned into a bloody battle aboard the now dark Blue Heaven.
We end our list of 6 Manga Like Battle Royale with a sea-based survival manga called Blue Heaven. Where do we begin with our praise of Blue Heaven? Not only is the art absolutely stunning but the action and psychological elements in Blue Heaven work so well to keep the reader engrossed from volume 1 to volume 3. Blue Heaven might be extremely short compared to the 15 volume Battle Royale series but in this case, the short amount works in its favor. Blue Heaven will be a manga you read once and find yourself wanting to read it again sometime down the line.
---
Final Thoughts
Battle Royale will be a series that spawns so many stories from the ideas set by its creator Koushun Takami. Though we feel that's a good thing here at Honey's Anime as it shows how influential Takami's story is in the world of any medium, especially manga. The manga above might use ideas similar to Battle Royale but they aren't clones and offer up their own spins and twists to the formula seen in the iconic manga series. Thus, we're confident you will all enjoy the manga above if you loved Battle Royale as much as we did. Have you read any of the manga above or think we missed a manga that we could have added to this list? Comment your thoughts down below to let us hear from you all. Remember to keep returning to our hive here at Honey's Anime for more lists just like this one!