Even before Motomi Kyousuke's big hit manga, Dengeki Daisy, garnered a lot of attention within the shoujo genre; her other works, such as Beast Master, made her a well-known mangaka in the community. Beast Master is a story about a young girl who befriends and falls in love with a beast boy. Although it is very short, the story balances drama, action, and romance, as well as funny and adorable moments. As usual, you won't get bored of Motomi's main cast, as she is well versed in creating interesting and entertaining characters that the readers can relate to and fall in love with. If you want to read something similar to Beast Master, then you came to the right place! We have your back, so go ahead and read on to find some similar manga that you may like. Enjoy!
Similar Manga to Beast Master
1. Boku wa Ookami. (I am the only wolf.)

Authors: Yuki, Nachi
Genres: Comedy, Romance, School Life, Shoujo
Volumes: 5
Published: Dec. 2010 - Aug. 2012
Kuramoto Rina despises men in general, as she perceives them as perverts who want nothing more than to get under her skirt. Even her male best friend, Tachiyama Keita, isn't an exception to this. Just when she thinks that her prince charming with pure intentions will never come, a mysterious transfer student comes into her life. He introduces himself as Ookami Jin and seems to be weird in every way possible. But that won't stop Rina from getting to know Ookami, as he might be the pure prince that she is waiting for.
Beast Master and Boku wa Ookami are very much alike. We believe that this is the first automatic recommendation we can give you as there are so many similarities between the two. One thing that any reader will notice is that both main boys are raised in the wild, thus the reason for their barbaric and odd behavior in human society. Since they grew up in a different environment, they are often misunderstood by people. Thankfully, someone special in their life came and helped them to be accepted in their community.
Like Yuiko and Leo from Beast Master, Rina and Jin start off as friends before they fall in love with each other. Jin's past also plays a big part in the story, like what happens in Beast Master. Nonetheless, this is what triggers the main heroine to love and support her adorable handsome wolf even more. The manga is hilarious and somewhat "out there" like Beast Master. You definitely can't go wrong with Boku wa Ookami, so why not try it out?
---
2. Kimi ni Koishite Ii desu ka? (May I be in love with you?)

Authors: Shiiba, Nana
Genres: Romance, Shoujo
Volumes: 2
Published: Jan. 2013 - Aug. 2013
Some people want to stand in the spotlight, while some people, like Chigira Ruiji, want to have an ordinary high school life. Unfortunately for him, he was born with a scary face. His face is the source of all of his misery as many fear him and delinquents like to pick fights with him. He also dreams of having a sweet and happy relationship. But this dream seems to be far away; especially when his crush, Wakatsuki Sana, is awfully afraid of him. Luck seems to be by his side as he meets Kibayashi Moemi, who is very much willing to give him a helping hand with his romance. Will his springtime come at last?
Both manga are similar in a sense that both male main characters are often misunderstood by the people around them. They tend to get into fights and are feared by many, but deep inside of them resides a sweet and gentle heart. Very much the same as in Beast Master, Ruiji meets a girl that will help and support him for the better. Ruiji is definitely a reason to read this manga as he is as cute and innocent as Leo in Beast Master. Kimi ni Koishite Ii desu ka? is a fun manga to read as it is also full of funny gags and moments that will make you cry with laughter!
---
3. Kedamonozakari, Koizakari

Authors: Motomi, Kyousuke
Genres: Comedy, Drama, Romance, Shoujo
Volumes: 1
Published: May 2015 - Jun. 2015
Inukai Tsugumi is good at handling animals. She is also good at handling favors from other people. Everyone knows that she is a good girl overall and that she cannot say "no" to any requests. Which is why Tsugumi is often exploited for her kindness. But everything starts to change when the "Lion" of their school, Tategami Shiro, starts getting attached to her. What will Tsugumi do in order to change Tategami without getting eaten by him?
Although Tsugumi is loved by most animals, unlike Yuiko, she can definitely tame the school's delinquent just as well. The overall premise of Kedamonozakari, Koizakari is very much the same, but what makes it different are the characters. Unlike our main lead Yuiko, Tsugumi is more reserved and quite a shy girl. Shiro, on the other hand, is more aggressive than our sweet little Leo. With that being said, the manga is also charming in its own way. If you like the Bad Boy x Shy Girl coupling, you will surely like this short manga!
---
Any Manga Like Beast Master ?
4. Kemono ni→Botsuraku Ojousama

Authors: Amano, Maron
Genres: Comedy, Romance, School Life, Shoujo
Volumes: One-shot
Published: Jul. 2006
Jounouchi Youko transfers to a new school after the financial loss of her family. She is assigned to infirmary duty for a week with Tsukina Shizuku. To her utter shock, she finds out that "Shizuku-chan" is actually a boy, and a violent one to boot. Youko tries to distance herself from him but cannot do so as she sees a new side of him that other people have not yet seen...
Beast Master and Kemono ni→Botsuraku Ojousama share one thing in common. Both males are violent types and only the female leads can tame them. Although this manga is the same as Beast Master, it is also the same as Kedamonozakari, Koizakari. This also features the Bad Boy x Shy Girl trope, but there is a comical twist in the middle of the story and its ending that you will surely enjoy. Let's say men are not the only ones that can be "beasts"... Since its a one-shot manga, it is much shorter than Beast Master, still, don't let it deter you from reading this manga.
---
5. Moujuu wa Ori no Naka

Authors: Toyota, Yuu
Genres: Action, Romance, Shoujo
Volumes: One-shot
Published: Jun. 2009 - Aug. 2009
The Kingdom of Gulba is a rich country with vast lands. The Prince of Gulba is crowned and the rebel forces aim to take advantage of this opportunity. In order to counterattack the rebels, the Gulba force is established. The leader of this special group force is none other than the beautiful lady Carla. Along with protecting the country, Carla also wants to avenge the death of her father who died at the hands of the rebels. She also has Hazel, her loyal and obedient servant. Together, they fight off the rebels to stop their evil doings.
Moujuu wa Ori no Naka is essentially like Beast Master in an alternate setting. Our main protagonists, Yuiko and Carla, are strong characters to admire. They can kick ass and protect themselves despite being in a disadvantaged situation. The similarity does not end there, Carla's Hazel is the same as Yuiko's Leo. He does not tolerate seeing his master being insulted and harmed, and will go berserk if he sees Carla getting hurt.
Hazel is also a silly handsome man who is quite clingy with Carla, reminding us how Leo always wants to get Yuiko's attention. While the manga is also funny, it also has some nice and simple action scenes that you can enjoy. Sadly, this is also very short, like our previous selection, since it is also a one-shot. But don't let it stop you from reading as it is a good short read.
---
6. Sono Koi ni wa Wake ga Aru

Authors: Akiba, Touko
Genres: Comedy, Romance, School Life, Yaoi
Volumes: 1
Published: Feb. 2010
Sono Koi ni wa Wake ga Aru is a spin-off of Hito wa Sore o Koi to Yobu. It centers around Jun's best friend, Aoi. Unlike other people who bask in their beauty, Aoi sees his good looks as a burden. Ever since he was a child, Aoi has been targeted numerous times because of his beauty. In order to protect and defend himself, he became proficient in fighting off people who leer at him. Because of his enormous strength, Aoi is known around the school as a wild beast. Although he hates people who look at him, he doesn't mind Azuma's gaze. Why is that? Maybe he is in love?
Yes, unlike our other selections here, Sono Koi ni wa Wake ga Aru is from a different genre. If you don't mind that, then this manga is a good recommendation for you! If you're expecting the seme being the wild beast here (Well technically he is... In bed), you're in for a ride because the uke of this story is the violent one.
Even though it is short like Beat Master, the pacing is just fine and doesn't feel rushed nor is it slow. Like how Yuiko and Leo who get to know and trust each other first, Azuma and Aoi start off as friends that come to understand one another. Since Aoi has some tendencies to get savage when he feels threatened, only Azuma can stop his significant other with his soothing voice and gentle smile. Also, Azuma is quite fond of animals, like how Leo is closer to animals too. It's full of humor and delightful moments so be sure to try this out and put it immediately in your reading list!
---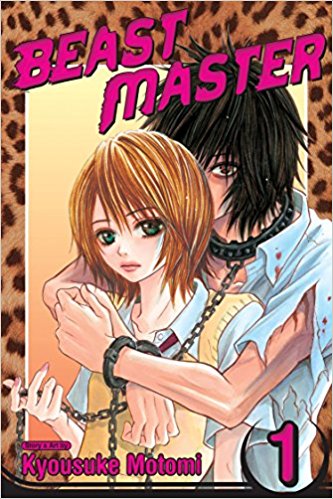 Final Thoughts
Even though Beast Master is fairly short, it's something memorable thanks to its adorable and refreshing characters. We're sure that we are not the only ones who wish it was longer, but since that is not going to happen, help yourself to these recommendations we've listed just for you! So what manga did you decide to read? Do you know any manga similar to Beast Master that we haven't listed yet? Write them all down in the comments section below! Don't forget to stay tuned to Honey's Anime, and as always, see you in the next article! Now signing off~