Rei and Akira's complicated love story will easily warm your heart if you can overlook their being cousins. It's a great story especially for younger fans because the characters look and act like 15-year-olds, as opposed to the muscle-y, mature 'teenagers' we see in other series. They are, begrudgingly, reliant on the adults in their lives, are greatly affected by their other family members, and have surprisingly relatable problems (ignoring Akira's tendency to get kidnapped).
Sometimes, stories seem too short with only one volume, but with Bokura no Oukoku's 6 volumes, you get to see the gradual deepening of their relationship. Despite coming from very different backgrounds, Akira and Rei treat each other equally and only seem to notice if someone else comments on it. Akira is fine bossing Rei around when he's obstinate and Rei considers Akira's feelings and ideas valid despite hating almost everyone else. Because we love sweet Boys Love stories that have more than one volume and important characters aside from the lovers and a romantic rival, we've made you a list of other special manga with young love!
Similar Anime to Bokura no Oukoku
1. Little Butterfly

Authors: Takanaga, Hinako
Genres: Drama, School, Yaoi
Volumes: 3
Published: June 2001 – July 2003
Kojima is a friendly and outgoing high school student with a good social life and a happy family. Yet, when he sees the sullen school outcast Nakahara, instead of feeling creeped-out like everyone else, Kojima feels a certain admiration for him. Nakahara begins opening up in the face of Kojima's persistence and reveals a sensitive romantic with a good head on his shoulders. Kojima feels stronger feelings than he's ever felt for his other friends and contemplates the meaning of it. When Nakahara suddenly confesses to Kojima, will the ensuing awkwardness keep them apart? or will the winds of fate bring them together?
Little Butterfly is an older manga but does well in not being too stereotypical with its characters. Rei and Nakahara are rather similar -both having been raised in a rich but distant family-, and develop rather immediate, strong feelings for the first person they believe sees their true selves. Families play a huge role in both of these stories, both shaping the differing personalities of the young teens and also as guides and obstacles. Rei and Akira's grandmother is a negative presence in both boys' lives, yet it's because of her that they are allowed to live together. Their uncle Yuuji in his own way cares for and offers his support to the boys, much like Nakahara's uncle to his nephew. Nakahara has to deal with awful, abusive parents, but he finds love and comfort; not only with Kojima, but with his much more welcoming family. While the boys in Little Butterfly are older, they don't look like adults and very much still act young.
---
2. Fuuki no Okite

Authors: Koujima, Nazuki
Genres: Comedy, School, Yaoi
Volumes: 3
Published: July 2009 – July 2011
Hokuto is terribly excited to meet his 'uncle' Yachigusa's children, Shissa and younger brother Zento, as they will be attending the same school. Before he's able to meet anyone, Hokuto injures the eye of another student who grabbed him from behind, and it was none other than Shissa! To atone for the accident, Hokuto says he will do anything; after which, Shissa decides to make him a representative of their disciplinary committee. Under the guise of 'conditioning proper responses', Shissa forces Hokuto to endure kissing and caressing while holding back his reflexes to attack. Hokuto can't even tell he's being teased when his will to make amends is so strong, and Shissa begins to admire him for it. Their relationship changes from bully and bullied to something more!
In Fuuki no Okite, a strong familial presence guides the story, just as in Bokura no Oukoku. Both of these romances began due to one of the boys' fathers planning to introduce his child to another. Despite being from the same author, the characters look noticeably different and a bit more mature, though they are still somewhat at the whim of the adults around them. Shissa loves teasing Hokuto, much like Rei teases Akira; though initially there is a lack of romantic feelings behind it. Akira and Hokuto both have a positive and hard-working attitude, seeing others' superior traits as a chance to improve their own. Both semes treat everyone very harshly and only are gentle towards their unlikely partners. If you like a little more of a master/slave dynamic between two competent guys, this is quite a fun story.
---
3. Blue Sky Complex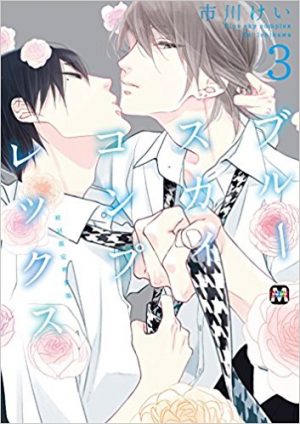 Authors: Ichikawa, Kei
Genres: Slice of Life, School, Shounen Ai, Yaoi
Volumes: ongoing
Published: Sept. 2015 - ongoing
Narasaki wants nothing more than to find some quiet alone time from his loud, demanding family. He figures agreeing to watch the school library for a while will be a nice reprieve, until he realizes he's been made to monitor a delinquent named Terashima. What he assumes will be a troublesome time turns into some of the more peaceful hours he's ever experienced. He learns that Terashima seeks the pleasures of quiet and books as well. As time passes, they come to understand one another better and look forward to the next time they will meet. At the end of the arranged time, how will their feelings transform?
While it first seems to be a rather serious manga, the humor picks up as you learn more about Terashima and Narasaki, though it doesn't tend to be as in-your-face funny as Our Kingdom. Terashima doesn't come from a powerful family as Rei does, but both boys share a sullen and off-putting personality. When it comes to the person they like, they are loyal and honest and don't seem to care much at all about being with another guy. As for sexual pacing, there's a similar style of random kisses with the occasional heavier moments, but they don't rush into sex. And while there's some forced physical interaction on a more hesitant partner, everyone admits to liking their physical relationship. You can definitely feel the family presence in this one too, especially in the way Narasaki tends to soften around his obnoxious brothers.
---
Any Manga Like Bokura no Oukoku ?
4. Rutta to Kodama

Authors: Fujitani, Youko
Genres: School, Yaoi
Volumes: 3
Published: 2009 – 2012
Rutta always had a reputation as a bad boy, and when students learn that cute, sweet Kodama will be his new roommate, they prepare for the worst. Instead of being mercilessly bullied or tormented, Kodama inadvertently steals Rutta's heart. Kodama can't accept Rutta's feelings at first, which leads to him getting in more fights. When Kodama sees his dear friend hurting, something stirs inside him, and he finds that perhaps he does harbor those same feelings.
The dynamic of this couple is very similar to Rei and Akira, apart from not being blood-related. Rutta is clearly the more aggressive one when it comes to their relationship, but just like Akira, Kodama quickly finds himself in love and enjoys the touch of his partner. Kodama definitely shares a young-looking appearance similar to a lot of the cast of Bokura no Oukoku. This is another 'unsociable brute meets sweet and happy boy' story between two high schoolers, though it is a bit spicier in terms of BL action than Bokura no Oukoku.
---
5. Love Stage!!

Authors: 10
Genres:
Volumes:
Published: July 2014 – Sept. 2014
After co-starring in a commercial as a young child and being forced to play the role of a little girl, Izumi decided he wants nothing to do with the celebrity life the rest of his family leads. He's devoted his life to attempting to draw manga, but when the famous boy co-star of his past reaches out to do a 10-years-later version of that commercial, he's pressured against his will! When Izumi meets Ryouma again dressed as a girl, he comes to find that Ryouma has had a crush on 'her' since their first meeting! When it's discovered Izumi is actually a boy, Ryouma is at first disgusted, but finds he can't get Izumi out of his head. While Izumi finds acting and Ryouma to be a bother, as time goes on, he'll come to love them both!
Ryouma and Izumi have arguably one of the healthiest relationships in BL, always supporting each other's dreams and listening to each other instead of jumping to conclusions. While Rei and Akira often get into short spats, they too, quickly come back to each other and always find strength with each other. Both Ryouma and Rei get violent when they think their lover is in danger, even if they are wrong. Much like Akira is pulled from his non-glamorous life, Izumi is also forced by his family into accepting a different lifestyle. If you enjoyed watching Rei help ease Akira into his new life, you'll see a similar situation with Love Stage. Ryouma isn't as immature and irresponsible as Rei, but he certainly won't allow any harm to come to Izumi no matter who becomes his enemy.
---
6. Super Lovers

Authors: Abe, Miyuki
Genres: Comedy, Drama, Romance, Yaoi
Volumes: ongoing
Published: Oct. 2009 – ongoing
When Haru rushes to Canada to take care of ailing mother he's surprised to find not only is she perfectly healthy, but she has decided to put a feral boy by the name of Ren in Haru's care. Trying to rehabilitate a child who's more at home with wolves than people proves to be terribly difficult, but Haru's patience wins out. Haru has to return to Japan, so he promises Ren can come live with him there someday. However, upon returning, a horrible accident robs Haru of his father and stepmother as well as his memories. When Ren discovers this, he refuses to give up, deciding this time he will be the strong one for Haru. Haru has a lot to deal with considering his lost memories as well as Ren and his two other step brothers fighting! Yet, while family is the most important thing to Haru, there's something about Ren that makes him different from the other brothers.
If you missed the incest and 15-year-olds in Bokura no Oukoku, it's back with Super Lovers! Despite a rather questionable plot, Haru and Ren's love is as tried and true as Rei and Akira's. In Super Lovers, it's actually the uke with the more callous and isolating personality, choosing to almost exclusively show his sweet side to Haru. He states his feelings honestly as Rei does, though with more consideration to how his words and actions affect people. Their relationship dynamic is pretty different, but has similar themes of adoption, a strong family presence, and trying to navigate life and sexual desires growing up.
---
Final Thoughts
As the years go by, we're seeing more unique stories make their way into the world, and we couldn't be happier! It's nice to get some similar themes with fresh spins on the story. You can't go wrong with the classic 'boy from the wrong side of the tracks falls for the sweet guy' motif. It's also nice to have BL stories that focus on more than just the couple, and show how they interact with the world at large. Since people are a product of their upbringing, manga that has a strong family presence can help you feel more immersed. We hope you will enjoy these tales of tender young hearts!