What happens when the mangaka Yoshi and Watanabe Ayu get together to write a manga? Yoshi is known for his rather dark and tragic plots while Watanabe Ayu is known for creating shoujo manga with drama and romance. When these two decided to collaborate in order to write Dear Friends, they created a manga about true friendship that really grips at your emotions and leaves you wanting something more.
If you have come here because you're sick of the flowery shoujo manga that seems to roll off of the presses, have we got a list of manga for you. These 6 manga like Dear Friends touch on the touching aspect of friendship, the heartaches that are life, and the tragedy that can sometimes occur, and gives us manga that steer shoujo manga away from all that is sugary and sweet. If you want more of Dear Friends, then we sure have it for you. Here you are: 6 manga like Dear Friends!
Please be aware, some of these stories can be triggering and contain mature material.
Similar Manga to Dear Friends
1. Deep Love - Reina no Unmei (Deep Love - Reina's Destiny)

Authors: Yoshi, Yoshii Yuu
Genres: Shoujo, Mature, Tragedy, Drama
Volumes: 1
Published: 2006
Deep Love - Reina no Unmei is a continuation from Ayu no Monogatari following Reina after her sexual assault. She has given birth to a baby girl that she named after her friend, Ayu. Reina is finding single motherhood to be difficult to cope with as she wishes to fall in love, but at her age, having a daughter isn't really the baggage that boyfriends want to deal with. Add onto that that Reina fell down the stairs and is rendered blind after her surgery. Reina wasn't ready for motherhood and was not going to take it out without kicking and screaming, but maybe it's time for her to step up!
It's hard to think about Dear Friends and not even mention one of the Deep Love stories, which is a series also written by Yoshi based off of a cell phone novel. The one we wish to dive into particular is Reina no Unmei (Reina's Destiny), which centers more on friendship and family than just love, as so many tragedies too. Like Rina from Dear Friends, Reina was a rather naive idiot who merely cared about her own pleasures and her (one sided) friendship with Ayu in Ayu no Monogatari. Her whole life changes when she is raped, which has led to Reina no Unmei, and impregnated. Reina no Unmei takes a look at the struggles Reina goes through in order to find work that she is capable of doing in order to provide for a future for Ayu. Like Rina, Reina goes through a lot of hardships and finds someone who gives her the support she needs along the way. We don't want to spoil too much about Reina no Unmei, but if you are looking for a manga like Dear Friends that becomes darker and more tragic, you will want to look into Reina no Unmei.
---
2. Bitter Virgin

Authors: Kusunoki Kei
Genres: Seinen, Tragedy, Drama, Romance, School Life, Harem, Mature
Volumes: 4
Published: 2005
Suwa Daisuke is a popular boy at school who accidentally overhears his new classmate Aikawa Hinako's confession one day while hiding in an abandoned church. Daisuke once disliked Hinako for how she treated him, but now, he is more than understanding. While Hinako does not know that Daisuke knows her secret, Daisuke is determined to make things right and treat Hinako well.
It's hard to find someone who doesn't recommend Bitter Virgin and it's not hard to believe why. Upon learning about Hinako's tragic past, you feel the gears turning as Daisuke volunteers himself to be Hinako's support, even when she isn't aware of why, similar to how Rina gets support from Maki while she is going through treatment for her illness. It is this support that ultimately turns Hinako's life around in a similar way to Rina's. We don't want to spoil too much, but if you want a tragic setting with a bright look to the future like Dear Friends, you can find it in Bitter Virgin.
---
3. Life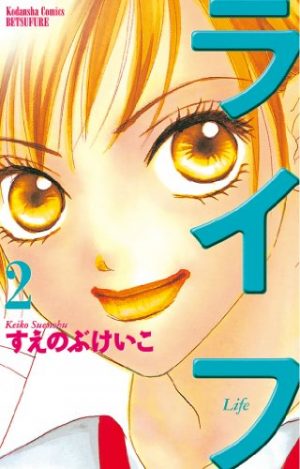 Authors: Suenobu Keiko
Genres: Mature, Romance, Drama, Tragedy, School Life, Shoujo
Volumes: 20
Published: 2002
Shiiba Ayumu is determined to pass her high school entrance exams and gets the help from her best friend and the top of their class, Shii-chan. Unfortunately, Ayumu does better than Shii-chan which leads to Shii-chan not getting into her school of choice. With the loss of Shii-chan's friendship, Ayumu turns to cutting herself. Then when high school arrives, Ayumu makes a new friend, Manami, but is she really the right person to help Ayumu?
Suenobu Keiko is an expert and really evoking emotion in shoujo works and in Life, she does just that. With this rather dramatic telling of Ayumu's life, we get to see all the turmoil she is faced with as a teenage, similar to what we would experience in the real world. All the same, Ayumu gets a glimpse of hope with new friends like Manami who may or may not turn her life around. Life is an extremely long series, but it's one with many ups and downs expertly told to really grip your emotions and show the true power of friendship in a more drawn out fashion than Dear Friends.
---
Any Manga Like Dear Friends ?
4. Vitamin

Authors: Suenobu Keiko
Genres: Shoujo, Drama, School Life, Psychological, Mature
Volumes: 1
Published: 2001
Sawako is just your normal student. Or rather, she was until an incident causes her to lose face and rumors sprout out all over about her. In fact, Sawako is even mistreated, bullied, and ostracized. With her school life a literal hell all day long, Sawako goes into hiding and stays home, but is that really the right path?
Vitamin is a really difficult manga to stomach for those who cannot stand bullies and abuse. Sawako is bullied harshly by her fellow students just because of an accident and it leads to her barely wanting to live as she skips out on school and hides away from people. However, it is clear that Sawako is hoping to find a glimmer of hope in her life; she is willing to give her fellow students all of her trust if they'd take it. Sawako is a bit more naive than Rina, but they both follow tragic paths and must find their own hope in this world in order to survive their awful reality.
---
5. Watashitachi no Shiawase na Jikan

Authors: Gong Ji-young, Sahara Mizu
Genres: Seinen, Tragedy, Romance, Slice of Life, Psychological, Mature
Volumes: 1
Published: 2007
Juri is an expert pianist who has attempted to take her own life three times, but her aunt has not lost hope for her yet. Determined to turn things around, Juri's aunt sends her to meet a man in prison named Yuu who is on Death Row, serving time for having taken the lives of three people. When these two individuals meet, they will find comfort in each other for the burdens that they carry and perhaps, they will realize the hope they have to live.
Watashitachi no Shiawase na Jikan starts off on a negative note like Dear Friends with Juri who has committed suicide several times and has no real reason to live. The way Rina finds support in Maki to keep fighting for her life, Juri finds in Yuu. However, their circumstances are a bit more tragic. These two people who have had very hard lives find hope in each other which sparks a reason for them to continue living. Watashitachi no Shiawase na Jikan is a seinen manga so be prepared for a bit more realism and some rather tragic plot points compared to Dear Friends. This is the real world and Watashitachi no Shiawase na Jikan does a great job portraying it.
---
6. Nana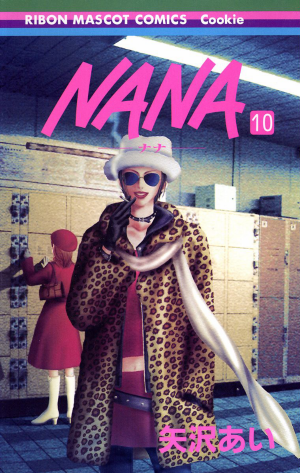 Authors: Yazawa Ai
Genres: Shoujo, Drama, Romance, Mature, Psychological, Tragedy, Slice of Life
Volumes: 20
Published: 2001 (Hiatus)
Komatsu Nana, also called "Hachi", takes a hasty leap of faith and leaves for Tokyo, hoping to move in with the current love of her life. Osaki Nana is going to Tokyo, too, to pursue her dreams in music. These two very different women will have a fateful encounter on a stalled train that will change their very lives and form the bond of friendship like never before.
When it comes to friendship, we cannot neglect mentioning a manga like Nana. While it has an anime adaptations, we here are loyalists to the source material and the Nana manga is exceptional in many ways, and it continues to tell the story not yet finished in the anime. Like Dear Friends, Nana focuses on friendship as the overlapping theme. Hachi and Nana depend on each other through thick and thin to really overcome the hurdles life throws at them. While they lose people they live, are plagued by the mistakes of their past, and are left behind by those they love, Nana and Hachi can still depend on each other and get themselves through the thickest of it. Yazawa Ai does a wonderful job of weaving a story about friendship and loss. It's only a shame that the manga has not been completed yet!
---
Final Thoughts
We hope you enjoyed these 6 manga like dear friends. We sure had some feels going through the plots and memories of these manga as we wrote this piece. It was an emotional roller coaster for sure!
For those of you here today, let us know your thoughts about this article. Did you read some of these? Which ones were your favorites? Or perhaps these are all new to you. Please feel free to share your thoughts all in the comments below!