También puedes leer este artículo en:Español
The otaku world is full with stories about girls and women who start in a difficult situation but, with courage and efforts, get the best of it. And what is better than to fall in love in the same way? One such story is Dengeki Daisy. Teru is never lonely because she messages a certain "Daisy" after her brother's death. However, in order to survive, Teru needs to work for the difficult Tasuku. The fun thing is, both situations are related. However, which other manga have both unusual encounters and romance like Dengeki Daisy? Let's discover some manga similar to Dengeki Daisy in our article of 6 manga like Dengeki Daisy!
Similar Manga to Dengeki Daisy
1. Mel Kano (Mail Girlfriend)

Authors: Towa Oshima
Genres: Comedy, Drama, Romance, Seinen
Volumes: 5
Published: Jun 18, 2005 to May 19, 2010
Towa Oshima comes from a whole manga family. She has done several short stories mainly in the shoujo and seinen manga departments. Shouryuu Shinjo is the perfect guy, apparently. Many people wonder why he doesn't have a girlfriend. Well, it turns out that Shinjo has one, but Hal communicates only online… until one day, she requests Shinjo to meet in person! What does this has to do with crime prevention and online scams? You will have to discover it in Mel Kano!
If you liked the idea of long distance romance and messages as communication basis present in Dengeki Daisy, maybe you should try Mel Kano. The first part of this story will remind you of the tenderness and innocent mystery of meeting love for the first time. The main difference comes in the second part, where the story centers more around crime. Also, although the illustration style is similar in the mangas, Mel Kano is slightly more adult, with more action packed panels. So, if you would have liked Dengeki Daisy as a more serious and adventurous manga, well… you know what to read now! 😉
---
2. Kimi ga Uso wo Tsuita (You Told a Lie)

Authors: Miyuki Yorita
Genres: Drama, Romance, Shoujo, Supernatural, Psychological
Volumes: 3
Published: Feb 24, 2009 to Jun 24, 2010
Miyuki Yorita is a prolific author in the shoujo realm. Her stories tend to show strong and original heroines in slightly unusual situation. In Kimi ga Uso wo Tsuita, our protagonist, Saki Kudou, was abandoned by her father when she was small. Therefore, she hates lies. After a tragic accident, Saki acquires a supernatural ability: now she can see clearly who lies to her! What will Saki do now that she can't trust anyone around her?
If what you liked about Dengeki Daisy was the romance and the protective attitude of Daisy, you will find just that in Kimi ga Uso wo Tsuita. Both stories are about a protagonist who lost her family too. The main difference is the unusual ability of Saki's. Also, the illustration style tends to be more detailed in this manga, although Dengeki Daisy uses more screentones. Anyway, Kimi ga uso wo Tsuita is for all lovers of romance and an independent but flawed protagonist like Dengeki Daisy (because we are humans, right?).
---
3. Ookami Shoujo to Kuro Ouji (Wolf Girl and Black Prince)

Authors: Ayuko Hatta
Genres: Comedy, Romance, School, Shoujo
Volumes: 16
Published: Jun 11, 2011 to May 13, 2016
Ayuko Hatta has some experience with shoujo and comedy manga. So far, her best work has been Ookami Shoujo to Kuro Ouji, to the point that it became an anime in 2014. If you are into long mangas, this is your lucky day! Meet Erika, who was under pressure to get a boyfriend. Therefore, she shows a random picture of a guy to her friends only to discover later that he goes to her school. Things complicate when Sata (the guy in question) blackmails Erika and they become a fake couple.
Perhaps what you like about Dengeki Daisy are the main characters. While Teru is a pure, innocent soul caught in trouble, Tasuku is the cool guy who cares for her deep inside. This sort of relationship dynamic is found also in Ookami Shoujo to Kuro Ouji. If you like the funny, confusing and fuzzy romance side of manga like Dengeki Daisy, this manga will provide that to you. The illustration styles are a bit harder to compare, though, as Dengeki Daisy tends to force comedy more into the expressions of the characters, but it is not so evident at first sight.
---
Any Manga Like Dengeki Daisy ?
4. Koko ni Iru yo! (I am here!)

Authors: Ema Tooyama
Genres: Romance, School, Shoujo, Slice of Life
Volumes: 5
Published: Jun 2, 2007 to Dec 17, 2008
Here we have the creator of Gokkun Pucho on this list! Ema Tooyama has an ample catalogue of shoujo manga that range from the super tender to the bittersweet. In Koko ni Iru yo!, she introduces us to Hikage Sumino, who dreams of having friends in high school. Unfortunately, an accident leaves her exactly like in middle school: unnoticed by everyone. The only place where Hikage can share her thoughts is her blog, where internet users leave supporting comments for her. However, one of the most popular guys in the school suddenly approaches her! Will Hikage be able to become as shiny as the sun?
People who are more used to mediated conversations than to real life ones might discover that sometimes, the internet can be a powerful form of communications. We otakus are not alien to that, right? Well, when the protagonists of Dengeki Daisy and Koko ni Iru yo! discover their self-confidence through their virtual friends, they are making use of the power of mediated communication! We also have some sparkling romance in both stories. Perhaps the main difference in the mangas is that Hikage is more plain when the story starts, plus there is more comedy going on with her. Also, the fluffy and sparkly illustration style of Ema Tooyama sets Koko ni Iru yo! apart.
---
5. Kiss Yori mo Hayaku

Authors: Meca Tanaka
Genres: Comedy, Drama, Romance, School, Shoujo
Volumes: 12
Published: Jan 24, 2007 to Jun 23, 2012
Meca Tanaka has a long experience with, basically, shoujo manga. She introduces us to Fumino in Kiss Yori mo Hayaku. Our protagonist has had a hard life after her parents died to the point that she decides to quit school and work to support her brother Teppei and herself. Overheard by her English teacher (Kazuma), he proposes marriage! Now what will Fumino do? Her debts are paid, but her situation might be trickier than she thought before…
There are parallels between Dengeki Daisy and Kiss Yori mo Hayaku. A male staff from each school protects the protagonist. There is a comedic and sometimes difficult romance developing between the couples, too. The personality of Kazuma and Tasuku are a bit cold, as they are both aiming to hide their true feelings from the world. The main difference between the mangas is the presence of a communication device in Dengeki Daisy, and well, Daisy's presence itself. The illustration style of Kiss Yori mo Hayaku is slightly more adult than Dengeki Daisy, too.
---
6. Taiyou no Ie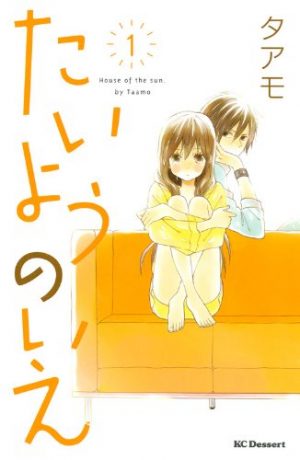 Authors: Taamo
Genres: Romance, Shoujo, Slice of Life
Volumes: 13
Published: Apr 24, 2010 to May 23, 2015
Taamo has specialized in short stories that range from tender shoujo manga for youngsters to josei themes. We could say Taiyou no Ie is an exception to her usual length. We have another case of abandonment in this manga. With a mother gone and a father remarried, Mao Motomiya goes to a shrine to clear her mind. She is found by her childhood friend Hiro Nakamura, who ends up suggesting that they live together. Hiro also has his own case of abandonment, so he understands Mao perfectly… which only brings the two closer 😉
In Taiyou no Ie, we get the kind, older guy who protects the protagonist again, just like in Dengeki Daisy. Both mangas are about romance, although in Taiyou no Ie, the other big topic is family love. There are some good tender moments combined with comedy as well. However, Taiyou no Ie comprises a puzzle that has to be read until the end to understand the whole picture. Also, the illustration style is slightly more simplified than in Dengeki Daisy. All in all, it is a well thought and slightly unusual approach to the shoujo romance.
---
Final Thoughts
Love can be complicated, especially when we are new to it. We should not worry too much though, it is a matter of working together with your partner (as long as he is willing to work with you, that is!). What's funny and fulfilling about manga like Dengeki Daisy is how amid the confusion and difficult times, two people can find their path to love. So, did you like our selection of manga like Dengeki Daisy? Which other similar manga like Dengeki Daisy do you know? Don't forget to comment, we are always welcoming your ideas and opinions. See you soon!
---