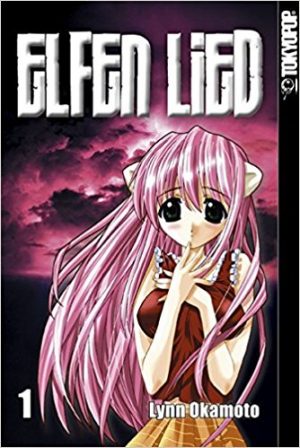 INTRODUCTION
You stand in the middle of the hallway at your post. Suddenly warning bells and klaxons ring off through the complex, orders are to stand at ready; a breach has occurred. You hear screams and loud sounds of what appear to be explosions, dust spreads through the corridor and before you stands a girl who seems to be pure and innocent covered in blood. Before you can react, without moving a muscle the girl creates an explosion and you realize that she is a psychic user. Fans of Elfen Lied know that this is the fate of anyone who comes across Lucy and her vengeance.
Elfen Lied needs very little introduction. Fans of the dark supernatural and psychic powers genre have obviously read the manga or have watched the hit anime series. Nevertheless it may be difficult for those who love Elfen Lied's manga to find something to satisfy their thirsts for the dark gore filled tale that lies on each page. Luckily we here at Honey's Anime have used our psychic powers to read your mind and help you out. With today's list we look at 6 manga like Elfen Lied. Within this list we are sure you'll find another rousing story of either an ill-fated protagonist like Lucy or a tale of experiments gone wrong. Now without any delay let's get right into it, shall we?
Similar Manga to Elfen Lied
1. Dawn: Tsumetai Te

Mangaka: Ueda, Shinshu
Genre: Drama, Horror, Josei
Volumes: 6
Published Date: Apr, 2002- Aug, 2007
The old saying is that history repeats itself. What if those stories you heard about in school end up recurring, especially the ones about the plague? What would you do and how would you survive it. Nagasawa Takashi ends up facing one of history's worst moments and must attempt to survive this new plague straight out of history. Will Nagasawa be able to survive and how will he come about doing that? Read Dawn: Tsumetai Te and your answers shall be resolved.
Elfen Lied and Dawn: Tsumetai Te don't share the psychic elements of their respective stories, but don't let that dissuade you from reading. Both stories have the same gore filled page turning art and both deal with experiments blowing up out of proportion. Dawn: Tsumetai Te by Mangaka Ueda Shinshu is an excellent tale of survival against the oddities of a lab creation going out of control. Truly a great title for those who wish to get some horror straight out of a fictional history. Truly the past can be repeated for those who don't heed its warnings.
---
2. Shinazu no Ryouken (Immortal Hounds)

Mangaka: Yasohachi, Ryou
Genre: Action, Mystery, Supernatural, Seinen
Volumes: 5
Published Date: Jul 2013-Present
Immortality sounds like a dream come true, right? The concept of being alive forever has crossed the minds of most humans and it's not surprising that most wouldn't mind having it. In Shinazu No Ryouken (Immortal Hands), that reality comes to fruition for the whole world. Regardless of how someone is killed, within a few moments they will revive in perfect health. However, when an illness titled RDS begins spreading through the populace, people learn that it's not an ordinary virus. RDS if infected with it removes the human's revival ability, thus death can now occur. Enter Kenzaki who loses his sister because of RDS, he will now search where RDS came from and if there is a way to stop it.
In Shinazu no Ryouken, readers will find most of what made Elfen Lied great thanks to Mangaka Yasohachi Ryou. Each scene in Shinazu no Ryouken is filled with action and supernatural elements as humans can kill without much consequence as long as RDS hasn't infected the individual yet. Boasting some great art, visually you will be pleased when the blood starts pouring during the multiple gun fights that take place in Shinazu no Ryouken's story. While Lucy from Elfen Lied might not be causing the damage using her mental powers, you'll come to love this series various fighters who do enough carnage with what they are given. You won't regret entering the world of Kenzaki in Shinazu no Ryouken if you're after some of the more action filled concepts that Elfen Lied had.
---
3. Variante

Mangaka: Sugimoto, Iqura
Genre: Action, Mystery, Drama, Horror, Sci-Fi, Shounen, Supernatural
Volumes: 4
Published Date: 2004- 2006
Aiko's life has begun to descend into madness. Having just witnessed her whole family being killed, Aiko finds herself awakening in a strange lab. While she seems fine at first, it doesn't take long for Aiko to notice that one of her arms is not hers anymore. Her newly given arm is from the mysterious and legendary creature known as a Chimera and it wishes to do the master's bidding to the exact letter. Now Aiko faces a reality, what can she do next when her arm wishes for bloodshed and carnage which is apparently deep within her heart?
Variante's female lead mirrors what Lucy goes through in Elfen Lied. Inside Lucy is the calmer soul and personality named Nyu. Aiko, in many cases, is aware of her darker desires but she doesn't fully wish to cause the carnage that she does in Variante, but must watch as her arm stands at the control more than she does. Variante by Mangaka Sugimoto Iqura presents a similar reality. What is the truth about a person, what's inside their heart or the outer appearance? Obviously if you care for a great story that is similar to Elfen Lied in many ways, you'll enjoy Variante.
---
Any Manga Like Elfen Lied ?
4. Heads

Mangaka: Higashino, Keigo – Mase, Motoro
Genre: Action, Dementia, Mystery, Drama, Sci-Fi, Psychological, Seinen
Volumes: 4
Published Date: Jul, 2002- Apr 2003
Being a hero can be a costly venture as Jun Naruse will soon learn. Working for an electric company and relaxes by drawing, Jun Naruse is what can be considered a normal individual. Jun has also just recently gotten the chance to date a girl named Megumi who he met at a place that sells art materials; he seems to have it all going well indeed. However, when a little girl is about to be shot by a criminal Jun saves her by jumping in front and blacks out. Time passes and Jun is told he survived miraculously, however this was because of an experiment that allowed a half donated brain to be implemented into his. Jun seems to be normal…but soon he will begin to change, and everything around him will as well.
Higashino Keigo's work titled Heads will certainly turn some heads who decide to venture into this manga. Boasting a very unique art style and a very dark story, readers will find solace from thinking back to Elfen Lied's tale. Heads isn't afraid to push the limit on what Jun deals with and as each volume goes the story gains a more and more intense nature. Easily understandable why we at Honey's Anime feel this a great story to pick up after reading Elfen Lied. Maybe being a hero sometimes indeed can be a scary thing…
---
5. ES: Eternal Sabbath

Mangaka: Souryo, Fuyumi
Genre: Drama, Sci-Fi, Supernatural, Psychological, Seinen
Volumes: 8
Published Date: Aug, 2001- Oct, 2004
Ryousuke Akiba isn't a normal human being and he doesn't hide that fact. A self-described ES, he has a myriad of powers at his disposal. Not only can he live for two centuries, he also has insanely powerful psychic abilities such as the ability to enter the minds of people and changing their memories. Ryousuke doesn't wish to be seen as a villain; he claims his reasons for doing what he does in Tokyo are his reasons and only his. However, shortly after a doctor by the name of Mine Kujiyou enters his life and explains she knows the power of ES, or Eternal Sabbath. Now Ryousuke faces a reality he didn't expect in his life. Is he the only one who has this extraordinary power?
ES: Eternal Sabbath by Mangaka Souryo Fuyumi is exactly what a reader wants if they enjoy a cool story filled with drama and supernatural elements. Readers will find themselves absorbed by Ryousuke's tale of seeing humanity through his altered eyes. The people Ryousuke comes across and the challenges he face we won't spoil but we will say will make for some great tension and moments. Elfen Lied had Lucy use her mental psychic abilities for more damaging actions, but don't count out ES: Eternal Sabbath's main character's abilities. Once you pick up ES: Eteneral Sabbath you'll wonder if somehow Ryousuke altered your mind to keep reading each amazing volume just so his tale could be told.
---
6. Homunculus

Mangaka: Yamamoto, Hideo
Genre: Mystery, Drama, Horror, Supernatural, Psychological, Seinen
Volumes: 15
Published Date: Mar, 2003- Feb, 2011
Ending our list is Homunculus by Mangaka Yamamoto Hideo. Homunculus is a terrifying manga because it uses a real life concept called Trepanation. This procedure is known as drilling into the skull of a human to increase various factors such as improved pressure inside the skill and increased blood circulation. However, there was apparently another ability from doing this disconcerting surgery, the patient could gain a sixth sense. In Homunculus what if doing Trepanation actually allowed a person to see ghosts or use ESP such as moving things with their mind? Read on to see a fictional tale that harbors a real life ideal and surgery.
Let's face it, horror can be a reality just adjusted to an exaggerated state. Homunculus by Mangaka Yamamoto Hideo envisions that reality and it does it in an impressive way. Boasting a very hand drawn art style each page and volume will feel like a breath of fresh air. Witness as the characters in Homunculus face during various time periods of experimenting with the human body. What would you allow for the pursuit of a new world of inner power? That question is answered in this awe inspiring manga named Homunculus.
---
Final Thoughts
Honestly, can you blame someone for being a bit annoyed if they were captured and used as an experiment? These protagonists all had a reason for going into the world the way they did and each found a purpose for a new life from the ones they previously had taken away from them. There a lot of manga like Elfen Lied though and we here at Honey's Anime know we are fallible. Did we perhaps miss a good manga to recommend? Let us know in the comments to tell us and the world your thoughts. Be sure to as always stick to Honey's Anime for greater manga and anime recommendation lists like this one as well as other great articles.
---