También puedes leer este artículo en:Español
There was a time when it looked like the world was in a new renaissance. The industrial revolution was devastating for the environment and the low class citizens of the globe… however, it also sparked a scientific and literary revolution. With a betterment of living conditions (for some), a middle class was on the rise. Eikoku no Koi Monogatari Emma tell us the story of an orphan who was educated by a retired governess. Emma falls in love with the rich William Jones, despite the social class difference. Winner of the Excellence Prize of the Japan Media Arts Festival, Eikoku no Koi Monogatari Emma brings us back to the victorian era with masterful accuracy. What other manga does a great job in reviving a previous era while telling the tale of women? Let's keep reading to find out!
Similar Manga to Eikoku no Koi Monogatari Emma
1. Tokyo Lastochika

Authors: Furumachi Miyoshi
Genres: Historical, Romance, Shoujo, Slice of Life
Volumes: 2
Published: Feb 15, 2010 to Oct 15, 2010
Furumachi Miyoshi only has another story under her mangaka sleeve. In Tokyo Lastochika, we are in the year 43 of the Meiji era, roughly parallel to the late Victorian Era. Tsumura Hana has lost her mother. In order to sustain herself and her little brother, she serves the viscount Arima and his family. But life will be everything but easier for Hana…
Did someone mention the forbidden love between members of two different social classes? Yeap, we also have this in Tokyo Lastochika. The contrasts and the difficulties go well with the drama, but we also see a lot of the daily life in a past era, just like in Emma. Hana and Emma are dignified and resourceful, and that helps the stories to have a balanced center of attention. The pace is also slow in both manga. If you like the historical genre combined with romance, give a chance to Tokyo Lastochika.
---
2. Gisele Alain

Authors: Kasai Sui
Genres: Historical, Slice of Life, Seinen
Volumes: 5
Published: Jun 15, 2009 to Present
Kasai Sui is another newcomer in the manga world, with just a multiple story volume released before Gisele Alain. Gisele is a dynamic young lady who opens a service office in her apartment. Her first mission is to find a cat, and although difficult, she succeeds. Discover the past of Paris through the unique eyes of Gisele and her companions. Quirky, funny, positive and innocent, Gisele will capture your heart.
Eikoku no Koi Monogatari Emma and Gisele Alain are set in the 19th Century. The stories have similar vibes and atmosphere, but they also are a bit different. The protagonists, for example, differ a lot, not only because Emma is a woman and Gisele is younger. The way the plots move is also more fantastic in the case of Gisele, while Emma is more into the slice of life territory. The only bad thing is that Gisele is on hiatus 🙁
---
3. Fushigi no Kuni no Bird (Isabella Bird in Wonderland: Unbeaten Tracks in Japan)

Authors: Taiga Sassa
Genres: Historical, Slice of Life, Seinen
Volumes: 4
Published: Mar 15, 2013 to Present
Fushigi no Kuni no Bird is the debut of Taiga Sassa, and what a debut it has been! The year is 1878 and the place is Japan. A scottish female adventurer called Isabella Bird arrives on a ship with one thing in mind: journey to encounter the Ainu people in Hokkaido. It does not matter how difficult such a travel in this century would be, Isabella is an experienced adventurer and will do her best to describe the people of the world to everyone. This manga is based on a true story, so that adds even more historical value.
The historical genre in manga sometimes has hidden jewels like Emma or Isabella. Both are protagonists who are a bit unusual for their times but highly resourceful, despite looking like proper ladies. The time is also roughly the same, and the origins of both characters are on the same area of the world. The main difference is that Isabella's adventures occur in Japan.
---
Any Manga Like Eikoku no Koi Monogatari Emma ?
4. Corset ni Tsubasa (I Wish I could Fly)

Authors: Naoko Moto
Genres: Drama, Historical, Romance, Shoujo
Volumes: 10
Published: Aug 6, 2007 to Nov 5, 2011
Corset ni Tsubasa is the second work of Naoko Moto, who has a thing for the Victorian era and romance stories. In this story, we meet Christine Langton, a tomboy who is sent to boarding school when her father dies. At school, Christine is sorted into the lower class and has to live in a dusty room in the attic. The headmistress, Miss Desdemona, oppresses all the students. Will Christine be able to survive school?
Does anyone remember the Little Princess? That is the essential flavor of this manga. However, it is set in the Victorian era, just like our Emma. The narratives are centered on the female point of view and in the daily lives of those who surround them, which lead us to well round characters. The art is pretty good in both manga! The amount of research to bring back to life the Victorian era is noted in both manga. The main difference is that Emma is a grownup and here we have a girl protagonist.
---
5. Arte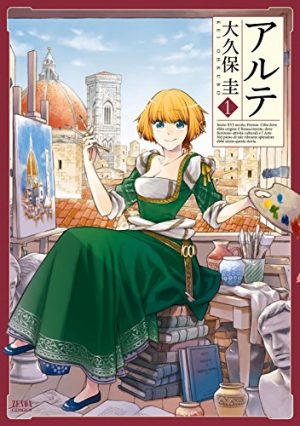 Authors: Kei Ookubo
Genres: Historical, Seinen
Volumes: 8
Published: Oct 25, 2013 to Present
Arte is the debut work of Kei Ookubo. This manga tells us the story of a girl called Arte, who was born in Florence during the 16th century. Coincidentally, this was the cradle and period of the Renaissance era! Arte loves art, and in order to pursue her passion, Arte runs away from the aristocratic life.
Yes, we know that Eikoku no Koi Monogatari Emma and Arte are not from the same time period, but they are historical manga that really entice us and invite us to submerge ourselves in the stories of the characters. Both protagonists have to make difficult choices and cross over to the other side of the social scale to pursue their dreams, but are pretty capable on their own. Also, both manga are beautifully illustrated. Although Arte is not classified as slice of life, we can also enjoy the daily lives of people here. In short, if you are curious about the Renaissance period, this is the manga you should read.
---
6. Emma Bangaihen (Emma Further Tales)

Authors: Kaoru Mori
Genres: Historical, Romance, Slice of Life, Seinen
Volumes: 4
Published: Mar 26, 2007 to Feb 12, 2008
Kaoru Mori only has a handful of other memorable works like Shirley and Otoyomegatari. However, her quality and storytelling has been recognized with several prizes in the past. Officially speaking, the story of Eikoku no Koi Monogatari Emma runs for seven volumes. However, there are other three volumes that explore other places and people of the same story called Emma Bangaihen.
This story is perfect for those of us who were enchanted with Emma but sadden when her story was over. How was the past of Mrs. Stownar and her marriage? What happened with heartbroken Eleanor Campbell? Did the Jones family ever accept Emma? This and much more can be discovered in Emma Bangaihen, drawn in the same exquisite detail as the original Emma. Don't forget that the end of the anime and the manga are different, so this manga is an authentic treasure for Emma fans.
---
Final Thoughts
Love is not easy in this or in the Victorian era. Stories so full of detail about the daily lives of ordinary people are a breath of fresh air among the stories that are set in the present days. Thanks to Kaoru Mori and other mangaka of the historical genre, we can learn a thing or two about the past. We can also discover that human nature is pretty similar everywhere and anytime, don't you think the same? Besides that, these type of manga let us have a more complete understanding on the lives and thoughts of women in different eras.
We can see that mangaka on recent years are adopting the historical slice of life with renewed interest as well. Which other time periods would be interesting to visit in the manga world? Which other manga like Eikoku no Koi Monogatari Emma have you read? Don't forget that we are open to all your comments and suggestions. See you soon!