También puedes leer este artículo en:Español
If there was ever a manga with a decent anime adaptation, it was Full Moon wo Sagashite by one of my favorite authors: Tanemura Arina. Full Moon wo Sagashite is a manga about a young girl named Mitsuki who wants to fulfill her dream of becoming a famous singer in order to unite herself with her true love. However, there's just one catch: she has cancer.
Oh yes, Full Moon wo Sagashite is full of ups and downs with drama and tragedy, but really, you know you love this shoujo series. As such, we here at Honey's Anime have decided to roll out 6 manga like Full Moon wo Sagashite to satisfy your craving for more manga like Full Moon wo Sagashite. We'll see drama, girls pursuing their dreams, and tragedy, but it'll hit all the right notes. Now, join us as we explore 6 manga like Full Moon wo Sagashite.
Similar Manga to Full Moon wo Sagashite / Similar Manga to Searching for the Full Moon
1. Time Stranger Kyouko

Authors: Tanemura Arina
Genres: Adventure, Comedy, Fantasy, Romance, Shoujo
Volumes: 3
Published: 2000
In the 30th century, the Earth is ruled by one ruling party and Suomi Kyouko is the princess of the party. However, Kyouko rejects her role in the kingdom and wants nothing more than to live a normal life like those of the common folk. In order to do so, the king gives Kyouko one stipulation: awaken her twin sister, UI, from the deep slumber that has kept UI captive since her birth.
At first glance, Time Stranger Kyouko is far from a manga like Full Moon wo Sagashite. However, as you delve into the pages, it's easy to see the similarities, aside from the mangaka. Kyouko ends up in a magical girl situation where she has to use her powers to find the other knights who will be the key to her waking up her twin sister UI. However, when all the knights are assembled, there is more to her sister's slumber than she first thought, much like Mitsuki and the gang's circumstances. There will be drama. There will be loss. Time Stranger Kyouko is a Tanemura Arina manga that we know you will also love.
---
2. Crossroad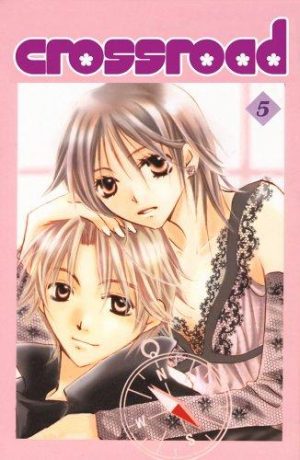 Authors: Mizuki Shioko
Genres: Comedy, Drama, Psychological, Romance, School Life, Shoujo, Slice of Life
Volumes: 7
Published: 2003
Toda Kajitsu is all alone when her grandmother passes away. That is until her mother somehow decides to reunite the family by dumping a new little stepsister and Kajitsu's previous two stepbrothers at the house before running off. Somehow, they're going to have to band together to become a family, even when they don't exactly feel like one. However, even though Kajitsu did spend her childhood with her two stepbrothers, things are very awkward between her and her step brother Natsu. It's been seven years since they had last seen each other and a few things happened that caused the rift aside from time.
One of the key themes in Full Moon wo Sagashite has to be love and regrets. From Meroko's past to Fuzuki to Izumi, everyone has something they regret and a past they cannot run from. This theme is explored in depth in yet another manga like Full Moon wo Sagashite, Crossroads. Crossroads has it all including love triangles, suicide, broken hearts, and parent issues. If you loved all of those elements from Full Moon wo Sagashite, you'll love them in Crossroads. There's so much drama and tears, we're sure you'll love this manga like Full Moon wo Sagashite.
---
3. Kitchen no Ohimesama (Kitchen Princess)

Authors: Andou Natsumi, Kobayashi Miyuki
Genres: Comedy, Drama, Romance, School Life, Shoujo, Tragedy
Volumes: 10
Published: 2004
Kitchen no Ohimesama, also commonly known as Kitchen Princess, is about cute little Najika who was raised in an orphanage and loves to cook. While she may not have had the most luxurious upbringing, Najika has managed to duplicate the taste of many dishes, even in the most expensive restaurant. Now, with her skills, Najika is about to go to Seika Academy where she will work hard to become a chef and find her childhood love, a boy who left her with a silver spoon bearing the academy's emblem.
Kitchen no Ohimesama may be about cooking while Full Moon wo Sagashite is about idols, but that does not mean that Kitchen no Ohimesama is not a manga like Full Moon wo Sagashite. Najika is much like Mitsuki, a rather positive individual for the most part who does her best to appeal to those around her, even when everyone seems to be aiming for her downfall (like Madoka to Mitsuki). However, there are a few dark plot points involving Najika's love and that's what makes it so gripping. Like Mitsuki, Najika is just looking for her childhood love but what will she do when things do go according to plan? Who will you root for?!
---
Any Manga Like Searching for the Full Moon / Any Manga Like Full Moon wo Sagashite ?
4. Penguin Revolution

Authors: Tsukuba Sakura
Genres: Comedy, Drama, Gender Bender, Harem, Romance, Shoujo
Volumes: 7
Published: 2005
Fujimaru Yukari may just be a highschool student but she has a talent that allows her to find people with the potential to be a star. In her view, these people will bear a pair of wings on their back. One of Yukari's classmates, Katsuragi Ryouko, bears these wings and Yukari is determined to help her become a star. However, Ryouko is actually a boy masquerading as a girl!
Penguin Revolution seems to have an odd plot summary at first, but as you dive into it, you'll find that it is very much a manga like Full Moon wo Sagashite. Yukari may not want to be a star like Mitsuki, but she wants to help people discover their star potential. She helps to nurture and grow their star potential throughout the story, especially in Ryouko and one of her other clients. However, there is a lot of drama that goes on between Ryouko, Yukari, and one of her other clients that makes Penguin Revolution an entertaining read, much like Full Moon wo Sagashite.
---
5. Moe Kare!!

Authors: Ikeyamada Go
Genres: Comedy Drama Romance School Life Shoujo
Volumes: 7
Published: 2005
Wakamiya Hikaru believes in all of those shoujo manga that talk about princes and ideal romances. However, one day, a handsome boy steals her first kiss and runs off. From then on, she dubs him the "Perverted Prince". Hikaru sees a boy who looks like him and confronts him only to realize his eyes are a different color. Even though he may look like the Perverted Prince, perhaps this boy may be her actual prince?
Moe Kare!! is a cute shoujo romance that at first seems really innocent and simple. Sure, there's the love triangle, that also forms in Full Moon wo Sagashite, unlike Full Moon wo Sagashite, Moe Kare!! mainly focuses on romance. We see Hikaru and how hard she tries to pursue her love interest, like Mitsuki does Eiji, only to have someone else fall in love with her, like Takuto does Mitsuki. There'll be a lot of pain and heartbreak, but that's what makes these types of manga so interesting. Mitsuki and Hikaru are also very innocent in their respective stories and that innocence in the face of adversity is what allows them to be loved. It's not too tragic the way Full Moon wo Sagashite is, but if you're looking for a shoujo manga like Full Moon wo Sagashite that is more focused on romantic elements, then Moe Kare!! shall fit the bill nicely.
---
6. Sennen no Yuki (One Thousand Years of Snow)

Authors: Hatori Bisco
Genres: Comedy, Drama, Romance, Shoujo, Supernatural
Volumes: 4
Published: 2001
Matsuoka Chiyuki is only 17 years old but she has been suffering with heart problems since she was born and was told she may not live long enough to see it snow again. One day, Chiyuki meets Touya, a vampire who appears to be 18 years old and hates blood. Touya refuses to participate in the tradition where vampires form a symbiotic relationship with humans, taking their blood while giving an extended life to the humans in return.
Now, it's pretty obvious but if you're looking for a manga like Full Moon wo Sagashite with a tragic element, you cannot overlook Sennen no Yuki. While Mitsuki is much younger, she and Chiyuki both have a disease that will essentially end their lives. For Mitsuki, she will not survive unless she gives up her voice, something that links her to her deceased parents and childhood love. For Chiyuki, she is nearing her end. That is, until one day, both characters come across supernatural beings that will change the course of their lives. The same way Mitsuki begs Meroko and Takuto to allow her to pursue her dreams, Chiyuki seizes upon the opportunity to have Touya extend her life long enough to see the next snow. These unlikely supernatural beings might be just the ticket to saving their lives, but they won't follow the same journeys. You'll have to pick up Sennen no Yuki to see what Chiyuki and Touya's journey will be.
---
Final Thoughts
There you have it. You've got love, loss, dreams, and heartache. It's all here in this list of 6 manga like Full Moon wo Sagashite. After reading this list, what do you think of our selections? Do you agree or disagree with them? Have you read any of them? What do you think should be on this list? Feel free to share all of your manga like Full Moon wo Sagashite amongst all of us Full Moon fans.
And once more, thanks for reading our article. Please come back again for some of your otaku favorites!