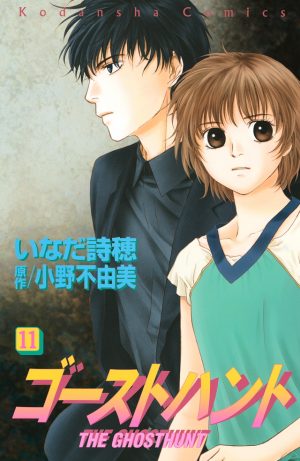 While Halloween might have ended a while back now and won't be around for some time again, it's never too late or too early to enjoy a spooky manga series. Plus, if you want some romance and shoujo themes thrown in then you're obviously thinking about mangaka Shiho Inada and Fuyumi Ono. Back in 1997, Ghost Hunt was released and would run for 13 years with a very popular anime adaption to follow in 2006. Ghost Hunt has long been over as a manga series—since it was completed in 2010—but even now, fans and us here at Honey's Anime find ourselves wishing the series would return once more. Fortunately for us, even if Ghost Hunt is complete there are numerous manga that can be compared to it and will save us from the despair of the series being truly gone.
Thankfully, we here at Honey's Anime don't fall to despair when we think finding a similar manga to such a great series like Ghost Hunt is an impossible task. Instead, we round up the team and realize no series is without its similar stories. That's what we did just for Ghost Hunt as we went on our paranormal mission to find 6 Manga Like Ghost Hunt. At the end of the day, we succeeded and we plan on sharing these various manga with you all. Let us dive into some spooky manga just like Ghost Hunt!
Similar Manga to Ghost Hunt
1. God Child

Mangaka: Yuki, Kaori
Genres: Mystery, Historical, Horror, Shoujo, Shounen Ai, Supernatural
Volumes: 8
Published: 2001-2004
The time and place is 19th century London. Here, on the old roads made of cobblestone, lives a man named Cain with a weight on his shoulder few would understand. Due to Cain's father recently passing, Cain has become an earl and is now responsible for his family line the Hargreaves. However, the Hargreaves aren't a normal noble family and their past is riddled with mystery and dark elements. Cain's life now will also be thrown into this dark world as he must deal with crimes and mysteries that will haunt his every waking step…
Horror in modern day can be pretty creepy, when done correctly. However, add some historical elements, a tinge of supernatural themes and a captivating romance with shoujo and shounen ai themes and you get manga like God Child. First released in 2001, God Child was created by Yuki Kaori and really is underappreciated in the horror manga world. Not only is the art simply stunning, the narrative dives back and forth between being dark and equally mysterious. Cain's adventure is very interesting and its one you'll want to take alongside the noblemen in God Child.
---
2. Yurara no Tsuki (Yurara)

Mangaka: Shiomi, Chiaka
Genres: Mystery, Shoujo, Supernatural
Volumes: 5
Published: Feb, 2003- 2005
For as long as she could remember, Yurara Tsukinowa has had a special gift that she doesn't wish for everyone to know about. Not only can Yurara see spirits but she can feel their emotions as well. Equally, Yurara even has the ability to defeat evil spirits via a hidden power with her emanating from a guardian spirit who gives Yurara powers, as well as slightly making her attitude and appearance seem different. Yurara, despite hiding these powers for so long, is about to meet two men—Mei Tendo and Yako Hoshino—who just so happen to fight off evil spirits. Together, these three will join forces to keep their city safe.
Ghost Hunt's main female lead Mai Taniyama and Yurara no Tsuki's lead girl Yurara might be from different series, but they sure could be sisters. Both manga follow women who are supernatural warriors and both have a few handsome dudes nearby to be with. Yurara no Tsuki also has some romantic situations between some of the characters—we won't spoil who those characters are though—which makes it a solid shoujo story as well. If you need a manga with more emphasis on supernatural and mystery than horror, you might want to check our Yurara no Tsuki. Plus, there is a spin-off sequel called Rasetsu no Hana that will help you not feel too sad when you binge read Yurara no Tsuki like we know you might once you begin it.
---
3. Yamamoto Zenjirou to Moushimasu

Mangaka: Maki, Youko
Genres: Drama, Romance, Shoujo, Supernatural
Volumes: 5
Published: Feb, 2007- Aug, 2011
Despite being only 10 years old, young Hotate Yamamoto has dealt with a lot in her life. When her mother passed away, Hotate was sent to live with her grandmother. However, after a while, Hotate's grandmother sent her to live with her uncle because she was unable care for her anymore. Hotate once more lives in a new place and also must attend a new school. Hotate will try her best in this new school despite having a gift probably no one will understand. Our little Hotate can see the dead…
Yamamoto Zenjirou to Moushimasu is a 5 volume long manga created by the mangaka Maki Youko. While Yamamoto Zenjirou to Moushimasu is a bit less horror filled—despite having ghosts and such in it—than Ghost Hunt, the two manga share a lot in common. Yamamoto Zenjirou to Moushimasu focuses on telling a shoujo themed story and that means you can expect beautiful shoujo artwork and a narrative that ebbs on romantic. Likewise, Yamamoto Zenjirou to Moushimasu aims to share some supernatural stories thanks to Hotate's gift of seeing dead people. We loved Yamamoto Zenjirou to Moushimasu for its beautiful artwork and great narrative and knew it would be perfect for our 6 Manga Like Ghost Hunt list.
---
Any Manga Like Ghost Hunt ?
4. Psychometrer Eiji

Mangaka: Kibayashi, Shin- Asaki, Masashi
Genres: Mystery, Drama, Shounen, Supernatural
Volumes: 25
Published: Apr, 1996- Sept, 2000
Eiji Asuma is your average high school delinquent through and through. Always having issues at school, single—despite trying not to be—and able to kick butt, Eiji just seems to be just another delinquent, ultimately. However, Eiji does have one thing that makes him quite unique from almost everyone. When Eiji touches an item or even a person, he can see their memories and understand their thoughts. Through a chance encounter with Ryouko Shima, Eiji says goodbye to his normal life of a high school delinquent and becomes an ally in solving unsolved homicides and various mysteries that only his powers can find the answers to.
Let's step away from the shoujo romances and look at a shounen story that might appeal to you if you like the more mystery and supernatural elements of Ghost Hunt. Psychometrer Eiji might be slightly old—it did release in 1996—but this series is great for those who love shounen stories with a cool main protagonist and plenty of mystery/crime solving situations. We still love the art of Psychometrer Eiji as it pops with that old school shounen charm we're so use to here at Honey's Anime. We don't often hear people talking about this classic series and we hope you'll change that by checking out our recommendation, Psychometrer Eiji.
---
5. Kagen no Tsuki (Last Quarter)

Mangaka: Yazawa, Ai
Genres: Mystery, Drama, Shoujo, Supernatural
Volumes: 3
Published: 1998-1999
Mizuki Mochizuki has always found her life a torrent of pain that seems never ending. When Mizuki meets a singer named Adam, she finally finds some escape from the pain as the two steadily fall in love. However, Adam's friends and no one in general can see Mizuki. What is really going on with Mizuki and is she a normal girl or something more? Find out in this haunting tale called Kagen no Tsuki.
Kagen no Tsuki is a story that from the very first chapter you're going to find yourself hooked. Mizuki's sad tale is one of death, sadness and unobtained love which makes it a truly dramatic shoujo tale that continues to deliver emotional blows one after another. Like Ghost Hunt, Kagen no Tsuki keeps readers constantly surprised thanks to the effort of a brilliant story handled by mangaka Yazawa Ai. If you haven't ever heard of Kagen no Tsuki, you're missing out on a story we can't recommend enough here at Honey's Anime. Did we also mention that Kagen no Tsuki is one nice looking manga even in 2018? Don't judge a series by its date, folks; just look at Ghost Hunt, it was released in 1997 and still holds up even now!
---
6. Shinrei Tantei Yakumo (Psychic Detective Yakumo)

Mangaka: Kaminaga, Manabu- Suzuki, Yasushi- Katou, Akatsuki
Genres: Mystery, Horror, Super Power, Supernatural
Volumes: 14
Published: Sept, 2004- 2009
College student—if you can call him a student—Saitou Yakumo isn't interested in much. What Saitou finds most enjoyable is sleeping and being left to himself. Unfortunately for Saitou, this isn't possible seeing as how he has a special power hidden in left eye. With a crimson color, Saitou's eye can see spirits and even allow him to understand what they are saying. This power has caused Saitou nothing but heartache and when he runs into a young woman begging for help named Ozawa Haruka, Saitou's peaceful college days are about to be a thing of the past.
Let us conclude our 6 Manga Like Ghost Hunt list with one of our favorite—more modern—manga series, Shinrei Tantei Yakumo. At 14 volumes, Saitou's psychic endeavors have continued to provide us entertainment with a mixture of supernatural action and tons of mysteries to be solved by our main characters. Equally, Shinrei Tantei Yakumo is absolutely stunning art wise with dark images and impressive designs. Saitou's story will be sure to appeal to anyone who loved Ghost Hunt and we definitely recommend reading Shinrei Tantei Yakumo whenever you can! When you're done, we also recommend watching the anime as it's a pretty solid series despite ending on a bit of a ho hum note.
---
Final Thoughts
The beauty of Ghost Hunt is that no matter the time or season, it's just one of those manga series that offers so much to its reader. Stunning tales of supernatural stories and a romance shoujo work that will leave you going aww before scaring you with a creepy tale somewhere around the corner. Truly, Ghost Hunt can never be beaten for its original premise but the manga above also have elements that make them extremely special works worth reading. If you are a lover of Ghost Hunt then we implore you to try out the manga above. Though maybe you already read some of the manga from our list of 6 Manga Like Ghost Hunt. Let us know which you read in the comments below and if you loved this recommendation lis,t then keep coming back to our hive for plenty more here at Honey's Anime.