También puedes leer este artículo en:Español
Yoko Kamio's amazing pen and skills gave us a shoujo manga loved and appreciated around the world. Born in 1992, Hana yori Dango – Boys Over Flowers step by step gained popularity, until it turned into a milestone of the shoujo genre. Its strong points are a heroine who is out of the ordinary and very obstinate, a big range of hot boys surrounding her, comedy, love triangles, romance, and a cute art style.
Throughout the years, Hana yori Dango gained so much popularity that it had an anime adaption in 1996. Not only that, in 2001 it became a Taiwanese live action drama and later on, it was adapted into a one-season-only live action in Japan, as well. The plot revolves around Tsukushi Makino, a poor girl attending an elite school – the Eitoku Gakuen – who just wants to end her university life peacefully. One day, though, her life become intertwined with the so-called "F4", the most rich and popular guys at the school. Their leader is interested in Tsukushi, but she is interested in someone else. And so Tsukushi's life starts a roller coaster of emotions, ups and downs, while she'll learn firsthand what love means.
We know that all the readers into shoujo manga liked it and would love to know other six manga with the same good vibes as Hana yori Dango. And that's the reason why this list is made for! We'll suggest you other six manga sharing with Hana yori Dango one thing or another, so if you're among those who loved this story, you won't miss these other six series! Stick with us until the end, then!
Similar Manga to Hana yori Dango / Similar Manga to Boys Over Flowers
Similar Manga to Hana yori Dango / Similar Manga to Boys Over Flowers
1. Imadoki! (Nowadays)

Authors: Watase, Yuu
Genres: Comedy, Drama, Romance, Shoujo, School life
Volumes: 5
Published: May 2000 – July 2001
Imadoki! revolves around Tanpopo Yamazaki and her high school life. An orphan, she moved to Tokyo in order to attend the elite Meio Academy, but she doesn't feel like she belongs there. The wealthy students make fun of her, as she is poor and has no important family connections; the boy she likes doesn't even know that she exists and her high school life seems destined to come crashing down. Tanpopo, though, still wants to make friends, so she decides to start a gardening committee, hoping to survive throughout the next three years of high school. Will she eventually change her condition?
Imadoki! and Hana yori Dango are two shoujo manga sharing comedy, a good amount of drama and, of course, a beautiful romance. Both our heroines, Tanpopo and Tsukushi, share the fate of being hassled by their surrounding and both are named after plants (a dandelion, and a weed). These two girls though, don't lose heart and keep going on fighting for a peaceful and craved high school/university life. What's more, Tanpopo and Tsukushi share a love interest toward boys who are scarred by a tormented past, and both of them have to go through a lot of hardships before a much-needed "happy ending". If you enjoyed Hana yori Dango, you'll enjoy Imadoki! as well, so why don't you catch it up?
---
2. Penguin Brothers

Authors: Shiina, Ayumi
Genres: Comedy, Drama, Romance, School life, Shoujo
Volumes: 5
Published: December 1999 – November 2001
Hina Mishima's life drastically changes when she moves back to her hometown to attend high school. Some changes leave Hina mouth-wide-open, as the high school is run by two opposing factions. The violent and loud Nishizaki leads one faction, and his followers wear black uniforms. The clean-freak Isshiki leads the other, and his followers wear white uniforms. In the middle, there are those who wear "gray", as to say, they wear normal clothes. Hina finds herself right in the middle and in a love triangle. She is pulled by the leaders of the two factions, and it seems like it's turning very bad. How will she get out of trouble?
Penguin Brothers and Hana yori Dango are both shoujo manga with the right amount of comedy and drama. Both our heroines, Hina and Tsukushi, are strong-willed and are singled out right because they go against what everyone else is doing. They both stand up for what they believe in, and that's what make them different and left out. In both these series there some good plot twists that are very similar, and what's more, in both we find some kind of love triangle putting our heroine through a lot of hardships. If you like a heroine who is strong and determined, and enjoyed Hana yori Dango, for this reason, you should read Penguin Brothers, too.
---
3. Yumemiru Taiyou

Authors: Takano, Ichigo
Genres: Comedy, Romance, Shoujo
Volumes: 10
Published: October 2007 – August 2011
Let's go on with Yumemiru Taiyou and its trouble! Shimana Kameko is orphaned by her mother, and her father re-married. With her new brother Yuta who seems to be loved way more than her by her father, and her new mother who doesn't seem to care about her, Shimana decides to run away from home. While running away, she meets a boy wearing a kimono in the park. Taiga Fujiwara has been locked out of his house, and after talking with Shimana, he offers her a place to stay. The two of them start living together with Asahi and Zen, and Shimana falls in love with Asahi at first sight...
Yumemiru Taiyou and Hana yori Dango are your typical shoujo manga, made unconventional by some interesting characters and happenings. Both these series focus on the daily lives and romances of a group of boys surrounding just one girl. Shimana and Tsukushi come to like one of the guys, but it turns out that he actually likes some other girl, so both these girls decide to help, instead of wallowing in self-pity. Just like Hana yori Dango, Yumemiru Taiyou includes a love triangle and an equal amount of touching moments and comedy parts. These two stories share a lot, so it's not a stretch to say that if you liked one, you'll enjoy the other all the same!
---
Any Manga Like Boys Over Flowers / Any Manga Like Hana yori Dango ?
4. Girl in Heels

Authors: Chon, Kye Young
Genres: Drama, Romance, Shoujo, School life, Psychological
Volumes: 14
Published: 2007
Let's go to Korea now, with a shoujo manhwa which is very original and peculiar! Kyung-hee Goh is a beautiful girl, so beautiful that she has some kind of power on the people she meets. Strangers can't stop looking at her, shopkeepers offer her items freely, and she's frequently mistaken for a model, or an actress. This double-edged sword traps her in a limbo, as guys are too intimidated to approach her, and girls are envious. So Kyuung-hee Goh is a wonderful girl, and yet she's alone. At least, until she catches the attention of Yang Ookil, the baddest boy in the school...
In spite the premises that may make Girl in Heels seem totally different from Hana yori Dango, scratching the surface we can see some important similarities. First, in both these series the male protagonists are very similar, in fact they lead a group of friends and are teasers: they are the type of guys to bully the girl they like. Secondly, the female heroines, Kyung-hee Goh and Tsukushi, are girls who don't break from bullying and keep going on in spite everything, showing a strong-willed personality. As the stories go on, we follow the growth of the male leads who change because of love. All in all, we can safely affirm that Girl in Heels and Hana yori Dango share the same good vibes, so you should give it a try!
---
5. Hot Gimmick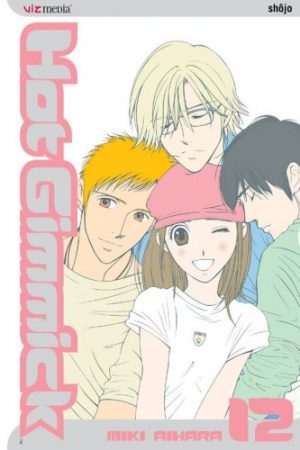 Authors: Aihara, Miki
Genres: Comedy, Drama, Romance, Shoujo
Volumes: 12
Published: December 2000 – August 2005
Hot Gimmick revolves around Hatsumi Narita's life. Hatsumi is a high school girl who lives in an apartment company ruled by the smug Mrs. Tachibana. What Hatsumi knows is that she doesn't have to get on Tachibana's black list, if she wants to keep a peaceful life. One night, though, Hatsumi gets out to buy a pregnancy test for her sister Akane, and Ryoki – Tachibana's son – happens to see her. That's the moment when her life takes a turn for the worse: Ryoki will keep the secret, only if Hatsumi becomes her slave. Right when Hatsumi thinks to be hopeless, Azusa, the guy who protected her when they were kids, reappears...
Both Hot Gimmick and Hana yori Dango are shoujo manga sharing the main concept of a reverse harem situation. In fact, we have a female heroine surrounded by a harem of male characters. The male leads in both these manga share some characteristics, as they seem not to care about their counterpart and, instead, keep teasing her, hiding their true feelings through bullying. Hatsumi and Tsukushi, on the other hand, are conflicted by the feelings they have toward the guys who bully them. Also, both these couples' relationships develop in a very similar way. If you enjoyed a tormented romance in Hana yori Dango, you'll enjoy Hot Gimmick's as well!
---
6. Cutie Boy

Authors: Hwang, Mi Ri
Genres: Comedy, Romance, School life, Shoujo
Volumes: 8
Published: 2004
Let's end this list with Cutie Boy, another manhwa, revolving around Lee Han-Ah. When she was in second grade, Lee Han-Ah had a "friend" who kept bullying her for having a wide butt. She has always hated him and in high school she managed to leave that story behind, redeeming herself by becoming the celebrated captain of the Il-Hwa Girls High School. Han-Ah is looking for a cute boyfriend, and one day she meets Yoo-Min, who seems perfect and exactly what she was looking for. Yet, maybe Yoo-Min hides something, but what is it...? The truth will be enough to leave Han-Ah shocked.
For starters, Cutie Boy and Hana yori Dango are both shoujo, sharing a similar protagonist. Han-Ah and Tsukushi are both defined "average" by those surrounding them, and both of them keep being pressured by their peers. As for the male leads, they are similar, as well. They like bullying the girl they like, without really realizing how much pain and trouble they're causing. Again, step by step, they both will change their attitudes and improve. What's more, both the male leads are the leaders of a group of guys, so exactly like in Hana yori Dango, we find a girl surrounded by boys. Japan gave us Hana yori Dango, and Korea answered with a similar manhwa that you'll enjoy all the same. So catch it up, it won't fail you!
---
Final Thoughts
This is it! Our list came to an end, but we really hope it was useful for you somehow. We tried to put those manga and manhwa that really can give you readers the same good vibes, atmospheres and feelings you perceived while reading Hana yori Dango. Also, we tried to choose those stories who share with it the main concept of a girl put in some sort of love triangle, in a situation where she learns a lot about love and life. These shoujo manga/manhwa are our best recommendations, above all if you finished Hana yori Dango and still crave for more. So let us know what you think in the comments below, and if you know other stories which could have been a good fit, don't hesitate to share your opinion!
---