También puedes leer este artículo en:Español
Warning: Some of the contents of this article are unsuitable for all ages. If you are a minor, please choose another article to read instead.
Sakuya Shiina is visited by a mysterious boy in the day of her birthday. Since that moment, she is always looking to meet him again in order to confess her feelings. Haunting and innocent at the same time, Hoshi Wa Utau is a manifest of cute, dreamy like shoujo manga with a nostalgic twist. Just by looking at its cover, we could think it is all happiness and love, but once the story traps you, you realize it is deeper than you thought. What other manga are similar to Hoshi Wa Utau? Let's discover some of them in this article!
Similar Manga to Hoshi Wa Utau
1. Asa mo, Hiru mo, Yoru mo (Morning, Noon and Night)

Authors: Kotomi Aoki
Genres: Drama, Romance, School, Shoujo
Volumes: 2
Published: 2002 to 2003
Kotomi Aoki is a veteran mangaka who has explored several facets of shoujo. Her most famous work so far has been the controversial Boku wa Imouto ni Koi wo Suru. In Asa mo, Hiru mo, Yoru mo, we meet Shinobu, a high school girl who hates boys because she was abused by one. However, what happens when a boy who looks exactly like the one who abused her confesses to her?
Sakuya and Shinobu do not have it easy, but despite that, they have an acceptably normal life. The protagonists try to forget their past experiences, and have several friends who help them. We can count their love interests there as well. So yes, if you like serious stories with a bit of romance in the mix, Hoshi wa Utau and Asa mo, Hiru mo, Yoru mo are on the same page. The main difference is that the first one is way longer compared to the second one. Therefore, if you are in for a quick read, Asa mo, Hiru mo, Yoru mo might be a good option for you.
---
2. Honey Hunt

Authors: Miki Aihara
Genres: Drama, Romance, Shoujo
Volumes: 6 (Hiatus)
Published: 2006 to 2009
We have another veteran here! Miki Aihara has published several shoujo manga with a clean style. In Honey Hunt, we meet high schooler Yura. Her mother is a famous actress and her father is a famous musician. In contrast, Yura is not a fan of crowds. Everything would have been alright if not for the fact that Yura's mother catches her father cheating, so she divorces him and abandons Yura. Not sad yet? Wait until Yura discovers her mother having sex with the neighbor! After all the shocks, Yura decides to become an actress herself, but can she be on the top of everything including love?
If something in Yura's background story rings a bell… there are similarities between the sad childhoods of Sakuya and her, right? The two girls live with a male caretaker instead of their original families. There is a crush for each one of them and that complicates their love story. If you ever wondered what would have happened if Sakuya was an actress, you could read Honey Hunt.
---
3. Alice 19th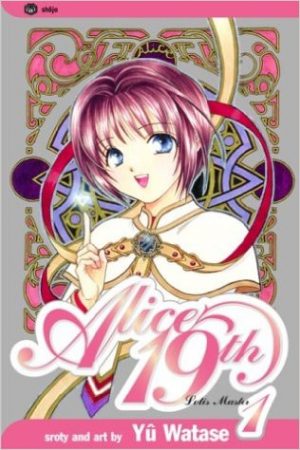 Authors: Yuu Watase
Genres: Comedy, Drama, Fantasy, Romance, School, Shoujo, Supernatural, Psychological
Volumes: 7
Published: Jun 20, 2001 to Mar 5, 2003
We brought you yet another veteran! Yuu Watase became (and remains) famous in the realm of shoujo manga thanks to Fushigi Yuugi, but she has a lot of stories to choose from. In Alice 19th, we follow Alice Seno, who lives in the shadow of her older sister Mayura. One faithful day, our protagonist saves a rabbit and it grants her powers to enter the Inner Heart of others! So, is Alice going to be a happy magical girl from now on? Well… you might know Yuu Watase's style and this is an article about manga similar to Hoshi wa Utau, so, you can imagine things go the wrong way :p
We understand that sometimes the magic girl genre can be too pink, bright and happy. For those of you who want something a bit more bittersweet and shady, we have manga like Hoshi wa Utau and Alice 19th. There are love triangles in both stories and do not shy away from the social commentary. The male characters also have to make difficult decisions.
---
Any Manga Like Hoshi Wa Utau ?
4. Shinshi Doumei Cross (The Gentlemen's Alliance Cross)

Authors: Arina Tanemura
Genres: Comedy, Drama, Romance, School, Shoujo
Volumes: 11
Published: Aug 3, 2004 to Jun 3, 2008
If the name of Arina Tanemura does not ring a bell, let us remind you her masterpieces fleshed into anime: Kamikaze Kaitou Jeanne and Full Moon wo Sagashite. You can expect romance combined with magic, unexpected and often dark twists from Tanemura's manga. In Shinshi Doumei Cross, we testify a business between the Kamiya family and the Otomiya family. Haine Kamiya is given away to the Otomiya family in exchange for 50 million yen. Changing her life could not possibly be more complicated… oh, wait, she also fancies Shizumasa Togu, the president of the council of the private elite school where she transfers.
Maybe Sakuya is not a rich girl, but Haine suffered a childhood trauma just like her. That loan looks as suspicious as slavery, right? The personalities of both girls are also similar, while the guys could get along very well if they met because they also have so much in common. Did we mention the possessive best friend is present in both stories too? The cherry on top is that these manga have a slight retro feel and look, so if you are into retro shoujo manga… now you know what you should read!
---
5. Cat Street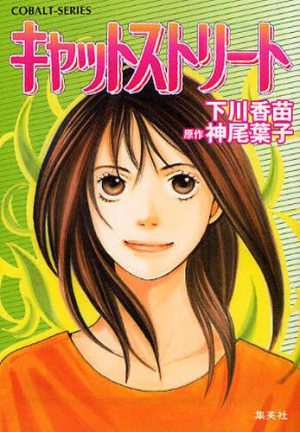 Authors: Yoko Kamio
Genres: Drama, Romance, Shoujo
Volumes: 8
Published: Jul 13, 2004 to Sep 13, 2007
Yoko Kamio has some experience in the shoujo manga realm, as can be noted in her most famous work to date: Hana Yori Dango! In Cat Street, we see what fame can do if you get it in your early years. When Keito Aoyama was a child, she was a famous actress. An unfortunate incident prompted not only her early retirement but also her withdrawal from society. When Keito is 16, she is taken by a stranger to El Liston, a peculiar high school for special people.
Once more, we have two individuals who have been deeply hurt in their childhoods in Hoshi Wa Utau and Cat Street. However, they face change in their lives after many years, so they struggle to overcome their troubles. The inner working of their minds and hearts feel relatable to the readers, and there is also a magical and sad atmosphere in these works. If you liked Hoshi Wa Utau, you might want to check Cat Street too 🙂
---
6. Orange

Authors: Ichigo Takano
Genres: Drama, Romance, School, Sci-Fi, Shoujo
Volumes: 6
Published: Mar 13, 2012 to Jan 25, 2017
Ichigo Takano has some experience in shoujo manga. For this article, we are reviewing her best work to date, which also became an anime in 2016: Orange! So, what would you do if you received a letter from your future self? This is what happens to Naho Takamiya, who at first thinks this cannot be real. However, when Kakeru Naruse transfers to her school just as it was written in the letter, strange things start to happen.
If fluffy shoujo manga are not your type, you should really give credit to Hoshi Wa Utau and Orange. They have a nice style and well defined characters with a tragic side. It takes a bit of time to feature them out and the process might require a tissue box… However, probably the most important aspect in the two stories is the presence of hope. Sometimes out of reach and sometimes almost at hand, it gives a reason to live to the characters.
---
Final Thoughts
Not everyone likes bittersweet chocolate, but we can agree that some desserts are simply de-li-ci-ous with it. Shoujo manga can also be like that. When we crave for deeper characters or for characters who go through situations that we can identify with, we can count with manga like Hoshi Wa Utau and other similar manga. What other manga like Hoshi Wa Utau have you read? Do not forget that we are open to all your comments and suggestions. See you soon!