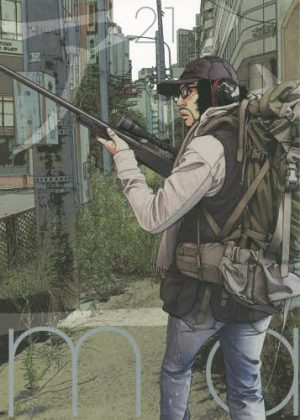 Here at Honey's Anime, we love all things zombies. However, one of our favorite forms of zombie mediums is zombie manga. Filled with horror and sometimes other genres, zombie manga are just entertaining reads through and through. That's why we love mangaka Hanazawa Kengo's series I Am a Hero. At 22-volumes, I Am a Hero is chock full of zombie greatness and following the main hero Hideo Suzuki was an experience we hated to see end. Though we know we aren't the only ones who feel this way about I Am a Hero and have a solution for all of you readers out there.
Today we have listed 6 Manga Like I Am a Hero for you to read and check out. These stories all have zombies—and sometimes other monsters—in them but are each unique in their own ways. Now here's a question for you all. Are you ready for a zombie parade of manga to learn more about? If you said yes—which we hope you did—then begin reading our recommendations list for the 6 Manga Like I Am a Hero!
Similar Manga to I Am a Hero
1. Highschool of the Dead

Authors: Satou, Daisuke- Satou, Shouji
Genres: Action, Drama, Ecchi, Horror, Romance, Shounen
Volumes: 7
Published: Aug, 2006- Apr, 2013
High school student Takashi Komuro has a lot on his plate already. The girl Takashi likes—Rei Miyamoto—is with his friend and he's now conflicted with on how to deal with anger and frustration. However, things only get worse for Takashi when a virus breaks out across the world one day while he's in class spreading an infection. Those who die get reanimated as hungry flesh-eating zombies! Now, Takashi must rescue his friends and Rei to somehow survive the world turning into hell. Can Takashi put aside his romance issues and lead several survivors to hopefully find a safe place away from the zombie outbreak?!
If you are like us here at Honey's Anime then you knew no zombie manga list would be complete without mentioning Highschool of the Dead. Created by mangaka Satou Daisuke—who has unfortunately passed away back in 2017—Highschool of the Dead follows a similar theme found in I Am a Hero. Various people who are quite different join forces to survive the never-ending horde of zombies that ravage the land. Meanwhile, these characters must also deal with their own personal struggles which make survival ten times harder. Honestly, Highschool of the Dead may have ended abruptly with no actual conclusion, but we still think it's one of the best manga out there filled with absolutely gorgeous art and a truly cool narrative. If you are one of the few who haven't read it yet, we guarantee you'll love Highschool of the Dead if you loved I Am a Hero.
---
2. Igai: The Play Dead/Alive (Hour of the Zombie)

Authors: Saimura, Tsukasa
Genres: Horror, Seinen
Volumes: 4
Published: Jan, 2014- Present
Akira Nikaidou was originally just dealing with a love triangle between his childhood friend Kurumi and his best buddy Umezawa. Unfortunately, Akira's issues continue to grow when an attack in the school yard reveals an epidemic beginning in the form of zombies. What's worse is that those who are infected with this virus crave human flesh but equally revert back to humans at set times. With the school in a frenzy on how to deal with beings that go from normal to ravenous, Akira must band together with friends and schoolmates if he hopes to avoid becoming one of the zombies himself. Romance was a problem for Akira but now he's got bigger issues to worry about…
I Am a Hero crafted a very interesting spin on the usually generic zombie tale by infusing the story with characters that felt real and were dealing with rather harsh realities. Igai: The Play Dead/Alive does something similar by having zombies being undead beings as well as humans that turn normal at set points in time. This makes the typical zombie killing spree seen in other manga have a grave implication behind it. Are you murdering a zombie or someone who is just ill? Igai: The Play Dead/Alive isn't talked about enough in the manga community and we hope us mentioning it will bring some readers to this wonderful series crafted by mangaka Saimura Tsukasa.
---
3. Apocalypse no Toride (Fort of Apocalypse)

Authors: Kuraishi, Yuu- Inabe, Kazu
Genres: Action, Mystery, Horror, Sci-Fi, Shounen, Psychological
Volumes: 10
Published: Sept, 2011- Aug, 2015
Falsely accused of murder, Yoshiaki Maeda is about to enter the Shouran Academy Juvenile Detention Center to serve his time. Quickly, Yoshiaki is put into Cell 4 and meets some of his cellmates such as Gou, Masafumi and Mitsuru who tell him of the situation he is about to face. The detention center is in chaos as a power struggle rages on in its walls. However, Shouran Academy Juvenile Detention Center is about to face something ten times worse. There are more inmates inbound, but some of them are infected with an infection that is slowly beginning to take over the world…
You know what zombie stories do very well? They give perfect survival situations for the characters who are thrown into them. Apocalypse no Toride is reminiscent of I Am a Hero as you have unaware characters forced to do battle against a sudden zombie plague. Apocalypse no Toride might not do much different than various zombie movies or zombie stories, but thanks to the impressive narrative created by mangaka Kuraishi Yuu and wonderful art by Inabe Kazu, we didn't ever dislike our journey In Yoshiaki's world. We definitely recommend reading Apocalypse no Toride for a solid zombie manga series.
---
Any Manga Like I Am a Hero ?
4. Mouryou no Yurikago (Cradle of Monsters)

Authors: Sanbe, Kei
Genres: Action, Mystery, Drama, Ecchi, Horror, Seinen
Volumes: 6
Published: Apr, 2010- Aug, 2012
The Cradle cruise ship has just left the African continent and is heading back to let the passengers go. Unfortunately, while the Cradle heads home, things go awry causing the ship to sink. Now with the ship partially underwater and becoming anything but a relaxing voyage, the remaining survivors must to try to survive. Making survival harder though is a strange contagion that has spread to the passengers causing them to become rabid and violent. Makoto Ayukawa has just woken up thanks to her classmate Yuuya and the two begin their mission to reunite with their peers as well as begin to find a way to escape this once beautiful vacation now turned deadly.
The ocean is beautiful with tons of gorgeous sights to see and aquatic life to look at or even catch. Equally though, the ocean is deadly and you know what makes it ten times worse?…zombies and beast-like enemies. Mouryou no Yurikago does just that with its story as we follow Makoto and other survivors for 6 volumes of non-stop action, drama and horror with a pinch of ecchi mixed in. If you want a cool zombie manga like I Am a Hero but with a more aquatic setting, then we recommend reading mangaka Sanbe Kei's series Mouryou no Yurikago. Now if we take cruises ourselves we're going to worry about zombies…
---
5. Mahou Shoujo of the End (Magical Girl Apocalypse)

Authors: Satou, Kentarou
Genres: Action, Mystery, Horror, Shounen, Supernatural
Volumes: 16
Published: Jun, 2012- Aug, 2017
Kogami Kii thinks he's losing it when he sees a strange little girl attacking a teacher outside his classroom window only to then have the teacher's head explode! When Kii goes to regroup in the restroom, he learns that what he thought was fake turns out to be quite real. A strange little magical girl has begun to murder one student after another and Kii then witnesses those killed by the magical girl being resurrected as zombies! Kii must group up with his friends and other survivors to try and learn what is going on and more importantly, try to survive. Kii's battle begins here in Mahou Shoujo of the End.
Magical girls manga—and anime—are known to be either lovingly cute or downright vicious at times. Mahou Shoujo of the End by mangaka Satou Kentarou falls in the latter category and, boy oh boy, does this series get wild and horrific. We still love the moments we remember of Mouryou no Yurikago where magical girls take their cute wands and powers and begin to unleash literal hell on the students of Kogami Kii's school. Mahou Shoujo of the End is filled with zombies—just like I Am a Hero—and scary magical girls. What isn't to love about this 16-volume series?!
---
6. Biohazard: Marhawa Desire (Resident Evil: Marhawa Desire)

Authors: Capcom- Serizawa, Naoki
Genres: Action, Game, Horror, Shounen, Military
Volumes: 5
Published: Feb, 2012- Sept, 2013
The world has faced numerous challenges from various enemy forces all throughout history. However, one of the greatest attacks came in the form of the C-Virus which created nightmarish creatures that mankind faced off against. Biohazard: Marhawa Desire tells the story of how the C-Virus came to be when a school in Singapore became a hot spot when the C-Virus released. Ricky and his uncle are forced to survive against their fellow peers as they become bloodthirsty zombies. Meanwhile, Chris Redfield is sent in as an agent of the BSAA to try and learn what happened in this facility and stop whoever released the virus.
Many gamers know the beloved Biohazard series—known as Resident Evil in America—but did you know this series has been more than just a video game franchise? That's right, folks; for our last entry in our 6 Manga Like I Am a Hero recommendation list, we have Biohazard: Marhawa Desire created by Capcom and Serizawa Naoki. Acting as a prequel story to Biohazard 6, Biohazard: Marhawa Desire is filled to the brim with action and zombie horror just like I Am a Hero is at times. We loved the impressive art for Biohazard: Marhawa Desire and equally liked how the story took the best of the game series and put it into a manga form. Is Biohazard: Marhawa Desire worth your time? Our answer, is a resounding yes and you'll be missing out if you don't check out Biohazard: Marhawa Desire.
---
Final Thoughts
Zombies can be seen by many as cliché and overly used in various media. However, manga like I Am a Hero and the list we have above are stories that twist the zombie horror genre in clever ways. That's why we know if you love I Am a Hero then all of the incredible manga we mentioned on our 6 Manga Like I Am a Hero list will surely appeal to you. Have you read any of the manga above or see a series you wish to now start? Tell us in the comments down below! Remember to not leave our hive for too long as we continue bringing you more recommendation lists just like this one curtsey of us here at Honey's Anime!