También puedes leer este artículo en:Español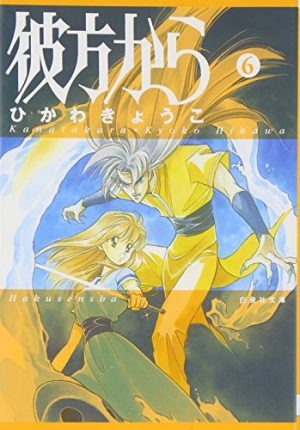 Who does not dream of going into another world even if for a while? Stepping out of the routine, exploring new territory, exposing ourselves to a bit of danger, discovering magic, meeting new friends... And why not? Maybe find love along the way. Kanata Kara was an interesting manga published in the nineties about an ordinary girl named Noriko, who is the secret to the powers of Izark, a might warrior with all of these elements. So, what other good manga like Kanata Kara about spirited away heroes, romance and mystic lands can we find? Keep reading!
Similar Manga to Kanata Kara
1. Sengoku Strays

Authors: Shingo Nanami
Genres: Action, Fantasy, Historical, Shounen
Volumes: 15
Published: Dec 26, 2007 to Oct 22, 2014
Shingo Nanami has just a few manga in his portfolio, focused on adventure. In Sengoku Strays, he introduces us to Kasane Kusanagi, a cheerful girl who is fond of kendo. She only wanted to experience the power of an ancient sword, but she ends up going back to the Sengoku Era. Will she survive the turmoil through which Oda Nobunaga rose to power? You will only find out if you accompany Kasane in her adventures!
Although our protagonist is a teenager, she is strong and perfectly capable of dealing with challenges by herself. Similar to Noriko, Kasane knows how to take decisions in the right moment and react towards danger or unexpected situations just as they happen. They both slowly get used to their new environments and become the closest allies to powerful warriors (Nobunaga and Izark), who literally have the destiny of the world in their hands. War, enemy factions… what else can you wish for a manga full of action? The main difference is that Sengoku Strays does not deal with romance. Also, the illustration style emphasizes ink and rarely uses screentones.
---
2. Arifureta Shokugyou de Sekai Sakyo

Authors: Ryou Shirakome, RoGa
Genres: Action, Adventure, Fantasy
Volumes: 2
Published: Feb 6, 2016 to present
Arifureta Shokugyou de Sekai Sakyo is the debut work of writer Ryou Shirakome and illustrator RoGa. The story centers in Nagumo Hajime, a dreamy otaku who is bullied by his classmates for not being particularly good at anything. When Hajime wishes that they disappear, they are transported to another world where they will have to become heroes in order to survive. However Hajime is weak in this universe! Will he be able to pay the price in exchange of becoming invincible?
We once again testify the rise of an ordinary school kid in Arifureta Shokugyou de Sekai Sakyo. Hajime and Noriko start as rather helpless characters in a cruel fantasy world. Their stories are more serious than what it is apparent; Sorry, not much comedy to see here. However, there is some romance for all love otakus out there! Once more, the main difference between both mangas is the illustration style. It is obvious Arifureta Shokugyou de Sekai Sakyo is a contemporary manga, as the lines are clean, and the general style reminds us of other titles like Sword Art Online.
---
3. Reimei no Arcana

Authors: Rei Touma
Genres: Drama, Fantasy, Romance, Shoujo
Volumes: 13
Published: Jan 24, 2009 to Jun 24, 2013
Rei Touma has some experience with manga involving romantic and fantasy shoujo. In Reimei no Arcana, we discover it is not easy to belong to royalty… especially royalty that is at risk of being erased of the face of the Earth. Nakaba has to marry Prince Caesar to protect peace between their countries, which have been at war over centuries. However, Nakaba realizes there is a complot to murder the Prince. Will she let it happen or will she save him? Nope, we are not telling :p
The heroine who is apparently at the mercy of her enemies in a foreign land is once more present in Reimei no Arcana. In the middle of a fragile peace, Nakaba rises to the challenge, eventually falling in love with the prince. The character development goes along the lines of Kanata Kara, don't you think the same? The main difference between the two stories are the undertones of racism in Reimei no Arcana. Nakaba and Caesar come from different cultures than the one shown in Kanata Kara. as well. Also, the illustration style is typical of recent shoujo in the later case.
---
Any Manga Like Kanata Kara ?
4. Fushigi Yuugi - Genbu Kaiden

Authors: Yuu Watase
Genres: Adventure, Drama, Fantasy, Historical, Romance, Shoujo, Gender Bender
Volumes: 12
Published: Mar 15, 2003 to Feb 14, 2013
Yuu Watase has a long experience with shoujo manga full of romance, action and cute guys. If these are manga recommendations about spirited away heroines, we have to include at least one Fushigi Yuugi title. In Genbu Kaiden, we go back to the Taisho era, to the life of Takiko Okuda. Being the daughter of a professor is not easy, and with the death of her mother, Takiko's anger bursts out. However, she is absorbed into the book of the Universe of the Four Gods, where she will become the Priestess of Genbu. Together with her loyal warriors, she will try to save the country of Hokkan from a dictator.
Takiko might be a teenager with conflicts, but she knows how to act when grave situations arise, just like Noriko. Her love interest is similar to Izark, as both are great warriors with bad reputations and surrounded by mysteries. We also are in the middle of a war in Genbu Kaiden and the protagonists are star-crossed lovers. Probably the main difference between the two mangas is that Genbu Kaiden includes some gender bender.
---
5. Sora wa Akai Kawa no Hotori (Red River)

Authors: Chie Shinohara
Genres: Action, Adventure, Drama, Fantasy, Historical, Romance, Shoujo, Supernatural
Volumes: 28
Published: Jan 5, 1995 to Jun 5, 2002
Chie Shinohara is another veteran mangaka on our list. Her most notable works have been Umi no Yami, Tsuki no Kage and Yami no Purple Eye, which have anime adaptations. Shinohara is notable for her love of the supernatural combined with historical environments. One of her most underrated jewels is Red River, the story of Yuri, a normal teenager who is spirited away to the Hittite empire in ancient Anatolia (Turkey). Here, Yuri will have to escape from the schemes of the ambitious Queen Mother Nakia. But what will Yuri do with her growing feelings towards Prince Kail?
So, normal girl who is spirited away in the most bizarre circumstances? Check. Warring states? Check. Handsome and strong love interest who can use magic? Check. Protagonist who is somehow related to magic, too? Yes, check! The release period of Kanata Kara and Red River is similar as well, so the illustration style looks alike. If your thing is romance combined with war and a dependable heroine, look no further than Red River!
---
6. Basara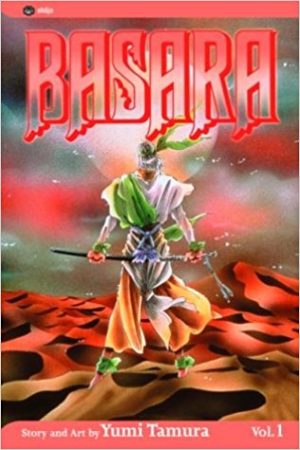 Authors: Yumi Tamura
Genres: Adventure, Drama, Fantasy, Romance, Shoujo
Volumes: 27
Published: Aug 11, 1990 to May 13, 1998
We are closing with legendary Yumi Tamura, a shoujo mangaka like few others. Her works are full with adventure, action and sci-fi, besides the obvious romance. Tamura's Basara was so successful that it became an anime in 1998. The story is about Sarasa, whose twin brother Tatara was prophesied to become the downfall of the tyrannical Red King. Unfortunately, the king kills Tatara and Sarasa has to take her brother's place. She also falls in love with the mysterious Shuri, who might or not might not be her loyal ally…
Once more, we have a dependable heroine in the middle of a war. She falls in love with a guy who might not be the good one, just like Noriko in Kanata Kara. Both stories have various volumes, thus spending their time in character and plot development. Therefore, we get to know the couples well enough to root for their love. The illustration is also similar and detailed. All in all, Basara can be described as epic and well balanced, so we cannot recommend it enough if you liked Kanata Kara.
---
Final Thoughts
If there is something that manga like Kanata Kara show us it is how anyone, even a regular girl, can overcome any challenges. This only requires to have an open heart, being capable of adapting to rapid change and hard work. Ok, it is not that easy, but it definitely is possible, especially for a girl in love in the middle of war. So, which manga like Kanata Kara do you like? Don't forget we are open to all your comments and suggestions. See you soon!
---