INTRODUCTION
Karin is a shounen manga born from Yuna Kagesaki's wise pen in 2003. It gained massive popularity, and that's why it was adapted into an anime just two years after its birth, in 2005. Its popularity is thanks to a plot that is out of the ordinary. This shounen manga revolves around Karin, a little vampire with a twist. We usually are used to blood-thirsty vampires, mean and menacing, who just want to take lives. Not Karin, she is the opposite. She is cute, little, and has a tiny problem: once a month, she experiences intense nose-bleeding. In other words, she is a vampire with blood to spare. What is a vampire with this "ability" supposed to do, then? It's easily said. Instead of stealing blood, she gives it to human beings. This action should end up helping both, Karin and her "victims", except for the fact that Karin is clumsy, and never seems to do the right thing...
If you enjoyed this funny shounen manga, which mixes together comedy, supernatural and romance, and if vampire stories are your cup of tea, fear not! This is the list meant for you. We tried to find six other manga/manhwa, that share with Karin some important elements. So stick with us until the end and enjoy the trip!
Similar Manga to Karin
1. Lilim Kiss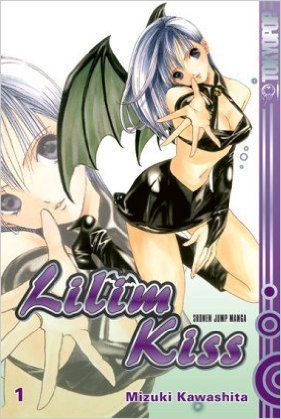 Mangaka: Kawashita, Mizuki
Genre: Comedy, Ecchi, Romance, Shounen, Supernatural
Volumes: 2
Published: October 2000 – April 2001
Let's get this list started with Lilim Kiss! This is another shounen manga revolving around Saiki Takaya, your ordinary guy. Even though he is ordinary, he keeps being misunderstood. His life turns upside down one day when he finds a flask containing a succubus called Lilim. Lilim is a very attractive girl, who gains energy by kissing guys. After kissing Takaya, she claims that his energy is the tastiest she's ever tried. So what happens when Lilim starts living at Takaya's, as his girlfriend?
Karin and Lilim Kiss share basically the same genre and premises. Both these stories revolve around a boy who finds himself involved with a troublemaker monster, who happens to be cute, or sexy. These two boys – Kenta and Takaya – are at the mercy of Karin and Lilim, and that's what starts the funniest gags in both cases. It's true that Lilim Kiss wields ecchi elements and Karin doesn't, but we can guarantee that you'll get the same feelings while reading it!
---
2. Orange Marmalade

Mangaka: SeokWoo
Genre: Comedy, Drama, Romance, Supernatural, Shoujo, School life, Slice of life
Volumes: 8
Published: February 2011 – December 2013
Now let's switch to manhwa, and talk about Orange Marmalade! This is set in a time when vampires are forced to stay hidden because treated as outcasts. Ma Ri Baek is our protagonist; this girl is a vampire who faced a lot of hardships because of her being a vampire. Her life experiences left her unable to believe in love or friendship, but life puts on her road Jae Min Jung, whose blood has a sweet scent. As Jae Min starts to fall in love with her, Ma Ri is forced to cope with her feelings after their fated meeting...
Orange Marmalade can be considered as the shoujo version of Karin, as it is sweeter and more focused on the romance part. Aside from this, though, Karin and Orange Marmalade share a cute protagonist who is a vampire trying to live her life as a normal human being. Both the couples in these stories have to face a lot of hardships, caused by misunderstandings and the trouble to overcome the different species barrier. If you wish to read a tenderer version of Karin, Orange Marmalade is what you're searching for!
---
3. Jitsu wa Watashi wa (My Monster Secret: "Actually, I am...")

Mangaka: Masuda, Eiji
Genre: Comedy, Fantasy, Romance, Supernatural, Shounen, School life
Volumes: 22
Published: January 2013 – February 2017
Asahi Kuromine is your high school boy, who is unable to lie. While this may be a virtue on one side, it can turn into a defect on the other. In fact, Kuromine happens to discover something very shocking. The girl he has a crush on, Youko Shiragami, is actually a vampire. Kuromine being a boy unable to lie, will he manage to keep his crush's secret safe? Join him to discover what happens!
Karin and Jitsu wa Watashi wa are both shounen manga, containing comedy parts and supernatural elements. Karin and Youko are the female protagonists and are both vampires. Their relationship with the male counterpart becomes a pivotal focus in the plot. Actually, Karin contains a darker part later on in the story, while Jitsu wa Watashi wa sticks to the lighthearted atmosphere until the very end. That's why, if you wish to read an even softer version of Karin, Jitsu wa Watashi wa is a perfect choice!
---
Any Manga Like Karin ?
4. Saishuu Heiki Kanojo (SaiKano)

Mangaka: Takahashi, Shin
Genre: Drama, Romance, Sci-Fi, Seinen
Volumes: 7
Published: December 1999 – October 2001
Let's go on with a story set in Hokkaido. Our protagonists are Chise, who is a bashful girl, and Shuji, an ever-nervous boy. They are high school seniors in a small town, and their life and their relationship are turned upside down after a bombing attack by an unknown country, resulting in the destruction of the city of Sapporo. The bombers then are destroyed by something, and that something is Chise: Shuji discovers that she is a cyborg engineered by the Japanese Self Defense Force! But what about their love story, now?
Karin and SaiKano may differ in the plot, but they give the same vibes. SaiKano is more adult-oriented, as it is a seinen, and yet it shares with Karin some interesting traits. These two stories have a very good balance of humor, drama, and conflict; at the same time, there's still room for romantic developments between the two main protagonists. While Karin and Chise have supernatural characteristics, they're both fragile and just want to live a normal life, as normal human beings. If you enjoyed Karin, you're bound to enjoy SaiKano all the same. Consider it as the seinen version of Karin!
---
5. Servamp

Mangaka: Tanaka, Strike
Genre: Action, Comedy, Supernatural, Josei, Drama
Volumes: 10
Published: June 2011 – ongoing
Let's head toward the end of this list with another popular manga! Servamp revolves around a high school boy, Mahiru Shirota, that has been left without parents. Life is difficult for an orphan who lives alone, but Mahiru's life changes when he finds a black cat on the road and decides to keep it – naming him Kuro. Kuro is no ordinary cat, though: he is a servamp, a servant vampire. That's how Mahiru ends up in an ancient conflict between vampires and humans!
Karin and Servamp share a protagonist who is a vampire, coming in contact with human beings. While Karin is a shounen, Servamp is a josei manga that multishippers out there will find very interesting as there are a lot of BL possibilities among the huge range of bishounen in the story. Kenta and Mahiru find themselves involved with vampires, in spite of everything, and their lives will become a funny mess. These two manga are able to mix the right amount of gags, dramatic moments and supernatural perfectly. So if you wish to read a josei version of Karin, full of cute bishies, Servamp is a must-read!
---
6. Fushigi no Maria-kun (The Wounds That Cover Us)

Mangaka: Shiina, Dai
Genre: Comedy, Romance, School life, Shoujo
Volumes: 2
Published: 2009 – 2010
And now, let's end this list with Fushigi no Maria-kun! Abe Maria is your ordinary high school student, leading a normal life. He is the last pure blood vampire in the world and Tokuko Nanami's childhood friend. Tokuko has been encouraging Maria to become part of human society for ten years now and acts as his guardian. What happens, though, when friendship turns into love?
Karin and Fushigi no Maria-kun are both stories involving a vampire who interacts with an accepting human being – Kenta and Tokuko. Both these stories show the developments of their relationship, through difficulties, hardships, and misunderstandings created by the difference in the species. You can consider Fushigi no Maria-kun as a shorter version of Karin, therefore as a more lighthearted manga, with the same good vibes you enjoyed while reading Karin! So go catch it up, it won't fail you!
---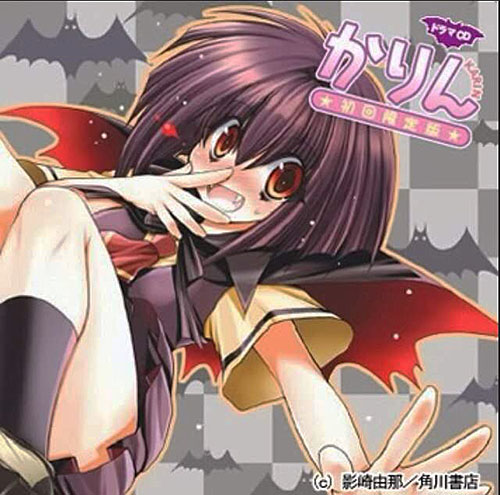 Final Thoughts
Fushigi no Maria-kun ends our list of manga that share something with Karin! We put in it multiple genres, from shoujo to seinen, so that it can suit everyone's tastes. If you read Karin and are attracted to vampire stories, all the more when they're full of gags and comedy, pick one of these to perceive the same vibes you found while reading Karin. It's been a hard task, but we tried hard to select the best ones! Of course, we are open to advice, so please, feel free to comment below and tell us other manga that may belong to this list!