As far as romance manga go, Kimi ni Todoke is one that stands out as being one of the better manga in its genre. Kimi ni Todoke starts out strong with a relatable main character in Sawako, and plenty of comedic situations to set up the early parts of the manga and gets the reader ready for the great romance that is set to unfold. After finishing such a fantastic manga, you may find yourself at a loss for what to read next. With so many great themes in Kimi ni Todoke, it may be hard to find a manga that evokes the same feelings in you. For those of you experiencing this, we're going to cover 6 manga that are like to Kimi ni Todoke.
Similar Manga to Kimi ni Todoke / Similar Manga to Kimi ni Todoke: From Me to You
1. Koukou Debut (High School Debut)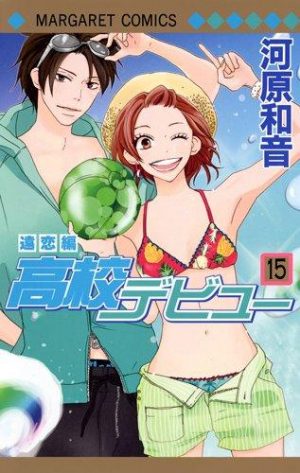 Authors: Kawahara, Kazune
Genres: Comedy, Drama, Romance, School, Shoujo, Slice of Life
Volumes: 15
Published: Aug 13, 2003 to May 13, 2013
After Haruna Nagashima dedicated her middle school life to softball, she decided to leave softball behind and focus on making her high school debut and falling in love. Haruna turns to magazines to learn all about fashion and how to pick up guys. Despite all the skills and tips she learned, all her efforts seemed to be in vain. When she tries to pick up guys, Haruna has a chance meeting with Yoh Komiyama, a popular and good-looking boy from her school, who gives her some advice on how best to impress guys. Impressed by Yoh's knowledge, Haruna asks Yoh to be her coach. Yoh refuses at first, but he eventually agrees to help Hanura, but only under the condition that she doesn't fall in love with him. With Yoh's help, Haruna sets out to get a boyfriend and fall in love.
The relationships in Koukou Debut and Kimi ni Todoke share many similarities. Haruna and Yoh are opposites in many ways, but they still end up dating similar to Sawako and Shota. Haruna and Shota also serve the same role in their respective relationships, as both of them are outgoing and are able to bring their respective partners out of their shells. Shota also shares similarities with Yoh, as both of them were are very popular with girls and end up dating somebody most people assume is beneath them. Both manga also share a common theme of being yourself, with most of the main character having issues with themselves that they ultimately learn to overcome by just being themselves.
---
2. Hiyokoi

Authors: Yukimaru, Moe
Genres: Romance, School, Shoujo, Slice of Life
Volumes: 14
Published: Nov 2, 2009 to Nov 1, 2014
Hiyori Nishiyama was involved in an accident before the start of the new school year. The accident caused Hiyori to receive bone fractures all over her body and to miss the first year of school. The set back was especially bad for Hiyori because she has a hard time making friends due to her shy nature. Despite Hiyori's lack of social skills, the boy that sits next to her, Hirose Yuushin, has taken an interest in her. Hirose is an opposite in many ways, he's tall, outgoing, and is friends with the entire class. With the help of her best friend Ritsuka Nakano and Hirose, Hiyori decides to try to be a bit more sociable and make new friends, so that she can fully enjoy her high school life.
The main comparisons between Hiyokoi and Kimi ni Todoke involve the main characters in both series. Hiyori and Sawako are both shy characters that struggle with aspects of their appearance and neither of them starts out with many friends. They also share the fact that the male protagonists, Hirose and Shouta, help them start to get them over their shyness and help them learn to make more friends. Hirose and Shouta are also very similar characters. They both are outgoing and friendly with everybody, they also find themselves drawn to the female protagonist which ultimately turns into romantic feelings. Both manga also take their time getting to the characters developing and confessing their romantic feelings, giving the reader an enjoyable slow-burning romance.
---
3. Horimiya

Authors: Hagiwara, Daisuke (Art), HERO (Story)
Genres: Comedy, Romance, School, Shounen, Slice of Life
Volumes: 11
Published: Oct 18, 2011 to Present
Kyouko Hori is a popular and beautiful student at the top of her class. Her classmate Izumi Miyamura is the exact opposite, everyone thinks he is a shy, loner otaku. However, when both Hori and Miyamura are away from school they turn into completely different people. After Hori's little brother has an accident walking home, a tattooed and pierced Miyamura shows up at the plain looking Hori's house. This chance meeting between Hori and Miyamura gives them a chance to learn more about each other and learn how every person has a side of themselves they hide from others. Now that they know each other's secret, Hori and Miyamura develop a friendship and maybe something more.
Horimiya takes a different approach to handling its character's relationships than other manga on this list, but it still uses some of the major elements that are in Kimi ni Todoke. A trend so far on this list has been a shy girl being brought out of her shell by the popular boy in class, and while Horimiya has this setup, it reverses the genders giving the reader a story that provides the same feelings, but does enough to make you feel like you aren't getting the same story. Horimiya and Kimi ni Todoke also have their protagonists start out as friends and eventually grow to have deeper feelings for each other. While both shows are predominately focused on the relationship between its protagonists, there is also a heavy amount of comedy in both manga, separating themselves from some more traditional romance manga.
---
Any Manga Like Kimi ni Todoke: From Me to You / Any Manga Like Kimi ni Todoke ?
4. 14-sai no Koi (Love at Fourteen)

Authors: Mizutani, Fuuka
Genres: Comedy, Romance, School, Josei
Volumes: 7
Published: Jun 30, 2010 to Present
Childhood friends Kanata Tanaka and Kazuki Yoshikawa, are model middle school students that appear to be more mature than most people their age. Despite how their teachers and friends perceive them, they are just like everybody else. Once school is over and they are alone, Tanaka and Yoshikawa are able to let loose and act like normal teenagers. The story of 14 sai no Koi follows the story of these two childhood friends as they go about their secret lives that they only share with each other, as they experience the ups and downs of love.
The relationships in Kimi ni Todoke and 14 Sai no Koi provide the reader with a sweet love story and a likable couple that you can root for. While the relationship in 14 Sai no Koi is already a thing before the start of the manga, you still get to experience a similar story as the main protagonists learn about dealing with their first loves. Tanaka and Yoshikawa also have similar traits to Shota, with all of them being very popular amongst their peers, unable to truly be themselves around most people. Both manga also have plenty of comedy in the story that revolves around the romantic relationships in the main characters. Even though 14 Sai no Koi may not share any major story elements with Kimi ni Todoke like the other manga on this list, it still shares characters that go through similar growths when it comes to relationships and accepting themselves as who they are.
---
5. Kanojo wa Uso wo Aishisugiteru (The Liar and His Lover)

Authors: Aoki, Kotomi
Genres: Drama, Romance, Shoujo
Volumes: 22
Published: Mar 24, 2009 to Feb 24, 2017
Aki Ogasawara is a 25-year-old composer and former member of the band Crude Play. Aki has taken to living life as a recluse, suffering from depression and only taking solace in his humming. One day Aki meets Riko Koeda, a high school student with a gifted singing voice, and asks her if she will be his girlfriend. Riko notices the sadness in Aki's humming and agrees to go out with him. Riko notices how sad Aki is and believes he just went through a tough break it and wants to cheer him up.
Kanojo wa Uso wo Aishisugiteru is the most complex romance story on this list. Not being a pure romance story and being much darker than the average makes it seem like it wouldn't have much in common with Kimi ni Todoke, but that is far from the case. Riko is very similar to Sawako, with both characters being a little naive, and although Riko isn't shy like Sawako, she still gets shy and embarrassed during certain social situations. Both Sawako and Riko also go through similar arcs with the growth of their character They both start out with wanting to do something that seemed simple. For Sawako, it was to make friends and for Riko, it was to make
Aki happy, but both of them end up going through many trials and tribulations on their way to achieving their goals and finding happiness. Both manga also features comedy, romance, and teenagers trying to navigate through their first love.
---
6. Hatsukare

Authors: Toumori, Miyoshi
Genres: Drama, Romance, Shoujo
Volumes: 10
Published: 2003 to 2007
Hatsukare follows the story of Chihiro, a girl who attends an all-girls school. With having only attended all-girls schools since kindergarten, Chihiro has absolutely no experience with boys. One day on her way to school, a boy named Hashimoto confesses to her. Chihiro agrees to go out with Hashimoto and they begin to learn all about what it truly means to be in a relationship of being in a relationship. Chihiro and Hashimoto must learn to deal with all the highs and lows of relationships.
Hatsukare and Kimi ni Todoke don't share many things that the other manga on this list share. Most of the similarities between the two come from the themes instead of the characters. The relationships focus heavily on the characters learning about love as the story progresses. Kimi ni Todoke does it through the characters taking their time and slowly falling in love with each other, and Hatsukare does it through the characters jumping right into their relationship and learning about love through their experiences. Both manga also features heavy amounts of comedy revolving around both the relationships and the daily lives of the characters.
---
Final Thoughts
That's it for our list of similar manga to Kimi ni Todoke. With plenty of different romance manga, some filled comedy and some that are more on the serious side, hopefully, you've found a new manga like Kimi ni Todoke you can enjoy. Which manga similar to Kimi ni Todoke is your favorite? Are there any manga like Kimi ni Todoke that should be on this list? Let us know in the comments below.