Born in 1989 by Hitoshi Iwaaki's wise pen, Kiseijuu – Parasyte is a seinen manga that gained a huge popularity thanks to its solid plot, wonderful art style and amazing characters. Kiseijuu's popularity seems destined to continue, as it even had an anime adaption in 2014. It goes without saying: the anime version brought once again Kiseijuu in the spotlight and so a new generation could appreciate it as well.
Kiseijuu revolves around Shinichi Izumi, your typical high school boy with a normal family, whose life is turned upside down in just one night. In fact, while he was sleeping, a parasite enters his body, and ends up confined in Shinichi's right hand, unable to subjugate his brain. After the initial shock, Shinichi and Migi – the parasite's name – start to coexist.
Shinichi, the human protagonist, is scared to death. Migi's presence in his body attracts other parasites, so he has to be ready to fight whenever Migi says so. There's a dramatic turn of events, an escalation of happenings that leave the readers with their mouths wide open; then, gradually, it becomes clear how this story is all about friendship, and the importance of bonds.
We made this list with the purpose of giving you other six manga sharing with Kiseijuu the same good vibes. If you finished it, and crave for more, stick with us until the end of this chart!
Similar Manga to Kiseijuu / Similar Manga to Parasyte
1. Tokyo Ghoul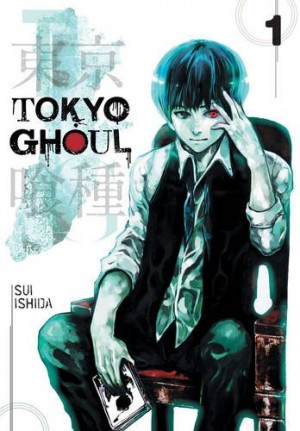 Authors: Ishida, Sui
Genres: Action, Mystery, Drama, Horror, Supernatural, Psychological, Seinen
Volumes: 14
Published: September 2011 – September 2014
Let's get this ranking started with another seinen manga which gained a lot of popularity and received an anime adaption for two seasons! Tokyo Ghoul revolves around Ken Kaneki, whose weakness is Rize, a seemingly intellectual girl. On their first date, though, Ken's happiness suddenly turns to a horrible tragedy. In fact, Rize is actually a ghoul, aka a creature that eats human beings. Assaulted by her, thanks to some lucky circumstances, Ken miraculously remains alive. His life is safe, but he is now half a ghoul, and half a human. What consequences will he face, from that moment onward?
Kiseijuu and Tokyo Ghoul are both supernatural, horror, seinen manga. In both these manga, we come to know a very normal and very plain protagonist, whose life abruptly changes, with no way back. Shinichi has to deal with a parasite in his body, while Ken is half-ghoul: both of them struggle to figure out how to deal with their new lives, and inherit some traits making them no longer fully human. Both these manga share a good amount of fighting, blood, and the characters are deeply analyzed. Shinichi and Ken try to accept what they've become and all the consequences. If you enjoyed Kiseijuu, we are sure you'll like Tokyo Ghoul, too!
---
2. 70-oku no Hari (7 Billion Needles)

Authors: Tadano, Nobuaki
Genres: Action, Comedy, Drama, Horror, Mystery, Sci-Fi, Supernatural, Seinen
Volumes: 4
Published: March 2008 – February 2010
Let's go on with 70-oku no Hari! Our protagonist here is a high school girl, named Hikaru Takabe. Hikaru is not exactly a social girl, on the contrary, with her headphones on, she seems so aloof that her classmates are irritated with her presence. Hikaru lives isolated from the crowd, and right because of this, she meets Horizon, who is from a different dimension. Their fated meeting will result in Hikaru involved in an intergalactic game that will take her out of her shell!
Kiseijuu and 70-oku no Hari are both seinen manga, with some Sci-Fi elements, sharing the same premises. Both of these manga have as a main concept an alien identity, coming from the outer space and merging with the protagonist. Step by step, their coexistence in the same body will lead the two of them to become friends and fight together against other alien enemies. Both Hikaru and Shinichi, together with Horizon and Migi, eventually cooperate in order to protect humanity. Let's put it this way: if you enjoyed Kiseijuu, and feel like reading something similar with a female protagonist, choose 70-oku no Hari!
---
3. Inugami

Authors: Hokazono, Masaya
Genres: Action, Adventure, Horror, Sci-Fi, Seinen
Volumes: 14
Published: January 1997 – November 2002
Fumiki is our protagonist for this amazing manga called Inugami! One day, because of some sad circumstances, he searches for refuge in a factory. There, he meets a strange dog that can understand human's speech and has a number "23" carved on his ear. Fumiki and "23" start to communicate until they become friends. Apparently, "23" was sent there in order to observe mankind, but the problem is that an organization is after "23". A lot of mysteries float around "23", and soon, the reason why Kiryu – the organization's leader – is after "23" is revealed...
Kiseijuu and Inugami are both seinen manga with some sci-fi, horror, and adventure elements, as well as a lot of action. In both these series we have shape shifting lifeforms that land on the earth and wreak havoc. The main theme of friendship is shown in the relationship that both our protagonists manage to build with a different lifeforms, though we must admit that Fumiki and "23"'s bond is more emotional. Just like Kiseijuu, you can expect all the horror elements in gory scenes, oriented for a mature audience. If you want to read something similar to Kiseijuu, but even more touching than it, choose Inugami!
---
Any Manga Like Parasyte / Any Manga Like Kiseijuu ?
4. Ajin

Authors: Sakurai, Gamon (Story & Art) Miura, Tsuina (Story)
Genres: Action, Drama, Horror, Mature, Supernatural, Mystery, Seinen
Volumes: 11
Published: March 2012 – ongoing
Kei Nagai is a high school student with the wish of becoming a doctor. His beautiful and seemingly perfect life comes crashing down one morning, when Kei is going to school and gets hit by a truck. Kei Nagai dies in front of his friends' eyes, but one minute later... he revives. That's how he and all the surrounding people learn that he is an Ajin, a mysterious creature which cannot die. Afraid, lonely and shocked, Kei runs away and is helped by Kai, his childhood friend. But the war between human and Ajin is around the corner, and soon Kei will need to choose sides.
In spite the premises, which can make Ajin seem totally different from Kiseijuu, these two manga share important traits. Firstly, both these series wield horror, supernatural and mystery elements. In both Kiseijuu and Ajin we find the main theme of a minority fighting to subjugate human beings and assert their rights, while the line between human beings and different lifeforms is very thin. Kei, exactly like Shinichi, will eventually have to choose sides and adapt to a totally new environment. All in all we can safely affirm that these two seinen manga are enjoyable at the same level, as they have the same atmospheres and the same themes.
---
5. Heads

Authors: Higashino, Keigo (Story) Mase, Motoro (Art)
Genres: Drama, Mature, Mystery, Psychological, Romance, Sci-Fi, Seinen, Tragedy
Volumes: 4
Published: July 2002 – April 2003
Let's go toward the end of this list with Heads! Our protagonist is Jun Naruse, with a passion for drawings. One day, while he was hanging around in a shop selling drawing materials, he meets Megumi. The two of them fall in love and right after, their love story begins. Jun Naruse's life, though, changes when the office he works in is attacked by a criminal and Jun saves a child who was about to be shot. A month after, when Jun wakes up, he discovers the truth: half of his brain was gone, and he survived because he received someone else's half. Everything looks just fine, but Jun begins to change... and he wonders if it's because of his new brain.
Kiseijuu and Heads are both dramatic, psychological seinen manga, with some Sci-Fi elements. In spite the premises, don't be fooled, because these two series actually share some important things. Kiseijuu and Heads highlight the relationship between the protagonists – Shinichi and Jun – and the entities inhabiting their bodies. The readers start to wonder where the line can be drawn, because both these protagonists start to lose what made them fully human and begin to become something different. If you feel ready to bump into something even more dramatic and poignant than Kiseijuu, go ahead and catch Heads up!
---
6. Okite Nemuru

Authors: Renda, Hitori
Genres: Action, Drama, Horror, Supernatural, Mature, Seinen
Volumes: 7
Published: January 2014 – ongoing
Okite Nemuru revolves around two teenagers, who are close friends. Around the city, strange deaths have become to occur; the victims have their head turned to an animal's and then explodes. One day, Kanata gets caught up in one of those strange death and his life changes completely, as he gains an ability which, once used, makes another ability go out of control. When he meets Shiki, a mysterious woman, she forces both Kanata and Toshiki to get involved in those accidents, and that's when a conspiracy unfolds before their eyes. Just what is going on in the world?
Kiseijuu and Okite Nemuru are both seinen manga, involving mysterious, alien beings who become part of the human society. Both Shinichi and Kanata have an incident and, as a consequence, their life becomes completely messed up. In both these stories we see the truth unfold through a lot of mysteries that get solved step by step. That's why both these stories can keep the readers glued to the pages! In both there's violence, death and a somewhat unsettling atmosphere. It's not a stretch: if you like Kiseijuu, you'll enjoy Okite Nemuru all the same!
---
Final Thoughts
And so our list comes to an end! We tried to put in it all those manga that share with Kiseijuu action, dramatic moments of suspense, but also the same good vibes, and the main, important theme of friendship. We hope you found it useful somehow! After reading Kiseijuu, it's hard to find something similar, equally good, with a solid plot and a big range of relatable characters. We hope we made it! But in case we didn't, please let us know what you think in the comments below! Also, if you know other manga that could have been a good fit for this list, please, let us know. See you next time!
---