There are few manga that really get to us emotionally like Koizora. Based on a cell phone novel by Mika, Koizora was a huge cultural phenomenon in Japan. As reported by Mika, Koizora is based on her life, or parts of it anyway. Koizora was so popular as a cell phone novel that it was adapted into a manga, a Japanese drama, and a movie, all of which were popular in their own right.
With a story with as much romance, pain, and drama as Koizora, it's hard not to be left with a hole in your heart once you've finished the series. The story has a way of really pulling you in and making you cry out for the characters. If you are like us and were left empty and sad following the end of Koizora and one of its adaptations, then we've got a list for you. Today, we are looking at 6 manga like Koizora that will help fill that void in your heart!
Similar Manga to Koizora
1. Deep Love: Ayu no Monogatari (Deep Love: The Story of Ayu)

Authors: Yoshii Yuu, Yoshi
Genres: Tragedy, Shoujo, Drama, Smut,
Volumes: 2
Published: May 2004 - September 2004
Deep Love: Ayu no Monogatari is the story of Ayu, a teenage girl who has no belief in the future nor the possibility of happiness. Without knowing much meaning in life, Ayu sells her body and becomes involved in drugs. One day, an older lady comes across Ayu and the two form an unlikely friendship that might just help Ayu believe in happiness.
One manga that is so similar to Koizora has to be Deep Love: Ayu no Monogatari as it follows a teenage girl who seems to find happiness. Unfortunately, the happiness is short lived as life becomes more and more complicated. Just like Koizora, Deep Love is based on a popular cell phone novel series that was adapted into a manga as well as two Japanese dramas and a movie. If you are prepared for a rather dramatic and tragic ride just like Koizora, Deep Love: Ayu no Monogatari is the manga for you.
---
2. Boku wa Hatsukoi wo Kimi ni Sasagu (I Give My First Love To You)

Authors: Aoki Kotomi
Genres: Shoujo, Drama, Romance, Slice of Life, Comedy
Volumes: 12
Published: August 2005 - July 2008
Takuma and Mayu are childhood friends following Takuma's hospitalization as a child. Mayu's father is the doctor in charge of Takuma's case. As such, the two became close as they grew up and fell in love. However, their love story is complicated by the fact that Takuma will not be able to fulfill his promise to Mayu.
Boku wa Hatsukoi wo Kimi ni Sasagu follows a rather similar romantic trajectory as Koizora where the two characters are deeply in love, but that romance is complicated by the health problems that Hiro and Takuma face. However, Boku wa Hatsukoi wo Kimi ni Sasagu has a more dramatic story as Takuma strives to make light of his heart problems while Mayu is fully aware of the complications in his health. As the two struggle to find and fulfill their hopes for love despite the health problems that threaten Takuma's life, things like learning to move on and deal with other romantic interests get in the way.
---
3. Bitter Virgin

Authors: Kusunoki Kei
Genres: Drama, Seinen, School, Romance
Volumes: 4
Published: February 2005 - March 2008
Suwa Daisuke is a popular boy at school who dislikes the new girl, Aikawa Hinako for how she initially treated him. One day, Daisuke accidentally overhears Hinako's confess the sins of the past at a church. Now, Daisuke wants to protect Hinako and her secrets, even if she doesn't know why.
Koizora is a story featuring many tragic events, and one of the hardest ones to deal with had to be Mika's rape, a result of Hiro's crazy ex-girlfriend's possessiveness. However, as the manga goes on, we see Mika try to make the best despite the things that occur in her life. This same plot point is explored in Bitter Virgin with Hinako being the rather poor and innocent victim of a rapist, aka her stepfather, but despite the years of sexual and physical abuse that she experienced, Hinako still wishes to move onward with her life and find happiness, something that Daisuke wishes to help her with whether she knows it or not. If you want a story based on a similar tragic event but with a more hopeful turn than Koizora's and a romance that may bring relief to you, Bitter Virgin is the perfect manga to read as it touches on so many points so well that you won't have any regrets reading it.
---
Any Manga Like Koizora ?
4. Moe Kare!!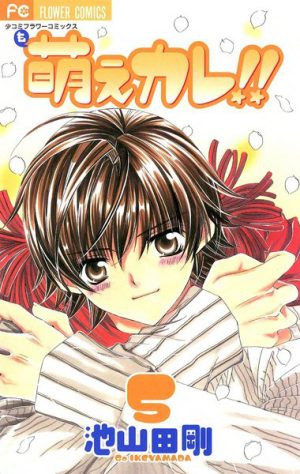 Authors: Ikeyamada Go
Genres: Comedy, Drama, Romance, Shoujo, School
Volumes: 7
Published: July 2005 - September 2006
Wakamiya Hikaru has dreamed of having a boyfriend who is like prince charming thanks to the countless shoujo manga she can be seen reading. Unfortunately for her, Hikaru's first kiss is stolen by a handsome yet devilish boy that she deems the "Perverted Prince." Later, Hikaru comes across a boy who looks just like the Perverted Prince but with different colored eyes and a more princely demeanor. Who is he?
Ikeyamada Go's Moe Kare!! Is a rather light hearted manga compared to many of the manga on this list, but it can still hold its own fairly well. With the innocent premise of a girl who just wants to find love, the same way Mika did in Koizora, Moe Kare!! slowly descends into drama as some unexpected hitches occur in Hikaru's love life, making it impossible for her to be with the one she loves. However, unlike Koizora, Hikaru is forced to learn to live without the love of her life and find it anew elsewhere. For a happier ending with fewer moments of crying yet plenty of drama, come read Moe Kare!!
---
5. Orange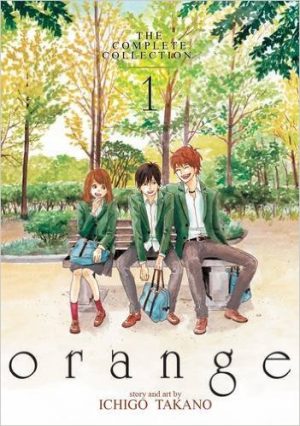 Authors: Takano Ichigo
Genres: Drama, Romance, School, Shoujo, Sci-Fi
Volumes: 6
Published: March 2012 - January 2017
Takamiya Naho is a rather shy and soft spoken girl, but a letter from 10 years in the future is going to force her to change. The letter is very detailed and tells her of the events that will occur throughout the day. While Naho thinks it is a prank, everything unfolds as described. The letter goes on to tell Naho about her future regrets, all of which seem to be about the transfer student, Kakeru. Future Naho explains that unless Naho does something to change the course of the future, Kakeru will no longer be able to be with her friends in the future.
If you watched the anime, don't be deterred. The manga for Orange is multitudes better than its anime counterpart which could not capture its greatness in animated form. Orange is a rather dramatic story of trying to find oneself and help others despite your own inadequacies, which we all know are strong as teenagers. Naho is fully aware of the consequences of her actions, but she continually fights against her own nature and her desires for a better future. Yet just because she's going through many of these thoughts internally, it doesn't mean life won't move forward. Like Koizora, tragedy feels like it's at every corner with many moments of frustration and regret, but that's what makes Orange so worthwhile to read.
---
6. Watashitachi no Shiawase na Jikan

Authors: Yumeka Sumomo
Genres: Seinen, Tragedy, Romance, Drama, Psychological, Slice of Life
Volumes: 1
Published: March 2008 - August 2008
Mutou Juri is a talented pianist who has experienced many difficulties in her pursuit to become a famous pianist like her mother that has led to Juri's three suicide attempts. In order to save Juri, nun as well as her aunt Monica has asked Juri to pay a visit to one of the people she is mentoring who is on death row. Yuu is on death row due to his murdering three people, but it's not as simple as that, as Juri is going to learn. Juri and Yuu are about to meet and their meeting could change everything.
If you are looking for another painful love story, look no further than Watashitachi no Shiawase na Jikan. Like Mika, Juri has gone through a lot in her life, as well as Yuu, but when Yuu and Juri meet each other, they find themselves feeling hopeful for the future, regardless of what happens in the past. Juri and Yuu have something that Mika and Hiro had, and it really clenches at your heart as you learn about their difficulties and their fates. If you are looking for a somewhat realistic yet tragic romance similar to Koizora, come read Watashitachi no Shiawase na Jikan, as it is truly worth reading.
---
Final Thoughts
Tragic loves, life events, and difficult endings; Koizora has them all. To come up with a list of 6 manga like Koizora, we looked at all of these details and we're pretty confident with our list. Hopefully you fans of Koizora will find something else to read in place of Koizora that will tug at the heartstrings a bit. We know we felt a few tears writing this list.
Have you read any of these manga? Do you think a different manga belongs on this list? What is your favorite thing about Koizora or any of these manga? Feel free to share everything because we want to hear it all in the comments below!