Although love is hard at times, anyone would like to at least experience it right? That is what Nagashima Haruna aims to do after entering high school! But she just can't go on the battlefield if she is not ready and prepared. That is where Komiyama Yoh comes in! Thanks to his knowledge regarding love, he helps Haruna with a condition: to not fall in love with him no matter what. Of course, our gullible heroine accepts it until she finds out that it is harder than she thought!
Koukou Debut is the funny romantic relationship of Yoh and Haruna. It is written and drawn by Kawahara Kazune who is also known for creating Aozora Yell as well as Ore Monogatari!! We made sure to list manga that are similar to Koukou Debut, so don't hesitate to pick them up and include them on your reading list! We won't hold you any longer so have fun and enjoy!
Similar Manga to Koukou Debut (High School Debut)
1. Otomegokoro (A girl's feeling)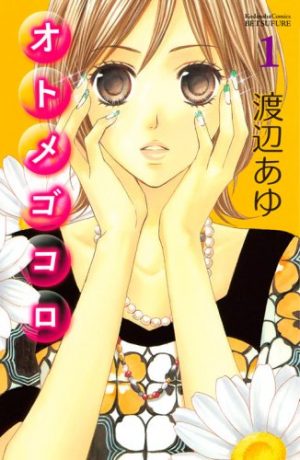 Authors: Watanabe, Ayu
Genres: Romance, School Life, Shoujo
Volumes: 2
Published: Jun. 2008 - Oct. 2008
Kashiwagi Nene dedicated herself to volleyball during junior high. Thanks to that, she remains unpopular and with no love life at all. But all things will change once she starts her high school life. Looking different than before, Nene is ready to take the challenges of love! Unfortunately, her friend, Endou Jun, is having fun with Nene's attempts to change herself, so he takes it upon himself to help Nene. However, what will Nene do once she realizes that she is in love with her best friend?
If you want to read something that is really similar to Koukou Debut, then Otomegokoro is a good choice to start with. Like our heroine Haruna, Nene wants to find love immediately after entering high school since she too is focused on sports during her junior high. While she is in the process of finding love, a popular and handsome man guides her on what to wear, how to act, or what to say when Nene is on a date or meets a man of her liking. Through time, Jun and Nene get close until they realize their love for one another.
Jun appears to be in denial at first, like Yoh; but once he begins to be honest with himself, there are lots of charming and adorable moments between Jun and Nene that readers can enjoy. Despite being short compared to Koukou Debut, Otomegokoro's Jun and Nene will surely give you the same laughs and sweetness that Yoh and Haruna gave to their lovely readers!
---
2. Kimi wa Girlfriend

Authors: Minami, Maki
Genres: Comedy, School Life, Shoujo
Volumes: 1
Published: Dec. 2003 - Oct. 2004
Just like any other average girl, Sugina Hatsune wants to have a boyfriend. However, people see her as mean and vulgar because she uncontrollably says the opposite of what she actually means. Luckily, she is accepted into the Maidens' Club founded by Koganezawa Kirie, who is known as gay among the whole student body. Will she finally have her springtime? Or will she remain forever single?
If Haruna's reason for not having a boyfriend are her tomboyish appearance and attitude, Hatsune's problem is her "bad mouth", as the people around her say. Although that may be, Haruna and Hatsune are quite similar. They are both impulsive, energetic, and brave... Of course, like in Koukou Debut, a gorgeous guy comes into the picture to help our heroine! Kirie goes out of his way to help Hatsune to be more feminine and ladylike. As Hatsune tries her best to take Kirie's teachings to heart, she falls in love with the man himself! The story of Kimi wa Girlfriend is simple and straight to the point, but it is nonetheless, entertaining and hilarious to read.
---
3. Kyou, Koi wo Hajimemasu

Authors: Minami, Kanan
Genres: Drama, Romance, School Life, Shoujo
Volumes: 15
Published: Sept. 2007 - Feb. 2012
Hibino Tsubaki despises her seatmate, Tsubaki Kyouta, for being the top student in their grade. She hates him as well because he is ill-mannered and offensive towards her. Out of anger, she cuts Kyouta's hair , which shocks him, and most especially, everyone around them. To pay back what Tsubaki did to him, Kyouta promises to take all of Tsubaki's "firsts". And true to his words, he takes Tsubaki's first kiss.
If you enjoy your shoujo manga with some smut but also the same basic elements of Koukou Debut, then Kyou, Koi wo Hajimemasu won't disappoint you! Haruna and Tsubaki are quite different from each other, but despite that, both girls begin as plain, naive, and ignorant when it comes to love. She meets Kyouta, a smart, attractive young man that takes an interest in her. At the beginning of the story, Kyouta unintentionally helps Tsubaki realize her true beauty. This makes Tsubaki fall in love with Kyouta, who is seemingly not interested in love, reminding us of Yoh's unwillingness to fall in love with Haruna.
After finally being honest with each other, the story of Kyou, Koi wo Hajimemasu focuses on the difficulties of having a relationship. Their love story is also rocky and rough, but Kouta and Tsubaki come out stronger than ever with each problem they face in their relationship. While Kyou, Koi wo Hajimemasu has some frustrating moments like Koukou Debut, it's a fun read filled with heartwarming moments that can melt anyone's heart!
---
Any Manga Like Koukou Debut (High School Debut) ?
4. Koko ni Iru yo! (I am here!)

Authors: Tooyama, Ema
Genres: Romance, School Life, Shoujo, Slice of Life
Volumes: 21
Published: Jun. 2007 - Dec. 2008
Sumino Hikage perceives herself as someone invisible and plain. She is too shy and too insecure to interact with people. The only ones who somewhat understand Hikage are her regular visitors, Black Rabbit and MegaPIG, on her internet blog. But when the most popular guy, Mutou Hinata, approaches Hikage, she ultimately decides to transform herself so she can be noticed by the guy who is constantly beside her.
Both protagonists of Koukou Debut and Koko ni Iru yo! are nothing like each other. However, both girls consider themselves as plain and plan to change themselves. While Haruna has Yoh to guide her in her endeavor, Hikage has Hinata and Teru to support her. The two male protagonists also fall in love with Hikage while trying to help her. The main focus of Hikage is different than Haruna's. Hikage aims to be more self-confident and find friends of her own rather than finding a boyfriend. Hikage may not have the lively and fiery nature of Koukou Debut's heroine, still, she retains the sweet and kind nature of Haruna.
Koko ni Iru yo! is more mellow and dramatic than Koukou Debut. It doesn't immediately focus on the romance aspect of the story, rather, it highlights Hikage's journey to change for the better and accept the inner beauty that others see in her. Koko ni Iru yo! is indeed touching, and like us, we're are sure that you will enjoy Hikage's wonderful transformation!
---
5. Dengeki Daisy

Authors: Motomi, Kyousuke
Genres: Comedy, Drama, Romance, Shoujo
Volumes: 16
Published: May 2007 - Dec. 2013
Kurebayashi Teru is still being taken care off by her precious brother even in death, with the help of the cell phone that he left her with. In her cell phone, Teru can contact "DAISY" whenever she feels lonely or lost. For Teru, DAISY is someone very important to her and treasures every message she receives from the unknown person. Teru thinks that DAISY is kind and supportive of her, unlike her current boss Kurosaki Tasuku, a janitor at their school, who constantly bullies her and leaves all the chores to her. Despite his rude behavior, Teru feels safe and secure... Why is that?
Haruna and Teru are very much alike. They are silly, funny, friendly, and have an overall strong personality. Although Koukou Debut and Dengeki Daisy are different in terms of plot, there are still some aspects that you may find a bit similar. One thing is that our heroines fall in love with a person that they should not fall in love with. The men who support them try their best to protect them in their own way while still keeping a distance from our heroines. Not only that, both manga are filled with comedic moments as well as dramatic moments. Simply put, Koukou Debut and Dengeki Daisy show the unconditional love between two lovers who will do their best to overcome each obstacle!
---
6. "Kare" First Love

Authors: Miyasaka, Kaho
Genres: Drama, Romance, School Life, Slice of Life
Volumes: 10
Published: Aug. 2002 - 2004
Despite being a beauty herself, Karino Karin is well-known for being plain-looking because of her conservative style. She does not care about men or love until a popular guy in a nearby high school takes an interest in her. Meeting Kiriya Aoi allows her to know a whole new side of her while also experiencing love for the first time!
Karin is another protagonist who is helped by another good-looking male by showing their true beauty. However, the most prominent similarity of Koukou Debut and "Kare" First Love is the hardships of being in a relationship. Like what Yoh and Haruna went through, Kiriya and Karin will experience the ups and downs of love. There will be misunderstandings, jealousy, or even a third party that wants to break the couple apart. If you like the drama of Koukou Debut, then "Kare" First Love is something that you will really appreciate!
---
Final Thoughts
And that's it for our recommendations! We're sure that you will find something that will suit your taste. Each manga is about a girl who thought that she would not find love but still finds it in a person whom she did not expect to fall in love with. So what other similar manga can you recommend to us and to other readers? If you did read some of the manga on this list, what do you think of it? Write it all down in the comment section below. Till next time! Now signing off~