INTRODUCTION
In 2010, Mikiyo Tsuda and Eiki Eiki joined forces to create this rare gem in the boys love universe. Love Stage!! is a popular BL manga revolving around a boy – Izumi Sena – who was born in a family of celebrities: both his parents are famous actors, and his brother is the vocalist of a super popular band. What about Izumi, in this situation? Well... Izumi is just an otaku aiming to become a manga artist, in spite of being a klutz at drawing. Antisocial, afraid of crowds, hateful towards the showbiz his family is so devoted to, Izumi is one dull guy. One day, though, because of some circumstances, he is forced to appear on a TV commercial and pretend to be a girl, paired up with the popular rising star – Ryouma Ichijou – who costarred with him years prior. For Ryouma it feels like fate: it's love at first sight. There's just one problem... Ryouma has yet to realize that Izumi is actually a boy. This is how this amazing story begins, and the continuation is an escalation of hilarious events that glue the readers to the pages craving for more.
Mixing Eiki Eiki's sense of humor with Mikiyo Tsuda's skills proved to be the right choice. In fact, Love Stage!! gained so much popularity that it was adapted into an anime in 2014. As the manga ended with volume 7, and we are sure you are craving for more, this is the list for you. Stick with us to know six other manga that share with Love Stage!! one thing or another!
Similar Manga to Love Stage!!
1. Dakaretai Otoko 1-i ni Odosarete Imasu.

Mangaka: Sakurabi, Hashigo
Genres: Comedy, Drama, Romance, Smut, Yaoi
Volumes: 4
Published: July 2014 – ongoing
Let's start this list with a story revolving around two popular actors: Takato and Azumaya. While Takato is a popular actor who managed to remain the uncontested "Most Huggable No.1" for over 5 years, now his position has been stolen by the newbie, Azumaya. Takato can't stand Azumaya's sparkling personality, and he is right, because Azumaya catches Takato while he is drunk and starts to blackmail him. What does Azumaya want in exchange for his silence? Well, he wants to hold Takato, of course!
Both Dakaretai Otoko and Love Stage!! revolve around actors and the showbiz. These two BL stories are similar, as in both we find two protagonists – Izumi and Takato – who don't really want to deal with their counterparts, but are somehow forced to, because of the circumstances. Both these two couples evolution remain uncertain: are they really in love? Is it just physical attraction? Everything is spiced with absurd situations and gags that make reading these two manga an enjoyable experience. It's not a stretch to say that these two manga are siblings in a way, so if you miss Love Stage!! you could put up with Dakaretai Otoko and enjoy the same good vibes.
---
2. Diamond Beat

Mangaka: Shibano, Yuka
Genres: Romance, School life, Shoujo
Volumes: 1
Published: October 2006 – December 2009
Let's go on with another kid born in a family of celebrities. Satsuki is your typical high school girl. Her bad luck was to be born in a family of classical musicians. Satsuki can't stand music, nor she can stand being surrounded by geniuses when she's a drop out. One day though, her life is turned upside down and a new path opens up before her eyes: a beautiful boy with a guitar appears, stating that she is a genius as well. How will Satsuki react, when she thought she hated music to death?
You can consider Diamond Beat almost the "shoujo version" of Love Stage!!. These two manga share a main protagonist who cannot stand their surroundings. Both Izumi and Satsuki hate the fact that people expect something from them, since they were born in those families, but they just want to live their lives and pursue their dreams. What's more, in both Diamond Beat and Love Stage!! a cute love story develops and changes our protagonists lives. If you feel like enjoying a shoujo manga very similar to Love Stage!!, you should give Diamond Beat a try!
---
3. Honto Yajuu (Like the Beast)

Mangaka: Yamamoto, Kotetsuko
Genres: Comedy, Drama, Romance, Slice of life, Yaoi
Volumes: 10
Published: July 2008 – ongoing
Honto Yajuu – Like the Beast is an amazing story revolving around a cop and a yakuza. Tomoharu Ueda is a cop who, one night, saves Aki Gotouda – a yakuza – from an underwear thief. Aki immediately falls in love with Tomoharu, who is a bit hesitant in the beginning. Thanks to Tomoharu's disposition towards every kind of different people, and Aki's perseverance, they'll end up together in no time. But what is to be expected when a cop and a yakuza are madly in love with each other?!
Okay, we already know what you're thinking: Honto Yajuu and Love Stage!! aren't similar at all. We agree, these two manga differ on the theme and the plot entirely, and yet we can prove you how they are similar, in a way. Firstly, we can assure that you'll find the exact same good vibes you found in Love Stage!!, while reading Honto Yajuu. Then, exactly how Izumi and Ryouma face together the most unthinkable events, leading to amusing consequences, the same thing happens to Aki and Tomoharu. We can say too that these two couples are very similar in their way of interacting, and their cuteness is really something else! Trust us, you'll enjoy Honto Yajuu, if you enjoyed Love Stage!!
---
Any Manga Like Love Stage!! -?
4. Star★Right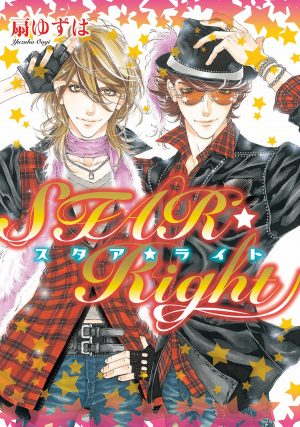 Mangaka: Mangaka: Ougi, Yuzuha
Genres: Comedy, Drama, Romance, Yaoi
Volumes: 3
Published: 2009 – 2016
Let's go on with another story about celebrities. This time, though, both our protagonists are idols in the most famous pop group around Japan: Maxime. Kyouhei and Mari are friends and colleagues, but their relationship gradually turns into something else. While from Mari's point of view, they're merely sex friends, from Kyouhei's one it could be something deeper than that. The question is: will these two clumsy guys muster up courage to face their feelings?
With Star Right, we are once again thrown in the showbiz, exactly like in Love Stage!!. These two are both BL manga revolving around two clumsy protagonists. Mari and Izumi don't accept their counterparts advances right away. Mari is sure that's just a sexual relationship, while Izumi can't seem to overcome the fact that Ryouma is a boy, as well. What's more, Star Right and Love Stage!! share the same amount of idiotic gags that can make the readers crack up, and a lot of spicy boy-on-boy action, plus tender declarations of love. If you're looking for the same lighthearted atmosphere you enjoyed in Love Stage!!, choose Star Right!
---
5. Kuroneko Kareshi Series (Black Cat Boyfriend Series)

Mangaka: Sakyou, Aya
Genres: Drama, Slice of lice, Romance, Supernatural, Smut, Yaoi
Volumes: 5
Published: February 2009 – ongoing
Here we are with a story wielding a little bit of supernatural. Kuroneko Kareshi revolves around Shingo, who is a stray domestic werecat, and Keiichi Kagami, who is a popular actor and a leopard werecat. Both their lives drastically change the moment they meet: Keiichi falls in love with Shingo, who, since he has been abandoned repeatedly through years, can't bring himself to accept Keiichi's love. How will their relationship develop?
Kuroneko Kareshi Series and Love Stage!! are both super popular BL manga. They share the main theme of an actor falling in love with someone who is outside of the showbiz – even though Izumi was outside by his own choice. We find a similar trait in Ryouma and Keiichi: they're both the most popular actors in Japan, and find themselves facing a new situation. They have to deal with a counterpart that keeps refusing them, while they are easily loved by all the people they don't really care about. Even though Kuroneko Kareshi Series is a bit more serious at times, we are sure you'll enjoy it all the same, as spicy moments, comedy parts and a lot of love won't be lacking!
---
6. Yoru to Asa no Uta (The Song of Yoru and Asa)

Mangaka: Harada
Genres: Adult, Drama, Tragedy, Yaoi
Volumes: 1
Published: August 2014 – August 2015
Let's step under the spotlight one last time, and talk about Yoru to Asa no Uta. This is a story revolving around a rock band – a not so famous rock band. Asaichi is the vocalist, and his voice is average: he just wants to have sex with different girls and enjoy the booze. The new bassist of the band – Yoru – on the contrary, is talented, good at singing, tall and beautiful. He is the most popular among the ladies! But for some reasons, Yoru is in love with Asaichi and, oh, did we mention it? Asaichi is homophobic!
Yoru to Asa no Uta and Love Stage!! are two manga depicting the relationship of two guys in the showbiz, with all the hardships that follow. Of course, being Yoru to Asa no Uta a work by Harada, you can expect it to be way darker and obscure than Love Stage!!, but even so, we find the same theme. Just like Izumi is unable to accept the fact that he may love another man, Asaichi does the same. At the same time, just like Ryouma accepts right away his being gay, Yoru does the same. So if you enjoyed Love Stage!! for these themes, but you are looking for a more serious manga, we recommend you to read Yoru to Asa no Uta, keeping in mind that in spite the darkness, a bright light awaits at the end of the tunnel.
---
Final Thoughts
With Yoru and Asaichi, our list comes to an end. Since Love Stage!! is one of a kind, it proved to be a hard task to find other similar manga, but we did our best. We chose those with the same amount of gags and humor, or the same theme, and the same good vibes we perceived while reading Love Stage!!. We hope you enjoyed the ride and that this list will help you tame your hunger. Of course, we wanted to mention other good manga like Haru wo Daite ita, or Gravitation, too, but in the end we decided to mention less famous but equally good ones. As always, please, let us know what you think in the comments below!
---