Manga readers are never surprised when a weird manga story comes across their path. That's why for many despite how strange Midori no Hibi was—seriously a manga about a girl attached to a hand—it didn't make it any less awesome. Filled with heartwarming moments and some truly comedic ones as well, Midori no Hibi was an amazing 8 volume manga. Since Midori no Hibi was so great, we here at Honey's Anime wished to honor it by doing what we do best folks: Create an amazing list of manga just like Midori no Hibi.
Thus, with our team of manga readers, we here at Honey's Anime got to work. We scoured various sites and combined our wide knowledge of strange manga to craft this list. After some touch and go moments—more so a lot of time spent reading manga—we accomplished our goal. That's why we like to present to you all our 6 Manga Like Midori no Hibi list! If you thought Midori no Hibi was the strangest romance tale out there, you might be surprised by our list of manga like Midori no Hibi.
Similar Manga to Midori no Hibi
1. Tuxedo Gin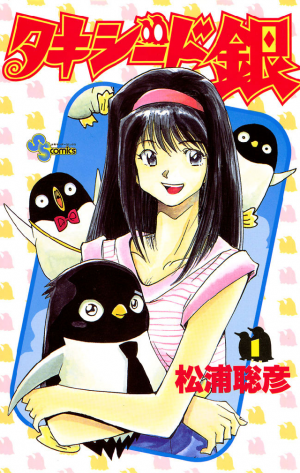 Authors: Matsuura, Tokihiko
Genres: Comedy, Romance, Shounen, Supernatural
Volumes: 15
Published: Mar, 1997- Jan, 2000
Ginji Kusanagi was enjoying a great life. Not only was his dream of becoming a professional boxer starting to become real with a soon debut but Ginji was even able to finally date his love Minako. However, Ginji's dreams come to an abrupt halt when tragedy strikes and kill him. Coming face to face with what appears to be an angel, Ginji is told he can be reincarnated as any animal he wants. Thus, Ginji choses Minako's favorite animal—penguins—and ends up living his life with her while hoping he will get a new shot at regaining his body.
A story about a man becoming a penguin so he can be close to his love. That is what to expect when you read Tuxedo Gin by mangaka Matsuura Tokihiko. All too similar to Midori no Hibi, Tuxedo Gun uses a cute story with even cuter art. Lasting 15 volumes, Tuxedo Gin gives readers a nice tale that feels satisfying once it comes to a close. One story about a girl becoming a hand and the other about a man becoming a penguin, what better way to start off our 6 Manga Like Midori no Hibi list with Tuxedo Gin.
---
2. Yamada-kun to 7-nin no Majo (Yamada and the 7 Witches)

Authors: Yoshikawa, Miki
Genres: Comedy, Mystery, Romance, School, Shounen, Harem, Supernatural
Volumes: 28
Published: Feb, 2012- Feb, 2017
Ryuu Yamada is best known at his school for being a delinquent and overall troublemaker. One day when cutting class, Yamada ends up tripping down a flight of stairs where a girl was also at. Waking up after some time, Yamada is horrified to see that he is no longer in his body but in a female's body! Yamada then learns that this girl is famous Urara Shirashi known for having great grades and also just so happens to be the girl he crashed into on the stairs! This is just the beginning of strange things to befall Yamada and he will soon learn that most of these oddities stem from those within the school.
Body swapping isn't such a strange thing to see in manga like Midori no Hibi or in this case, Yamada-kun to 7-nin no Majo. With plenty of comedy—usually from the various oddities that befall our main cast in Yamada-kun to 7-nin no Majo—romance and a healthy amount of Ecchi, Yamada-kun to 7-nin no Majo is truly a great manga to read if you loved Midori no Hibi. Plus, the fact that Yamada-kun to 7-nin no Majo is 28 volumes long and even has an anime means that you will be busy for quite some time. We do have to wonder, though, what having some of the powers seen in Yamada-kun to 7-nin no Majo would be like. Though, the amount of issues those powers would create probably would be more inconvenient so we'll stick to just seeing them being used in Yamada-kun to 7-nin no Majo to Yamada and his friends.
---
3. Pretty Face

Authors: Kano, Yasuhiro
Genres: Comedy, Ecchi, Romance, School, Shounen, Gender Bender
Volumes: 6
Published: May, 2002- Jun, 2003
Karate aficionado Randou Masashi is about to have a terrible accident befall him during the prime of his life. Hit by a bus, Randou goes into a long coma and is badly disfigured due to the accident. Dr. Manabe—a plastic surgeon with incredible skills—sees a photo on Randou's person and uses it to reconstruct his face. However, Dr. Manabe wasn't aware that this photo wasn't of Randou but of a girl named Rina Kurimi who Randou was in love with. When Randou finally wakes up from his coma, he's about to see the results of Dr. Manabe's great work…
Often, people have always wanted to look more attractive or have better features. However, we're pretty sure that Randou didn't want his face to be changed into that of a beautiful girl he knew in Pretty Face. Though this is the main premise of Pretty Face and it allows mangaka Kano Yasuhiro to create an interesting romance tale filled with ecchi and tons of gender bender themes as the reader goes on. If you love the sometimes awkward—but all too funny—moments that transpire main characters Midori and Seiji then you're going to love Pretty Face. This is why we love manga though, strange tales like Pretty Face just work so well to keep us manga readers entertained.
---
Any Manga Like Midori no Hibi ?
4. Junai Tokkou Taichou! (Love Attack)

Authors: Seino, Shizuru
Genres: Comedy, Romance, School, Shoujo
Volumes: 13
Published: Feb, 2005- Jul, 2009
What do you get when you mix one girl who loves to fight with a delinquent male who also loves to fight? What else? You get manga Junai Tokkou Taichou! Watch as Chiemi Yusa an already in trouble girl get the chance of redemption when she is tasked with stopping Akifumi Hirata. Known as the legendary Deranged Devil, Hirata is indeed a tough looking customer. However, when Yusa and Hirata meet things begin to change for both of them.
One element we love in Midori no Hibi is the tale of a delinquent showing his true colors as the series progresses. That's why in turn we love Junai Tokkou Taichou! which focuses on not one but two delinquents changing as their lives become more and more interwoven. With beautiful shoujo art and some truly impressive characters, Junai Tokkou Taichou! really will keep you hooked from volume 1 all the way to chapter 13. Junai Tokkou Taichou! we knew would make a perfect choice for those that love Midori no Hibi and thus why it's on our 6 Manga Like Midori no Hibi list. Plus, once you read the first 13 volumes you can then go on to the sequels for even more romance and comedy!
---
5. Mahou no Iroha!

Authors: Inoue, Kazurou
Genres: Action, Comedy, Fantasy, Magic, Romance, School, Shounen
Volumes: 3
Published: Sept, 2009- Mar, 2011
For middle schooler Naoki Rikka, life is centered on two things, video games and erotic books. While some might see this life as boring and or odd, Naoki sees it as the perfect life. Though Naoki finds his perfect life changed abruptly one day when a girl appears from nowhere making a claim she's from 20 years in the future! Even more surprising is this girl claims to be Naoki's daughter who wishes to save him from a terrible future using magic!
Sometimes manga just likes throwing its characters into very odd situations. If you want an example besides Midori no Hibi then just look at the manga Mahou no Iroha! by mangaka Inoue Kazurou. The fact that our main character ends up meeting his future daughter and having her use magic to "help" him just leads to hilarious moments. That's why we consider Mahou no Iroha! so similar to Midori no Hibi. At only 3 volumes long, Mahou no Iroha! will end quickly but trust us folks, you'll find yourself re reading it just like Midori no Hibi from time to time.
---
6. 7 Senchi!

Authors: Nanajima, Kana
Genres: Comedy, Romance, Shoujo, Supernatural
Volumes: 3
Published: Jan, 2009- Dec, 2009
Haven't your parents ever said to not eat or drink things you don't know where they came from? Well too bad Nanaki Ichinose apparently wasn't taught this. Looking for food to eat, Nanaki finds some umeboshi made by her grandfather that ends up shrinking her! With her only means of growing back to full size being food when she shrinks, Nanaki finds her life has now become even more of a hassle. One-minute Nanaki was dealing with romancing her best friend and now she's trying to find a means of not shrinking all the time…
Finally let's wrap up our list of 6 Manga Like Midori no Hibi with a not so small romance tale titled 7 Senchi! Crafted by shoujo mangaka Nanajima Kana, 7 Senchi! makes the reader laugh out loud as we see the various drama that befalls our small protagonist Nanaki. Cute art and a ton of laugh out loud situations make 7 Senchi! the perfect story to read if you loved Midori no Hibi. It also teaches you kids out there a very important lesson. Don't eat your families food without their permission!
---
Final Thoughts
Let's be honest for a second folks. Midori no Hibi's story is truly one that would make regular non-manga fans go what and even some manga fans scratch their head once they saw it. However, that doesn't stop Midori no Hibi from being a truly impressive manga that even spawned an anime by Studio Pierrot. So it ultimately goes to show you that as weird as Midori no Hibi sounds, it still was loved by people like us here at Honey's Anime. Now we'll ask you what are some other strange romance manga—that didn't make our list—that you liked? Comment down below and for other strange manga lists and articles keep stuck to us here at Honey's Anime.
---