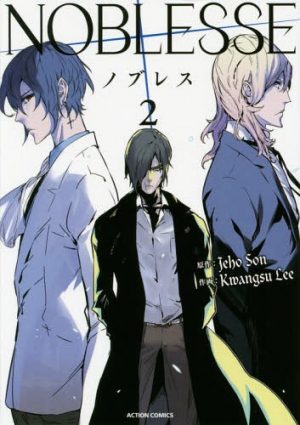 Vampire manhwa aren't too hard to find in the ever-growing world of manhwa. Orange Marmalade for example is an excellent manhwa that fuses romance with the blood sucking beings known as vampires. However, one of our absolute favorite manhwa has to be Noblesse by manhwaga Son, Jae-ho and artist Lee, Gwang-Su. Noblesse takes a more modern look at vampires all while adhering to a character who has lived for nearly 1000 years, 820 to be more specific. Noblesse hits all the notes for being an excellent manhwa and stands as testament to what authors can accomplish with a theme that has been done quite a bit.
Now, maybe you have already read all of the manhwa like Noblesse and are in dire need of manga as an alternative. Well don't worry, lovely ladies and gentlemen of the internet world. Here at Honey's Anime, we live to serve and to help you find manga similar to other manga, though in this case manga similar to the popular Noblesse manhwa. We have crafted a list of several manga that will appeal to you if you love Noblesse and need a similar vampire themed story. Here is our list of 6 Manga Like Noblesse!
Similar Manga to Noblesse
1. Vampire Knight

Mangaka: Hino, Matsuri
Genres: Mystery, Drama, Romance, School, Shoujo, Vampire, Supernatural
Volumes: 19
Published: Nov, 2004- May, 2013
It isn't uncommon for a school to have both a day orientated class schedule and one for those who function at night. However, in Cross Academy, this schedule is done for very specific reasons. Those who attend night school in Cross Academy are a bunch of handsome and attractive individuals who also happen to be vampires. Yuuki Cross—adopted daughter to the chairman of the school—currently works to keep the day and night students working to their best abilities and the classes organized knowing full well the differences between the two. Yet, with those who love humans and those who hate them, can Yuuki keep the peace at Cross Academy or will sparks fly?
School and vampires seem to be commonly used together in vampire anime, manga and manhwa. Vampire Knight is no stranger to this theme either and shares that with Noblesse as both stories adhere to having handsome vampires who blend into school/society as best as they can. Vampire Knight by mangaka Hino Matsuri is an enjoyable shoujo vampire story with an emphasis on being dramatic at times and filled with that shoujo romance we all know and love. Vampire Knight is beautifully drawn with gothic tones and will be sure to hook you from volume one to volume 19. We definitely recommend checking out Vampire Knight if you need a good shoujo vampire story.
---
2. Crimson Cross: Shi ga Futari wo Wakatsu made

Mangaka: Negishi, Kyoko; Maeda, Sakae
Genres: Fantasy, Horror, Shoujo, Supernatural
Volumes: 1
Published: 2006
Karl has a very prestigious legacy to live up to. As a vampire hunter from the Van Helsing family, Karl has recently found himself not fighting vampires but becoming one himself. Targeted by an elite vampire known as Elliot, Karl has retained his humanity. Though as time grows, Karl finds that he is now caught in two dark realities. Which side will Karl choose, the humanity in him or the vampire he has become?
While Noblesse might air on the side of comedic at times, those who have read it know Noblesse has some dark subject matter. Often, Cadias—the main character of Noblesse—tries to live in the world of humanity all while dealing with his vampiric urges. That's what we love about this short 1 volume manga called Crimson Cross: Shi ga Futari wo Wakatsu made. Minus the comedy element, Crimson Cross: Shi ga Futari wo Wakatsu made is quite similar to Noblesse as we watch Karl deal with being both a vampire and someone who knows the beauty and pain of humanity. If you want a quick vampire read, then you'll enjoy Crimson Cross: Shi ga Futari wo Wakatsu made for its solid narrative and awesome art.
---
3. Blood Parade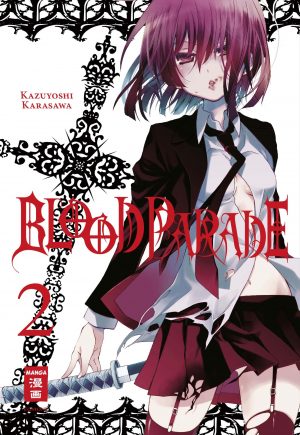 Mangaka: Karasawa, Kazuyoshi
Genres: Action, Shounen, Vampire, Supernatural
Volumes: 2
Published: Aug, 2011- Jul, 2012
The Twelve Apostles sole job is to defeat and annihilate vampires in the world. However, only those who have the strength and fortitude to survive in this tough reality are able to join the Twelve Apostle ranks. Gil has passed two of the three exams in order to join and his last exam leads him to assassinate a vampire target called Aran. Gil must travel alongside a female named Luna in order to locate and defeat Aran. Can Gil accomplish this task and who is Luna and why was she assigned to him specifically?
Now maybe you need some vampire action and don't want romance or too much drama. If that is what you desire, we point you towards mangaka Karasawa Kazuyoshi's creation in the form of Blood Parade. This 2-volume story follows a shounen theme with several fights that are truly pleasing to read. We do wish Blood Parade was a bit longer but for what is offered we thoroughly enjoyed it and will bet you will too. Now go join Gil and Luna in their vampire quest in Blood Parade.
---
Any Manga Like Noblesse ?
4. Dance in the Vampire Bund

Mangaka: Tamaki, Nozomu
Genres: Action, Ecchi, Romance, Vampire, Supernatural, Seinen, Thriller
Volumes: 14
Published: Dec, 2005- Sept, 2012
Japan has just been given a new lease on life by having their entire debt wiped out and paid for. Who did this for Japan and why? The answers to those questions lie in the form of Mina Tepes who is considered the supreme ruler of vampires and her goal is simple; Mina wishes to create an area within Japan that will allow her fellow vampires a free environment safe from being hunted. However, even after Mina's kind gesture, not everyone is okay with her announcement and already plans are being set into motion to kill her before her goal comes to fruition. Luckily, Mina's battle won't be a solo one as an old lover/friend is about to regain his memories and come rushing to Mina's aid.
Realistically, you have to wonder how vampires and humans could co-exist. Think about it for a moment, vampires need blood and humans are literally walking beverage stands for them! That's why Mina's struggle to find unity with humans in Dance in the Vampire Bund isn't going to be an easy one. However, in terms of enjoying Dance in the Vampire Bund by mangaka Tamaki Nozomu, that will be an easy thing to accomplish. We absolutely adore the amazing art, beautiful story, action packed moments and thriller themes found in Dance in the Vampire Bund. If you adore Noblesse then we fully recommend reading Dance in the Vampire Bund. Now, let us just hope the series gets a true conclusion in anime form one day.
---
5. Blood Alone

Mangaka: Takano, Masayuki
Genres: Mystery, Drama, Romance, Vampire, Supernatural, Seinen
Volumes: 12
Published: Apr, 2004- Present
As a vampire, Misaki is quite powerful with a slew of strengths and supernatural abilities. Misaki isn't one to rely on these powers and most would never dream of her being a blood sucking being. That is because Misaki tries to adhere to a human life and just wants to be close with Kuroe who she loves and admires. Kuroe isn't a normal human though as he was once a vampire hunter who now writes about supernatural investigations. With a constant threat to his life because of the threats he faces in this line of work, Misaki may have to step in and create a vampire in the form of Kuroe…
Let us return to romance between humans and vampires—but this time with a tinge of mystery—in Blood Alone by mangaka Takano Masayuki. We have always loved the art and story of Blood Alone and have followed it as it's dealt with many issues in the form of being discontinued several times. Luckily, Blood Alone continues to come back to life and allows us to keep reading its wonderful mystery and romance tale. Will Blood Alone ever reach an ending? We aren't too sure here at Honey's Anime but that same question could be applied to Noblesse which is still ongoing as well.
---
6. Vampire Juujikai (The Record of a Fallen Vampire)

Mangaka: Shirodaira, Kyou- Kimura, Yuri
Genres: Magic, Shounen, Vampire, Supernatural
Volumes: 9
Published: Aug, 2003- Feb, 2007
Thousands of years ago, humanity faced the powerful vampire queen and found themselves in a losing battle. With her unreal powers, no human was able to rise up and defeat this wicked queen. However, humanity had a trump card in the form of sealing magic that would at least buy them time to rise up one day and gain the power necessary to beat the vampire queen. The vampire king has now begun his search for his love and the seal to save to her disregarding the dhampirs—half human and half vampire beings—in his kingdom. With an unlikely team up, both the humans and dhampirs joins forces to prevent the vampire king from reaching his objective and having the world possibly fall into ruin.
Vampire Juujikai concludes our list of 6 Manga Like Noblesse but that doesn't mean this manga is any less deserving of a read. With magic, shounen themes and vampires—of course—Vampire Juujikai is an excellent manga to read if you loved Noblesse. We here at Honey's Anime HQ are very surprised no one really talks Vampire Juujikai and we hope this article changes that. With a classic art style and a truly gripping shounen adventure, Vampire Juujikai is 9 volumes of non-stop enjoyment just waiting for you to try out. We can't recommend Vampire Juujikai any harder and hope you'll enjoy this wonderful vampire manga.
---
Final Thoughts
Vampires are meant to be creatures that can live for thousands of years and only perish upon killing them in specific ways. Ironically, vampire themed manga and manhwa will also probably last for quite some time unless manhwaga and mangaka run out of ideas. We highly doubt that though as one quick look at the list above of the 6 Manga Like Noblesse will prove mangaka have a slew of ideas to keep the vampire stories alive well into the future. Have you read any of the manga or has one now caught your eye to check out? Comment down below to let us know and for all your manga recommendation needs, be sure to keep stuck to our hive here at Honey's Anime.