Orange is a shoujo manga created by the amazing Ichigo Takano. At a first glance, it may look like a typical shoujo manga full of fluffy moments and tender love stories; yet, Ichigo Takano managed to dismantle that appearance to create a shoujo manga that can squeeze everyone's hearts.
The story revolves around Naho Takamiya, a high school girl receiving a letter from herself 10 years in the future. The letter is full of what, through the years, became regrets for Naho; it is a warning screaming "change what I did". Of course, at first, our Naho is sure that is just a prank... But when what is written on the letter comes true and the new transfer student – Kakeru Naruse – appears before her eyes, Naho starts to change her mind about the validity of the letter.
All the regrets written in the letter seem to be connected to Kakeru, who – as Naho 10 years in the future says – would no longer be with them in the future. Naho has to hurry, but she is alone. When everything seems to be lost, though, her friends pop up one after another, and lend her a hand. Together, they must change the future and live with no regrets!
We can't have enough of such amazingly touching stories; that's why we came up with this list. Be prepared to drown in a sea of feels with these six manga sharing with Orange all what we loved about it!
Similar Manga to Orange
1. Ao Haru Ride (Blue Spring Ride)

Mangaka: Sakisaka, Io
Genre: Comedy, Drama, Romance, School life, Shoujo, Slice of life
Volumes: 13
Published: January 2011 – February 2015
Ostracized by her female classmates during junior high because she was cute, Futaba Yoshioka tried to reset her image. Now in high school, she is like a tomboy: she eats nonstop, doesn't use make-up, and stomps instead of walking. When she meets Tanaka-kun, the boy she liked during junior high, but to whom she couldn't convey her feelings, he tells her that he liked her, too, back then. Feels like destiny, right? A fated meeting after three years... Except for the fact that right after, Tanaka-kun adds that things can't be the same again. How will Futaba, who still harbors feelings toward Tanaka-kun, react?
Have you fastened your seat belts? Because, exactly like with Orange, these Ao Haru Ride classical shoujo premises will be dismantled chapter after chapter, and you all will embark on a feels trip. We find two girls, Futaba and Naho, who have to deal with two boys who aren't open about their feelings. And these two boys, Kakeru and Tanaka, who are suffering because of something that happened in their past. It's true, Orange wields a supernatural trait that Ao Haru Ride doesn't, but the main theme in both stories is regret. If we add a similar art style, and other two important themes like friendship and bonds, there's just no doubt you should read Ao Haru Ride!
---
2. Watashitachi no Shiawase na Jikan (Our Happy Time)

Mangaka: Yumeka, Sumomo
Genre: Mature, Psychological, Romance, Seinen, Slice of life, Tragedy
Volumes: 1
Published: March 2008 – August 2008
Get ready for another feels trip! Watashitachi no Shiawase na Jikan revolves around Juri Mutou, daughter of a famous pianist who had to give her career up after giving birth to her. After a traumatic experience, Juri attempted suicide three times. Her life changes when – because of some circumstances – she meets Yuu. Yuu is a death row inmate charged with murdering three people, and exactly like Juri, he attempted suicide several times. Their meeting is fated: Juri and Yuu's lives will change eternally.
Watashitachi no Shiawase na Jikan and Orange share a lot. As we said up above, they both will touch you deeply and shake your hearts. Both their story lines involve death and tragedy, with romance on the background. The main theme of the regret is strong in both; there are characters who will find a reason to keep living, surrounded by people who love them. Both these manga depict the path that lead to salvation; on one side there's the struggle to fight the inner demons, while on the other side there's love, bonds, and understanding. There's no way you wouldn't like Watashitachi no Shiawase na Jikan, if you loved Orange!
---
3. Again!!

Mangaka: Kubo, Mitsurou
Genre: Comedy, Drama, Romance, School life, Shounen, Supernatural
Volumes: 12
Published: April 2011 – April 2014
Imamura Kinichiro is about to graduate from high school. Because of his attitude and his long, blonde hair, he didn't manage to make friends, nor did he join any club. Thinking back, though, he starts to remember a girl from the Japanese cheering squad that he saw at the entrance ceremony three years before. Kinichiro decides to search for the girl in the cheering club room, but when he startles another student and they both fall down the stairs... Kinichiro wakes up and it's the morning of his first day of high school. Can he actually fix things with a brand-new restart?
Even though Orange is a shoujo manga, while Again!! is a shounen one, these two stories are similar. Both have a supernatural element, as they deal with manipulating the past in order to improve the future. As they both are stories about changing someone's past, it's obvious that they are stories about regret. Kinichiro is a teenager full of regret, as he feels like he wasted his high school years doing nothing; the same goes for Naho, as she turned out to be a woman full of regret, and needs the younger Naho to change that part. Again!! and Orange share a romance element, as well. If time-travel stories are your cup of tea, and you enjoy a non-conventional shounen... Again!! is what you're looking for!
---
Any Manga Like Orange ?
4. Kyou no Kira-kun (Today's Kira-kun)

Mangaka: Mikimoto, Rin
Genre: Drama, Romance, Shoujo, School life
Volumes: 9
Published: September 2011 – August 2014
Nino and Kira are neighbors, but they never spoke to each other. Nino is a very introverted girl, and basically an outcast, whose only friend is a bird. Kira, on the other side, is a very popular boy... but he hides a secret. When Nino discovers Kira's secret, though, both of their lives start to change. Nino and Kira, who were merely neighbors, become friends, and their friendship will leave room to something even more special to develop...
Both Orange and Kyou no Kira-kun are shoujo manga especially good at pulling on the readers heartstrings. There's a main event, in both, that will lead to many others: either Kakeru and Kira won't be there in the future. That's why the people surrounding them will have to do all what's possible not to have regrets in the future. In both Orange and Kyou no Kira-kun, we can observe the relevance that both authors give to bonds; our protagonists are surrounded by love, friendship and mutual understanding. Well, we can say that if you want to embark on the umpteenth feels trip, Kyou no Kira-kun is what you're looking for!
---
5. Hajimari no Niina (Beginning Niina)

Mangaka: Minamori, Koyomi
Genre: Drama, Romance, Shoujo, Slice of life, Supernatural
Volumes: 4
Published: September 2010 – October 2012
Hajimari no Niina is a shoujo manga revolving around a 10-year-old girl, named Niina. She is a very peculiar girl, as she has memories of her past life. In her memories, Niina was a girl named Chitose and she had a boyfriend. There was a promise made with her boyfriend that has yet to be fulfilled... And that's what Niina wants to try to accomplish. But can she actually fulfill a promise, when she is no longer Chitose?
Orange and Hajimari no Niina are both shoujo manga sharing supernatural elements, such as reincarnation and time-travel. In both these stories there are events from the past that deeply influence the present. Another similarity in that both these manga revolve around the important theme of the loss of a loved one. Just like Orange, Hajimari no Niina will touch you deeply, and shake them strongly. Niina and Naho share one destiny: they have to fix the past. And you have to cheer for them!
---
6. Koe no Katachi (A Silent Voice)

Mangaka: Ooima, Yoshitoki
Genre: Comedy, Drama, Romance, School life, Shounen
Volumes: 7
Published: August 2013 – November 2014
Shouya Ishida is a bully who never knows when to stop teasing. When he realizes that his new classmate is a deaf girl – Shouko Nishimiya – he knows that he has found the new target. Shouya picks on Shouko, to the extent that she suddenly leaves the school. When because of this, Shouya is harassed and bullied by his classmates. He finally understands how thoughtless his actions were. Years after, when Shouya and Shouko meets again in their third year of high school, many things have changed: Shouya's path toward redemption starts right there.
Orange and Koe no Katachi may not look similar, but they are in their themes. They both deal with loss, suicide and depression. But please, fear not, there's a light at the end of the tunnel! We find these two male characters with personal problems, struggling with all their might to go on and, possibly, change. Then, they both understand how sometimes it's okay to rely on others, and so they open up and understand the importance of bonds. Basically, both Orange and Koe no Katachi give you the same vibes: an overwhelming range of feels. So, please, give it a chance. It won't fail you!
---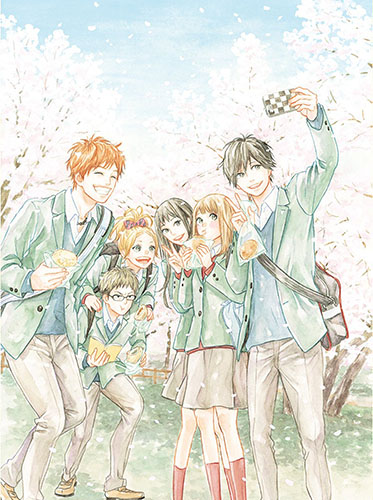 Final Thoughts
Koe no Katachi puts an end to our list. We really hope you enjoyed embarking on this feels trip with us. Orange is an amazing manga that literally makes you reflect on the meaning of life itself; it is a story full of love, meant in a broad sense. That's why, for this list, we decided to pick those manga that can give you the same atmosphere and feelings you had while reading Orange. As always, if you know other manga that could have fit in here, don't hesitate to let us know in the comments below!
---