También puedes leer este artículo en:Español
Poor Yaya hasn't had an easy time now that she's a teenager. She loves singing, is a big J-rock fan, and also likes cosplay and gothic Lolita fashion. However, she is really shy and has difficulties socializing with people. Perhaps due to her terminal shyness, she suddenly develops a second personality: Nana, who is her exact opposite. Nana is tough, very sarcastic, and can't stand bullies or hypocrites. Yaya has no idea Nana exists, but Nana comes out whenever Yaya needs help, bumps her head, or looks into a mirror.
Othello is a very fun manga that at the same time manages to touch some serious issues like bullying, peer pressure, social anxiety and the need to find one's balance. While not incredibly long, as it only lasts 7 volumes, it gives us perfect time to get attached to Yaya, Nana and everyone around them. And of course, the subject of a split personality when one is completely unaware of the other makes for very interesting plot twists. But once Othello is over, what other manga can we read that has a similar situation? Well, here we have six suggestions that you might like.
Similar Manga to Othello
1. W-Pinch!!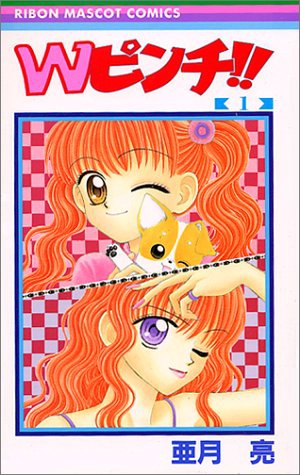 Authors: Azuki, Ryou
Genres: Comedy, Romance, Shoujo
Volumes: 4
Published: 2000
Kawai Arisa is a very cute but shy 14-year-old. She tries her best to stay happy and friendly despite the fact that she has few chances to make friends, as her parents move a lot due to work, and thus, she changes schools very often. Not only that, she ends up being the target of a lot of bullies because she's always the new girl and she rarely stands up for herself. But she has one ray of hope at her school, that the one person who is nice to her there is the "Prince" of the classroom, Inogami Yuuki. That makes it really hard for her when a new transfer student named Yashiro Akira accuses her in front of everyone of having bullying him back when she lived in his hometown, even if she has no memories of the event –or anything that happened before the past five years due to a head injury she suffered.
W-Pinch!! Tackles the subject of the double personality from a very different angle than Othello. Where in the latter we see the actual moment when Nana comes to be, in W-Pinch!! The origins of ARISA, the bully, are hidden in Arisa's lost memories. At one point, it seems that it's more about an amnesia problem, where Arisa's personality change is explained since she had a sort of reboot in her brain. And of course, it has a very cute romantic subplot, in which Arisa has to figure out who she really likes.
---
2. Pika Ichi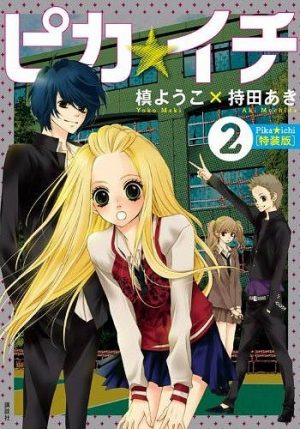 Authors: Maki, Youko (Story) Mochida, Aki (Art)
Genres: Drama, Romance, School, Shoujo
Volumes: 7
Published: 20010 - 2013
Hanao Suzuki and Tarou Suzuki have more in common than they know despite not being related to each other. Both have lived completely boring lives, and so, tend to be ignored by everyone around them. That makes both painfully shy and unable to make friends, mostly because it's hard to make friends with people who don't remember your name even if you're seated behind them or next to them for the whole year. They also entered the same High School because they were incredibly inspired by its rules: Be selfless, treasure your friends, and be fair and square. Oh, and finally, they both love yakuza movies. Which is why when they both witness the horrible bullying that one of their classmates suffer, they independently decide to change their looks and use their beloved movies as inspiration to bring justice to their school. And then, they meet.
Pika Ichi is a really funny manga that still manages to tackle the serious subject of bullying. Unlike other manga in this list, there are no real double personalities, as Hanao and Tarou are still the same people all the time, only changing their looks to become more confident in themselves. This is even noticed by the bullies, who try to make fun of their changes, but neither Tarou nor Hanao let their words hurt them anymore. It's very heartwarming to see them go from being really disappointed that their school is not as they dreamed, to deciding that they don't care and will do their best to make the academy live up to the promises it made.
---
3. Change 123

Authors: Akaguchi, Iku (Story)
Genres: Action, Comedy, Ecchi, Martial Arts, School, Shounen
Volumes: 12
Published: 2005 - 2010
Motoko Gettou has a small problem. After the death of her mother, she was adopted by three men, each of them a master on a specific martial art. So they all wanted her to be the best in their own school, and trained her to the point that the pressure made her suffer a split in her personality, creating three very different ones: Hibiki, Fujiko and Mikiri, each following one of the combat schools. They also protect Motoko, who tries to keep them secret so that her parents don't worry too much about her. This works fine until one day, Kosukegawa Teruharu happens to see how Hibiki kicks a pervert who was harassing Motoko, and when Motoko realizes what's going on, she begs him not to reveal her secret.
Change 123 is another interesting take in the split personality trope, as in this case, even if Kosukegawa falls in love with all of Motoko's personalities, he doesn't try to stay with one more often than the others and respects that Motoko is the original one (As shown when he rejects Hibiki's advances and desires to be his first kiss as he wants to have that moment with Motoko). It also makes the whole story more about the problems that the split personality causes for Motoko rather than the problems that it solves. The main plot is about trying to merge all the characters, but if you like some wacky romantic situations, you will also find them here.
---
Any Manga Like Othello ?
4. Gachagacha

Authors: Tamakoshi, Hiroyuki
Genres: Comedy, Ecchi, Romance, Shounen, Gender Bender
Volumes: 16
Published: 2002 - 2007
Gachagacha is a very curious manga, as it has not one, but two different storylines and both have something in common with Othello. The first storyline deals with poor suffering Kouhei Nanjou who has a big crush on his classmate Kurara Hanazono. The problem is that Kurara suffers from multiple personalities, and all of them are way too different and can get Kurara in trouble. So Kouhei is the one who has to do some damage control, and on the way, tries to make his feelings know. The second storyline follows Akira , a young high-school senior who has a crush on Yurika, his classmate, but can't get near her without doing or saying something stupid. When he plays the Gachagacha machine that caused Kurara's multiple personalities, the machine malfunctions and now, every time that Akira sneezes, he turns into a girl. Soon, he decides to use this advantage to become Yurika's friend.
One could think that only the first story of Gachagacha seems similar to Othello at first glance, but both stories deal with the idea of needing some change in order to be able to talk to someone you like. Kurara's other personalities are the Gachagacha game's different character AIs, and each has something that Kurara herself feels she lacks: some are more outgoing, others more daring, others more assertive. In Akira's case, his body turns into an avatar from the game, and with this mask on, he feels confident enough to talk to his crush. Sure, everyone needs to learn to be themselves but in the meantime, we have a lot of fun reading about their mistakes.
---
5. Akuma de Junai

Authors: Ikezawa, Satomi
Genres: Shoujo
Volumes: 2
Published: 1990
Aki Yoshimura is a Japanese girl with a terrible problem: Not only is she very shy, she was also bullied when she was younger because her parents moved to England when she was a little girl, and so, when they came back to Japan, everyone called her a foreigner. One day, after having the chance to talk to Takari, a very popular guy from her school, the bullying intensifies and even her friends join in. But when she realizes this, she blacks out unable to cope. What she doesn't know is that right then, a new personality emerges. Akiko, who is far more confident than Aki and who is decided to make sure no one bullies her ever again.
Akuma de Junai is probably the manga that has more in common with Othello in this list. After all, both are drawn in a very classic shoujo style, and both deal with a girl who develops a second personality due to the abuse and betrayal of friends and loved ones. Not only that, both also have the "aggressive" personality being aware of what is going on, while the "normal" one is left in the dark. And yet, both end up, in very different ways, having different solutions to the situation and the romantic entanglements that are created on the way.
---
6. W-Change!!

Authors: Matsuba, Hiro
Genres: Action, Romance, School, Shounen
Volumes: 6
Published: 2006
Maki Kisagari has always dreamed about becoming the perfect housewife. However, there are two big obstacles in the way of fulfilling her dream: First, that she's the next in line to be the boss of a very ancient Yakuza family –which means she can't be just worried about her future husband's needs- and second, she has a double personality that loves violence and destruction that comes out to play whenever Maki is unconscious. To add more problems, her grandfather falls ill, and with her father absent, that means that she is the new temporary head of the family, right when there's a new clan fight coming due to a sudden influx of drugs in the neighborhood. With so much violence in her life, Maki's dream of normality seems doomed but she's determined to make it come true.
Of all the manga on the list, W-Change is the only one that has a plot that covers more than the school's conflicts. At some points, one may believe that the double personality plot is abandoned as the manga is more interested in the Clan's infighting and how the other Clans try to infiltrate the Kisaragis by taking advantage of Maki's shyer side. And just like Othello, it also has a romantic side that will also capture readers, as they have to choose between seeing Maki being happy, or her darker side keeping the Clans under control.
---
Final Thoughts
At some point, most people wish they could have a clean start, to be a bit different, more assertive, less serious, more outgoing and to be able to leave every piece of baggage behind. Perhaps this is why we like the stories with double personalities, because we get to see someone who gets that second chance, to have certain parts of their being suppressed, and others highlighted. And that is the reason why stories with people with secret identities and split personalities become popular. And Othello, and the other manga on this list are a perfect example of how they can really work and become great stories.
Because of this, we'd love to hear your opinions on the manga on the list, and if you have other recommendations you loved and would like to share with us. Please, let us know in the comments below!