También puedes leer este artículo en:Español
Kaoru Mori is a mangaka who does not let convention interfere with her creative endeavours. She has few but well researched and crafted works, full of detail and historical accuracy. When we thought she was just a Victorian maiden expert, Kaori Mori surprised us with Otoyomegatari, the story of Amir Halgal, a member of a nomad tribe in Central Asia who enters the Eihon family as the bride of their youngest male heir. Through the daily lives of the Eihons and those who surround them, Kaoru Mori reflects about a be gone era without judging them with a modernized eye, just letting the characters be themselves. Although we have had some successful otaku stories set in similar places like Arslan Senki or Shoukoku no Altair, what characterizes Otoyomegatari is its focus on women and citizens. Therefore, in this article we will review a couple of historical and fantasy manga with slice of life flavour that also can have place for drama.
Similar Manga to Otoyomegatari / Similar Manga to A Bride's Story
1. Fushigi Yuugi: Byakko Ibun (Fushigi Yuugi: Curious Tales about Byakko)

Authors: Yuu Watase
Genres: Drama, Fantasy, Historical, Shoujo, Supernatural
Volumes: 1
Published: Feb 28, 2015
Yuu Watase is well known in the shoujo fantasy section of the otaku world. Probably her most well-known work is Fushigi Yuugi, the first manga about her stories in the Universe of the Four Gods. After so many years, we are getting to the second installment in the series, the chapter about Byakko, their Priestess and the Seven Warriors that will protect her. Byakko Ibun is a prequel that tells us the story of a tiger hunter and a little girl called Reipin.
We watch the lives of normal citizens of Eastern countries in Otoyomegatari and Fushigi Yuugi: Byakko Ibun, which are far from fancy. The protagonists of the stories (Amir and Reipin) are outsiders in their own communities. Both plots start as slice of life but have a dramatic twist that no one was expecting. Also, the difference of age between the members of the couples is big in the two manga. The main difference is that, despite that both protagonists are pretty self reliable, Amir is a full grown up woman who eventually gets accepted in her community while Reipin is a mistreated child, which gives more sadness to the start of her story.
---
2. Yume no Shizuku Kin no Torikago (The Golden Birdcage)

Authors: Chie Shinohara
Genres: Drama, Historical, Romance
Volumes: 10
Published: May 21, 2010 to Present
Chie Shinohara is another veteran shoujo mangaka who has also set several of her stories in Eastern countries. So far, her most famous work has been Red River, although most of her stories have not been made into anime. In Yume no Shizuku Kin no Torikago, she retells the story of Alexandra, a peasant girl from the Ukraine who is abducted and taken to Istanbul, Turkey. She is raised and educated to become Sultan Suleiman's concubine, but as much as she wishes to become Empress to be free, Suleiman already has a wife and a son. Therefore, the manga chronicles Alexandra's rise from slave to empress.
Otoyomegatari and Yume no Shizuku Kin no Torikago tell us the stories of women in Eastern countries. Such women mostly are seen accompanied by other women and their guardians or family circles. Through both manga, we can learn a lot about costumes and the history of places that have changed a lot if we compare them to how they are nowadays. The protagonists also both tore feelings when loyalty for their original families/country and the current ones is tested. The main difference is that Empress Roxelana (as Alexandra would be later known as) existed in real life and she was one of the most powerful figures of state that has ever existed. If you like historical drama and would like to read something based on a real historical figure, this manga might be the right option for you.
---
3. Arte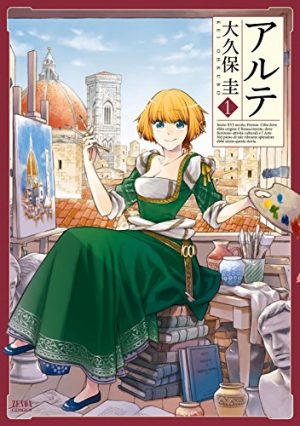 Authors: Kei Ookubo
Genres: Historical, Seinen
Volumes: 8
Published: Oct 25, 2013 to Present
Arte is Kei Ookubo's debut manga. In this story, we go back to Florence in the Renaissance. Arte is a young woman whose dream is to become a painter. However, in this epoque, most women from the rich class have to conform to become patrons of male painters instead of being painters themselves. Arte has other ideas, so the manga chronicles her struggle to achieve her career.
We once more have an unusual female protagonist in Arte. Although she goes from the high class to less, we see how Amir and Arte have to defy some conventions to keep loyal to their true selves. We also see old times and places through their eyes in both manga. If you feel attracted to the live of artists or prefer Italy over the Middle East, Arte might be the right manga for you.
---
Any Manga Like A Bride's Story / Any Manga Like Otoyomegatari?
4. Kusuriya no Hitorigoto (Drugstore Soliloquy)

Authors: Natsu Hyuuga, Ikki Nanao and Nekokurage
Genres: ama, Historical, Seinen
Volumes: 2
Published: May 25, 2017 to Present
Natsu Hyuuga has some experience writing for Manga, while this is the debut for Ikki Nanao as writer. The illustrator of Kusuriya no Hitorigoto is Nekokurage, who has only another work under their sleeve. They combine their talents in Kusuriya no Hitorigoto telling us the story of Mamomao, a female pharmacist from the red-light district who enters the imperial court. Her objective is to find a cure for the emperor's children.
Maomao and Amir are outstanding female leads, with personality and charm. However, what is most important is their knowledge and resourceful nature. You can throw any problem at them and they will find a way to solve it! These two characters are also not from royalty, so we can see a different perspective of the world through their eyes.
---
5. Historie

Authors: Hitoshi Iwaaki
Genres: Action, Adventure, Drama, Historical, Seinen
Volumes: 10
Published: Jan 25, 2003 to Present
Hitoshi Iwaaki is a seasoned mangaka who has experimented with several genres, being featured in anime in 2014 with Kiseijuu: Sei no Kakuritsu. His expertise includes historical manga, so it is not surprising that he has worked on an interesting manga called Historie. This story takes place in ancient Greece and the protagonist is Eumenes, who will eventually become secretary and general to Alexander the Great. The manga has received prizes in 2010 and 2012, and due to its scope and complexity, it is considered Iwaaki's masterpiece.
If what you like about Otoyomegatari is the richness of detail about cultures, you will get a similar feeling from Historie. Eumenes and Amir are intelligent and resourceful, and there are conflicts in both plots. The main difference is that Historie is treating with characters that were documented in history (although we do not know much about Eumenes to be honest), while Otoyomegatari builds from local customs and citizens to create fictional characters. If what you love in historic manga is depth and detail, Historie might be a good match for you.
---
6. Akatsuki no Yona (Yona of the Dawn)

Authors: Mizuho Kusanagi
Genres: Action, Comedy, Fantasy, Romance, Shoujo
Volumes: 25
Published: Aug 5, 2009 to Present
Mizuho Kusanagi is an experienced mangaka whose most successful work so far has been Akatsuki no Yona, which became anime in 2014. The kingdom of Kouka was once ruled by a Red Dragon with the aid of four warriors who had dragon blood. Now, this legend is on the verge of becoming real once more, when Princess Yona is chased away from the palace after her father's assassination. With only her bodyguard Su-won and a couple of other allies by her side, she sets out to find the four legendary warriors in order to restore order and recover her kingdom.
The lives of Yona and Amir change radically at the beginning of the story. Although this means trauma for Yona, both women are resourceful enough to overcome any obstacle, and yes, that includes war. Both plots place importance in human relationships and in playful love. The main difference is that Akatsuki no Yona relies heavily in the fantastic element.
---
Final Thoughts
And here we have them. Six historical and/or fantasy manga that portray societies from different places. Who would tell manga can be so interesting beyond war and love? And yes, Otoyomegatari has a bit of both. However, probably what is most important in Otoyomegatari and other manga like this work is how can we make the best of our situation in life. Sometimes situations can change so radically all of a sudden! However, if we are resourceful like Amir, nothing can stand in our way. What other manga similar to Otoyomegatari has caught your attention? Don't forget that we are open to all your comments and suggestions. See you soon!