También puedes leer este artículo en:Español
Oz Bezairus is the heir to one of the most powerful noble houses in his kingdom. Thanks to this, his life has been cushioned with luxuries and he has been pampered by everyone around him. In fact, the only real problem he has is that his father, Xai, sent him and his sister Ada to be raised by his uncle Oscar, and thus, he suffers his absence. However, during his Coming-of-Age ceremony, he and his best friend Gilbert, are attacked by crimson-robed men called the Baskervilles. During the attack, Oz wounds Gilbert, and is condemned by the Baskervilles to the Abyss for the Sin of Existing. And that is when Oz's suffering really begins.
Does this sound a little bit similar to Alice in Wonderland? If your answer is no, well, you will be surprised to know that Pandora Hearts is one of the many manga that draws inspiration from Lewis Carroll's classic tale of a girl who travels to a strange world chasing a rabbit down a rabbit's hole. The thing is that Pandora Hearts, created by Jun Mochizuki, does what some of those other mangas don't: it keeps the references somewhat subtle, and rather than focusing on the "traveling to another world" part (Although there's some of it), it focuses on the kind of crazy world that Carroll's only alludes to, and uses that wireframe to create a rich controversy and mystery for the readers to solve.
And if you liked it as much as we did, at the end, you might have found yourself wanting for some similar stories. This is why we compiled this list of 6 great manga that are similar to Pandora Hearts for all of you to enjoy.
Similar Manga to Pandora Hearts
1. Alice in Murderland (Kakei no Alice)

Mangaka: Kaori Yuki
Genre: Shoujo, Supernatural, Mystery
Volumes: 7
Published Date: 2009 – Ongoing
The Kuonji family is pretty much the worst stereotype of rich families. The family heads have adopted nine children, and at first glance, they spoil them rotten. However, every month, they have a tea party that they can't miss. On the day of the eldest Kuonji's 19th birthday, however, there's a new strange addition to the ceremony. They are to attend in costume, and accompanied by "The most important person in their lives". Stella, the fourth daughter, is not precisely happy at this, but all her worries change when her mother announces that they all have a year to kill each other, as only the last one standing will inherit the Kuonji's fortune and the secret to eternal life.
While Alice in Murderland is far more obvious about the inspiration that it got from Alice in Wonderland, it shares more with Pandora Hearts than with Carroll's tale. Both stories start with the coming of age of a main character, both end up revealing the dark secrets of the main character's family, and both of them have a shocking death in the very first chapter, just to whet your taste for what's to come. If your favorite part of Pandora Hearts was the intrigue, then Alice in Murderland will catch your eye from page 10 and will not let you go as you follow the plot down the rabbit hole.
---
2. Are you Alice?

Mangaka: Katagiri, Ikumi (Art) Ninomiya, Ai (Story)
Genre: Action, Adventure, Mystery, Fantasy, Psychological, Josei
Volumes: 12
Published Date: 2009 - 2015
When a young man arrives to the Wonderland Festival, he's trying to find something that gives meaning to his life, the one thing he didn't expect was to be mistaken by the inhabitants as "Alice", and before he can correct them, he's taken by the Cheshire Cat to the Queen. Soon, "Alice" finds himself in a deadly game, where he has to kill the White Rabbit to prove he is the "real" Alice, or die executed by the Queen of Hearts.
Are you Alice? Is a very unique take on Carroll's tale, starting with the fact that most of the characters, up to and including the Queen, are male. It is clear soon that names like "Alice" are just a title, but that only creates more questions. Is this the "real" wonderland? What happened with the first Alice? Why is the Mad Hatter working with the Queen when he says himself that he serves the real Alice? And why does the White Rabbit want to be killed? Just like Pandora Hearts, this Josei manga is filled with mystery and intrigue, and this is why we fully recommend it to you.
---
3. Dorohedoro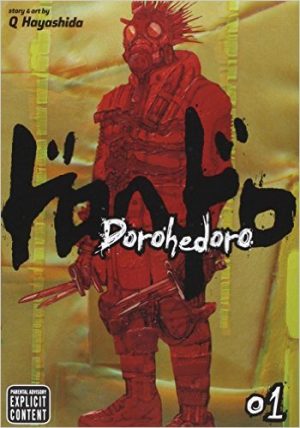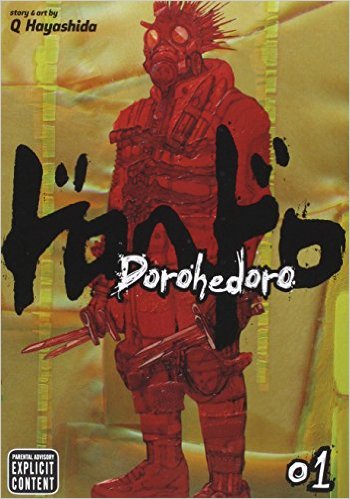 Mangaka: Hayashida, Q
Genre: Action, Comedy, Fantasy, Horror, Seinen
Volumes: 21
Published Date: 2000 – On going
Kaiman doesn't remember who he is. Nor how he, despite being a perfectly normal human from the neck down, has a lizard head. All he knows is that he was transfigured by a Sorcerer, a kind of magic user who enjoys abusing their magic and the non-magic-user people, but even then, he's not very clear on the why or the how. He's not even sure that Kaiman is his name, but it's better than nothing. Fortunately, he is not alone in his quests for answers. He's followed by Nikaido, a beautiful woman who befriended him after his transformation, and together, they hunt the Sorcerers that roam the land, trying to find answers to Caiman's strange situation, and end up involved in a complicated plan to destroy all Sorcerers in the realm.
Dorohedoro is yet another manga that works a mystery so deep that even the main character doesn't understand himself. And while some may think that amnesia is a very easy way to make anything look suspicious and mysterious, Q Hayashida manages to weave a very interesting plot that doesn't just hinge on everyone but the main character having the answers. The real problem is that no one we meet has all the answers, and the ones we get, lead to even more questions. A sure winner for everyone who loves intrigue.
---
Any Manga Like Pandora Hearts ?
4. Zetsuen no Tempest (Blast of Tempest)

Mangaka: Shirodaira, Kyou (story), Saizaki, Ren (Art)
Genre: Action, Mystery, Drama, Shounen, Magic, Psychological
Volumes: 10
Published Date: 2009 - 2013
Mahiro Fuwa hasn't had a good year. Ever since his step sister Aika and his parents were found murdered, he's retreated into himself, and has only kept contact with his best friend, Yoshino Takigawa. It is then when he is contacted by Hakaze Kusaribe, the leader of the Kusaribe Clan of witches, who has been abandoned in a desert island. Hakaze has a very clear proposition for the young man: If he helps her to stop the resurrection of the Tree of Exodus, a magic object whose power can very easily destroy the word, she will help him bring his sister back to life and help discover who killed her and his parents.
Unlike Pandora Hearts and other of the manga in this list, Zetsuen doesn't draw inspiration from Alice in Wonderland, but it is inspired by another classic tale. In this case, it's Shakespeare's The Tempest, with a liberal dose of Hamlet added for flavor. This makes the intrigue and mystery behind the deaths of the Fuwa, how Hakaze ended up in the desert island, and what was the role Aika was to play in all this, even more dramatic. If you loved Pandora Hearts for the surprising revelations, trust us, Zetsuen no Tempest will be right for you.
---
5. Kataribe no List

Mangaka: Fujiya, Izuko
Genre: Mystery, Drama, Fantasy, Shounen, Supernatural
Volumes: 6
Published Date: 2011 - 2013
In the ancient times, fairy tales weren't told to entertain children. They were made as warnings, as lessons of things that they had to avoid. But in the present day, that origin is pretty much forgotten. Hiwatari Akitsune is a normal teen who soon discovers that, sometimes, trying to help out those in need can end up being dangerous. When he grabs the bag of a young woman named List by mistake, he ends up with a magical wristwatch that has the word Dust engraved on it. After he uses the watch powers to restore broken toys in the park, a man who also has a magical object attacks him: a piece of chalk that seems deadly. Akitsune is barely saved by List, who, upon seeing how the watch has fused to Akitsune's wrist, promptly declares him her property and demands that he helps her to find the Grimm Artifacts, magical objects that can destroy the world in the wrong hands.
Kataribe no List also separates itself from Alice in Wonderland, but it's just because it has a lot of other tales to draw inspiration from. Every Grimm Artifact, and its possessor, is directly based on one of Grimm's fairy tales, such as Cinderella, Snow White, Hansel and Gretel, and so on. In short, if you want to see an interesting modern take on a fairy tale that is not Alice in Wonderland, Kataribe no List will be just up your alley.
---
6. Deadman Wonderland

Mangaka: Kondou Kazuma (Story and art), Kataoka , Jinsei (story and art)
Genre: Action, adventure, Drama, Sci-fi, Shounen, Supernatural
Volumes: 13
Published Date: 2007 – 2013
Ganta Igarashi is a middle school student who is also an orphan and survivor of a great earthquake that almost destroyed all of Tokyo. As he is ready to graduate, he and his class are informed that they will make a trip to Deadman Wonderland, a private-owned prison that doubles as an amusement park. However, before the trip can be made, a flying man in a red mask appears and kills everyone except for Ganta before his very eyes; and because he is the only witness, he soon finds himself railroaded into a trial and sent to Deadman Wonderland, only this time as an inmate. Things get even stranger when a young girl named Shiro appears before him, telling him that he is her childhood friend even if he doesn't remember her.
Deadman Wonderland has everything you want if you were a Pandora Hearts fan and are missing something similar without rethreading the same plot and twists. It has very subtle -practically, 'blink and you miss them'- references to Alice in Wonderland, it includes a main character with a mysterious past, a cute girl who is both a riddle and a dangerous secret, and the underlying theme of family and friendship.
---
Final Thoughts
One cannot easily pinpoint what made Pandora Hearts so great. It had, of course, a good dose of intrigue and mystery, which made it comparable to Fullmetal Alchemist early on, as both series showcased a very corrupt military force, as well as sacrifices made in the name of the realm. However, it was not just that, because military intrigue is something that we can find in many other manga. It is not just the great way in which Alice in Wonderland was adapted into the plot without it being actually Alice in Wonderland, and it's not just the characters, although every one of them is charming in their own way. This, of course, makes it even more difficult to recommend similar manga, because the others will only have parts of the puzzle, and not the whole image.
But there are manga that come close, and some that create a similar image that is equally great. And so, those are the ones we hope you will enjoy. As always, we love to hear your comments below.
---