When you have it all in life, people will always look at you with some form of envy. They see you as a star shining brighter than the normal folk surrounding your presence. However, Peach Girl, by mangaka Ueda Miwa, taught us a truly important lesson in life that we need to remember, especially if we envy the so called "beautiful". Just because they might be truly blessed with beauty and charm doesn't mean they are feeling that way within themselves. It's easy to envy what we don't have, but it's harder to realize what we do have and take for granted folks.
Proverbs aside, Peach Girl is one of those manga that truly wowed us when it released two decades ago and even now, we still talk about it. That's why we also found ourselves wondering this. What other manga mirror Peach Girl in some form or another? Well folks, after some research we found several manga that will be perfect to compare to Peach Girl and will be perfect for you if you need some solid shoujo themed manga. Welcome one and all to our 6 Manga Like Peach Girl list!
Similar Manga to Peach Girl
1. Life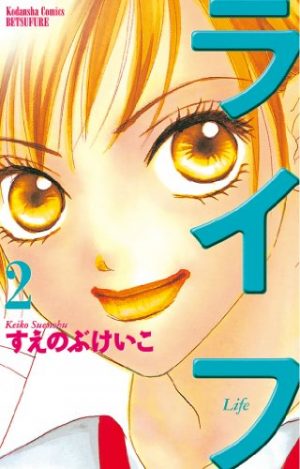 Authors: Suenobu, Keiko
Genres: Drama, School, Shoujo, Slice of Life, Psychological
Volumes: 20
Published: Apr, 2002- Feb, 2009
Life by Suenobu Keiko follows Ayumu Shiiba as she begins her journey towards high school. Thanks to her friend Shii-chan, Shiiba is studying and thinking she might have what it takes to do well. Unfortunately, Shiiba gets her wish and does extraordinarily well, but in the process, overshadows Shii-chan causing their friendship to die out. These turn of events causes Shiiba to fall into a deep depression filled with hurting herself to unleash the pain. High School life finally begins for Shiiba and she meets a new girl named Manami. Can Manami save Shiiba and prove to be the friend she truly needs?
Life by mangaka Suenobu Keiko seems like a perfect place to start our 6 Manga Like Peach Girl list. Life tells a truly deep story of loss and gain in the realm of friendship. Similar to Momo's trials of learning who her lifelong friends are versus those who betrayed her—essentially her best friend Sae Kashiwagi. Shiiba undergoes a trial of learning who won't abandon you no matter what. Life touches upon a lot of themes found in Peach Girl and it's why we loved the series and know you guys and girls will too. Life went on for 20 volumes for a reason, folks; time to find out why by checking out this amazing shoujo manga.
---
2. Othello

Authors: Ikezawa, Satomi
Genres: Comedy, Romance, Shoujo, Psychological
Volumes: 7
Published: Aug, 2001- Sept, 2004
Poor Yaya Higuchi is dealing with a slew of rather harsh peers in school. Yaya sees these cruel jokes and names as what it means to be a friend but the reality is that her friends abuse this innocent girl. Enter Yaya's new friend Nana. Unlike the overly kind and naïve girl Yaya, Nana is tough and brutal. Nana and Yaya seem so different in every way right? However, unbeknownst to most these two girls are actually the same person!
Momo, in Peach Girl, can be considered a girl who puts on a front to hide her dark and depressed personality from her peers. Othello might be slightly different in the form of having a girl literally embody two personas but this also is what makes the two stories so similar in nature. Yaya's persona of Nana is her way of lashing out towards the "friends" who are treating her so badly, but in a way that is rather unique for a shoujo story. Peach Girl, meanwhile, has Momo using her outward appearance to fool people into thinking she's fine and just perfect but struggles with letting the real personality she hides deep within out. Othello might be not as well known than Peach Girl but we hope you'll check it out as we think you'll love Yaya's tale.
---
3. Kare wa Tomodachi (He is a Friend, He is My Friend)

Authors: Yoshioka, Ririko
Genres: Drama, Romance, School, Shoujo
Volumes: 7
Published: Oct, 2007- Jan, 2010
Hiyori Fujisaki really likes Mizuno Yuuma but the two are separated by different classes. One day, a seating change occurs and she ended up sitting beside her longtime friend Sasamoto Karen. However, Hiyori is about to learn something interesting about her friend. Sasamoto might think of Hiyori as more than just a childhood friend! Who will Hiyori now choose!?
Our own school days had numerous amounts of drama but love triangles didn't happen often. Yet, when we did experience them, it was very interesting to see a typical manga/anime theme come forth in the real world. Thankfully, our days at school are over and now, for love triangles and drama filled romances, we turn to manga like Kare wa Tomodachi. Hiyori's quest for love will bring her towards two very potential candidates and you won't want to miss who she ultimately chooses. If you loved Peach Girl for its drama fueled romance—which it had a lot of at times—then check out Kare wa Tomodachi from mangaka Yoshioka Ririko.
---
Any Manga Like Peach Girl ?
4. Doubt!!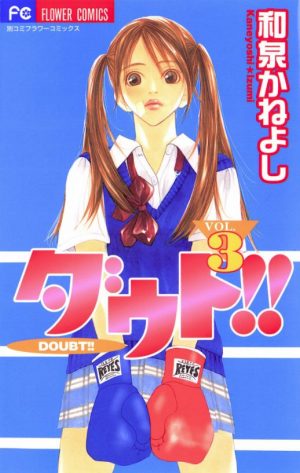 Authors: Izumi, Kaneyoshi
Genres: Drama, Romance, School, Shoujo
Volumes: 6
Published: Aug, 2000- 2002
Ai Maekawa has always been a girl less concerned about her looks and more about her studies. In some ways, this has made Ai stand out as a smart student, but it also made her a target. During Ai's middle school days, she was terribly embarrassed and used that experience to reinvent herself. Undergoing a complete makeover, Ai no longer is just a nerdy looking girl but a drop dead gorgeous girl! Aiming for handsome boy So Ichinose, Ai must mind the line between being beautiful and also being kind.
Sometimes in life, events will make you realize a change is needed. Just look Ai Maekawa, for example. Ai, in the beginning of Doubt!!, realized that changing her looks wouldn't just change her personality but give her the strength she needed to change her life more than anything else. We personally love Ai's tale, here at Honey's Anime, as it reminds us of Momo's transformation in Peach Girl as she understands what friendship and admiration really look like. Doubt!! by mangaka Izumi Kaneyoshi might be an old manga read but even today, it's one heck of a good shoujo story.
---
5. Kare First Love

Authors: Miyasaka, Kaho
Genres: Drama, Romance, School, Shoujo, Slice of Life
Volumes: 10
Published: Aug, 2002- 2004
Karin Karino has just realized what it means to fall in love as she begins to befriend Kiriya Aoi. As their relationship continues to grow, animosity begins to bloom as well. Karin's classmate Yuka Ishikawa begins to try and foil her love with Aoi and their romance begins to be tested. However, Aoi's love for Karin might also be a scary prospect as well. Can Karin find a happy ending to this love story or will it become a tragic tale of love loss?
Being envied for her looks, Momo had to deal with some rather harsh problems in Peach Girl. Though as Momo's inner persona became revealed, her situations changed and she found happiness as the story progressed. Kare First Love mirrors Peach Girl in many ways taking our main female lead—Karin—who never tried to be the popular girl and now has become one because of her decision to fall in love with a guy who was already targeted by another. In this non-stop rollercoaster ride of emotions, Kare First Love will make you want to binge read Karin's story to see if she finds the love she truly desires. If you need an intriguing romance/drama manga then we recommend checking out mangaka Miyasaka Kaho's work known as Kare First Love.
---
6. Akuma to Love Song (A Devil and Her Love Song)

Authors: Toumori, Miyoshi
Genres: Drama, Romance, School, Shoujo
Volumes: 13
Published: Dec, 2006-Apr, 2011
Touzuka High School isn't known for being a prestigious academy but for another reason; The high school itself pumps out pretty detestable grades. After getting into a fight with a teacher, Kawai Maria has been thrown from the very well-known school—St. Katria Girls School—and into Touzuka High. Already Kawai is getting under the skin of her peers and is growing hated more and more by the day. What awaits Maria in this new school and what transpired to cause her to be so cold?
We end our 6 Manga Like Peach Girl with a very similar story—albeit with a twist of sorts—called Akuma to Love Song. While Maria doesn't attract her classmates like Momo from Peach Girl, there is more than meets the eye with Maria and we learn what that is within Akuma to Love Song. Equally pleasant about Akuma to Love Song is the amazing shoujo art that gives a true style to this tale. From beginning to end, you will be alongside Maria and will soon understand why she has gone from being number 1 in a prestigious school to landing in a way lesser known academy. We fully recommend checking out Akuma to Love Song as we loved our time with its 13-volume run.
---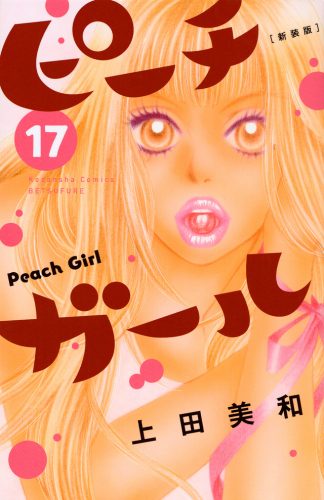 Final Thoughts
We always wonder why people only rely on daytime TV or nightly shows to find good drama stories? Why not instead read manga like Peach Girl or any of the series on our list above? Not only do they provide fun and enjoyable stories with beautiful art but they also have just enough drama to keep you truly hooked from start to finish. Have you read Peach Girl or any of the manga like it above? Comment down below so we can hear from you beautiful souls out there. Remember to keep stuck to our hive for more recommendation articles here at Honey's Anime!