At the end of a good series, fans always kick back, relax and… burst into tears over the end of something good. Empty, they search for something to fill the void, something with the same ingredients, something that will make them feel the same way. That is us with Psyren – a story about a high schooler, mysterious disappearances and a very strange secret society which ties them together. Again we bring you six manga that put together similar doses of the same elements and puts them together to create more brilliant series that feel similar enough, but are different enough to catch and keep your attention! Stay hooked on this line as we dive into 6 Manga Like Psyren!
Similar Manga to Psyren
1. Real Account

Mangaka: Watanabe Shizumu (Art), Okushou (Story)
Genres: Adventure, Drama, Psychological, Sci-Fi, Shounen
Volumes: TBC
Published: January 2014 – ongoing
Modern day Japan. The presence of social media giant, Real Account, is felt all over Japan as the platform which initially gave users the ability to share their thoughts and make friends in different places is turned into a fight for survival. Users are one day transported to a strange realm, introduced to them as the world of Real Account, where they are expected to bare themselves in a multitude of death games that not only show people's true colours, but test the bonds of human relationships and are broadcast Kashiwagi Ataru is sucked into real account and there he's thrown into a survival game like none other.
Where do we begin? Real Account is Psyren, but instead of a strange secret society sending people to their deaths in a mysterious wasteland, we have a social network which literally puts its users against each other in dangerous games which destroy online reputations and of course, end lives. In exactly the same way, if one clears the game in Real Account, they can head home. Naturally, a number of individuals with no ties before the beginning of the game have to pull together in order to survive.
---
2. Cage of Eden

Mangaka: Yamada Yoshinobu
Genres: Action, Adventure, Ecchi, Fantasy, Shounen
Volumes: 21
Published: November 2008 – January 2013
On their way back from a class trip, Akira and his classmates find themselves marooned on a strange island where somehow, dinosaurs are still alive and kicking. The severity of the situation causes chaos; some of his classmates fall into depravity and kill each other, while others are eaten alive. What started as a class trip turned into a grim fight for survival as Akira and his friends try their best to leave the Hell in which they so quickly found themselves.
Like Psyren, Cage of Eden has a high schooler protagonist who finds himself marooned in a very strange place in which the prospect of being killed by strange creatures is very real. Much like Ageha from Psyren, Akira works very hard in order to protect his friends from the dangers that haunt them. Both Cage of Eden and Psyren have plotlines that are driven by intense mystery – why are the characters there and how do they get away?
---
3. Liar Game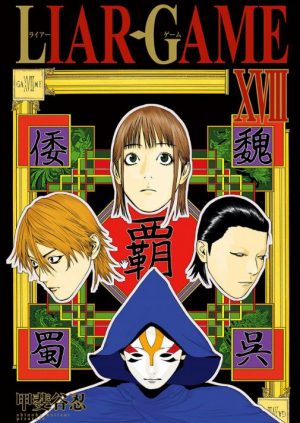 Mangaka: Kaitani Shinobu
Genres: Drama, Game, Psychological, Seinen
Volumes: 19
Published: February 2005 – January 2015
Due to her father's upbringing, Kanzaki Nao believes in honesty more than anything. As a result, she is known to be stupidly honest and incredibly trusting in other people, a fact which has gotten her into trouble on many occasions, but none quite like this time. This time, after randomly receiving a briefcase containing 100 million yen and a card certifying her participation in the high stakes Liar Game. The Liar Game involves deceit of the highest order as the goal is to swindle other opponents out of their money. Unfortunately for the foolishly honest Kanzaki Nao, she was quickly tricked out of her 100 million and faced the insurmountable debt. After hearing about the release of a genius swindler from prison, Nao desperately begs him for his help. Together, they try their hand at coming out of the Liar Game victorious.
Despite the massive differences in setting and context, with Liar Game being cemented in reality and Psyren taking a more adventurous route, the two manga bear a major difference in plot. Both titles involve individuals who have been thrown into circumstances which are, to a degree, their own doing. Both protagonists have a companion who is somewhat knowledgeable or at the very least, a major advantage in the given situation. Finally, both situations are, to a certain extent, games. Psyren's harsher survival game atmosphere is completely different from the strategic mind game that is the Liar Game, but they are games nonetheless; games spearheaded by highly enigmatic organisations.
---
Any Manga Like Psyren?
4. Hyouryuu Kyoushitsu (The Drifting Classroom)

Mangaka: Umezu Kazou
Genres: Mystery, Horror, Sci-Fi, Shounen
Volumes: 11
Published: 1972 – 1974
When sixth grade troublemaker Takamatsu Shou arrived at school one morning, his life changed forever as an earthquake struck. The event triggered something extraordinary as he and the rest of the student body were teleported to a harsh wasteland, where they would be forced to quickly mature or die. Under dire conditions of food shortage and escalating animosity between students, Shou and his classmates must work together to overcome these obstacles, as well as to adapt to their new reality.
Psyren and Hyouryuu Kyoushitsu bear major similarities in their setting: both manga have a bunch of individuals thrown into very inhospitable conditions by means that are not very well known or understood and as a result, these people are required to work together to, at the very least, survive. Both protagonists are known for their childishness or their problematic behaviour which makes it all the more interesting when they're placed in situations as dire as the ones in which we find them.
---
5. Alive: Saishuu Shinkateki Shounen

Mangaka: Adachitoka (Art), Kawashima Tadashi (Story)
Genres: Adventure, Sci-Fi, Shounen, Supernatural
Volumes: 21
Published: October 2003 – February 2010
Kanou Taisuke is your average 16-year-old high schooler with a tight circle of his two best friends, Hirose and Megumi. Hirose suffers a whole lot at the hands of bullies and Taisuke is always there to back him up, but the two often end up losing terribly. Taisuke's life takes a dark turn when one day during class, he sees visions of the universe and later witnesses the collapse and death of a girl while he was walking home. For some reason, what Taisuke felt upon witnessing that girl's death was not sympathy, but jealousy – a strange urge to die spreads across the people of Japan which either causes them to take their own lives or "evolve". Those who have evolved tend to harbour dark intentions for everyone who hasn't experienced the strange urge for death.
Alive and Psyren both bear strong horror elements and a very real presence of death permeates the pages of both manga. The protagonists are both male high schoolers who both have quite a knack for getting into fights, although their reasons for doing so may differ. Both manga have similarities in the amount of mystery they bear within their plots; just like it seems that no one truly knows anything about Psyren within the world of Psyren, the same can be said of the strange spread of an eagerness to die within the world of Alive.
---
6. Yankee-kun to Megane-chan (Mr Delinquent and Miss Glasses)

Mangaka: Yoshikawa Miki
Genres: Action, Comedy, Romance, School, Shounen
Volumes: 23
Published: October 2006 – May 2011
Shinagawa Daichi is your quintessential high school delinquent – spiky blonde hair, an equally prickly attitude and a taste for violence; however, he just really wants to be left alone. Unfortunately, his class rep, Adachi Hana, is adamant to get him to go together with the class on the upcoming Social Studies field trip. But why is she so suddenly interested in him?
This is perhaps the one title on this list that is vastly different from the others for the distinct fact that it is not an action-packed rollercoaster ride of thrills and suspense like Psyren is. However, Yankee-kun to Megane-chan bears an almost comical similarity to Psyren in the personalities, the general appearances and roles of the main characters, Shinagawa Daichi and Adachi Hana, who greatly resemble Ageha Yoshina and his relationship with his "megane-chan", Amamiya Sakurako.
---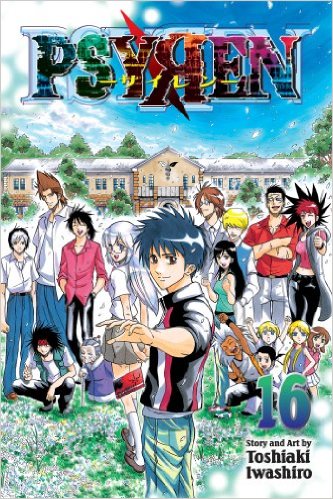 Conclusion
Psyren is an intensely gripping thriller of a story guaranteed to keep you immersed, and maybe a little terrified – and that's awesome! But all good things come to an end. However, at Honey's Anime, all good things have about 6 other good things that are just like them that we put together so you can find them and be happy! Are there other manga like Psyren that we missed? Drop a comment below and give us some recommendations!
---