Born in 2011 by the talented Mikoto Yamaguchi, Saiteihen no Otoko – Scumbag Loser is a shounen manga, wielding a perfect mix of supernatural, mystery and horror elements. It features Masahiko Murai, a high school boy who feels lucky for not being the absolute lowest social class male – there's still another boy under him. One sad day, though, the boy under Murai gets himself a cute girlfriend, and this event leaves Murai at the bottom of the chart. What should he do now? He decides to show their classmates the picture of a girl, stating that she is his girlfriend, but there's one problem: the next day, that same girl, appears at school. And there's another bigger problem: that girl should be dead, murdered several years prior. To keep appearances up, he decides to do whatever the girls says... Even when it becomes crystal clear that the girl isn't human!
If you enjoyed this three-volume escalation of suspense and adrenaline, we are sure you crave for something similar, and equally catching. That's why we created this list of 6 manga like Scumbag Loser, trying to pick those manga sharing with it the most important traits. Stick with us until the end, we won't fail you!
Similar Manga to Saiteihen no Otoko / Similar Manga to Scumbag Loser
1. Ibitsu

Mangaka: Ryou, Haruto
Genre: Horror, Seinen
Volumes: 2
Published: October 2009 – January 2010
Kazuki Itou is a normal high school boy, living with his little sister – Hikari – and relying on her maybe too much. One night, Kazuki goes out in order to take the trash out, but he happens to do a strange encounter: a lolita-dressed woman lies upon the garbage bags. Her name is Remina Kanbe, and she asks to Kazuki about her little sister. Scared to death, Kazuki runs home, but when he takes a look from the window to where the lolita woman lied, she's no longer there. How will this encounter change Kazuki's life?
With Saiteihen no Otoko and Ibitsu, we're in front of two horror series, which are very short, and yet very intense. In both these stories we have a male protagonist, who meets a strange woman, and soon after realizes the proportion of the trouble he's in. Fans of the thriller out there who enjoyed Saiteihen no Otoko, we guarantee you'll love Ibitsu!
---
2. Ana Satsujin (Peephole)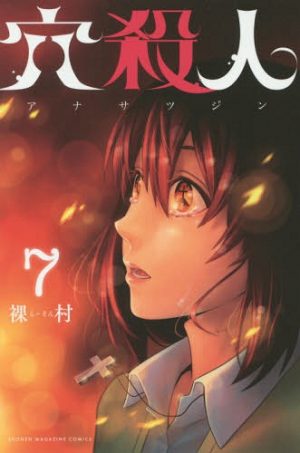 Mangaka: Larsson
Genre: Ecchi, Horror, Romance, Shounen
Volumes: 8
Published: December 2013 – September 2016
Tired of his own disastrous life, the school drop-out and self-proclaimed shut-in Etsurou Kurosu decides to commit suicide. The wall hanger he decides to use, in order to tie the belt around in and the around his neck, though, doesn't support his weight and his indecision, so it comes down leaving a hole in the wall. Through that hole, Kurosu sees Rio Miyachi – his neighbor – and discovers her hobby: murder. What will it become of Kurosu, now that he knows the truth?
Saiteihen no Otoko and Ana Satsujin are both series belonging to the horror and psychological fields with their storytelling. Both the male protagonists – Murai and Kurosu – are losers who happen to face the strangest circumstances, and begin to interact with a female figure who guides them. Not only that, Saiteihen no Otoko and Ana Satsujin share a good amount of suspense, and plot twists to make readers remain with their mouth wide open. Ana Satsujin wields an ecchi trait that lacks in Saiteihen no Otoko, but we can affirm that you'll enjoy it all the same!
---
3. Gokukoku no Brynhildr (Brynhildr in the Darkness)

Mangaka: Okamoto, Lynn
Genre: Mystery, Drama, Supernatural, Sci-Fi, Seinen
Volumes: 18
Published: January 2012 – March 2016
Ryouta Murakami is infatuated of Kuroneko, a girl insisting on knowing that aliens exist, and she has already met them. Murakami is skeptical about it, but one day Kuroneko decides to show him a proof. Sadly, an accident occurs and Kuroneko dies, while Murakami is left wounded in the hospital. Years later, a new transfer student arrives in his class, looking exactly like Kuroneko, and whose name is Kuroha Neko. How can this be just a coincidence?
Both Saiteihen no Otoko and Gokukoku no Brynhildr are series featuring mystery, and making the readers stick to each page. For both these manga we find a school setting and two male protagonists. The fate attending Murai and Murakami is exactly the same; in fact, they will meet a new transfer student, who is the older version of their dead childhood friend and from that moment on, an escalation of events will unveil an incredible truth. Gokukoku no Brynhildr features a Sci-Fi trait, as well, but all in all if you liked Saiteihen no Otoko, Gokukoku no Brynhildr can be conceived as its longer version!
---
Any Manga Like Scumbag Loser / Any Manga Like Saiteihen no Otoko ?
4. Dead Tube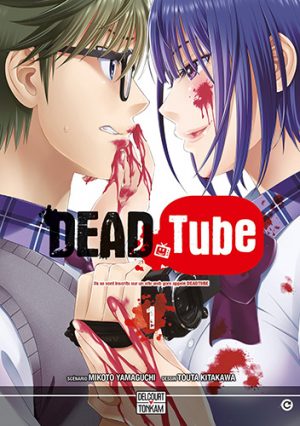 Mangaka: Kitakawa, Touta (Art) Yamaguchi, Mikoto (Story)
Genre: Ecchi, Horror, School life, Seinen
Volumes: 7
Published: April 2014 – ongoing
Mai Mashiro is an attractive girl from the swim team at the same high school as Tomohiro Machiya, who is in the Film Research Club, instead. One day, Mai asks to Tomohiro if he could film her for two days straight, but on the second day, Mai murders one of their classmates. She then informs Tomohiro that their video is a winner on the Dead Tube, a website where the more graphic is the content of the video, the more popular it gets. Tomohiro is shocked and at a loss on what to do: what are the consequences?
Both Saiteihen no Otoko and Dead Tube are gruesome, horror manga, in a school setting. The male protagonists are both bribed by the heroine who later on reveals her true colors, leaving Murai and Tomohiro with their mouths open and completely lost. Their female counterparts, on the other side, are very similar: they are both sadistic, moody and bossy. Both these series are packed with bloody scenes and deaths, so if you liked Saiteihen no Otoko, there's no way you won't like Dead Tube!
---
5. Zashiki Onna (Phantom Stalker Woman)

Mangaka: Mochizuki, Minetaro
Genre: Drama, Horror, Psychological, Seinen
Volumes: 1
Published: July 1993
Zashiki Onna revolves around a college student whose name is Hiroshi Mori. One night, Hiroshi meets by chance a mysterious woman, who has been visiting Hiroshi's neighbor. The strange, creepy woman has long hair and holds shopping bags in both hands. From that first meeting onward, she begins to shift her attention toward Hiroshi, and starts stalking him. What does she want? What is she after?
Although by the premises Saiteihen no Otoko and Zashiki Onna may look different, they share the main concept of a mysterious woman sticking to the male protagonist, and turning their life upside down. Both these series start off mildly, but build up tension. We can consider Zashiki Onna a more mature version of Saiteihen no Otoko, as Hiroshi is a college student, while Murai is a high school student; what doesn't change is that both these short series manage to stick the readers to the pages!
---
6. Another

Mangaka: Kiyohara, Hiro (Art) Ayatsuji, Yukito (Story)
Genre: Mystery, Drama, Horror, School life, Seinen
Volumes: 4
Published: April 2010 – December 2011
Koichi Sakakibara is a middle school boy who, due to some family circumstances, transfers into Yomiyama North Middle School. From the first day of school, Koichi realizes that there's something wrong with their fearful classmates. Completely unaware of what's going on, he is drawn to Mei Misaki, one of his classmates, who seems invisible to the other students. When one of the student dies horribly, Koichi discovers that the class holds a secret. Yet, the long chain of deaths has just begun, will he manage to survive?
Saiteihen no Otoko and Another are both horror, mystery manga, set in a school. Both our male protagonists, Koichi and Murai, find themselves facing a horrible truth, and inextricably bound to the heroine, who holds an important role. We find the same unsettling atmosphere in both these manga, and as the story goes on, the readers keep wondering what is actually going on, while gory scenes keep popping up. It's not a stretch: although these two stories may differ in the premises, if you liked one, you'll enjoy the other all the same!
---
Final Thoughts
With Another, our list of six manga like Saiteihen no Otoko – Scumbag Loser comes to an end! How did you like it? We tried to find those manga sharing with it the main concept of a female figure having an important influence on the main male character, and prejudicing his entire life from their encounter on. We chose those who wields horror/psychological traits as well, so that if you crave for something like Saiteihen no Otoko, you can be sure to find everything you liked in each of these six manga! Please, let us know what you think in the comments below, and see you next time!
---