Shinshi Doumei Cross, otherwise known in English as The Gentlemen's Alliance, is arguably one of the best series by Arina Tanemura, who is also known for writing Full Moon wo Sagashite. Despite Arina Tanemura's decision to start this manga without a storyboard, Shinshi Doumei Cross has a complex story, along with beautiful and intricate artwork, that has captured fans. With a bright-eyed girl, Haine, who is trying to pursue her own love after experiencing many hardships in her own life, Shinshi Doumei Cross is a great dramatic tale by the likes of Arina Tanemura.
However, the series is done. What else can we count on to entertain us like Shinshi Doumei Cross? Is there even another manga series that can fill that void that Shinshi Doumei Cross left? Well, luckily for you, we at Honey's Anime have you covered. This is our list of 6 manga like Shinshi Doumei Cross for all of you who love the drama, the romance, the school life, and the confusion!
Similar Manga to Shinshi Doumei Cross / Similar Manga to The Gentlemen's Alliance
1. Moe Kare!!

Mangaka: Ikeyamada Go
Genre: Comedy, Drama, Romance, School Life, Shoujo
Volumes: 7
Published: 2005
Moe Kare!! follows the life of the sweet Wakamiya Hikaru who wants nothing more than to find her prince. Well, unfortunately (or fortunately?!) for Hikaru, she meets a bishounen who steals her first kiss. She dubs him the "Perverted Prince." However, later, Hikaru meets and falls for another boy who looks just like the Perverted Prince but with a different eye color!
Ikeyamada Go is a popular mangaka who is known for her cute artwork and storylines. Moe Kare!! does not disappoint. If you liked the deception in Shinshi Doumei Cross, you will enjoy the similar style in Moe Kare!! where there are yet again, two boys who look exactly alike and they each have their own story with Hikaru. Of course, there is a lot of drama as well as Hikaru's life gets more complicated. If you want something that is just as sweet with drama thrown moderately throughout the manga, Moe Kare!! has you covered.
---
2. Kare First Love

Mangaka: Miyasaka Kaho
Genre: Drama, Romance, School Life, Shoujo, Slice of Life
Volumes: 10
Published: 2002
Karin has never really known about love. She was always too timid and shy, but that all changes when she meets Kiriya, one of the most popular boys from an all boys' school nearby. As it turns out, Kiriya becomes interested in Karin and it seems that they may actually have a chance at love. Well, not if Yuka has anything to say about that. Karin and Kiriya must now defend their relationship from the cruel Yuka if they want it to work out.
The story of first love is a precious one and if you enjoyed following Haine through her trials with her first love, Shizumasa, and how it saved her life, you will enjoy this story that follows Karin through her own first love. Karin and Kiriya, much like Haine, will not have it easy as it seems that everything wants to get in the way of their own relationship. And much like many of our other picks on this list, there is plenty of drama to have you gripping the pages while asking for more.
---
3. Orange Planet

Mangaka: Fukushima Haruka
Genre: Comedy, Drama, Romance, School Life, Shoujo
Volumes: 5
Published: 2006
Rui was living a normal life until one day she is saved from a fire by the owner of the apartment that was on fire, Eisuke. Eisuke declares that in return for saving Rui's life, she must house him. That may be a bit difficult since Rui's childhood friend, Tarou, is known for barging into Rui's house. Oh, and did we mention that Eisuke is their teacher?!
Now you may wonder how Orange Planet even compares to Shinshi Doumei Cross, but it is all in the love triangle. Just as how Haine finds herself suddenly in a confusing love triangle, Rui, too, becomes entangled in this mess of a love triangle with her childhood friend and her teacher! To make matters worse, Eisuke really confuses Rui when she was already in love with someone else. Now how is that for similar to Shinshi Doumei Cross? Let us not forget, Ushio had a love affair with a certain teacher, too!
---
Any Manga Like Shinshi Doumei Cross?
4. Tsuki no Shippo (Tail of the Moon)

Mangaka: Ueda Rinko
Genre: Adventure, Comedy, Drama, Harem, Historical, Martial Arts, Romance, Shoujo
Volumes: 15
Published: 2002
Despite being the granddaughter of the leader of a well-known ninja village, Usagi is clumsy and without skill. Usagi just does not have the skill to become a ninja. Thus, her father decides to marry Usagi off to Hanzo so that she can bear ninja children. Unfortunately, Hanzo thinks little of Usagi and could care less about her bearing his children.
Tsuki no Shippo is a great tale about a failed shinobi trying to make babies with Hanzo. Doesn't sound like Shinshi Doumei Cross, now, does it? Nonetheless, they feature similar protagonists who are naive and strike everyone as being simple. Yet Haine and Usagi have their own special qualities that make them irreplaceable. Let's not forget their character development throughout their own series which takes them from their past to a brighter future. And did we mention there's a love triangle in Tsuki no Shippo, too?
---
5. Crossroad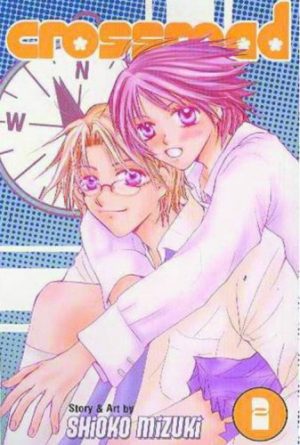 Mangaka: Mizuki Shioko
Genre: Comedy, Drama, Psychological, Romance, School Life, Shoujo, Slice of Life
Volumes: 7
Published: 2003
Toda Kajitsu finds herself in a strange family situation after her grandmother passes away. Kajitsu is brought back together with her step siblings who have all been abandoned by their parents. As they try to ease the tension between them, Kajitsu is finding that she has an extremely troubling time connecting to her step-brother, Natsu, whom she used to be close with. Have the years apart changed Natsu so much that Kajitsu cannot connect with him again?
One aspect about Shinshi Doumei Cross that really strikes readers is that Haine has been abandoned by her father and torn from her mother. This has left her scarred and fearful of the future. Crossroad also takes the idea of child abandonment and shows how it can negatively affect the children. Kajitsu, along with her step siblings, seems to be bolding well at first, but as time goes by, you see how much being abandoned has affected her and her relationships with other people. This takes a toll on Kajitsu when it comes to her ideas of love and really makes the love triangle in Crossroad a dramatic and frustrating one. You will find yourself crying out in both directions!
---
6. Akuma to Love Song (A Devil and Her Love Song)

Mangaka: Toumori Miyoshi
Genre: Comedy, Drama, Romance, School Life, Shoujo
Volumes: 13
Published: 2007
Kawai Maria has transferred to Touzuka High School after being expelled from the private school St. Katria Girls' School. While her appearance is eye-catching, Maria is quite curt and blunt, which has caused everyone to hate her. While Maria is not completely heartless, her sharp tongue does not couple well with her arrogant nature. However, there are two boys at her new school who are willing to give her a chance regardless of the poison she seems to spew.
Akuma to Love Song seems very out of the ballpark with its curt main character, Maria, and her ragtag band of friends, but it really delves into the power of friendship the same way Shinshi Doumei Cross does. While Haine has Ushio, Maora (Yoshitaka), and sometimes, Maguri who help bring her out of the trouble she is in, Maria has her own set of friends who make sure she does not fall into the wrong place due to her habit of pushing people away. Maria is constantly being bullied and getting into trouble, but her friends will always pull through. Even when the teacher gangs up on Maria. It is these friends that really help Maria survive the trouble she gets herself in; Who would not want friends like those?
---
Final Thoughts
Ah, Shinshi Doumei Cross brings back fond memories and many tears. Hopefully, these six manga like Shinshi Doumei Cross will satisfy your craving for more like it. There is a fair amount of drama, love triangles, and heartache in these shoujo manga. How does that sound?
If you have any that you would like to share, feel free to comment below! Or just let us know what you think of our list!