También puedes leer este artículo en:Español
You probably have heard of an anime about an imagined land called Turkiye. Well, this anime (Shoukoku no Altair) was based on an ongoing manga by Kotono Katou. It tells the adventures of Tughril Mahmut in his quest to become the Pasha. Loosely based on the history of the Ottoman Empire and its war against the Habsburgs, in Shoukoku no Altair we can catch a glimpse of the orient. However, there are other manga that have attempted to do just the same as Shoukoku no Altair. Let's review some of the best manga like Shoukoku no Altair!
Similar Manga to Shoukoku no Altair
1. Arslan Senki (The Heroic Legend of Arslan)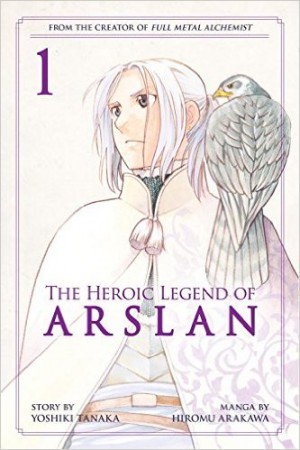 Authors: Yoshiki Tanaka and Hiromu Arakawa
Genres: Action, Adventure, Drama, Fantasy, Historical, Shounen, Supernatural
Volumes: 6
Published: Jul 9, 2013 to present
Yoshiki Tanaka was the writer behind the original Arslan Senki and has a long experience in the shounen and historical realms. As for Hiromu Arakawa, does Fullmetal Alchemist ring a bell? 🙂 Anyway, Arslan is loosely based in old war history of Persia in the 6th century and in the legend of Amir Arsalan. Arslan Senki tells us the story of Arslan, crown prince of the fictional kingdom of Pars. After a conspiracy that forced him to run for his life, Arslan reunites with his faithful servant Daryun. They will have the task to assemble an army powerful enough to recover the throne, but if Arslan becomes king, will he have what is needed to rule the country?
Shoukoku no Altair and Arslan Senki have a lot in common. The first version of Arslan's manga was published in 1991, thus, Shoukoku no Altair might have acquired inspiration from there. Just look at the heavily reimagined Turkey and Persia! Also pay attention to the main leads, Tughril and Aslan, who are left on their own from a young age and have to climb the way to the top. Both stories involve complex politics and war too. The main difference is just the country the manga are based on and the presence of magic in Arslan.
---
2. Akuryou (Shut Hell)

Authors: Yuu Itou
Genres: Action, Drama, Historical, Seinen, Gender Bender
Volumes: 14
Published: Dec 22, 2008 to Mar 27, 2017
Shut Hell is the second manga work of Yuu Itou, who has a preference for historical and supernatural themes. The manga starts with Sudou, your average guy who has not so average nightmares about war. His friend Suzuki visits him and provokes a travel to the past, where Sudou is a woman nicknamed Shut Hell and Suzuki is a mongol prince called Yurul. So, welcome to the mongolian grasslands in the 12th century! Temujin, better known as Genghis Khan, is in plain war against the Western Xia dynasty. Shut Hell is the sole survivor of a group of Xia soldiers, with a growing fame due to her deadly combat skills. She keeps seeking revenge while fleeing with Yurul, who is trying to preserve a collection of writings.
So, do we have unusual choices to set up our mangas? Yes. Do we have epic wars based in real history? Of course. And how about the eternal fight for power and the strategy? Once again, yes! The main difference between Shoukoku no Altair and Shut Hell is that our heroine is more fierce in contrast with the calculating Tughril. Also, the way the author introduced the main characters in a different (and more modern setting) at the beginning of Shut Hell.
---
3. Cesare il Creatore Che ha Distrutto (Cesare)

Authors: Fuyumi Souryo
Genres: Drama, Historical, Seinen
Volumes: 11
Published: 2005 to present
Fuyumi Souryo has a long experience in the shoujo and the historical genres, with Mars as her most famous work so far. Actually, there is another interesting recount of Cesar Borgia's life in manga format called Cantarella, but we opted to recommend Cesare because it is more recent. Souryou collaborated with a scholar in order to make a more historically accurate work. The story centers on the life of Cesar during his life as student in the University of Pisa (now central Italy) in the 15th century. His main interactions are with a freshman called Angelo da Canossa and with his right hand man, Michelotto da Corella.
Shoukoku no Altair and Cesare are inspired roughly in the same time period, although they are separated by geographical distance. Both mangas center on the life of a single man and their webs of friends and foes as they rise to power. There is also a heavy usage of strategy and intelligence to win the game. The main difference is that Cesare does not deviate much from history.
---
Any Manga Like Shoukoku no Altair?
4. Sora wa Akai Kawa no Hotori (Red River)

Author: Chie Shinohara
Genres: Action, Adventure, Drama, Fantasy, Historical, Romance, Shoujo, Supernatural
Volumes: 28
Published: Jan 5, 1995 to Jun 5, 2002
We have another veteran mangaka here, who has been doing historical manga for a long time. Red River is probably her best work. Going further back in time, we find the old Turkish territory during the Bronze Age. The Hittite Empire was in the middle of conflicts with their neighbors (particularly Egypt) when, out of the blue, a modern Japanese girl came out of a fountain. Yuri, invoked by the evil Queen Nakia of the Hittites, was destined to become a sacrifice in a spell the Queen intended to cast to let her son become the next King. However, Yuri's encounter with Prince Kail will set in motion an intense adventure where her own survival will depend on how well she plays the politics and the war games.
Red River and Shoukoku no Altair are located in similar territory, although in different eras. Both stories depict conflict and political struggles where the protagonists have to use the best of their abilities. Yuri and Tughril start naive and are even underestimated by their enemies, but they learn and quickly make up their minds when problems arise. The main difference is that Red River focuses a bit more on real historical events than Shoukoku no Altair. There is also more romance.
---
5. Otoyomegatari (A Bride's Story)

Author: Kaoru Mori
Genres: Drama, Historical, Romance, Seinen
Volumes: 9
Published: Oct 14, 2008 to present
Kaoru Mori is yet another mangaka expert in the historical genre, although she has been more focused in England (just look at her Emma, her most representative work). However, in Otoyomegatari, she goes to a very different place. Roughly based in the same territory as Red River, times go by until we reach the 19th century. Our location are the grasslands of Turkic Central Asia, where the lives of nomads, hunters, shepherds and craftsmen intertwin. A woman in her twenties called Amir is given in marriage to a family from a town in another region. Cultural differences aside, her loyalty and character will be tested when the tensions in the region increase.
Although different in tone from our other recommendations, Otoyomegatari has plenty of political conflicts between tribes and nations. The protagonist also uses her abilities to make the best out of every situation, just as Tughril. They both have personality and confidence to carry out their objectives. The main difference is the focus on the daily life of commoners, which makes the pacing of Otoyomegatari slow and pleasant. Also, the amount of detail in the illustrations and the historical accuracy sets this manga apart.
---
6. Kingdom

Author: Yasuhisa Hara
Genres: Action, Drama, Historical, Military, Seinen
Volumes: 46
Published: Jan 26, 2006 to present
Yasuhisa Hara's debut is the long standing Kingdom. We go back in time again, to the ancient China of the Warring States (5th Century). Two friends, Xin Li and Piao, dream of becoming generals despite their situation as orphaned slaves. A series of tragic circumstances will put Xin in a powerful position by the side of Prince Ying Zheng, who will reclaim the Qin throne. From that point on, Xin and Yin Zheng's dreams will be unifying what we now know as China.
The state of affairs in both mangas starts pretty similar, with territories in chaos in the need of a ruler or guider. Xin and Tughril have to start from zero and, due to their abilities, are capable of seizing the opportunities they find on the way. Our protagonists are master strategists! They also have to gather information about distant territories or other countries, in aims for unification. The main difference is the time and place of their adventures.
---
Final Thoughts
That sure was a whirlwind tour around the world, especially Asia and Central Asia! Which of our recommendations have you read? Which other manga like Shoukoku no Altair do you know? Which other manga about the Ottoman Empire, Turkey or Central Asia have you heard about? Don't forget that we are open to all your comments and suggestions. See you soon!
---