Shoujo manga that can wrap a lot of other genres within, managing to remain consistent and a real page-turner, is very rare. Sora wa Akai Kawa no Hotori – Red River is one of these shoujo manga able to mix a lot of other genres and make the readers stick to each page, craving to know how the story evolves.
It was born in 1995, by the amazing Chie Shinohara, and it ended in 2002 at its 28th volume. Sora wa Akai Kawa no Hotori revolves around Yuri, who is a modern-day teenager, sent back to ancient Anatolia and to the Hittite empire. A queen craves for her blood, but she is saved by Prince Kail, who swears to protect her, and send her safely back home. Action, romance, drama, adventure, and much more is what the readers encountered in this amazing historical shoujo masterpiece.
We know that ending Sora wa Akai Kawa no Hotori left some of you avid readers craving for more; that's why we created this list, so you can discover other six manga which share with it important traits! Stick with us until the end!
Similar Manga to Sora wa Akai Kawa no Hotori / Similar Manga to Red River
1. Kanata Kara (From Far Away)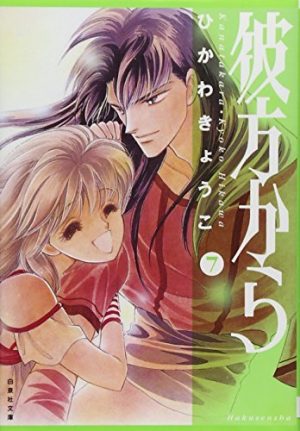 Authors: Hikawa, Kyouko
Genres: Adventure, Fantasy, Romance, Shoujo
Volumes: 14
Published: September 1991 – January 2003
Noriko Tachiki is a normal teenager of the modern days. Her peaceful and ordinary life is turned upside down one day when, coming back from school, she finds herself in a different world. When she is saved by Izark, a handsome man, she thinks her troubles are about to end; actually, Izark hides evil within him, and Noriko seems to be the only one able to unleash it. That's how their journey together begins! A journey that will bind them inexorably, while they wander in a fantasy world which is terrifying and amazing at the same time.
Sora wa Akai Kawa no Hotori and Kanata Kara are both shoujo manga, sharing a fantasy world setting. Both series feature a teenage girl who is thrown in a different environment, a different time, and is saved by a man, toward whom she develops certain feelings. In both these stories the romances are well-developed, and the characters deeply analyzed. Basically, in Kanata Kara you'll find all the salient points you enjoyed in Sora wa Akai Kawa no Hotori, so you should give it a try!
---
2. Basara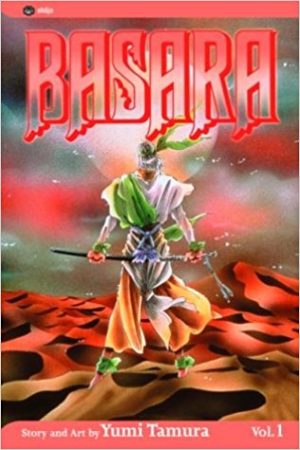 Authors: Tamura, Yumi
Genres: Adventure, Drama, Fantasy, Romance, Shoujo
Volumes: 27
Published: August 1990 – May 1998
Sarasa and Tatara are twin siblings that grew up knowing that Tatara would one day manage to overthrow the oppressive government, as he is the boy of the prophecies able to unite the people. When he dies during a battle, Sarasa decides to take over and become her brother. Somewhere along the way, though, she falls in love with Shuri, a strange man who also may hide something. Sarasa, Shuri, and the other fighters begin their journey in order to reach the Red King and finally put an end to the oppression!
Sora wa Akai Kawa no Hotori and Basara are both shoujo manga set in ancient times. Both these stories share a historical war setting and a forbidden love. Our heroines – Yuri and Sarasa – realize their own weaknesses, but don't give up and become stronger; we can see their growth chapter after chapter. Even the love stories are both well-developed, the only difference is that Basara focuses on the adventure trait more. Trust us, while reading Basara you'll be constantly reminded of Sora wa Akai Kawa no Hotori!
---
3. Akatsuki no Yona (Yona of the Dawn)

Authors: Kusanagi, Mizuho
Genres: Action, Comedy, Fantasy, Romance, Shoujo
Volumes: 25
Published: August 2009 – ongoing
Yona is the red-headed princess of Kouka, and she lived a comfortable life, surrounded by people who spoiled her. She was completely unaware of what was out there in the real world. Son Hak is her childhood friend who watches over her, and has loved her since they were kids; Soo-won is her cousin toward whom she has a crush. Yona's life is turned upside down when an unsuspecting person kills her father – King II – and she has to run away with Son Hak by her side...
Sora wa Akai Kawa no Hotori and Akatsuki no Yona are very similar, as they both are historical, romance, shoujo manga. Both our heroines are weak girls in the beginning, who struggle to deal with their situation changing and chapter after chapter we see Yuri and Yona grow stronger. Prince Kail and Son Hak, too, share some similarities: they both are overly protective toward the heroine. These two stories share the same good vibes and a well-developed romance; plus, there's a big range of other characters driving the story. You'll definitely enjoy Akatsuki no Yona, if you liked Sora wa Akai Kawa no Otori!
---
Any Manga Like Red River / Any Manga Like Sora wa Akai Kawa no Hotori ?
4. Nise no Chigiri (Marriage Vows)

Authors: Sakurai, Shushushu
Genres: Drama, Historical, Romance, Shoujo
Volumes: 4
Published: July 2010 – March 2012
Let's go on with Nise no Chigiri and our heroine Mana Shiraha! Mana is an average high school student whose life is pretty ordinary. Her life, though, takes a turn for the worse when she happens to travel back in time. She finds herself in the Sengoku Jidai, aka the Warring States Period. At a loss of what to do, she encounters one of the generals, Masatora Uesugi, who decides to protect her from Shingen Takeda, his rival. What will Mana do, knowing the epilogue of the war?
Sora wa Akai Kawa no Hotori and Nise no Chigiri share the main concept: a girl who travels through time and falls in love with someone met in the past. We're dealing with two historical shoujo manga, full of adventure and romance. Yuri and Mana are comprehensibly confused in the beginning, but then their savior appears and the recipe for a forbidden love is served. Nise no Chigiri is considerably shorter than Sora wa Akai Kawa no Hotori, but it's equally amusing!
---
5. Adarshano no Hanayome (The Bride of Adarshan)

Authors: Amekawa, Kei (Story) Kazato, Nori (Art)
Genres: Drama, Fantasy, Historical, Romance, Shoujo
Volumes: 2
Published: July 2006 – April 2008
Let's now move to the small country of Adarshan and its political mischief! The country of Adarshan painstakingly conquered one of the territories of the Castoria Empire. The necessity to create a solid bond between Adarshan and Castoria results in a forced marriage: Alexid Deke Adars, Adarshan general and the king's stepbrother, has to marry Justinia, the sixth princess of the Castoria Empire. This political marriage has one big problem, among the others: Justinia is only 10-years-old!
By the premises, Sowa wa Akai Kawa no Hotori and Adarshan no Hanayome may not look similar at all. Yet, scratching the surface a bit, it's easy to see that these two series are both shoujo manga with an historical setting, featuring war, romance and adventure. Our heroines, Yuri and Justinia, are both smart, tenacious and with a tendency toward trouble. These two manga have political schemes, and involve royalty. Consider Adarshan no Hanayome the shorter version of Sora wa Akai Kawa no Hotori, and with a younger protagonist!
---
6. Sengoku Strays

Authors: Nanami, Shingo
Genres: Action, Fantasy, Historical, Shounen
Volumes: 15
Published: December 2007 – October 2014
Let's end this list with Sengoku Strays! Our protagonist is Kasane, and she is your average girl with one, big passion: kendo. One day, her ordinary life changes for good; a mysterious sword sends her back in time, during the Sengoku Era. Of course, the new environment scares Kasane, who remains at a loss of what to do. If things could be worse for Kasane, she finds herself in the middle of Oda Nobunaga's rise... How will she manage to survive and, finally, get back home?
What about a shounen version of Sora wa Akai Kawa no Hotori? Sengoku Strays is a shounen manga, sharing with Sora wa Akai Kawa no Hotori a historical setting and, of course, the main concept of the time travel. Yuri and Kasane face the exact same situation: they meet a ruler and befriend him, and then get involved in war. Our heroines both become good fighters and strategists, and there's room for romance. Consider Sengoku Strays a shounen version Sora wa Akai, so if you're willing to read something similar to it, but with more action than romance, give it a try!
---
Final Thoughts
Well, how did you like this list? We gave you six other manga with the same amount of adventure, fantasy, romance and action that Sora wa Akai Kawa no Hotori wields. We traveled in ancient empires, met Princes, evil men, dark queens, and came to know amazing love stories. If you enjoyed Sora wa Akai Kawa no Hotori, we are completely sure you'll like these other six manga, as well. Now just pick one of them up, and enjoy the good vibes! As always, please, let us know what you think in the comments below. See you next time!