Unrequited love stories are not new in the shoujo genre. However, Sakisaka Io has a unique way of portraying them that makes the readers feel the pain of her protagonists. Enter the life of Kinoshita Ninako, a simple girl who has never been in love. Everything changes, though, when she falls in love with a popular guy in her school. Spring is in the air until she finds out that Ichinose Ren is in a relationship. In order to not have any regrets when it comes to love, she confesses her feelings to Ren despite the fact that she knows all too well that she will be rejected. Strobe Edge is the story of Ninako and her struggle to overcome her first love...
If you came here to Honey's Anime to find something similar to Strobe Edge, then look no further, because we compiled 6 other manga that you might find interesting... Just scroll down and enjoy! Let's start~
Similar Manga to Strobe Edge
1. Tonari no Atashi

Authors: Nanba, Atsuko
Genres: Drama, Romance, School Life, Shoujo
Volumes: 10
Published: Dec. 2008 - Feb. 2012
Uemura Nina is in love with her longtime neighbor, Tachibana Kyousuke. For Nina, every moment with him is essential and important. However, it seems the time she spends with Kyousuke is never enough, since she is still in junior high, while Kyousuke is in high school. To add more salt to her open-hearted wound, there's a beautiful girl who seems to be interested in him. What will Nina do with her feelings when she realizes that Kyousuke is with another girl?
Having an unrequited love is indeed hard, and like Ninako, Nina from Tonari no Atashi can definitely show you that as well! Aside from the fact that Nina and Ninako share some personality traits, such as being optimistic and bubbly, Nina also falls in love with a guy who already has someone in his life. Along the way, while she is trying to support her unfulfilled love and get over it, she meets another boy that will help her move on from the painful ordeal.
Much like Strobe Edge, Tonari no Atashi still manages to keep the guy with a relationship within the love triangle. As the main girls in both stories try to get over their feelings of rejection towards the first main guy that they fall in love with, the guy that rejected them slowly gets closer to the main leads and falls in love with them in the process. We are sure that Tonari no Atashi is one of those manga that you will surely love and enjoy since it's quite different from other shoujo titles!
---
2. Heroine Shikkaku (No Longer Heroine)

Authors: Koda, Momoko
Genres: Comedy, Romance, School Life, Shoujo
Volumes: 10
Published: Mar. 2010 - Mar. 2013
Matsuzaki Hatori sees herself as a heroine of a shoujo story and that her main male lead is her best friend, Terasaka Rita. Hatori imagines that they will fall in love with each other and that they will get married in the future. However, life isn't always kind and that reality is cruel when she finds out that Rita is interested in another girl.
Love is painful, especially when your feelings are rejected by the one you love... Thankfully, we have Hatori to make everything a bit lighter! Unlike other shoujo heroines who are sweet, cute, and too kind to be true, Hatori is selfish, impulsive, and blunt to a fault. Although she isn't the ideal heroine of a shoujo story, she shares the same circumstances as Ninako. The first one is that she is in love with a guy who already has a girlfriend. Second, another guy comes into the story, who is a "playboy" and falls in love with her. Third, Hatori can't forget her first love and the first guy slowly falls in love with her.
Drama ensues as the story progresses, but unlike Strobe Edge, Heroine Shikkaku knows how to throw funny moments in the story to balance out the dramatic ones. You might even see some characters from Strobe Edge as background characters in Heroine Shikkaku if you are on the lookout~
---
3. Hirunaka no Ryuusei (The Daytime Shooting Star)

Authors: Yamamori, Mika
Genres: Comedy, Drama, Romance, School Life, Slice of Life, Shoujo
Volumes: 12
Published: May 2011 - Nov. 2014
Yosano Suzume moves into Tokyo thanks to his father's transfer. Before the school year starts, she meets a mysterious man when she gets lost in the streets. It turns out that the person who helped her is none other than her homeroom teacher, Shishio Satsuki.Will her high school life be alright and smooth sailing?
Like our previous selections, Suzume also experiences the bitterness of having an unrequited love. But unlike Strobe Edge and the other two selections above, Suzume is rejected by her first love because the other party is a teacher. What happens to Suzume is the same as Ninako's experiences. The only difference is in the decisions they make, thus making Hirukana no Ryuusei a bit distinct when it comes to its characters.
Much like Strobe Edge, readers will have a hard time choosing the proper lead for Suzume. Both male leads are likable in their own way and would be a good match for Suzume. Although it has cliché moments like Strobe Edge, Hirunaka no Ryuusei still upholds a unique and refreshing feeling that readers will find entertaining and enjoyable!
---
Any Manga Like Strobe Edge ?
4. Sprout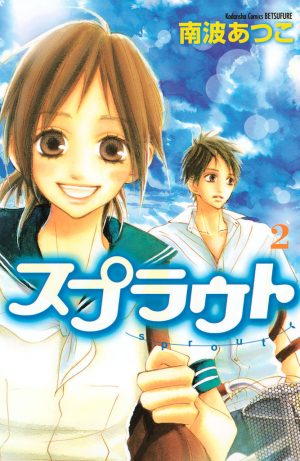 Authors: Nanba, Atsuko
Genres: Drama, School Life, Slice of Life, Shoujo
Volumes: 7
Published: Jan. 2006 - May 2008
In the eyes of other people, Ikenouchi Miku's life is as great as ever! She has a lovely home, a nice part-time job, she is doing okay in school, and has a boyfriend who loves and cares for her. Despite the good things around her, Miku seems to feel that something is lacking in her life. But the surprise that she has been waiting for comes when her father announces that they will make their home into a boarding house. It doesn't even help that a guy she is somewhat interested in is moving into her home!
Before Tonari no Atashi, Nanba Atsuko, released Sprout with almost the same premise as Strobe Edge and Tonari no Atashi. Like our heroine in Strobe Edge, Miku falls in love with a guy who is already in a relationship. But unlike Ninako, Miku already has a boyfriend! Miku tries to maintain her friendship with the person she likes while trying to keep her feelings in check, so as not to hurt the relationship the guy is in.
A love triangle is also prominent in this story, but we will warn you that it is more complicated and quite frustrating compared to Strobe Edge. But if you enjoy the drama and the romance, Sprout is a manga that you might want to try!
---
5. L♥DK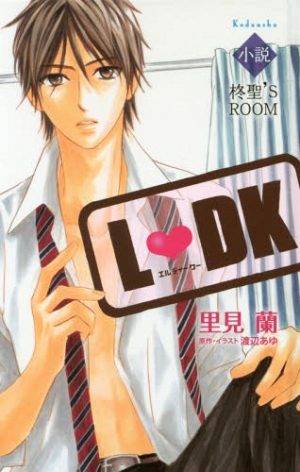 Authors: Watanabe, Ayu
Genres: Comedy, Drama, Romance, School Life, Shoujo
Volumes: 24
Published: Feb. 2009 - Aug. 2017
Nishimori Aoi confronts Kugayama Shuusei after discovering that her best friend, Moe, is hurting because of Shuusei's cold rejection towards her friend's confession. However, she also discovers that the school prince is also her neighbor! To make matters worse, they have to live together thanks to Shuusei's damaged apartment. What will Aoi do? Especially when she can't help but fall in love with a guy she swore not to like.
Much like Strobe Edge, L♥DK also tackles unrequited love. Aoi falls in love with a popular guy, reminding us of Ninako. Although unlike Ren, Shuusei is single not really ready to mingle. Just like in Strobe Edge, even though Aoi is rejected by Shuusei, she still maintains their friendly relationship. There are also occasional times where she will slip up and show to Shuusei that she still likes him.
Near the middle of the story, the second guy comes in and tries to persuade Aoi to go out with him. The second guy contrasts Shuusei's personality, like how Ren's personality contradicts Andou's lively nature. Overall, L♥DK is something that you don't want to miss if you really enjoyed Strobe Edge. It doesn't have that melodramatic feeling that Strobe Edge has, but L♥DK will surely make your heart flutter even more than Strobe Edge.
---
6. Stardust★Wink

Authors: Haruta, Nana
Genres: Comedy, Drama, Romance, School Life, Shoujo
Volumes: 11
Published: Dec. 2008 - Apr. 2013
Koshiro Anna, Nagase Sou, and Tokura Hinata are childhood friends that live in the same apartment complex. The three of them have always been together, until Anna discovers that Sou has a girlfriend. Of course, Anna will not fall behind! But along the way, she also discovers something about Hinata that is quite shocking... What will happen to their friendship now that all the secrets unravel little by little?
If you enjoy the story of Strobe Edge and the complicatedness of Sprout, then Stardust★Wink is the right manga for you! Like Ninako, Anna also has her moments of insecurity and indecisiveness, only to a much higher level. Since she is new to love, Anna tries to understand what the real meaning of it is and what to do when one is in a relationship. She also experiences unrequited love when she discovers that the person that she likes is in a relationship. There's also a second guy that loves her secretly. The basic elements of Stardust★Wink will indeed remind you of Strobe Edge. If you're prepared for the drama and the frustration, then give Stardust★Wink a try!
---
Final Thoughts
Love is hard and painful and Strobe Edge depicts that perfectly. If you're a fan of unrequited love, then these six selections will surely entertain you a lot! How about you? Have you experienced the feeling that Ninako went through? Do you know other manga that shares some similarities with Strobe Edge? Write all your answers in the comments section! Don't forget to stay tuned to Honey's Anime, and as always, see you in the next article! Now signing off~